Industry leaders know that the cycling season is upon us and
Sportworks
responds with the on-time release of the new Transport T2. Sportworks knows a promise is an agreement, an engagement, a guarantee that something will get done. At Interbike 2004 Sportworks announced their release and shipment of their new
TranSport T2 to be set for March 1, 2005
. On time and on the mark!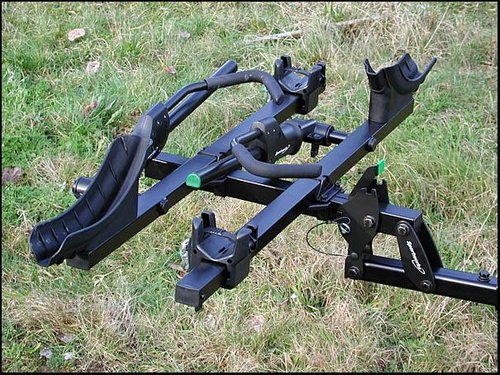 New TranSport T2
As innovators not imitators, Sportworks has built upon their proven Quick-load concept, offering the ultimate in flexibility, durability and confidence with the TranSport T2. With its streamline, ride-ready design the T2 carries a wide range of bike styles and sizes and eliminates bike interference with tray-to-tray adjustability while still retaining the quickest loading time in the industry. The new 4-bar linkage allows for carrying bikes weighing up to 60 pounds per tray and can safely be used on heavy duty trucks.
"We are a company that thrives on dealer and customer feedback," says Julie Gregg, Sportworks Vice President of TranSport Products. "We listen to customer comments and read customer e-mails to ensure that we create products people want. The TranSport T2 is a prime example of how dealers and consumers directly influence the design and manufacturing of a Sportworks rack. We are really excited with the outcome of the T2."
Sportworks Northwest, Inc., TranSport T2, the right product on time.
TranSport T2 on vehicle
Sportworks designs, manufactures, and markets a complete line of innovative bicycle racks for sale through independent bicycle dealers. All racks are made in the U.S.A. Sportworks can be reached at 888-661-0555 or via the web at
www.bicycleracks.com