2011 Australian National Downhill Champions have been crowned at Eagle Park, Adelaide, Australia in dry dusty conditions on a day with mixed emotions.


A short practice session allowed Elite and Junior riders to check track conditions after the morning's Group B racing. With only a few line choices on many areas of the track it was obvious the sandy soil had eroded away over the week quite dramatically. At the National Championships more practice time is available on the track meaning it is likely to see more wear then a standard National Round. Looking at the seeding times versus the finals' times, even with riders pushing harder, their times didn't drop as much as what's expected at a National event.
Racing got underway with the Junior Female class, it was a guaranteed victory for Em Hockey as the only competitor. Many of the other Junior Female racers have either moved up into the Elite class or were put off by the technical nature of the Eagle track. Regardless, Em, an Australian National Team representative, posted a 2.59.34 improving her seeding time by over 2 seconds.
Em Hockey has come up through the junior classes and was a deserving Junior Female winner. Photo: Angus Meek
43 Junior Male riders battled it out for the National Title, racing was nerve racking for both the riders and spectators alike. I can't recall a National Championship with so much attention being paid to the junior class, the crowd was a buzz with excitement. On one hand you had Troy Brosnan, current Junior World Champion and World Cup winner, having a perfect National Series with three victories from three. Troy is a enthusiastic junior who has raced all over the world and is always approachable. The other hand is Connor Fearon, a quiet kid who is happiest when he is on his bike, who has being having a underwhelming National Series by his standards. Not as well known overseas by the mountain bike world. Both of these riders hail from Adelaide and it was hard to know who to support and both had a big following at the race.
Rider after rider came down with the hot seat constantly changing as rider followed by rider went qicker and quicker. Local rider Henry Blake was on a blinder of a time as he crashed on the last jump, literally metres from the finish line. Eventually finishing 17th, with a 2.18.68, Henry dealt realatively well with missing out on what was likely to be a top 5 time.
"My run started off pretty well but then I stuffed up a major line, I tried to make up time and was doing pretty well until I got around the last corner, my helmet had slipped down and I couldn't see to well so I jumped off the side and my front washed out." Henry Blake.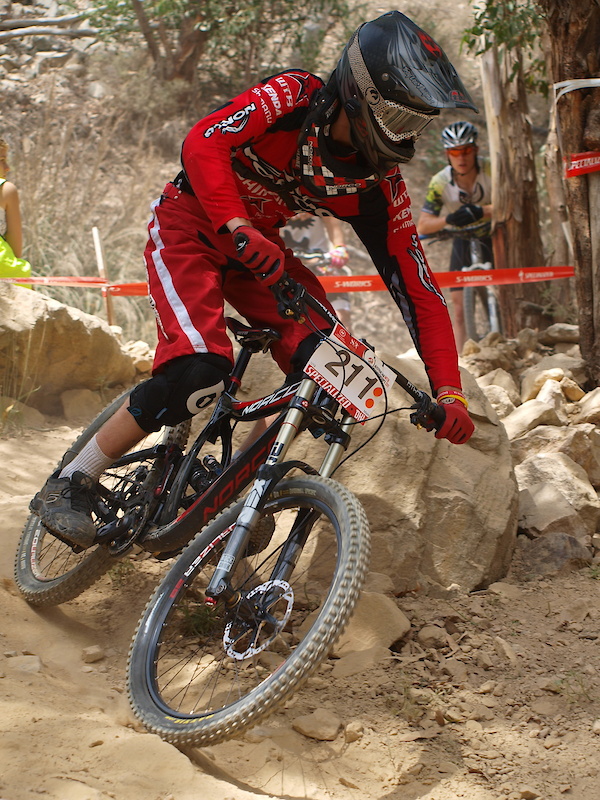 Henry looked good all week but crashed in his final, that's racing. Photo: Peter Karas.
It was Brandon Yrttiaho holding the hot seat as Troy started his run, Troy looked as smooth as ever, pedalling hard to the finsh line Troy lunged forward to stop the timing beam. The timing board read 2.05.28, over 3 seconds quicker than his seeding run but short of Connor Fearon's seeding time. Last rider in the gate, Connor, set off on a mission. As he pedalled the last straight the crowd errupted, a 2.02.57 was 2.71 seconds clear of Troy's time and almost 2 seconds faster then his seeding time.
"My run was wild, I couldn't have asked for much better, I pedalled as much as I could, I blew out a few corners but railed a few others which made up for it." Connor Fearon.
Junior Men
1. Connor Fearon, SA, 2:02.57
2. Troy Brosnan, SA, 2:05.28 + 2.71
3. Brandon Yrttiaho, QLD, 2:12.03 + 2.76
4. Ben Power, QLD, 2:11.07 + 8.50
5. Sam Fraser, QLD, 2:12.03 + 9.46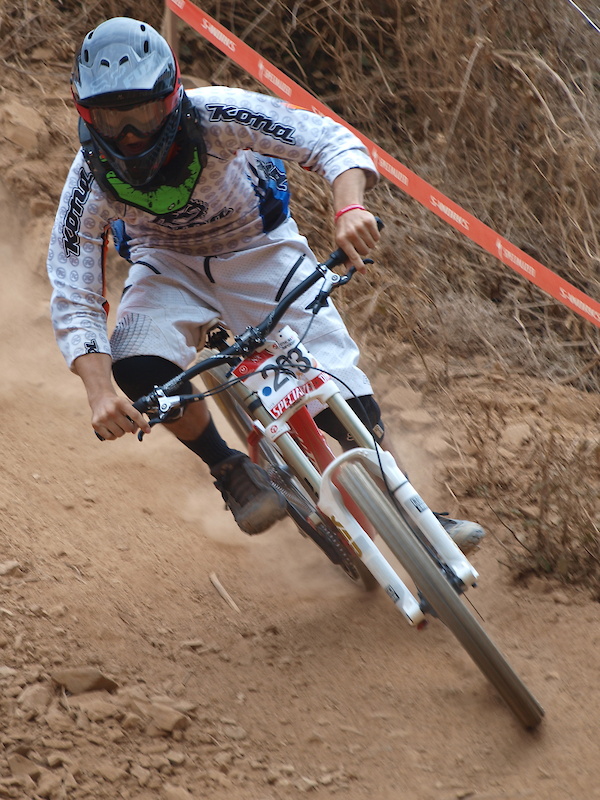 Connor, finally got the win he so desperately wanted. Photo: Peter Karas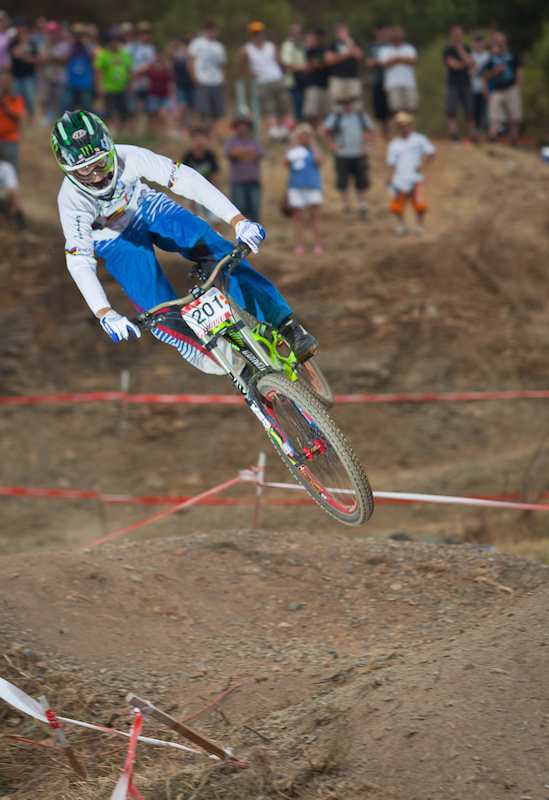 Second for Mr Brosnan. Photo: Angus Meek.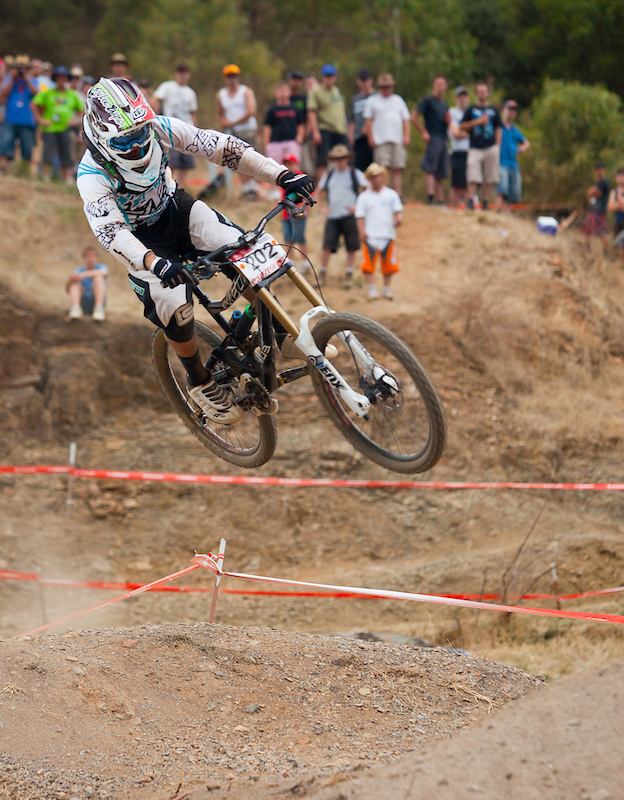 Brandon has lifted his game to really challenge Troy and Connor. Photo: Angus Meek.
After an exciting race the crowd was looking forward to the Elite classes, the Female riders were next on track. All eyes were on Claire Buchar, ineligible for the title of Australian National Champion, due to her Canadian heritage. Last rider down in the Elite class she washed out on the switchbacks at the bottom of the track and finished second with a 2.33.38 2.11 seconds behind Leonie Picton's winning time. Leonie continues her perfect season adding the National Championships' to her three National Series wins.
Elite Women
1. Leonie Picton, VIC, 2:31.27
2. Claire Buchar, CAN, 2:33.38 +2.11
3. Julia Boer, ACT, 2:37.24 + 5.97
4. Holly Baarspul, WA, 2:38.77 + 7.50
5. Genevieve McKew, NSW, 2:39.13 + 7.86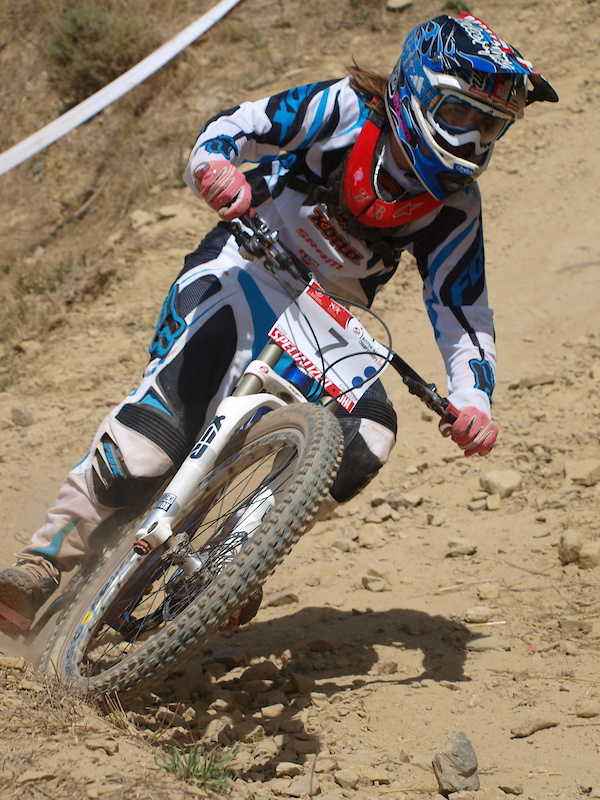 Fourth for Holly in her first year in the Elite class. Photo: Peter Karas
As the Elite Men class started a light rain started to fall, with 72 racers, if the rain continued to fall by the time the top 10 hit the track it would have drastically changed the track. The rain stopped and track conditions remained unaltered. After at the Championship's at Eagle last year Josh Button grabbed the hot seat and looked to be in with a real chance after Bryn Atkinson couldn't better Josh's time. Bryn has recently changed to tubuless tyres and said he had been
"struggling all week with tyres rolling off the rim."
. Mic Hannah was on track and came down with a blistering time to take the win.
"It's an honour to race overseas in the World Cups as the National Champion...my run was good, pretty pinned, the track was disintegrating today and there was a lot of loose rocks and holes."
Sic Mic was stoked on the win but also for Josh Button's second place, Josh was happy with his return to racing after knee surgery. Josh commented how comfortable he was on his new bike
"the 951 was is so good on the tight stuff and easy to move around."
. For some other riders results were mixed, Chris Kovarik washed out at the bottom of the track much like Claire Buchar did earlier and finished 10th. Aden Wyber had a good result to finish sixth,
"I was happy with my run."
Shaun O'Connor is still coming to terms with his new bike and was
"off the back"
with his ninth place.
Elite Men
1. Michael Hannah, QLD, 2:02.36
2. Joshua Button, NSW, 2:04.27 + 1.91
3. Bryn Atkinson, ACT, 2:04.33 + 1.97
4. Rhys Willemse, QLD, 2:04.41 + 2.05
5. Ben Cory, ACT, 2:05.66 + 3.30
Full results:
www.onlineresults.com.au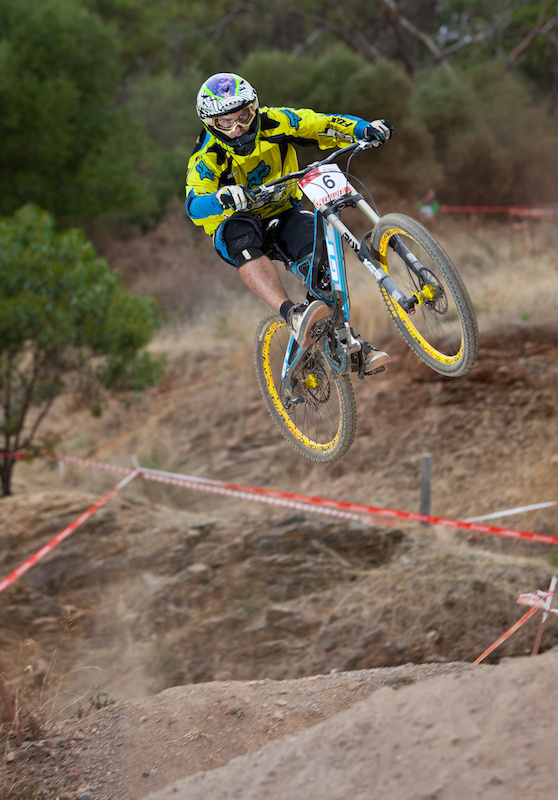 Mic was seriously stoked with the win. Photo: Angus Meek.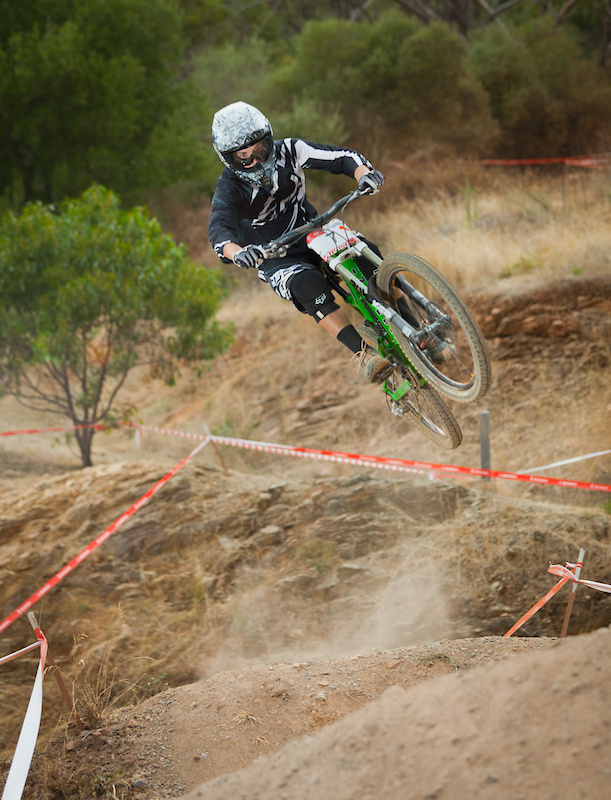 JB 'You have done it again!', another podium, a good result for his first major race since knee surgery. Photo: Angus Meek.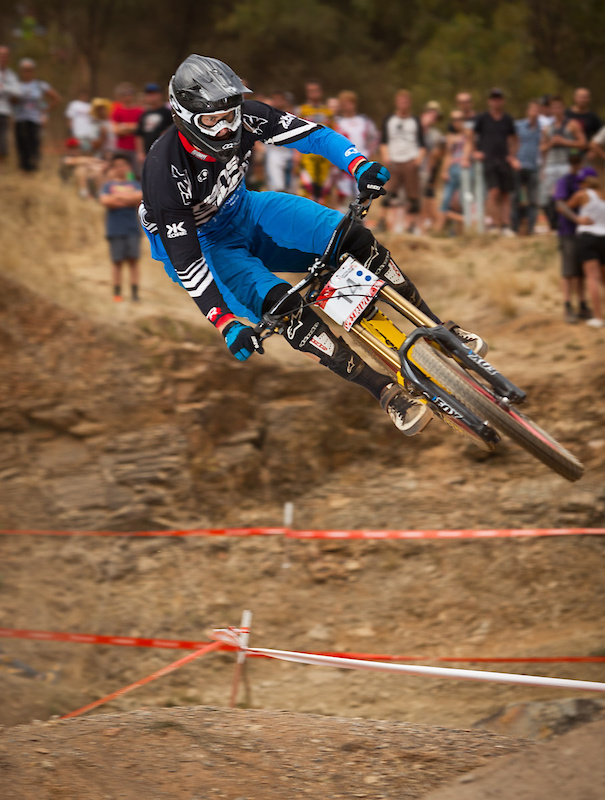 Bryn said he could feel his tyres rolling around on his rim after recently switching to tubeless. Photo: Angus Meek.
A definite underdog, Rhys Williemse has been struggling with wrist injuries lately. Photo: Peter Karas.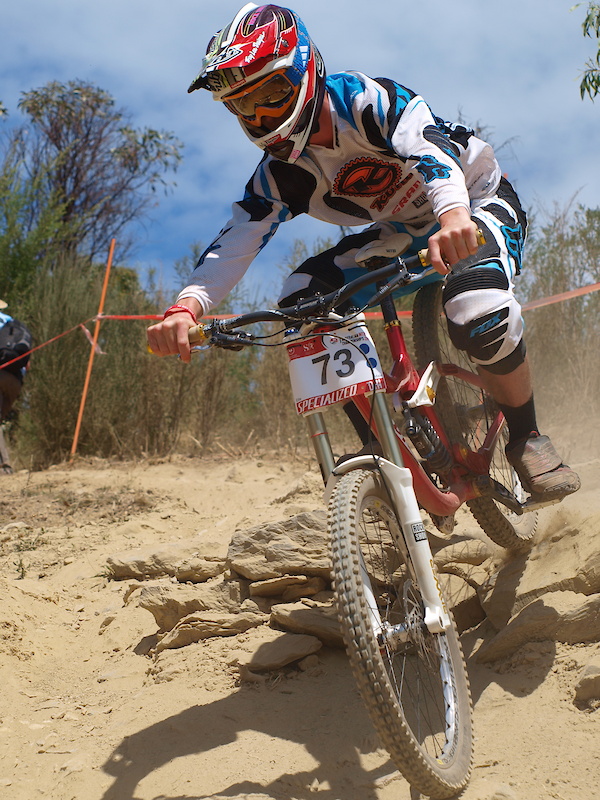 Aden continues to improve, sixth is not too shabby at all. Photo: Peter Karas.
Jared Graves finished 13th. Photo: Angus Meek.