Last week we brought you along to SRAM's Trail House, a get together that can only be described as the anti-press camp, to give you
the lowdown on their new Type 2 derailleurs
. And while the new clutch equipped X0 and X9 derailleurs are fine pieces of kit, there were other recently developed goodies to talk about as well, including both the new X0 Trail brakes that we cover below and the revamped and re-released Grip Shift (
you'll have to wait a few more days to read our thoughts on the new twist shifters
). Unlike the usual rushed 'in and out' atmosphere associated with most press camps, the small crew of journalists and SRAM'ees could often be found relaxing on the cozy house's beach-side deck or on a short walk to Verve Coffee for another pre-ride Americano. Don't get us wrong, there was plenty of saddle time as well. In fact, each day saw us out on good sized rides that would have likely required us to take the following day off. That, of course, wasn't an option that we even considered given that we flew South to ride on Santa Cruz's dry and sun-baked trails instead of our own snow covered singletrack. The feeling was that we should be riding ourselves into the ground, allowing time to recover when we arrived back at our chilly Canadian home. Mission accomplished.
Evan can often be found around the globe wrenching for SRAM's fastest racers, meaning that having to look after a handful of bikes for a few media hacks likely feels similar to a Sandals vacation. The new brake continues with the standard X0 brakes' reach and pad contact adjustments, allowing Evan to quickly dial in the lever feel to each of our preferences - he keeps detailed notes as to each of out setups, including lever postion and free throw, making us feel like pro riders who's only job is to go fast.
Avid X0 Trail Brake
'Have it your way' seems to be the current theme in the mountain bike universe, with riders living in an age where they can pick from any number of bikes that may differ in travel and geometry by only the smallest of margins, not to mention the perpetual arguments over which wheel size works best where. While so many options can sometimes seem overwhelming, no one can reason that having so many choices gives us the ability to pick and choose the right tool for the job, assuming that you make the correct decisions. That same concept continues with Avid's splitting of their X0 brake lineup, allowing them to develop the four piston X0 Trail brake shown here while tweaking the standard X0 model for less weight and more simplicity.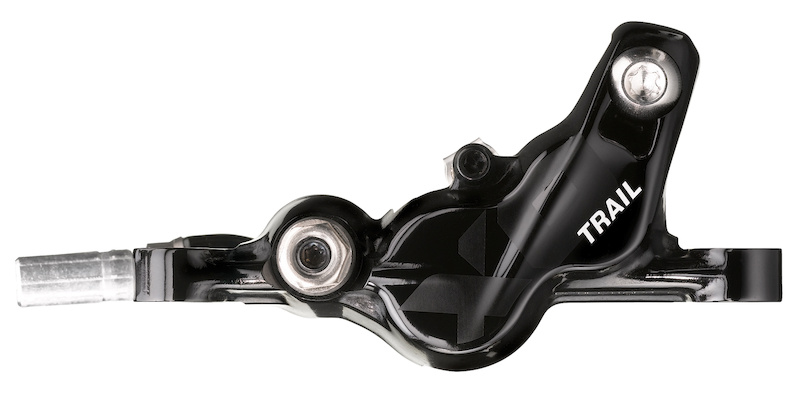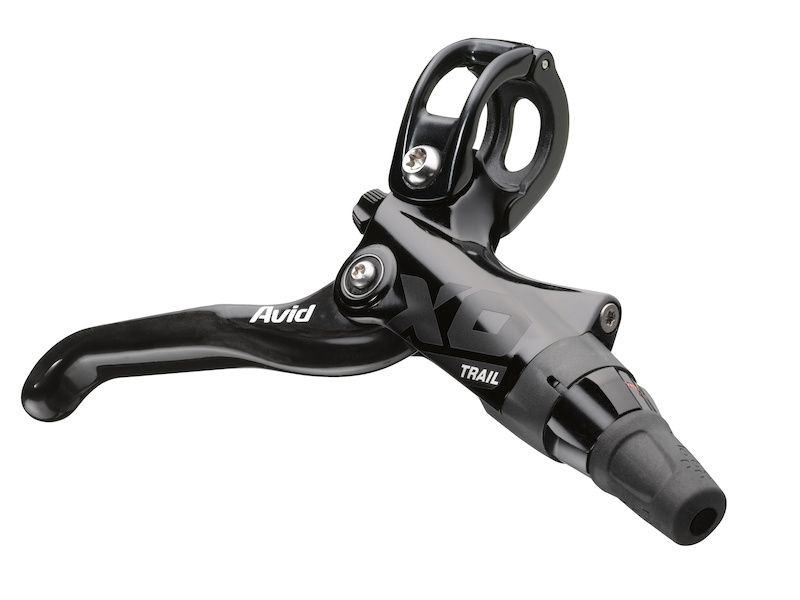 Four Piston Caliper
We admit that when we heard whisperings of a trail-oriented four piston brake from Avid we expected to see a Code caliper and an X0 lever combination being made available. Avid had much grander plans than simply paring up two existing components, though, instead developing an entirely new brake caliper that is much trimmer than the Code design. The piston combination is also not lifted from Code, with a slightly smaller 16mm and 14mm pairing that has been used to tune the power for aggressive use, but not what is required of a true downhill bike that goes faster over rougher terrain. The X0 Trail caliper uses pads that are, unfortunately, differently shaped from what you'll find used by the Code system due to varying constraints in both designs.
Avid doesn't claim any exact percentage figures relating to the power increase over the standard two piston X0 caliper, but it's safe to say that the four piston design and much larger brake pads should add up to a big jump in power.
Refined Lever Assembly
Avid's focus wasn't limited to only the new caliper, with the lever assembly also receiving attention from the engineers. Gone is the hollow lever blade pivot and bushing layout that used a small set screw to hold it all together, replaced with sturdier dual sealed bearing pivots and a torx bolt that should keep the levers rattle free far down the road. Internally, it utilizes the same Taperbore system (including the Airtrap feature) that was used previously, meaning that the same fluid volume and port size are employed. This makes the new lever assembly cross-compatible with other brakes in their lineup.

While the brake's quad piston caliper and correspondingly larger pads surely produce an appreciable increase in power, along with updating the lever pivot assembly to include a twin sealed bearing pivot, system weight has only risen by a mere seven grams over the previous X0 design, putting the claimed weight at 340 grams (160mm rotor; front post mount). The increase in weight is marginal, but riders should also consider that they may now be able to combine the X0 Trail brake with a smaller rotor to create a system that is actually lighter and more powerful than a standard X0 brake with a larger rotor. This is where the new addition of the 170mm HS1 rotor comes into play, allowing riders to choose from 140, 160, 170, 180, or 200mm rotor sizes to tune the power to their riding style.
Splitting the X0 Trail caliper in two gives you a proper look at where the extra braking power is coming from. Inside you'll find four pistons that are able to apply more force to the rotor than the standard X0 given that the same amount of lever pressure is applied. If you look closely you'll be able to see the size difference between the pistons used, with each side of the caliper being home to both a 16mm and 14mm piston. Small changes in piston size can have a large effect on modulation and power - it isn't as simple as just using the largest pistons possible. In fact, the downhill oriented Code system makes use of a 16mm and 15mm combo for even more power, but Avid's engineers were looking for a fine balance between outright braking potential and a useable feel that made sense for the trail/all-mountain rider. The answer was to scale down the trailing piston by a single millimeter from what the Code uses.
Avid X0 Brake
While the new quad piston X0 Trail brake is going to garner the lions share of the attention, there was one other new offering from Avid: the re-worked X0 brake. The X0 brake lineup has now effectively been split into two options, letting you choose either the new X0 Trail, or the redesigned and lighter 'standard' X0 brake pictured above. The lever body looks very much like what you'll find on the Über-light XX World Cup (
although the XX's body is a forged magnesium piece instead of the X0's aluminum unit
), including the lack of a pad contact adjustment dial where the hose enters the body. It also carries on with the hollow lever pivot and bushing arrangement employed on the previous iteration of the X0 stoppers. The new, streamlined appearance isn't just for cosmetic reasons, though, with the system weight dropping down to 315 grams (
160mm rotor; front post mount
) compared to its predecessor's 333 gram claimed weight. Power and modulation should remain the same as we've come to expect from the X0 system, although the price to pay for dropping those grams is the lack of a pad contact adjustment dial. Don't feel that you need the ability to adjust the contact point? Then the simpler and less expensive - they retail for $261 USD - X0 brakes could be for you. Those who like to tinker will be happy to hear that both the X0 and X0 Trail master cylinders move the same volume of fluid, meaning that one could easily combine the X0 Trail lever with the dual piston caliper of the standard X0 brake, or vice versa.
On The Trail
We likely have more time on the previous X0 brake than any other system, having run it on a number of different test bikes over the last season. This includes everything from short travel trail bikes to full-out downhill racing steeds, and while we've always been of the opinion that Avid has some of the most dialed ergonomics for our hands, we also feel that some of the competition in the same category has surpassed it when it comes to usable power. For this reason we were excited to see how the new four piston version stacks up, although the usual disclaimer about first ride impressions not amounting to a proper test still apply.
Just as we were told, the lever feel under your finger has not changed - if you've been of fan of Avid's ergos in the past, you will continue to be. The same adjustments are still present as well, allowing you to use the pad contact adjustment dial to vary the lever's free stroke to your liking, and the reach adjuster screw can still be easily turned with gloved fingers. One point that did surprise us was how the reach adjustment dial stands out far enough to make contact with the body of the Grip Shift unit. We run our levers quite far inboard, leaving just enough for our pointer fingers to grab ahold of the end of the lever blade, and found that it wouldn't be an issue for us. Having said that, we can see others who combine Grip Shift with the X0 Trail brake be required to use the X0 Trail lever sans reach adjustment dial, an option the Avid will make available. This isn't an issue whatsoever if you are using any of SRAM's trigger shifters, though.
It literally only took a quick spin on our test bike to come back wide-eyed from the power proved by the new brake's four piston caliper and larger pads - the power difference between the previous X0 and X0 Trail is substantial to say the least. We rode the brake on two different bikes during our stay: a 4'' travel Giant Anthem 29er and a 6" Yeti SB-66, returning from rides on both that gave us a good first impression of how the new stoppers perform. The big wheeled Giant was equipped with Maxxis' lightweight Crossmark tire out back, making for a very fast rolling setup on the dry trails that we rode. It also meant that it was easy to break the rear end free under braking, especially when I was doing my best to keep up to riders on longer travel bikes, thanks to the brake's substantial power. I'll admit that it took a kilometer or two of singletrack before my braking fingers and brain started to understand the jump in power, but by the middle point of the same ride the feeling at my hands and calipers started to meld and the skidding ceased. Unless I wanted to skid, that is. This really highlights the X0 Trail brake's flexibility: it has enough power to be run with small diameter rotors, a package that would create a competitively light brake, while still keeping aggressive riders happy. The same could be true for 29ers who would usually require a jump in rotor size from 6" to 7" in order to attain similar braking power found with the same brake as mounted on a 26" wheeled bike. In short, large and aggressive 29er riders will likely not require pie plate sized rotors on their bikes when using the X0 Trail brake.
Our second experience on the X0 Trail brake came with them bolted to a 6'' travel Yeti SB-66 that was fitted with high volume Maxxis tires, allowing us to hang it out there a bit more during the ride. The four piston brake truly came into its own under these conditions, and we never once found ourselves looking for more power. There felt to be enough there for any circumstance that may arrise, and we'd say that their outright power is quite similar to what the Code offers, just in a more controllable package that won't have you locking up unintentionally in wet or dusty conditions. We also gathered a good feel for the brake's modulation when aboard the Yeti, which felt to be very similar to what the standard X0 offers, just with a slightly steeper ramp up in usable power.
The new X0 Trail retails for $310 USD, which is $49 more per end than the standard X0 brake. Is it worth the extra coin to go with the new four piston setup over the existing dual piston version? We're going to need to spend more time on them before making that call, but our early impressions are that the X0 Trail brakes will likely be quite popular with riders - and we're not just talking about those who ride 6" travel or bigger bikes. The package is light enough, especially when combined with a small diameter rotor, that even the most gram conscious trail riders can benefit from the additional power provided by the four piston caliper.
Stay tuned for more from the Trail House, including feedback from our first ride on SRAM's revamped Grip Shift
Photos by Adrian Marcoux
www.sram.com/avid.com