Source: BC Bike Race
BC Bike Race - The "Ultimate Singletrack Experience" Ready for Year Three
"The Ultimate Singletrack Experience", is set to launch its third year this Sunday June 28 to July 4, 2009 and will host over 400 riders from around the world. This year's edition of the 7-day mountain bike adventure offers a revised course featuring a North Vancouver start–taking in the legendary North Shore trails–and two new stages to cement the BC Bike Race as the greatest singletrack adventure on the planet.
BC Bike Race has always aimed to exceed expectations and to be 'the best mountain bike race in the world'. Race organizers believe that their ongoing commitment to the best course possible will create the best experience possible. The BC Bike Race team shares the same values and the same goal: to provide an awesome mountain bike experience like no other. Only at the BC Bike Race are participants set up day-after-day to ride world-famous singletrack featured in countless mountain bike media sources.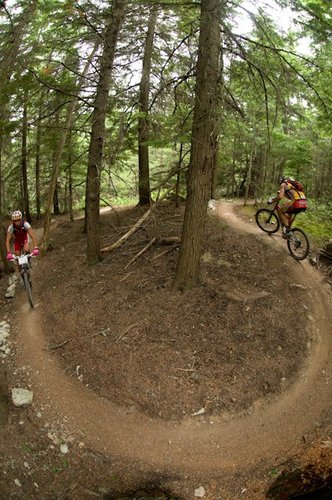 The lure of riding the best of BC's world-class mountain bike trails has already attracted a broad range of competitors, from weekend warriors to some of the world's finest mountain bike racers, World Champions and Olympians. This year's competitor list is a who's who of mountain bike talent:
Womens Category

:
Alison Sydor and Lea Davison -Team Rocky Mountain Bicycles
Cathrine Pendrel and Katarina Nash – Team Luna



Mixed Category

:
Sue Butler and Bryan Alders – Monavie-Cannondale
Georgia Gould and Ryan Trebon –Team Luna and Team Kona



Mens Category

:
Kris Sneddon and Barry Wicks – Team KONA (2008 Winners)
Chris Eatough and Jeff Schalk – Team TREK (2007 Winners)
Seamus McGrath and Chris Sheppard – Team Jamis and Team Santa Cruz

This Sunday a seven-day odyssey will begin for the 400 intrepid adventurers. Stay tuned for all the action and watch some of the notables stretch their legs and their mountain bike skills as they undertake the BC Bike Race.
For daily race week updates and more information please visit:
www.bcbikerace.com