The Yukon's Arctic Circle
Introduction
Margaret from
Old Crow
(look it up; village of 267 people in Northern Yukon) looks at me a bit taken aback. I repeat myself "We're going to try to ride up Surfbird. What do you think?". "Well ..." she says carefully. "I suppose just because no-one's done it doesn't mean it can't be done."
We're on the Dempster Highway; which begins in Central Yukon and ends at the Beaufort Sea on the Arctic Ocean. Margaret's been working at the Tombstone Territorial Park Visitor Centre for quite a few years. Lots of hikers and looky-look drivers stop by on their way along the Dempster Highway as does the odd touring cyclist. But Sharon and I are looking to mountain-bike. And that makes us, relatively speaking, strangers in a strange land.
Backing up a bit, a few years ago we traveled to the Yukon to bike in the Whitehorse area and to hike in the Tombstones. This happened in July and we were told that fall colours in the Arctic tundra would blow our minds. This got my exploration juices flowing and me thinking. It's just a wee drive of 3,000kms to get from Vancouver to Whitehorse then another 1100kms to the North West Territories (NWT) border.... hmm I wonder if there's biking opportunities along the way?
Plans were hatched, research was done (nope there's no reports about biking off the Dempster Highway), maps were consulted, Google Earth and aerial photos pored over and off we went leaving sunny warm Vancouver in the last week of August.
________________________________________________________________________________________________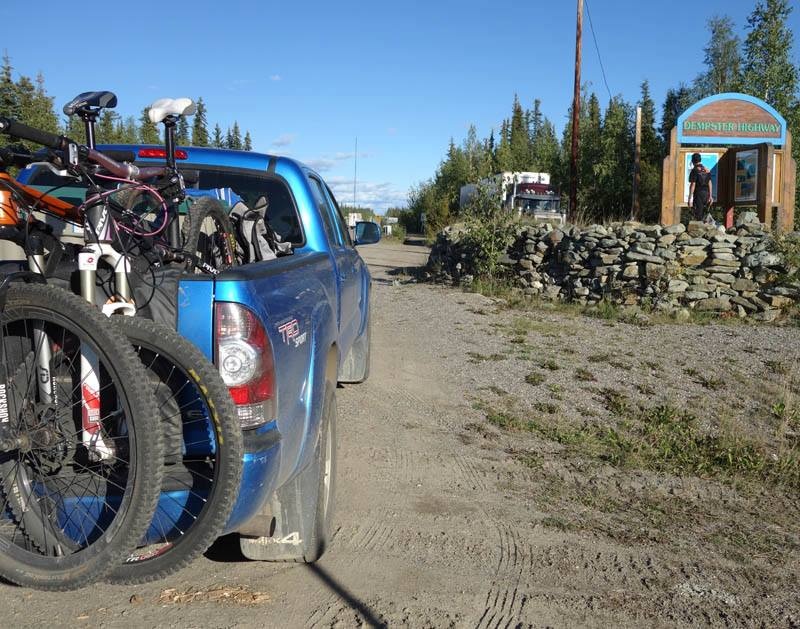 Day 1 of our trip up the Dempster. We drove from Whitehorse in the Southern Yukon to the Dempster Highway which goes to Inuvik on the McKenzie delta which then in turn flows to the Beaufort Sea/Arctic Ocean. This is the interpretative sign at the start of the Dempster

________________________________________________________________________________________________

Getting there

In 1958 they started to build the Dempster Highway; a 735km road from Dawson City in North-central Yukon to Inuvik in the North West Territories to facilitate oil and gas exploration. The Dempster Highway was going to be the link to the North. The promise of oil at Eagle Plains started it all, but construction stalled due to lack of insight, collaboration and lack of oil at Eagle Plains.

Then in 1968 the Americans found oil in Prudhoe Bay. To ensure Canadian sovereignty in the Arctic the Canadians pursued construction of the Dempster once again. The two lane gravel highway officially opened in 1979, the first Canadian highway to cross the Arctic Circle. It is built out of 1.2 to 2.4 meters thick of gravel overtop the permafrost to prevent the highway from sinking into the ground. Named after William John Duncan Dempster, a dogsled patroller who traveled the route between Dawson and Fort McPherson, the Dempster was laid out on a route previously used for centuries by the Gwitchin Indians as their route between the Yukon and Peel river systems.
________________________________________________________________________________________________


We used our Toyota Tacoma on this trip; a reliable vehicle that offered flexibility to explore the microwave tower and gravel quarry roads along the Dempster. These areas can also be used as campsites. If you drive the Dempster it's a good idea to keep your gas tank at least half full since gas stations are few and far between. We carried an extra tire, but fortunately didn't need one. If you drive cautiously you shouldn't have a problem on this road. It's a gravel road that can get tricky in the wet but those used to driving logging/mining roads won't find this to be an issue. This handy Yukon Tourism handout served us a guide (
Dempster Highway Travelogue).
as did Walter Lanz's "
Along the Dempster
" guidebook, which we used as definitive.
Note – the gas station that used to be at the intersection of the Klondike Hwy and the start of the Dempster no longer exists. You have to get gas in Dawson City 40km down the Klondike Hwy, adding an extra 80km to your trip. Or you can take your chances ….
________________________________________________________________________________________________
Tombstones Yukon biking - Goldensides and Surfbird Mountain
________________________________________________________________________________________________

The Tombstones

After getting to the Tombstones campground we realized quickly that this was the busy time of the year as almost every campsite was full. It dipped below freezing that night and the last few day's snow glinted on mountain tops; surreal sight in the sunset at 11pm (this is the land of the midnight sun).

We started off with an out and back on the North Klondike Trail covering just a bit over 2km each way through short scrub that was just thick enough to hide views of any grizzlies. Not liking our chances of a wildlife encounter we then rode the Goldensides trail. The trailhead is located at 74.7km just past the Tombstone Lookout (all km marks follow the Lanz and Government guide convention of starting km 0 at the start of the Dempster). This is a short trail you can hike or ride and is only is 4km long with a 200m elevation gain to incredible views.

Optional routes traversing Goldensides can be attempted as a hike and are detailed on links at the end of this article but would involve a lot of hike-a-bike followed by ridgeline tussock rides.

We also attempted to ride Surfbird at 98km. I had picked it as the best of all possible riding options since a microwave tower service road gets you a bit higher. In theory it should've worked out as the trailhead is in the alpine (alpine here starts at about 800m elevation) and the terrain is a gradual rise. Reality though is that it's a series of mellow permafrost-tussocked ridges. Instead of attaining ridgeline and getting a magnificent view of the backside of the Tombstones we slogged at little more than a snails pace. Fortunately temps were cool, bugs were absent and skies were blue making it a fine day to take your bike for a walk.

Days are fortunately long so we killed the rest of the daylight driving through the Blackstone Uplands (72-158km) through Windy Pass at 152.8km, and admiring Distincta Ridge and Peak as possible rides. We then continued into the Ogilvie Range and camped at Engineer Creek at 193.8km.
________________________________________________________________________________________________


Sapper Hill in the Ogilvies
Engineer Creek's campground was practically deserted; it seems that most of the tourists stay in the Tombstones area. We had a great clear night at Engineer Creek practically to ourselves with Northern lights to give us a show. Our destination the next day was Sapper Hill; the trailhead is within minutes of the campground. The lower part of Sapper Hill is covered in white spruce and tussocks, becoming rockier in the spires near the top; very reminiscent of Dolomites limestones spires.
Sapper Hill makes for a fantastic hike and a challenging bike ride as the terrain is steep and the corners are sharp requiring Euro hop turns. You'll get stunning views towards the Ogilvie River and mountains. After our ride we packed up camp continued our drive North up 7 Mile Hill to another viewpoint of the Ogilvies. From here we are on the Eagle Plains plateau, stopping at Eagle Plains (369km) to get gas for $1.70/litre, then continuing on to the Arctic Circle (405.5km) where I fulfilled my dream of riding around the marker thus riding around the Arctic Circle (haha). We then continued on to our next campsite at the Rock River Campground (km 445.8 ).
________________________________________________________________________________________________
________________________________________________________________________________________________
The Arctic Circle and the North West Territories
The area surrounding the Dempster is very susceptible to wind. Since most of the arctic tundra around Eagle Plains is at a whopping 600m or greater above sea level and therefore above treeline, the campgrounds are located in river valleys. Rock River is no exception. It's another very deserted but well appointed campground with lots of facilities, wood and no people.
We get up to overcast skies and warm weather. Being in no rush today as the days are long, I play around in the Rock River making dams and generally farting around looking at different coloured rocks and wandering around admiring tundra. We drive to the border of NWT and the Yukon to look at another possible riding objective; the Continental Divide range. Unfortunately the rocks there are of the black, large-sized variety. After trying to ride some rain-soaked tundra tussocks we give this up as a bad idea and go for a hike; enjoying fine views from the Divide.
We then drive 25km into the North West Territories to the edge of the Peel River Gorge. Past this point you descend 853m in 51km to the Mackenzie Lowlands which is flat and not really that interesting to drive unless you want to go to Inuvik. At this point I wanted to get at least one ride in the NWT so we drove up another microwave tower road to a ridgeline where I managed to get a ride off a small knob near the Peel River Gorge frankly just to say I'd done it. Finally to end a lazy day, we checked out Mt Hare (412km) just south of the Rock River campground which I had scouted as another possible riding destination but which we were planning to ride the next day.
________________________________________________________________________________________________
Fall colours come to the Arctic
On Friday the rain continued. It's an accident of weather that the high arctic tundra is actually quite dry; almost a desert in the winter months. Almost all the rain falls in July, August and September, unfortunately when the fall colour height of tourist season is on. We lay in the tent hoping it would stop, but alas no. Guess we won't try to ride Mt Hare today and leave it for another reason to come back.
We pack up and drive back to Dawson taking the opportunity to marvel at the change in colours. When we drove north, the tundra was green, with some shades of red, and yellow. Fall colours on the Dempster were turned up a notch on our way south with an otherworldly display of vibrant saturated shades that have to be seen to be believed! What a change a few days made. The only downside is that now we're ruined for fall colours.
General advice
By now any biker will guess that finding epic long singletrack rides in alpine tundra is, at best, a haphazard exercise. I could have snowed you and try to show some snippets of nice trail and left out the descriptions of mining road, tundra or bogs but then this would be like many other articles trying to sell the sizzle but without a dose of reality. There's really one road here, with no support, no safety net and limited ability to bail easily if things go poorly. If you want certainty and more comfort the Whistler bike park is pretty awesome (no sarcasm). So plan accordingly; exploring the Yukon tundra by bike will be an adventure
Speaking of planning, as an aid to anyone else who wants to try exploration in this area, there are resources aplenty on hiking websites. I looked at a lot of maps, Google Earth, air photos, geological survey data and used the Lanz book extensively to try to prune a vast area down to a manageable slice of pie to explore. When I looked at approaches I looked for smooth terrain. Black rocks were generally too big to hike-a-bike. White/light grey rocks were fine. If there were tussocks or boggy tundra calculate travel time at 1km/h or less. Remember that a startled moose is a dangerous moose. There is a lot of blank space on the maps so keep the vagaries of mapping in such challenging terrain in mind especially when there are so few people around to correct maps. Frankly one could spend a lot more time exploring; particularly the high plains around the Arctic Circle and wander ridgelines for a long time without crossing another person's tracks.
If one is into that kind of thing it's also very easy to find first ascents and descents around here. But remember that a lot of the terrain in the high Arctic seems easy to navigate on map or air photos but the reality of the thickness of scrub, the undulating terrain and the everpresent tussocks means that there's a good chance that you'll be the first person to try a route, but also the last person.
The bottom line is that riding around or above the Arctic Circle in Northern Canada is an exercise in routefinding, in perseverance and in luck (timing for weather, absence of hostile wildlife etc). It's relatively safe if you stay close to the Dempster as that's your (limited) bailout but gets progressively more difficult as you leave beaten paths. It is possible to find astoundingly beautiful places to ride with insanely mindblowing scenery (also see
Riley McIntosh's Yukon story
from earlier in the year; coincidentally we had both planned trips at the same time) but be prepared to earn it. I wrote this article to open the door on a beautiful part of the world; hopefully others will step through the door and enjoy what the Northern Yukon's wildness has to offer
________________________________________________________________________________________________
Useful links
--
Walter Lanz guidebook
-- Yukon Territory Driving the Dempster
map and guide
-- Our personal website
travelog
(more beta and generalized hiking/biking shots useful as prep for future trips)
-- Tombstone
hike from 2011
--
General info
re
Whitehorse
and
Carcross
biking.