At approximately 1:25 PM on Saturday July 31st Cam attempted a front flip off of the whale tail step down during his first run of the Crankworx Colorado Slopestyle Finals. He crashed on the landing and broke his right femur. The Winter Park Bike Patrol did an amazing job of looking after him and getting him to Denver Health Medical where he spent the night and had a rod put in his femur.
I caught up with him at his hotel in Denver today and luckily managed to get him in-between doses of pain meds while he was semi coherent. His leg aligned perfectly and there were no complications when they set it, he should be healed up pretty quick, 6-8 weeks if all goes well.
This is what he had to say about what happened:
"Hey this is Cam McCaul, just sitting in a hotel room near the Denver Airport after getting discharged last night from my hospital bed, where they put a rod in my femur because I broke it during Crankworx Colorado Slopestyle finals on Saturday.
It all started when finals were getting going and I was trying to pick a run that would get me on top of the podium or at least in first place and everyone was riding really well this year so I knew I had to do something new and something impressive so I decided I was going to do some hard tricks up top and then send the banger in the middle of the run with a front flip off the step down. I've been doing lots of front flips off of jumps this year in contests and they've been being judged well so it's kind of like my go to right now but I've never done one off a drop and I knew it was going to be a good score getter so I decided that it was worthwhile to go for it.
Unluckily I came up a little bit short on the landing, got the full rotation on the front flip but came up about 6 inches short. All the momentum from the front flip combined with casing the jump by about 6 inches stopped my bike in it's tracks and sent me straight over the handlebars to flat where I just hit the ground real hard and my femur decided it was too much of an impact and it snapped in half.
I thought I was fine and I tried to get up and my leg felt a little funny so I looked at my leg and my foot was in a different place than where it felt like it should be, compared to where my leg felt like it was, and that's when I knew I had a broken femur and I just said "hey you guys I got a broken femur, let's get this recovery process underway." Everybody loaded me up on a stretcher and took me to the clinic and then we took an Ambulance to Denver, got the rod in, now it's perfectly lined up and just like any other broken bone it's going to take 6 to 8 weeks and I'll be back in no time."
Cam's fiance Bonee was the first person on the scene and besides the incredible bike patrol team that managed to get Cam packaged up and down the mountain, he credits her with keeping him calm and feeling ok. She was with him and looking after him the whole time.
While he was in the hospital Cam found out that Logan Peat was just down the hall so as soon as he had his rod in and some crutches he hobbled down to see him. Logan broke his Tib/Fib on Wednesday while practicing for the slopestyle and has been in the hospital ever since. According to Cam, Logan was scheduled to have another surgery to straighten everything out and hopefully if that went well he'll be able to go home shortly.
Cam would like to thank Bonee for being there and all of his sponsors and friends for calling, tweeting, facebooking, and just sending him all sorts of good wished and positive energy. Oh, and most importantly he says thanks to Discovery Channel for deciding to bring Shark Week back at the perfect time.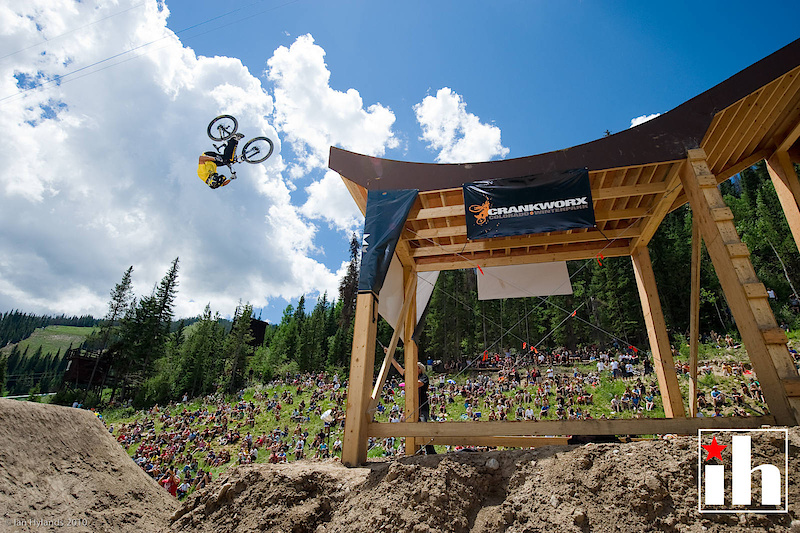 Cam, looking like he's about to stick a sick front flip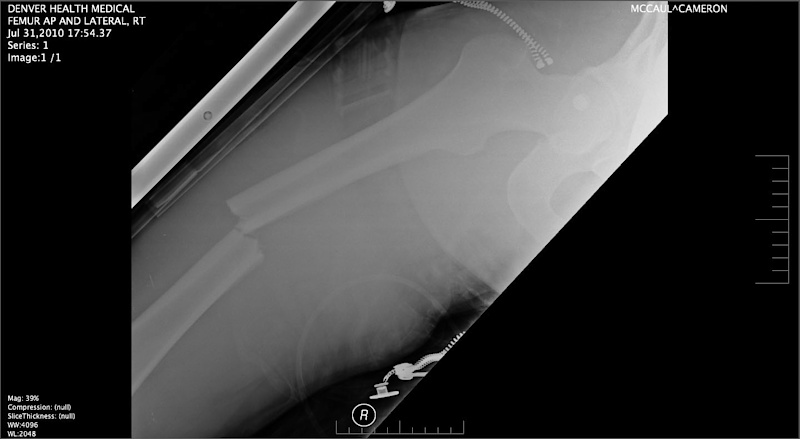 Cam's Femur after the crash
<Deleted photo>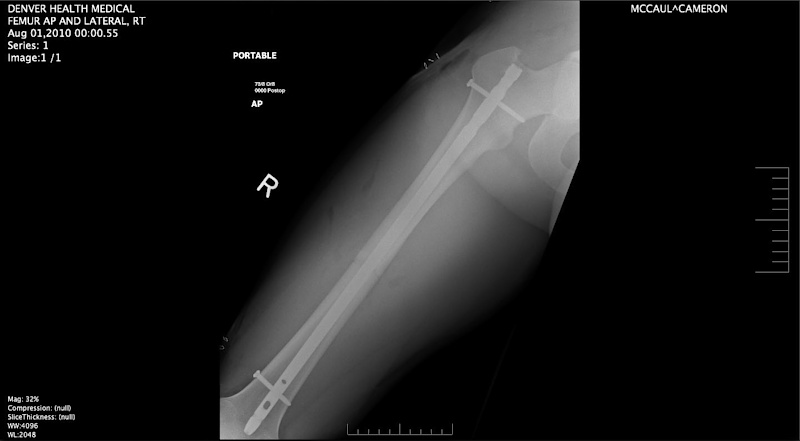 Cam's femur after have the rod put in, you can barely even see the crack.
<Deleted photo>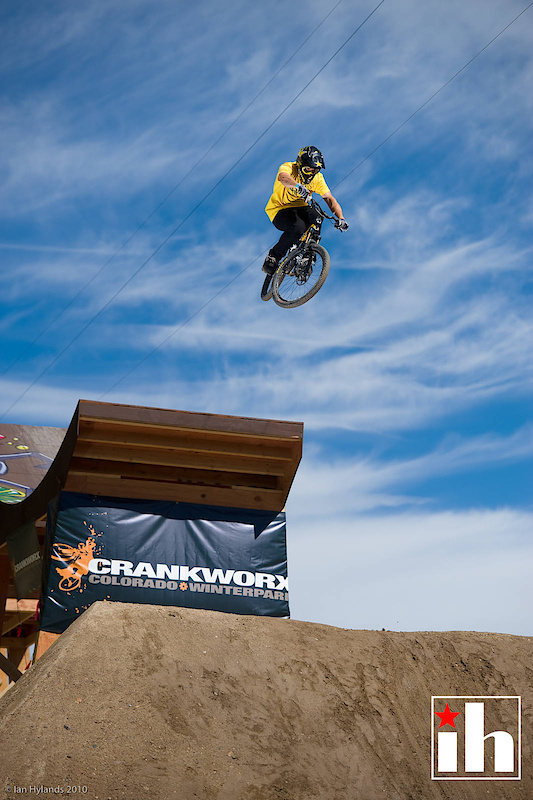 Cam McCaul thinks about the front flip in practice at Crankworx Colorado...