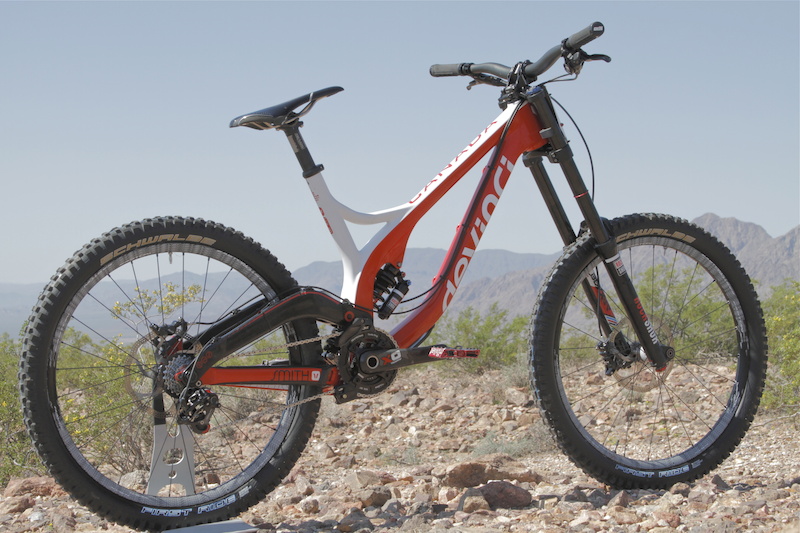 World Cup Machine
Canadian mountain bikers around the world celebrated last weekend as Devinci's Steve Smith took his first World Cup win at the final round in Hafjell, Norway, aboard the new Wilson Carbon. Smith, who lives on Vancouver Island, just a few hours away from Pinkbike HQ, has been knocking on the door for a few seasons now, and it's fitting that the win comes aboard a Devinci - the company is also Canadian. Steve rode a production frame to victory, and we gave you an
exclusive behind the scenes look
at the new Wilson Carbon only a few weeks back, but his race rig features a number of interesting touches, many done by his mechanic, Nigel Reeve, that are worth sharing.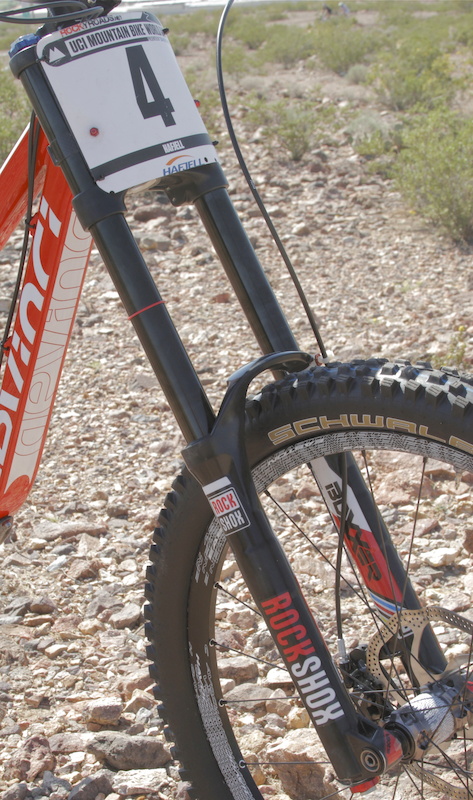 The BlackBox Touch
Smith has been on the BlackBox program for awhile now, giving him access to some very special tools to do his job, many of which eventually become available to consumers. The RockShox BoXXer World Cup fork on the front of his Wilson Carbon receives the BlackBox touch, with 'BlackGold' treated stanchions that are said to come very close to mimicking the extremely slippery feel of the original DLC (
diamond-like carbon
) coating, but can be applied easier and for a much more reasonable cost. While we didn't delve into the fork's internals, we're willing to bet it forgoes the use of inner seals when in race-mode, another step to increase sensitivity.
There is also some far less obvious trickery happening with Smith's BoXXer fork that shows RockShox's commitment to giving their riders the best equipment possible: the fork's crowns have gone through a post-forging, CNC process to ensure that their stanchion tube clamping surfaces are in exact alignment with each other. Perfect alignment and tolerances from top to bottom contributes to active, stiction-free suspension movement, allowing the fork to react better to impacts. While the post-forging machining work done to the upper and lower crowns is currently found on the forks of only a select few BlackBox riders, RockShox told us that consumer BoXXer forks will be receiving the same treatment in the near future.
The changing conditions at the Hafjell World Cup would usually call for some sort of cut spike creation, but Steve ran a set of prototype Schwalbe tires instead that look to offer the same benefits as a modified spike tire. The tire,
which looks to be a combination of a Dirty Dan and Muddy Marry, was obviously to Smith's liking throughout the weekend, with him using them during both his first place qualifying run (which was 4.8 seconds up on second place) and his winning race run.
The Devil Is In The Details
While the more obvious components, such as suspension and tires, usually get the most attention, it's the small details that are often the most interesting. Smith's World Cup bike is looked after by his mechanic, Nigel Reeve, who seems to be a stickler for details. This much is obvious by looking at the bike's trick number plate setup that uses thin carbon bands clamped around each stanchion tube, with each one being home to an aluminum nut and bolt that holds a carbon backplate in place. The fork bumpers are trimmed and glued in place onto the bands, making for a sturdy setup that won't rattle or interfere with the bike's cable routing during a race run. It may sound like a lot of work when a handfull of zip-ties could be used, but it's these the small details that can add up when fighting for tenths with the fastest racers in the world.

It's been said that a quiet bike is a fast bike, and a fast bike is one that doesn't lose its chain during a run. Both of those points have been addressed by Reeve, with a mega-trick and nearly weightless carbon guard in fitted between the largest cog and the spokes. Yes, most World Cup DH bikes have their rear derailleur's low limit screw run in enough to lockout the largest cogs, thereby limiting the probability of the chain jamming between the cassette and spokes, but no chances are taken at the level Smith races at. The carbon guard is a bit of extra insurance to that end. The bike's e*13 guide sees its chain contact surfaces protected with a layer of soft Velcro loops glued in place, a step that minimizes noise.

More BlackBox goodness, some functional and some not. Riders on the program get their names put under the clear coat of their carbon brake levers, a nice touch that is sure to make many envious. Smith's bike is equipped with an X0 ten speed shifter, but the stock thumb paddle has been replaced with a custom unit that differs slightly from what you'll find on your own shifter - instead of the convex shape found on the the production paddles, Smith's actually has a concave shape to its surface. We've seen World Cup riders modify their paddles in the past, with many cutting in a crosshatch pattern to add a bit of purchase in muddy conditions, but this concave shape likely has the very same effect.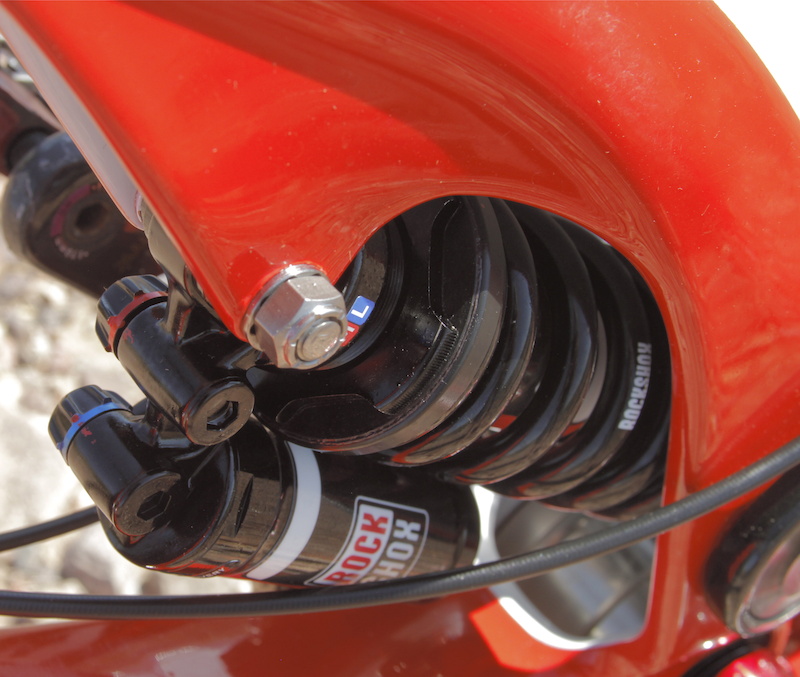 Smith runs a 38 tooth chain ring, a common size on the World Cup circuit, but prefers slightly longer, 170mm X0 DH cranks instead of the usual 165mm arms. One of the fitter riders out there, he puts an emphasis on putting the power down, and the longer cranks give him a spin that he is comfortable with. Up front, a cut down Truvativ Boobar, with a 7° back sweep and 5° up sweep, is fitted. Smith prefers to run it at 765mm instead of the full 780mm width. When it comes to geometry, the bike is always run in its lowest and slackest setting, with the stanchions slid down as far as possible in the fork crowns and the two-position rear dropout in the 'LO' setting.

Tire pressures obviously vary depending on conditions, but are usually set around 29psi out back and 27psi up front. With a World Cup racer's year depending on less than ten timed runs that are usually under the four minute mark, a
single flat tire can have a catastrophic effect on their overall standing come season's end. Many racers at the sharp end of the field run some sort of tubeless setup to this end, and Smith is no different. Devinci was being tight lipped on the subject, but the giveaway was the two valve stems per wheel, directly across from one another, that lead us to believe that Smith is employing some sort of tube-in-a-tubeless system that limits that chance of a ruined run if he starts to lose air.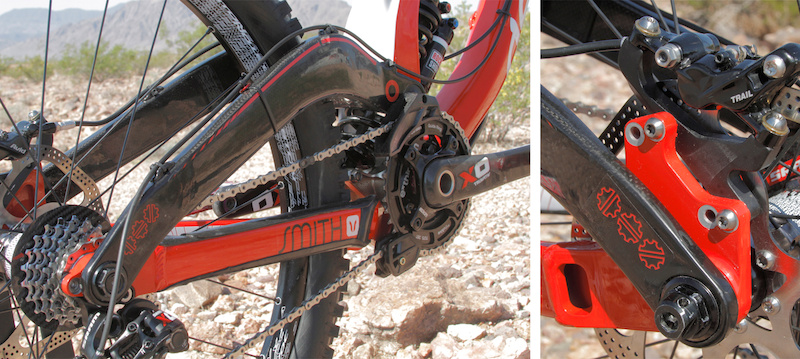 Split Pivot Suspension
Smith's bike may sport a custom red and white paint job, but it is actually a production frame that uses the very same Split Pivot rear suspension as found on the aluminum model. The Wilson's rear suspension consists of four major components: the carbon fiber seat stay assembly or wheel link, the Split Pivot concentric dropout pivot, the floating brake link (
in the Wilson as the chain stays
), and the control link that activates the shock and handles braking reactions.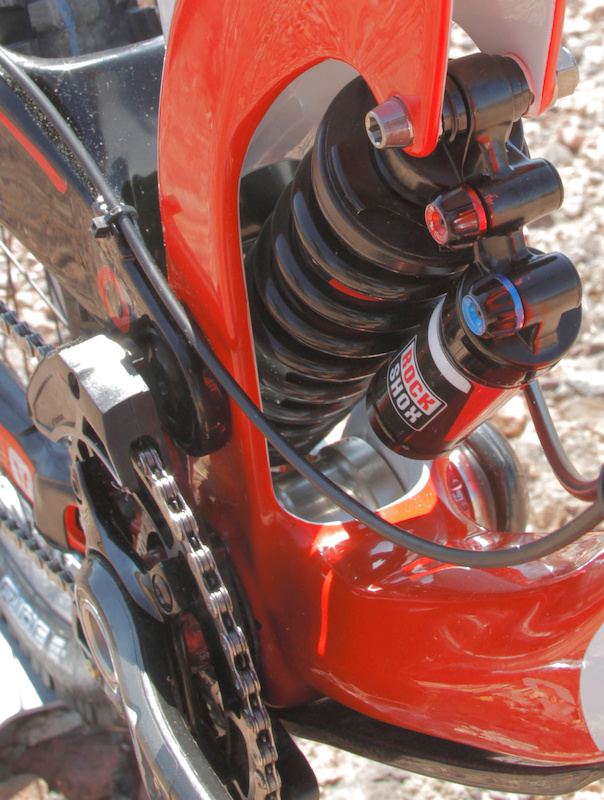 Prototype BlackBox Vivid
The Wilson uses a 10.5" x 3.5'' shock to control its 8.5'' of travel, and Smith's race bike is fitted with the prototype BlackBox Vivid rear shock that we saw at the beginning of the season in Pietermaritzburg, South Africa. What sets it apart from a production Vivid? The most obvious change is the location of the shock's compression adjustment dial that now resides on the bridge between the piggy back and shock body, as well as a proper dial to tune the ending stroke rebound (
the production Vivid requires a hex key
). Small witness marks allow Smith to return to his base settings after making adjustments. There also looks to be a volume adjustment feature on the piggyback that allows the shock's progressivity to be adjusted.
RockShox dodged most of our questions about the proto shock, but we have solid information that significant changes have been made to the internals, including a completely altered top out assembly. Why does that matter? The top out spring can also be utilized as a negative spring, helping to push the shock into its travel, and we're that the internal changes have been done to further increase suppleness. Many of RockShox's air sprung forks feature adjustable negative pressure for this very reason, allowing the suspension action to be either more supple or slightly firmer at the top of their stroke. Riders who have spent time
on the prototype Vivid have told us that the shock is incredibly sensitive, reacting to even the smallest trail chatter.
Interestingly, Smith's bike doesn't sport the de rigueur titanium shock spring fitted to its prototype Vivid, with a standard 325lb steel spring used instead. There are two reason's for this: the Vivid's larger than average shock body requires a shock spring with an equally large bore, a tough find when it also has to fit a 3.5" stroke shock. Also, Smith is known to be extremely sensitive when it comes to setup, and finding a proper length spring with the exact rate that he wants has proved difficult. Titanium is found at nearly every other location on the red and white bike, though, with torx-head titanium bolts used to mount the brake calipers, as well as for the fork crown pinch bolts. Shock hardware is also titanium, and the titanium washers are even drilled out.
www.devinci.com