Those who like to ride mountain bikes in the classic sense of the phrase may often feel a bit left out here on Pinkbike, but the truth of it is that we can often be found out on the mountain earning our turns and enjoying all types of trails, not just those that require a truck and a downhill bike to get the most from. With an adjustable 120 or 130mm of rear wheel travel and an all around geometry set, Felt's Virtue series is intended for just that, slotting nicely into what is commonly referred to these days as the trail bike category. The five bike Virtue lineup includes their top tier, carbon framed Virtue LTD, but it's the bike at the opposite end of the range that we're interested in, the $1999.99 USD Virtue Sport.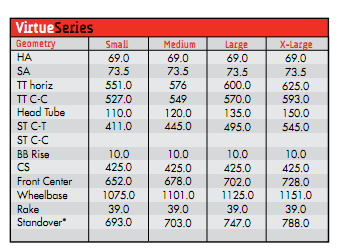 Felt Virtue Sport Details
• Intended use: XC/trail
• Rear wheel travel: adjustable from 120 to 130mm
• Hydroformed aluminum frame, including rear stays
• Tapered head tube
• 135mm QR rear dropouts
• 69° head angle
• RockShox Tora fork w/ 120mm of travel, remote lockout
• Rockshock Ario R rear shock
• Weight: 31lbs, 10oz (w/o pedals )
• MSRP $1999.99 USD
Frame Details
Despite the reasonable price, the Virtue Sport still manages to be assembled around a frame that is more than worthy of upgrades down the road. The details required of any proper do-it-all trail bike are present, including the obligatory tapered head tube up front and low stand over height, but it's only when you take a closer look at the frame that you see how nicely it's finished. Hydroforming is used to extensively shape not only the tubing in the front triangle, but also the rear stays, giving the bike the appearance of costing much more than what Felt is asking for it. Its black, white and orange paint job, while likely not for everyone, further enhances that effect.
The substantially shaped two-piece rocker arm is heavily relieved along its inner faces, and the shock bolt threads into a replaceable steel insert at the opposite side. In fact, all of the Virtue's suspension hardware is stainless steel, likely adding a few grams over aluminum bolts, but improving durability in the long run, especially for those home mechanics who prefer to look after their own steed. Aluminum pivot caps, complete with anodized bolt torque numbers, help to keep the crud out. While all major pivots rotate on sealed bearings, the bike's Equilink tie rod pivots on DU bushings and hollow stainless steel hardware that are lighter and are said to stand up better than the previous iteration's needle bearing system.
What is Equilink?
Pretty much all suspension designs depend on a certain amount of chain torque for a degree of pedalling efficiency (some designs use more than others ), with engineers having to walk a fine line between too much - you'll lose bump sensitivity, and too little - the bike will bob badly and pedal as if it was stuck in molasses. This is true of everything from single pivot bikes to more complicated multi-link machines, although some will also employ custom shock tuning to either enhance suspension activity, or as a crutch to cover up bad pedalling traits. Felt claims to have found a way around all of that with their Equilink suspension system, although they are far from the first to make such assertions. Equilink utilizes a vertical tie rod - the perpendicular orange component in the photo to the right - that connects the upper link (the rocker arm ) to the small link between the chainstays and the front triangle. Why go to all that extra trouble and complication?

Felt says that connecting the two links together eliminates the bike's dependency on chain torque for pedalling performance, allowing the rider to set the suspension up with absorbing terrain as the primary focus. Equilink operates by forcing the upper and lower links to function as a single unit, despite their differing purposes. The upper link rotates clockwise and tries to compress the shock during acceleration, while the lower link tries to pivot counterclockwise due to chain torque, but the vertical tie rod connecting them together forces both the suspension loads and drivetrain inputs to work in unison, effectively cancelling each other out.

If the design functions as Felt asserts it should not only will it allow a suspension setup that performs well on small impacts without sacrificing efficiency, but also not require the rider to be in a certain gear combination for optimal pedalling performance - it should behave the same regardless of gear choice, unlike many other designs. Rousing claims for sure, but only trail time will tell us whether Equilink can live up to Felt's lofty claims.
Component Spec
There is no doubt that much of the Virtue Sport's value is packed into the very nicely built frame, but Felt still had to spec the bike with components that can handle some abuse on the mountain. The bike's $1999.99 USD price makes this a challenging undertaking, but you'll still find a mix of trail worthy parts. Both the front and rear suspension units are from Rockshox, with an Ario R rear shock and 120mm travel Tora Coil fork, both of which sport external rebound adjustment. The Tora fork also makes use of a bar mounted Poploc remote that can be used to instantly lock the suspension out.
Shimano takes care of most of the 9 speed drivetrain, with the exception of the SRAM PG-950 11-32 cassette. Felt wisely chose to include Shimano's Alivo hydraulic brakes on the spec list, eliminating the need for the Virtue Sport owner to make that one of the first upgrades.
Specifications
Price
$1999
Rear Shock
RockShox Ario R
Fork
RockShox Tora Coil 120mm Travel
Cassette
Sram PG-950 9-speed 11-32
Crankarms
Shimano Alivio , FC-M431-L, 9-speed
Bottom Bracket
Shimano ES-25 Octalink
Rear Derailleur
Shimano Deore RD-M592
Chain
KMC Z99 9-speed
Front Derailleur
Shimano Alivio FD-M430
Shifter Pods
Shimano SL-M430 9 speed
Handlebar
Felt MTB XC Riser bar
Stem
Felt MTB oversized 3D-Forged Design
Grips
Felt dual-density wing grips
Brakes
SHIMANO BR-M445 Hydraulic Disc Brake
Hubs
Forged Aluminum, for Disc Brake, rear: Shimano FH-M475
Spokes
Stainless 14g with Brass Nipples
Rim
WTB SX-24 Disc Brake doublewall Aluminum
Tires
Felt TAR Mountain tire
Seat
Felt Mountain Design
Seatpost
Felt Alloy Micro-Adjust
---
Riding the Virtue Sport
Climbing
Ascending on a nearly 32lb trail bike is never going to feel as inspired as on a lighter weight bike, but the Virtue Sport does have a snappy personality that is somewhat at odds with its relatively portly figure. The bike doesn't surge ahead like some trail bike rocket ships, but there is a certain amount of life to it, especially under pedalling loads, that give it a rousing feel under you. Equilink at work, or just a dialed overall package that works in the real world? Felt's Equilink suspension adds both complexity and weight to the Virtue, but, after spending some quality trail time on it, we believe there is something to the design that merits its place on the bike. The RockShox Ario R shock lacks any sort of pedal assist lever, but we'd likely never reach for it even on the smoothest of climbs. The suspension also remains relative stable across the gearing range, without much of the bob or extension that can be found on some other bikes when under load. The bike isn't completely immune to the unstoppable force of physics, of course, with it not able to cover up bad form - pedal squares and you'll see the suspension resonate up and down much like any other design, regardless if set to the 120 or 130mm option. Unlike the rear of the bike, we often hit the bar mounted fork lock out when we rose out of the saddle to temper the Tora's somewhat active and bouncy stroke.
While many Pinkbike readers will shudder at the thought running such a long stem, the Virtue Sport's stock 90mm unit and steep 73.5° seat angle make for a bike that can clean technical pitches that a rig with a jump-friendly shorter stem could only dream of. There is a trade off to that extra length, but the riding position allows you to relax and pick the proper line instead of simply trying to smash your way up, as you are often forced to on a bike with a shorter stem. The relatively upright 73.5° seat angle works well if you are a rider who likes to sit and spin your way up climbs, but those that prefer to mash a tall gear might find themselves sliding the bike's saddle back more than they expected - a layback post will make sense here. Unfortunately, the stock tires take much of the steam out of the bike on technical ascents. The Felt branded TAR rubber does little to move the bike forward over lose or wet ground, with about as much bite as a toothless geriatric patient. Change them out for something more aggressive, as well as a cassette to one with a 34 tooth large cog (
the stock cassette has a 11-32 spread
), and you'll find yourself motoring up some challenging terrain with ease.
Descending
The trail bike genus is spit into more sub categories than crayon colours, but, for the most part, they will either be built up for general trail riding, or assembled with wide tires and bars for more aggressive use. The 120mm travel Tora fork that uses quick release lowers, and 2.1" wide tires front and back, clearly put the Virtue Sport in the former of the two. With the Ario R's stroke setup to sit into 25% of its stroke under sag the Virtue tracks very much as you'd expect a 130mm bike to perform, although it felt as if a touch more chatter was being transfered through to the rider than we'd like to see. Taking a few minutes to get the Virtue to sag closer to 30% seemed to remedy this, although most confident riders are likely to find themselves bottoming too much when the damper is running a full 30% sag. This is a bit of a shame because it makes it hard to take advantage of the Virtue's solid pedalling by setting the bike up to be slightly more forgiving for the downhills.
The coil sprung Tora fork can't be compared to more expensive, and therefore more sophisticated, options, but it is certainly trail worthy. A surprisingly active stroke, likely thanks to its very smooth steel stanchions, eats up smaller trail chatter quite well. It does tend to use quite a bit of its travel when on the brakes, but this may not be an issue for less aggressive or new riders. Adjustable rebound damping lets you adjust the return stroke's speed, and we found ourselves running the fork faster than usual helped to compensate for its dive-prone tendencies. The Tora fork is relatively solid, given its slim 32mm stanchions and quick release lowers, but those familiar with 15mm thru-axle forks will quickly notice the difference between the two. Where the Tora scores points is in its reliability - the inexpensive fork was smooth day in and day out, despite nasty conditions and absolutely zero love. There was a time not long ago that a fork three times the Tora's price would need to be massaged often to keep it running well. The Tora name isn't found in RockShox's 2012 lineup, but their new XC 32 TK looks to fill that role.
Those who approach descending with a causal attitude will likely find the Virtue Sport more than enough bike for their needs, but it isn't hard to reach the bike's limit when it's ridden forcefully. It isn't the suspension units that keep the Felt from greatness (
those perform surprisingly well given the bike's $1999.99 USD asking price
), but rather a geometry and tire issue. One can be solved easily - new, wider rubber will transform the Virtue - but the other must be lived with. The bike's 69° head angle isn't unusual in this travel bracket, but the bike felt decidedly pointier than most when the speed picked up or the trail got steep. Swapping out the 90mm stem to a 70mm unit helps the situation, but we constantly found ourselves wishing for a slightly slacker front end. A single degree can make a world of difference in the heat of the moment.
What about those parts?
• The Virtue's Alivo brakes surprised us with how well they performed despite their low positioning in Shimano's component hierarchy. Their ergonomics feel spot on, with a lever shape that is just right, as well as geometry that feels quite natural as you pull the lever in towards the bar. Their power doesn't equal the majority of higher-end systems, which is to be expected given their resin pads, but we didn't feel like we needed more when riding the bike within its intentions. Great modulation helps in this cause as well. Those who plan on upgrading to sintered brake pads should keep in mind that this will also require a rotor swap, as the stock discs are only compatible with the softer stock brake pad compound.
• Anyone considering purchasing the Virtue Sport will be doing themselves a favour by swapping out the Felt branded TAR tires before leaving the shop - put the credit that the shop gives you towards some proper mountain bike rubber. The stock tires are not only built from a rather hard rubber compound but are also just 2.1" wide, front and back. While we've used plenty of skinny tires that perform well, these don't. Their low volume transmits too much chatter through to the bike, and they have a skittish, unpredictable character that doesn't inspire confidence in the slightest.
• The bike's drivetrain came through the test unscathed, although it took a bit to adjust to the triple ring setup (
the majority of our test bikes have used a two ring crankset
). Despite the three rings, we never dropped a chain.
• The stock stem looks great on the bike, but its 90mm length had us reaching out over the front a bit too much for our liking. A good shop will likely trade you for a shorter 70mm version before you take the bike out the front door, a swap that will increase rider confidence ten fold. Don't be afraid to think outside of the box when it comes to stem length, even if a shorty stem means going up one frame size - this is an upgrade that really lets you get the most out of the bike's handling.
• We found the felt-embossed saddle to be comfortable over the long haul, a surprising discovery considering how terrible the stock saddles on price-conscious bikes can be. Everyone is shaped differently, but give this seat a chance and you may be surprised.
2012 Virtue Sport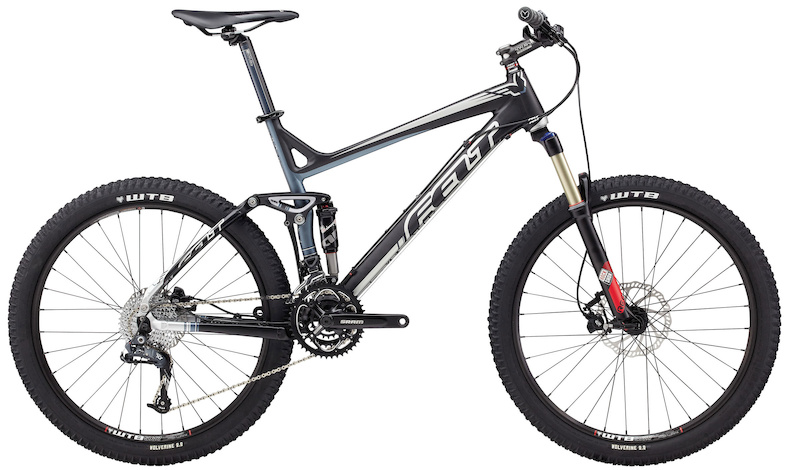 The 2012 Virtue Sport increases in price to $2,499 USD, but address all of the concerns that we had with the '11 model. Gone are the very suspect TAR tires, as well as the Tora fork. Instead you'll find a set of 2.2'' wide WTB Wolverines, and a Rockshox Recon fork. The tires will likely make a world of difference in how the bike behaves, improving traction and performance all around. The 120mm travel Recon fork utilizes a 15mm thru-axle, compared to the Tora's standard QR fork lowers, and air sprung internals (the Tora used a coil ) that will allow Virtue riders to increase the spring rate to match their skills and body weight. While the 2011 model required some upgrades to realize its full potential, it looks like the 2012 Virtue Sport is much more prepared for battle right off the showroom floor.
Pinkbike's take:
| | |
| --- | --- |
| | Felt's Virtue Sport isn't the ideal machine for a rider who is already pushing his or her personal limits on the mountain, but with a very reasonable MSRP of $1999.99 USD it will make a great bike for someone who is discovering their local trail system. This is especially true once a set of higher volume tires and shorter stem have been installed, opening up the bike's performance window greatly. The Virtue frame can brag about being much more refined than many more expensive offerings, making the bike worthy of keeping it in the stable for the long run, upgrading the spec as your skill and bravery increases. - Mike levy |
www.feltbicycles.com