All Fluidride Cups begin on a Friday. This particular Friday was really mellow in racer attendance and the racers that did attend were all bragging about how many laps they have got down already. All courses were taped and open for course inspection. I personally like to take my time on these Fridays and getting accustomed to my bike is key. Usually my bike is buffed out by my mechanic Craig Cleary and this race my bike wasn't - instead - it went to Whistler with the real owner of the frame, Miles Sullivan who literally rode it so hard that I'm surprised at its condition. I immediately get to work on it - brakes are goofy, wheel's are 'taco'd' and it's really dirty.
I get the bike ready for laps an hour and half later - losing some track time, but it's early and I intend to 'pace' myself this weekend as I hunt down the water station, pounding water I started to get the 'beer bladder' and knew I wasn't going to get dehydrated like the last race. I gear up and head to the shuttle line. First run, I'm pretty excited to pedal into 'White Knuckle' without the Pro Class mobbing down and adding pressure. As I hit the first turn and drop down I'm greeted with huge brake check holes, I'm talking huge here. I search out the smoothest lines and over the first jump (where I broke my arm last year) into one really rough landing. Next corner is blown out with baby heads lurking everywhere- I don't remember that from last race. It opens up again and down I go - first run, the course inspection, our track is maybe 3 and half minutes long. There's really only 2 spots to 'step it up' and I found them to be a challenge.
I head back to the pits where Ernie Vogel of Cove Bikes has set up a tent with several demo bikes for anyone to try out - I throw my bike in the Park Tools Bike Stand and begin working on my Cove Shocker. Brakes need a tune, my front wheel needs a bit more work and I'm back in the Shuttle Truck line. It's about 16 mins to the top and it takes 3 and half to get back down...so you can bust laps quickly in the shuttle trucks.
The Olympic Dirt Society works under permission from the local land managers - they have strict guidelines and have executed several races to earn the trust of several higher ups. Scott Tucker, Lars Sternberg and Casey Northern lead the ODS and deserve huge accolades for operating these amazing DH race events - they also host Shuttle Days here at the Dry Hill for the non-racers. A great place to bring the whole family and the 'Twighlight' movie fans. I didn't want to run track all day long and decided to see some other trails that lead down, so a few racers rolled 'Limbo' and 'One Liner' to break up the track time. We all laughed as we usually stay on the track saying 'why didn't we run that line more?'
As the last call for shuttles leaves the base area - I get one last 'sweep run' and I decide to run the Cat 1/Pro course. I let another rider run 'King Diamond' and I cleared 'White Knuckle' for anyone hurt or lost. I switched out to the lower course and ran it - all the new changes where super fast and the big hip jump surprised the crap outta me - I told myself 'good one dumbass, no one rescues the rescuers!' as I drift sideways in the air, roughing up the landing some more and I carefully return to base. We then load up and head to our room at the Downtown Port Angeles Hotel for showers and beers.
The sun sets as we giggle and laugh watching UFC Cage Fighting...in preparation for the next day - I shower and hunt down more tools to work on my wheelset. Eventually I get them decently straight, a season long amount of track is tough for rims and I'm impressed as apple pie over the WTB FR Laserdisc, they are holding up well considering the abuse they take. My Fox 40 on the other hand has seen better days.
Saturday morning arrives. Seagulls scream all morning long waking us up. Carl Warren heads down to Cockadoodle Donuts and hooks me up with a coffee and some morning sugar. I felt like a kid that day and excitedly we head to the Dry Hill for scheduled practice. Cat 2/3s got 9am to 1pm time and we all took it with a grain of salt. I ended up busting 5 runs in the time allocated and wanted to conserve my energy for the race on Sunday. Instead, I talk Ernie and Joey Lancaster (Rockstars' NW Promo Manager) for some more runs down 'Limbo' and 'One Liner' we lapped those trails twice to end the day. It's fun trying out all the Cove Bikes- everyone should attend a bike demo and see/feel the improvements each brand makes, it's called progression of product. All while Pros are taking their practice very serious, but I begin to notice some missing guys - No Ethan and Joy Mutoli, No Bart McDaniels, No Phil Wiering and the list goes on...what's going on?
There are some big names rolling around the finish line pit area- JD Swanguen, Brad Oien, Kieran Bennet, Sean 'Griz' McClendon, Bryn Atkinson, Kyle Thomas are all lining up. I even saw a cat named David Camp roll up on a street bike and gear up. (David Camp ended up sustaining a pretty good injury and punctured his lung in practice - we wish him a speedy recovery!) I see very few women racing this weekend and I ask this "WHERE ARE THE WOMEN DH RACERS?!" Leanna Gerrard is here, but Ms Jill Kinter is on scene, just not signing up. So in the end, only 2 women pros where on the track and 6 Cat 1s raced...ZZZZzzzzzzz. OK, call out to all women- COME RACE THE FR CUP! It's fun and where else can you be dirty? (don't answer that just yet!)
Take a helmet cam run with Pete Donley and see how tough the pro track is

:

Cove Bikes was hooking up demo rides till the very end. They did over 24 'test' rides and each ride was returned with accolades and smiles. The real reason a bike company does the demo program is not many shops offer the 'Ride Before You Buy' program so you're never really sure of the big purchase. Cove is building its customer base one rider at a time, just ask anyone on a Cove, they will tell you it's the best for a reason.
Scope out the Cove Bikes website here.
Practice comes to an end, the Hurricane Racing staff scurries around finalizing all the timing boards, the N-dub boys are making sure the trucks are running smooth and the track is ready. I see Syndrome Racing's Andy Tran limping back to his pits and I ask 'You OK?' He explains that he's hurt his knee and is out of the race. I immediately feel bad for him, I know he's into racing and missing a race is like a hot poker in the heart. At least he's free'd up to bring us all another amazing video of the Pro's and Junior Experts as they attack the course.
Sunday morning comes early, I mean you have to be moving by 7am or you're not going to make your start time. Period. We pack up our room and load up all the bikes. It's race day!
The day starts with gearing up and getting your 'one and only' warm up run. The lines are pretty big at this point and Race Organizer Scott Tucker ushers me in front of the line stating to everyone "Mike's got to get back here and start MC'ing the event" as he holds up the tape for me to get on a truck. Once at the top, I try to find someone who is pretty fast, a young man rolls out to the ramp and I follow. I wanted to see him handle the trouble spots. Well, he didn't last long at all, on one turn, he just blows right out of the track. I laugh as I knew you couldn't brake check that corner at all. Most corners are finesse and speed, this one was just a mess and you had to set your turn early and exit balanced just right. Overall, the tracks were as fast as you wanted to go...literally too fast in some spots.
Petr Kakes of Hurricane Racing gets the starters and the base area command center up and running by 10am. We start the first Pro Men, Pro Women and Junior Expert qualifying rounds at 10:10am with 30 second intervals. Once we get all those classes across the finish line, I get to run the Rockstar Energy Hotseat for the remaining of the day. The first class to fight over the hotseat is Cat 1 20-29's and the race is officially underway. This class is 29 racers deep and it includes Transition's own Sam Burkhardt, so the racing is gonna be good. In the end, Downhill Zones Tyler Gilsdorf edges out Fanatik's Colin Tobin by a .69 of a second.
I'm calling out the play by play of the race unfolding now for Cat 1 30-39. Interviewing the racers as they cross the line, regain their breath. Amazingly not one racer pukes, I usually see somebody up-chuck their breakfast, but not a one this race. I did see something extremely nasty and scary. Last years reigning champ, Dirt Corp's Matt Patterson crossed the finish line sorta unresponsive. I walk over to see if he's OK and he says 'No, I got a boo-boo, check it out." as he pulls down his pads he shows me this:
As everyone scrambles to get Matt some help, I keep the play by play going. Realizing that Matt Patterson got a 3:19 that places him 9th overall! A top 10 run with that ugly ass knee? Well dress me in a hat and call me Michelle! 20 racers attacked that class and in the end Speed Metal's Tyler Bates edges out Derik Nelson and Giant's Paul LaCava for the win.
Cat 1 40+ is the 'Veteran Pro' class. There's a stacked field of 12 very accomplished racers and watching these guys race is amazing, they have real jobs on Monday by the way. So one by one, they cross the line. 55 Year old Arnold Mukai has the biggest grin of all as he hits the line. He's the one guy there who has all the fun (and looks really good in TLD kits), I ask Arnold "why do you race?" and he replies "Because I got nothing better to do!!" Classic line right there...Boone Dog Bikes (And Super Star UPS Driver) Jason Moon edges out NW Legend Brad Watt by almost 2 full seconds, hard to do, really hard to do.
Future Pro Women Class is next, 6 ladies line up the start ramp and one by one they come down the track - 2009 US National Champ Chelsey Stevens gets beat by returning Wheelsport East teammate Jaime Rees by 5 seconds. But both racers are rumored to be moving up to the Pro ranks next year...should be interesting to see this unfold.
Tracks are changing now, Pros and Cat 1s were coming down 'King Diamond' to 'Pro Course', the Cat 2s get 'White Knuckle' to 'Motoguzzi' then out to 'Cakewalk' and to break this course under 3 mins is amazingly fast racing. As the Cat2s attacked, I dropped the microphone into the hands of ODS Captain Casey Northern. He does a great job covering for me as I hit the Cove pit and gear up. I get my first VIP ride up with Scott Tucker to the start and upon arrival I'm amazed by how many people are packed into the start area. There's a few and they all were excited about their pending race runs. I chat with my class and let them all know that it's game time.
Finally I'm on the ramp, waiting my turn. Kevin, Hurricane Racing's Head Starter and I chat about shots of Whiskey and the long drive home when all of a sudden he says - 30 Seconds! I grab my goggles and get them perfectly placed, I make sure I'm in the right gear- then 'BEEP' 15 second warning...my bladder chimes in at this moment and begins to scream 'Pee!' as I hear the 5 count click off. Bip Bip, Bip, Bip, Bip BEEEEEEEPPP! I time it perfectly for my first crank off the platform and start dropping gears as I start my race run. I turn into the first section and I do my best set a strong fast tempo. I'm hitting all my lines and out of 'White Knuckle' I get the high speed off camper left turn nailed. I go so far inside that I got a sweet spot and railed it with exit speed. I hear Scott Tucker yell at me "PEDAL!" and I crank my Cove Shocker hard into 'MotoGuzzi' and whoa my god, it's a mess, some other racers have kicked a few baby heads into the track and my back tire bounces sideways as I crank some turns, first dab save, no momentum lost at all - I love my long legs. I hit the one hard jump and breathe a sigh of relief as it's on a narrow, rooty corridor. I enter the final merge onto 'Cakewalk' and open it up. I got a few hard pedals in and passed on the first jump. The first hard 45 degree to the right and it's all about the exit here. Down into the most brake checked out portion of the track and into a baby head filled corner and another high speed exit into the 2 jumps to pump, first jump I scrubbed it too hard and ended up doing a one footer to regain my balance. Full rush overtakes my whole body. I'm out of the last hard corner and it's wide open again down to the finish line. I'm pumped on my run! Then I hear it, I get the hotseat...and the rest is history.
Next up is the young guns, the future 'Experts' and there's a lot of potential in this class, noteables are 3rd Place finisher Kole Wetherell (661,Sunline,Royal) and 2nd place gun Kevin Littlefield but the win (And Sub 3 Minute Time!) goes to Evil Bicycles/Dakine/Hurricane Racing's young Dan Kruse who crushed the course on his custom Evil Revolt. The future looks very bright in DH...just saying.
Finally, the Women Open class begins with 9 racers and in the end Jennifer 'Do' Tell of Dirt Corps and Lisa Hong of DWB had to bow down to Team Samica's (and Newlywed) Jessica Serdowich as she blistered the track 5 seconds faster.
Now we begin the Cat 3's, they all descend one at time and there's some 'sandbagging' going on, but nothing too major, all had fun and it was a great track for them as well. Most enjoyed the 'Hotseat' attention and the thrill of getting knocked off reigned supreme.
And now we send up the Junior Experts for the final runs of the day. I'm excited to see this class unfold. No one broke 3 mins in the qualifying runs and to accomplish that would send the message that that particular racer is 'pro' level at (or under) 18 years of age. 13 racers met on top, 31 seconds divided the final result. Team Mukai's Conner Mishalanie has had a decent year, he's a big threat, but a few too many mistakes landed him a 6th spot. Classic Cycle's Zach McDonald, Whitefish Mtn Resort/Cove rider Willie Hobbs and Fanatik's Andrew Widman blazed solid runs to earn podium spots. But the season long battle for points comes down to Downhill Zones Evan Gilsdorf and Fluidrides/Evil's Luciano Worl. In the end, Luciano Worl takes the hotseat and win with a smoking hot run (earning 10th overall and some prize purse funds) with a 2:59.57. (Note:
Luciano is competing for the US Cycling Team at the upcoming Worlds
!)
There were only 2 Pro Women in attendance, not including Olympian and Crankworx's Champion Jill Kinter walking around the pits. Did her arrival spark a little stress in the rest of the women's pro field? I wonder. But Monavie/Cannondale's Leana Gerrard was edged out by Speedy Beaver Racing's Dawn Fidler for her first win of the year. Congrats to our only 2 women pros...both earned a nice check from Kona Bicycles.
Now the Pro Men's Purse, nicely provided by Evil Bicycles. 24 Pro men racers descended the Port Angeles' Dry Hill Track and it was a tight battle. Mike Haderer of Fox Shock and Orange made the huge trip from Colorado to race, he lands just outside the top 10. Boe McGee of Go-Ride.com has also just missed the top 10 times and misses getting a check by less than .5 of a second. That's racing! Project 529's Eric Loney lands in the mix, he was one grumpy dude earlier that day and I'm glad he pulled a good run. Team Robot's Chazz Sponsel and Transition's Kyle Thomas bounced around good runs. ODS Pioneer Casey Northern was beat by 6 one hundreths of second, out of the top 5. Intense/TLD/Spy's JD Swanguen earned his 'natural skill' award and got 5th, he even told me before the races started that is was going to be an "all Intense rider podium!" and he was almost spot on. Kieran Bennet of Xfusion/Intense manhandled his steed and claimed the Hotseat for quite sometime. Only until ODI,Southridge's Brad Oien crossed the line, then Brad claimed the seat for a whole minute. It was now down to 2 racers- Crankbrothers/Intense Pro Bryn Atkinson (Jill's BF) posted 2:48 stepping up from Brad's time by 5 seconds- pretty much that is the run to beat. The last man on track was Transiton's/Dakine rider Lars Sternberg and he's no slouch, all eyes were focused on the Rockstar Energy Showboat Booter as Lars came down like he was holding a lightning bolt. The timing staff kept everyone wondering if Lars edged out Bryn.
Now Enjoy Andy Tran of Syndrome Racing's awesome video!

: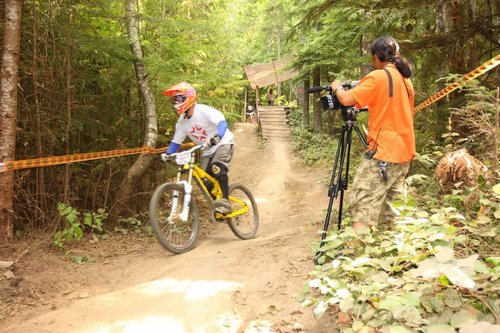 Andy Tran getting another Fluidride Cup race documented.
The timing staff kept everyone wondering if Lars edged out Bryn. But no, Lars posts a 2:50 and it was over - Bryn Atkinson wins the 5th Fluidride Cup of the year!
The race ends at 2:45, I announce the raffle and awards will start at 3:15. Everyone mills about and a few of us run over to Brad's Blue Flame BBQ and grab anything left to eat. I score a plate of beef ribs, a nice huge corn on the cobb, a dinner roll and a cold Pepsi. Lots a chatter about the day and people are all buzzing about enjoying the closing parts of the race. Some guys are breaking down their pits and I'm packing up my gear as Carl Warren comes stumbling outta the woods with this story.
"Hey Mike, did you hear about the Kona Bike's Photographer who tripped and tore up his knee really bad." I reply "you got a picture?" and Carl gleefully puts his camera in my face and I see this:
And the raffle begins!
Full results can be downloaded here, including the Overall Points.
All Fluidride Photos are quickly located here
.
You can view allot of podium shots in several Pinkbike Photo Gallery's,
Carl Warren's Sunday Photo Album here.
Doug Snowden (RunsWithCamera) Photo Gallery is here.
and
tbwind8 also has great images of the awards and Cat2's and 3's racing if anyone is searching for images.
All I can say is the 'Return To The Hill' DH was sadly missing the Canadian attendance and hopefully the final race of the year- Sept 25th to 27th we will get a few boys from the Great Red and White colors to cross south over the border and take on the clock down here.
I want to make sure several people get their accolades - Huge thanks to all the racers and spectators for 'policing' themselves and keeping the track clear. Peter Kakes and the entire Hurricane Racing staff for your amazing attention to details, huge appreciation to the EMS Services for Kona Trevor!, Thanks to Shawn Sinskie and all the shuttle truck crew and hugs to everyone at the
Olympic Dirt Society
and thank you to all the Port Angeles 'Higher Ups' that allow this event to happen, Scott Tucker, Casey Northern and Lars Sternberg- without your involvement no one would come to race this track, you guys are exceptional and we all appreciate your efforts to make gravity racing in the NW a true step above any other series in the North America. Kudos' to all volunteers and apologies in advance to anyone I missed.
Carl and I have one thing on our minds now- FRUGAL'S Burger and Shakes. So we pack up and enjoy the rewards of a great weekend.
Until the next race! Adios Amigos.
Mike 'northwestdhdad' Estes
The 2009
Fluidride Cup
is brought to you by:
Kona Bicycles
Fox Racing Shocks
Evil Bicycles
Fluidride Bike Shop Seattle WA
Shiloh Cyclery
Pinkbike.com
ODI
e.13
Dakine
Scott Optics
Corsair Bikes
Transition Bikes
Mace Gear
Rockstar Energy
Gravity Components
Brasher's Auto Auction
Stevens Pass Ski Area
Jones Soda
WTB
Arrow Racing Tires
SRAM
Lizard Skins
Pryme
661
Royal Racing
Republik MTB Apparel
Luna