Foes Racing

released the Mixer Trail at the 2015 Interbike expo in Las Vegas, but the bike had been in development for over two years in collaboration with Timberline Cycles - one of their top retailers and an avid proponent of mixed wheel mountain bikes, both for their ability to roll over rough ground smoothly like a 29er, and reportedly, for being able to out corner either a 29er or a 27.5-inch-wheel bike. "Mixer" refers to its 27.5-inch rear wheel and 29-inch front wheel, and it is available in two models: the Trail (which we review here) with either 5.5 or six inches of adjustable rear-wheel travel; and the Enduro, which has a slightly slacker angles and either 6.3 or seven inches of rear-wheel travel.

The Mixer's welded-aluminum frame employs Brent Foes' signature hydroformed monocoque top tube; time-proven triangulated, single-pivot rear suspension; and a low-leverage, linkage-driven shock (a Fox Float EVOL, for the Mixer Trail). 2016 models feature Boost 148 x 12 millimeter axle spacing and the recommended fork travel for the Trail is 140 to 150 millimeters. Foes Racing offers complete build kits by request but prefers to sell the Mixer as a frame and shock for $2,700. Weight of the frame with the Fox Float EVOL damper is stated as 7.2 pounds, and our medium-sized bike, built up with SRAM GX components, Stan's Flow wheels, and a DVO Diamond 29 fork weighed 30.8 pounds with an estimated MSRP of $6,000 USD.
Details:
• Purpose: trail/all-mountain
• Construction: Aluminum chassis, linkage-driven single-pivot type suspension, replaceable ISCG 05 mounts, Boost 148mm hub spacing
• Wheel sizes: 29" front, 27.5" rear
• Suspension travel: Adjustable, 5.5" to 6" (140/152mm)
• Low-leverage, 2.3:1 suspension design
• Full-complement, double sealed pivot bearings
• Shock: Fox Float EVOL
• Fork: DVO Diamond 29, 150mm stroke
• Sizes: small, medium, large
• Weight as tested: 30.8 lbs/14kg (M)
• Weight (frame w/ shock): 7.2 lbs/3.72kg (M)
• MSRP: $2,700 USD (frame w/ shock), $6,000 USD as tested
•
Foes Racing
Construction
Brent Foes' love affair with welded aluminum frames has led him to purchase his own presses to form his trademark monocoque top tubes and the CNC machining centers with which he produces the various pivot junctions, frame yokes, dropouts, as well as specialized hardware and axle shafts that connect the chassis. Brent can and does operate every machine in the shop when necessary, so if you purchase a Mixer, there is a good chance that he has personally fabricated and welded most of its frame.
Suspension:
The switch to one-by drivetrains has benefitted Foes' single-pivot swingarm design by stabilizing the geometry between forward swingarm pivot and the point where the chain intersects the top of the chainring. The result is that the effects of chain tension over the suspension can be tuned more consistently to provide a proper balance between pedaling firmness and smooth suspension action.
To enhance the sensitivity of the shock's spring and its adjustments, Foes uses a low-leverage linkage coupled with a longer-stroke shock. Foes state that the Mixer's average rate is 2.3 to one, compared to the industry average of three to one. A lower leverage rate drives the shock shaft at a faster speed, which in turn multiplies the effects of damping changes and reduces the spring rate necessary to support the rider. The short version is that a lower leverage rate broadens the shock's range of tuning options.
A pair of mounting positions for the shock on the rocker link provide either 5.5 inches or six inches (140 to 152mm) of wheel travel without altering the bottom bracket height or the frame geometry. Predictably, the recommended fork strokes are 140 or 150 millimeters. We did all of our riding with the shock set in the 140-millimeter position because the rear suspension felt supple with excellent pedaling support. The bike's DVO Diamond fork's travel is adjustable from 140 to 160 millimeters in ten-millimeter increments. It arrived at 150 millimeters, which is correct for the Mixer's geometry.
Fabrication:
Welding and construction is expertly done throughout the Mixer's frame. Brent doesn't like his frames flexing, so he tends to beef up the CNC-machined bits where the frame tubes are joined to the swingarm and pivot locations. To keep the swingarm pivots hassle free, Foes uses full complement ball bearings, which are more suited to the suspension's high loads and smaller rotation angles. When I picked up the bike, Brent told me that the tire clearance was too close at the lower swingarm yoke because he had shortened the chainstays slightly, and the second-gen production parts had not been completed in time to get our test bike assembled. I was assured that customers would receive the high-clearance yoke.
Frame details include rubber seals for the internal dropper post routing, a beefy CNC-machined axle nut that doubles as a rear derailleur hanger, a long enough seat tube to allow for 150-millimeter dropper posts and a threaded bottom bracket shell with a removable ISCG 05 guide mount. The downtube seems to have room for a single water bottle, but there are no bosses. I am sure that Foes will field a few complaints about the missing bottle bosses, but I doubt that anyone will have a problem with the fact that there is no provision for a front derailleur on the Mixer's frame. Except for the internal dropper post, all the cables and housings are externally routed and jacketed full length to keep crud from affecting the controls. Finally, Foes incorporated the wider Boost 148 x 12 millimeter rear-axle standard, presumably to obtain a better chain line while making room for 2.4 and 2.5-inch rubber out back
Geometry
The Mixer Trail's 67.5-degree head angle is a little steep by current standards. The medium-sized frame sports a 23.25-inch top tube (59cm) that, in conjunction with its 73-degree seat tube angle, produces a reach measurement near 16.5 inches (420mm). The chainstays are nice and short at 17.1 inches (432mm) and, at 13.75-inches static, the bottom bracket is just tall enough so that riders don't have to fear repeatedly catching the pedals on ungroomed trails. Just looking at the numbers, I would have expected the Mixer Trail to feel a little short, but easy to move around, and perhaps a little sketchy dropping down steep trails. I'm glad I didn't look at the numbers before I rode the bike.
Key Components
Foes primarily sells frames, but they do offer a number of build kits. Our Mixer Trail was outfitted with Foes' more economical component selection. It is doubtful that a rider serious enough to buy a $900 DVO Diamond fork and a $400 Thomson Elite dropper post would also choose SRAM's least expensive GX1 drivetrain and relatively inexpensive brakes. The folks at Foes, however, understand where to spend the money when it comes to performance. We appreciated the post, the fork, and the Fox Float EVOL shock, and we would soon discover that Stan's Flow EX wheels and 2.3-inch WTB Vigilante tires also played well together. Eclectic, but a very functional component pick.
---
| | |
| --- | --- |
| | A scorching personal best run down a relentless succession of twists and turns that are a test of both pedaling and cornering skills. Not bad for a first date with a new bike. |
If I had any preconceptions of how the Foes Mixer Trail would perform, they were shaped by the
Liteville 601 review
I did in March 2015. The 601 had a 26-inch rear wheel, paired with a 27.5-inch front wheel and it turned corners like a centrifuge. The Mixer Trail, with its slightly larger, 29 by 27.5-inch wheel combination backed up the 601's performance with a scorching personal best run down a relentless succession of twists and turns that are a test of both pedaling and cornering skills. Not bad for a first date with a new bike.
Setup:
Outfitted with a 29-inch front wheel and respectably large, 2.3-inch tires, the Mixer's handlebar sits tall. With the 140-millimeter-travel fork, the center of the grip measured 41.75 inches from level ground, which is .75 inches taller than the handlebar on my 160-millimeter-travel 27.5-wheel bike. I could have halved that figure by switching out the one remaining, ten-millimeter spacer under the stem, but I chose to leave it as is because I would be the smallest test rider participating in the review. Outside of the stack, which was typical of most any 29er with a similar fork, the Mixer felt roomy enough in the cockpit to comfortably climb and descend while out of the saddle, but riders closer to six feet tall will probably want to size up to a large frame.
Suspension settings
were pretty straight-forward, with the shock sagged to 25 percent and the fork just shy of 20 percent. I found that the Fox EVOL shock worked well with the rebound set a bit faster than I was used to, guessing that was probably necessary to balance the smoothness of the larger front wheel in the rocks and chatter. In retrospect, however, I was probably compensating for the Foes' reduced leverage rate and faster shaft speeds. Similar to the Cane Creek DBair shock, when the DVO fork is set up well, it seems like its low-speed compression and rebound are too slow in a parking lot test. I often ran the low-speed compression in the middle position, with the high-speed set about one-fourth of the way in, which is on the stiff side according to the DVO setup information, but it felt smooth and provided ample support for descending steeps.
Pedaling and climbing
effectiveness fell into the center, somewhere between what I would expect from a longer travel enduro bike like a Santa Cruz Nomad, and a shorter travel 29er trail bike like the Intense Carbine. Standing or seated, the Foes' suspension kinematics provide a good feel at the pedals. There was a little lag when I was accelerating from a dead stop, but once I had some momentum, the Mixer maintained speed with surprisingly little effort. The same sensation was true for climbing, and I learned that to keep the bike moving at the cost of an initial burst of energy was more effective than slogging up a technical section at a low rpm.
The big front wheel blunts the edges of roots and rocks, which often meant that I could choose a straighter, slightly rougher line without wasting energy - a tactic that paid dividends up steep, techy climbs and doubled my success rate. For similar reasons, I found the Mixer's combination of wheel sizes simplified the task of powering up and around uphill switchbacks. I could concentrate on maintaining rear wheel traction once I learned to trust that the front wheel would track smoothly over ruts, and embedded rocks that had given me trouble before, and the Mixer managed a tighter line than any 29er I can remember riding on the same trails.
| | |
| --- | --- |
| | The Mixer's steering is responsive. It doesn't suffer from the lackluster turn-in that is common among 29ers, especially ones with slack geometry. |
Turns:
As mentioned, the highlight of the Mixer's performance is its uncanny cornering ability. Perhaps the slight differential in the diameter of the tires causes the bike to carve a tighter arc. However it works, hard cornering forces and abrupt corner entries rarely cause the front tire to push, and the bike holds its line without being distracted by uneven trail surfaces. At the handlebar, the slower response of the larger, 29-inch wheel can be sensed, but the Mixer's steering is responsive. It doesn't suffer from the lackluster turn-in that is common among 29ers, especially ones with slack geometry.
Descending and technical riding:
Contemporary designers treat trail bikes with head angles steeper than 65 degrees like Ebola virus, and had I known that the Mixer's head angle was 67.5 degrees before I began riding it, I may have held back or at least reconsidered some of the technical lines I descended during testing.
If you had asked me then, I would have guessed its head tube angle was somewhere around 65 degrees. The front end rolls out of near vertical drops to flat, and I could put a lot of pressure on the front wheel and steer with confidence down tricky chutes. Under braking, the Foes remains calm and level, and rarely if ever will it push the front tire if you overcook a turn.
The aluminum chassis is stiff, and that also adds confidence both at speed and in the rough, and there is just enough quality suspension travel on each end to keep you out of trouble should you forget in your enthusiasm that the Mixer Trail is not actually a fully-fledged enduro racing sled. The Mixer is capable and easy to handle - which means that it encourages its owner to ride it to the O-rings on downhill tracks. If that is you, Foes makes an enduro version with an inch more travel and a slightly longer and slacker chassis for about the same money.
Overall impressions:
If you have garnered that the Mixer Trail is an easy bike to ride, you got the message. How much the mixed diameter wheels play into that equation is hard to quantify, but there can be no doubt that having a slightly larger front wheel creates some magic in the way that it turns corners at any speed and intensity, and to a lesser extent, in the ease with which it negotiates rough or steep terrain.
Studies done by Liteville's Jo Klieber indicate that nearly all of the terrain-leveling action that is attributed to a 29er's superior rolling efficiency is generated at the front wheel. Riding comparisons indicate that moderately biased wheel diameters improve a bike's stability while cornering. Big-wheel/small-wheel bikes were sold before by the likes of Cannondale, Specialized and Trek, but in diameters that were grossly mismatched (24" x 26" and 26" x 29"). The injection of the 27.5-inch wheel between 29 and 26 provided the necessary half-step, which seems to have achieved the correct turning arcs and slip angles to make the concept work.
Technical Issues
Two Wheel Diameters:
Technically, mixed wheel diameters should not create issues for customers because most wheelsets are also are sold as individuals, tubeless has reduced the need to carry spares to one emergency tube, and the 27.5-inch size can service all three tire diameters.
Tall Stack Height:
There is no escaping the Mixer's handlebar height, caused by the addition of a long-travel fork to an already tall, 29-inch front wheel. Foes made the head tube as short as possible, but even flat handlebars will not lower the grips enough for small riders to properly weight the front wheel or to find a decent climbing position. One option would be reducing suspension travel, but that robs the fun. Another option would be to offer a second model with 26 and 27.5-inch wheels.
Tire Clearance:
Brent Foes promised that the Mixer's lower swingarm yoke would be modified for production to provide ample tire clearance. We were surprised, however, that the arch of the DVO fork was as close to rubbing the Mixer's front tire as the swingarm was to the rear tire. DVO reportedly has a new casting in the works for its 29er models that will fix the problem. Until then, if you ride in mud and slop, you might consider skinny tires or a different fork.
DVO Diamond Fork:
I was not overly impressed with the Diamond's performance until I got the tune right, after which it delivered exactly what a mid-travel trail bike needs: lots of support, just enough small-bump compliance to ensure traction, and a smooth ramp-up to the end-stroke to handle substantial jumps and drops.
WTB Vigilante Tires:
I called Vigilante tires "High Plains Drifters" because when pushed to their limits on sunbaked trails, they would lose grip with little warning. Moisture in the soil, however, brought their fangs out. Once the tread could penetrate the trail surface, the grip and control they offered were significantly better than that original experience.
Pinkbike's Take:
| | |
| --- | --- |
| | Foes' Mixer Trail goes beyond demonstrating that mixed wheel sizes can improve performance. It reminds us that there are more ingredients left to discover in our quest to create the ultimate mountain bike. After over a year of riding ten-thousand-dollar, slacked-out, big-travel, enduro-inspired superbikes, I was pretty sure that one of them would become my all-time favorite. Then, Brent Foes walks into the picture and says: "Hey, did you know that if you put a bigger front wheel on your fashionable mid-travel trail bike, it will be able to hit all the big stuff and still be fun to ride everywhere else?" It seemed too easy, but after three months on the Mixer Trail, I have to admit that he's right. -RC |
---
Visit the review gallery for additional and full-size images.
---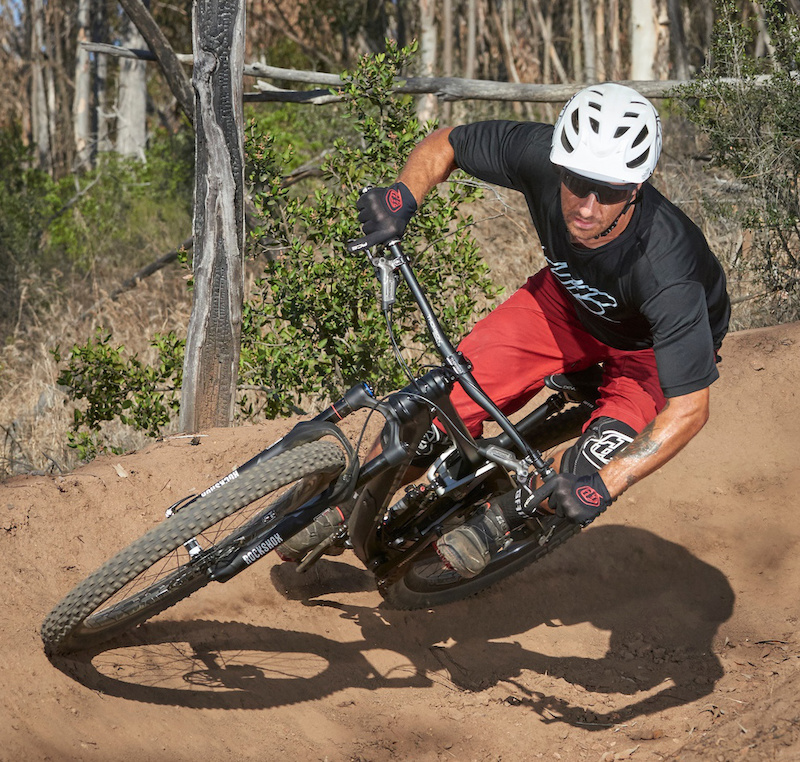 About the Rider
Stats: Age: 38 • Height: 5'9" • Weight: 170lb • Industry affiliations: Owner, iMountainbikeHarold Preston hails from Johannesburg, South Africa, a skate boarder who discovered mountain bikes when he made his home in San Diego, California, in 2000. Preston is an all-mountain crusher, a well-respected rider among the area's gravity community, and a mentor to a number of youths who have done well in national and international competition.
MENTIONS: @foxracingshox, @DVOSuspension, @SramMedia, @wilderness-trail-bikes, @iMountainBike