2013 is a big year for FOX, with a brand new addition to both their front and rear suspension in the shape of their CTD damper technology, as well as new 34 forks for 26'' wheels, slick shock mounting hardware, and the lightest fork chassis' that they've ever manufactured. We visited FOX just prior to Sea Otter in order to learn about and ride the new offerings firsthand, as well as tour both their Watsonville, California, factory and the new FOX building that is home to much of the R and D that ends up in production models after it's been proven under FOX's race team. You'll soon be able to read about both FOX facilites in an upcoming photo story, but in the meantime you can learn about the new CTD equipped forks and shocks shown below.
You'll spot the CTD acronym - short for Climb, Trail, Descend - throughout a large portion of FOX's 2013 lineup, including every single 32 and 34 fork model except for one lonely Terralogic 32 holdout. That large commitment is part of FOX's push to simplify and integrate their front and rear suspension, as well as bring the new D.O.S.S. post into that same fold. The CTD system, found on both forks and shocks, consists of three differing compression settings that can be adjusted on the fly, allowing riders to adjust the firmness of their suspension to best suit the terrain. While the Climb, Trail, and Descend designations certainly outline the concept of the system - the firmer Climb mode for climbing, the middle Trail mode for varying terrain, and the most open Descend mode for maximum suspension activity - we can see many riders finding themselves using each setting in other scenarios. For example, the wide open Descend mode could be used to help lower front end ride height on steep climbs, especially on non-Talas fork models. FOX says that the three position CTD system brings a level of factory tuning to the consumer by giving them quick and easy access to different levels of compression tuning with the turn of a dial instead of having to send their suspension in for a re-valve, or memorize multiple dial positions on a more standard layout.
One possible plus to the system that needs to be mentioned is how riders should be able to easily find the proper suspension balance between the front and rear ends of a CTD equipped bike. Assuming that the spring rates are correct for the fork and shock, having both ends set to the same mode will ensure a level of symmetry front to back when talking about compression, a major factor in creating a stable and predictable ride. It is for this very reason that both the fork and shock rebound and CTD dials feature the same amount of clicks for 2013.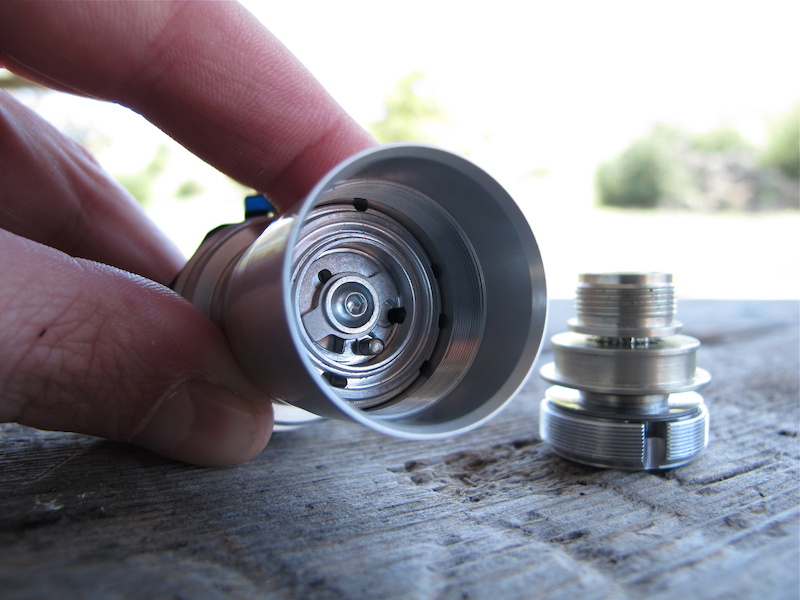 Looking inside the CTD fork assembly
Climb Mode:
Turning the dial completely to the rider's right produces the firmest low speed compression, a setting intended to offer maximum pedalling efficiency and minimal suspension movement. Internally, both the Trail and Descend oil bleed ports are closed, forcing the damping oil through the small Climb port. The oil flow is restricted by only being able to flow through the Climb port, limiting suspension movement. FOX has incorporated a spring loaded blow-off valve into the design the will allow the damper to go into its travel under hard impacts.
Trail Mode:
Rotating the indexed dial to the rider's left by 90° accesses the Trail mode. This provides an active, but firm feel that FOX says is ''
an optimal blend of pedalling efficiency and bike control on variable terrain.
" Basically, Trail mode is a stable suspension setting that will resist diving and give the rider a firm platform to push against when pumping terrain. Certain CTD models offer Trail Adjust, letting the rider choose from three levels of compression damping while in the Trail setting. Internally, oil flow is opened to the mid and high speed compression shim stack.
Descend Mode:
This, the most active suspension setting, allows the fork or shock to react quickest to the terrain. Descend mode is the plushest setting, with the damper's oil allowed to flow through the mid, high, and low speed ports.
CTD Remote:
FOX's CTD remote resembles the remote used to control their D.O.S.S. post, but a closer look reveals there it uses a dual cable arrangement that simultaneously controls both the fork and shock. The larger silver lever lets riders go from Descend to Trail and to Climb, while the smaller black lever releases the cable to go the opposite direction. The mount itself is hinged for easy installation or removal, and could theoretically also be positioned under the bar on the left side in place of a front shifter.
Forks that are purchased with crown mounted CTD controls can be converted with an aftermarket kit to use the remote, but this is not possible with the rear shocks due to an entirely different eyelet being required to mount the remote's cable stop.
Modified Float Fork Spring Rates:
FOX altered the air spring curve on 2013 Float fork models with 130mm or more travel in an effort to better emulate the rates found on their coil spring models. The longer negative spring is claimed to offer more useable travel throughout the fork's stroke courtesy of a more linear spring curve, as well as require less initial breakaway force to enter the travel.
Lighter Fork Chassis:
Both 26'' 100/120mm and 29'' 100mm Float models make use of newly butted stanchion tubes, as well as updated fork lowers that feature a reworked arch assembly that FOX says reduces weight without loosing any rigidity. The 100mm travel 26'' model comes in at a claimed weight of just 2.98 lbs (
50 grams lighter than in 2012
), while the 29'' model is said to weigh 3.24 lbs (
204 grams less then in 2012
).
New Shock Mounting Hardware:
All FOX rear shocks will now utilize new polymer mounting hardware that completely replaces the long standing DU bushing method. The split polymer bushing (
each side is pushed in separately, very much like most mount reducing hardware
) is said to reduce friction by nearly 50%, a big number for bikes that feature a lot of shock eyelet rotation as they go through their rear wheel travel. Perhaps even more importantly than the decreased friction is FOX's claim that they are seeing the new mounting hardware last ten times as long on their mud slurry testing machines, a figure that is no doubt helped by the flanged bushing edges and O-rings. The hardware can be retrofitted to older shocks, as well - likely a worthy upgrade.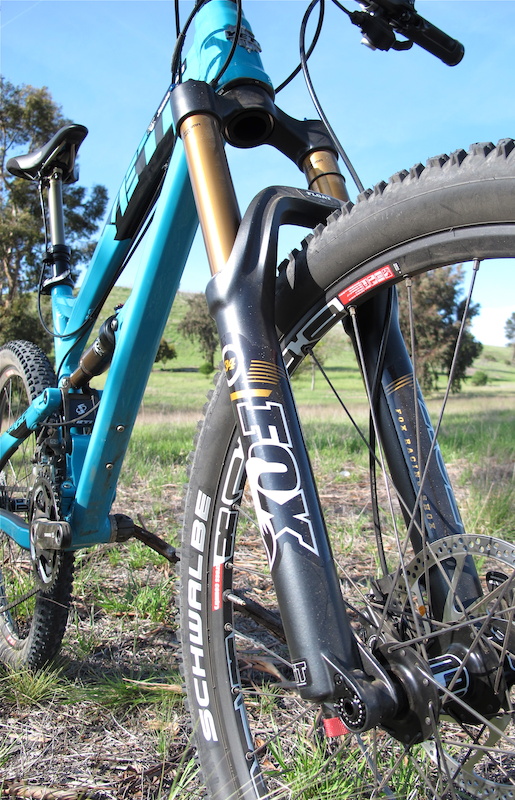 2013 Fork and Shock Options
FOX's 2013 fork range consists of twenty four different options to choose from, including two new 34 models for both 26" and 650B wheels that offer 160mm of travel in addition to the 29'' 34 forks that were available last season. The commitment to their new CTD technology is evident, with the Climb, Trail, Descend system showing up on nearly every 32 and 34 fork model (bar the single Terralogic equipped 32 Float). Many fans of the 36 will likely be glad to see the return of the RC2 damper to nearly the entire lineup, giving riders the ability to tune rebound and both the high and low speed compression.
• 26 Float Factory FIT Terralogic - 100mm - 3.22 lbs
• 26 Float Factory FIT CTD - 100, 120, 140, 150mm - 2.98 to 3.85 lbs
• 26 Float Factory FIT CTD Remote - 100, 120mm - 3.26 to 3.28 lbs
• 26 Float Evolution CTD - 100, 120, 140mm - 3.33 to 3.92 lbs
• 26 Talas Factory FIT CTD - 140, 150mm - 3.66 to 3.85 lbs
• 26 Talas Factory FIT CTD Remote - 140mm - 4.10 lbs
• 26 831 Factory FIT CTD - 100mm - 3.67 lbs
• 29 Float Factory FIT CTD - 100, 120mm - 3.24 to 3.78 lbs
• 29 Float Factory FIT CTD Remote - 100mm - 3.49 lbs
• 29 Talas Factory FIT CTD - 120mm - 4.05 lbs
• 29 Talas Factory FIT CTD Remote - 120mm - 4.30 lbs
• 26 Float Factory FIT CTD - 160mm - 4.30 lbs
• 26 Talas Factory FIT CTD - 160mm - 4.49 lbs
• 650B Float Factory FIT CTD - 160mm - 4.38 lbs
• 650B Talas Factory FIT CTD - 160mm - 4.57 lbs
• 29 Float Factory FIT CTD - 140mm - 4.49 lbs
• 29 Talas Factory - FIT CTD - 140mm - 4.68 lbs
• 26 Float Factory FIT RC2 - 160mm - 4.71 lbs
• 26 Float Performance R - 160mm - 4.63 lbs
• 26 Talas Factory FIT RC2 - 160/120mm - 4.79 lbs
• 26 Float Factory FIT RC2 - 180mm - 5.27 lbs
• 26 Talas Factory FIT RC2 - 180/140 - 5.37 lbs
• 26 Van Factory FIT RC2 - 180mm - 5.94 lbs
• 40 Factory - FIT RC2 - 203mm - 6.93 lbs
The CTD system is also employed across the entire range of Float shocks, with riders able to choose from air sprung shocks with either shock or remote operated functions. All Float shocks will feature a slightly more linear spring curve thanks to larger air chamber (this will still be adjustable via air volume spacers), as well as the improved mounting hardware that is mentioned above.
• Float Factory CTD w/ Trail Adjust Boost Valve
• Float Factory CTD Boost Valve w/ remote
• Float Factory CTD
• Float Factory CTD remote
• Float Evolution CTD
• DHX Air 5.0 Factory Boost Valve
• DHX RC4 Factory Boost Valve
• Van RC Performance
On The Trail
What does two days worth of riding on unfamiliar terrain tell us about FOX's 2013 offerings? Surprisingly, quite a bit thanks to the devilishly rocky terrain. Our first day was spent on Yeti's 150mm travel SB-66 that was sporting a 160mm travel, 34 Float Factory FIT CTD up front and a Float Factory CTD w/ Trail Adjust Boost Valve out back. Day two was on a Santa Cruz Tallboy, again with a 34 Float Factory FIT CTD (
this one a 29er version, obviously
) and a CTD equipped Float Factory rear shock. We won't blame you if you are getting your model names and acronyms mixed up - there is a lot going on when it comes to names and specs. It is for this reason that we'll focus in our early impressions on the CTD damper alone instead of the entire fork or shock as a whole. You can bet that we'll be featuring a FOX fork and shock standalone review down the road, though.
Up To Speed:
Suspension setup remains relatively simple, despite the CTD damper technology and influx of techno-jargon that goes along with it. Start by dialling in your spring rate, then choose the appropriate compression and rebound settings to match, before hitting the trail for a trial run. Self styled suspension tuners will likely find themselves adjusting their suspension rate in relation to which CTD setting they find themselves using the most: nearly always in Descend? An extra 5psi might be in order if you are an aggressive rider.
The CTD dial controls a very wide range of compression damping, with the suspension feeling quite firm with the it flipped to the Climb setting. It doesn't approach a complete lockout, which is a good thing, but it is enough to keep the suspension steady when climbing out of the saddle. A spring loaded blowoff valve prevents any damage to the bike or rider if you drop into the descent without remembering to open the suspension back up. The Trail setting is where we can see most riders setting and forgetting the blue dial, especially on CTD equipped forks, in order to best preserve the handling of the bike. It's this setting that most closely resembles our non-CTD setups on our own bikes, with it still able to track the terrain without pitching back and forth. The three position, black Trail Adjust dial that decides the level of damping when in the Trail setting was our main tuning tool when on the trail, with a noticeable difference between the soft and firm positions.
The reason for us staying in the Trail position the majority of the time was due to what we feel is too light of valving in the Descend position. It was light enough, in fact, that we actually spent nearly all of our time descending with the fork in the firmer Trail setting, defeating the purpose of offering three different damping levels. There was just too much fork dive when with the CTD damper set to full open, allowing the bike to pitch forward and compromise the geometry when braking hard for corners, as well as not giving us a firm enough suspension 'platform' to push against when trying to work the rocks and undulations of the test track.
That Remote:
The rather sizable CTD remote may stand out atop the handlebar like a sore thumb, but we do have to say that it was very cool to be able to simultaneously adjust both the front and rear suspension on the fly. Hitting the levers either instantly firmed up or softened both ends of the bike, something that racers and sporty trail riders will likely appreciate. The downside to the CTD remote is the two cables, one for the fork and one for the shock, that make the front of the bike look like a rat's nest. Regardless, those who want on the fly adjustability will look past this. The remote's black release lever, the one that takes the suspension from firm to open, had a tendency to jump right past the middle setting. This meant that it could be tricky to go from Climb to Trail without simply jumping straight past into Descend mode. Heavier indexing, please.
Concerns:
We like the idea behind the CTD system and its three distinct levels of compression damping, but our early impressions left us wishing for heavier valving while in the Descend mode. Compounding that sensation was the new flatter spring rate in the Float forks. We've always felt that FOX's air spring curves were a bit too linear for our liking, so we were surprised to see that FOX went out of their way to flatten the rate even more for 2013. The result is a fork (
both the 26'' and 29'' Float 34s we rode, anyways
) that simply wants to use too much of its travel too often. One answer is, of course, more air pressure. But that will also have a negative effect as the fork becomes less eager to absorb smaller impacts at the top of its stroke. A fix could be a small amount of oil in the air spring side to reduce the chamber's volume, but we would love to see FOX offer volume spacer kits (
just like in their Float rear shocks
) that would do the same thing. Likewise, firmer damping in the Descend position would also mean that a softer spring rate could be used without the suspension using too much of its travel.
Pinkbike's Take:
So, does the three postion CTD damper make sense? It will certainly take some of the mystery out of suspension for riders who might otherwise be intimidated by low and high speed compression dials, not to mention anyone who cringes at the thought of actually performing a rebuild to do any tuning. FOX has made it simple: flip the lever to Climb when doing so, Trail when traversing, and Descend when the bike points down - perfect for many. Unfortunately, our early impressions have left us believing that CTD might leave aggressive riders wanting quite a bit more support from the damper (
as well as the new Float fork air spring rate
) when in the descend mode. We spoke to FOX about our concerns and they agreed that aggressive riders will likely require more pressure, roughly 10psi or more than what they would have used in comparable 2012 forks. "
Bumping the air pressure also doesn't really affect the sensitivity of the suspension because of the long negative spring design,
'' FOX's Mark jordan told us, "
It just helps the fork ride higher in the travel
". FOX says that proper air pressure is key to providing enough support when in the Descend mode, with too soft of a spring rate exaggerating the change in damping levels between Trail and Descend settings. More trail time will be required to see if we can tune FOX's latest suspension offerings more to our liking, something that you'll be able to read about down the road.
www.ridefox.com