Yeti Cycles'

story begins all the way back in 1985, when company founder John Parker decided to sell his 1928 Indian motorcycle in order to buy the materials necessary to enter the world of mountain bike frame building. After a few years building frames with the Herting brothers (Chris and Eric), and Frank 'the Welder' Wadelton, Yeti moved from California to Durango, Colorado, where they remained until relocating to Golden in 1999. It hasn't always been smooth sailing, and there was a period in the late '90s when the future of the company was uncertain, but Yeti managed to soldier on, relying in part on the dedication of their loyal customers, a contingent of riders known as the 'Tribe.'

In addition to maintaining a band of rabid followers, Yeti has also always had a strong focus on racing. The list of former team members is a veritable 'Who's Who' of mountain biking's best. Tinker Juarez, John Tomac, Missy Giove, Myles Rockwell, Kirt Voreis, Jill Kintner, Aaron Gwin, Sam Blenkinsop – there's never been a shortage of world-class athletes on Yeti's roster, and the tradition continues today with Jared Graves and Richie Rude battling it out on the Enduro World Series circuit. The competitive spirit carries over into the workplace at Yeti as well, and the daily lunch time rides often escalate into race-pace sufferfests.

We visited Golden, Colorado, a town probably best known for being home to the Coors brewery, to chat and ride with Chris Conroy, Yeti's president. Conroy has been a mountain biker since the late '80s, and his dedication to the sport has taken him all the way from working in a bike shop to running a well respected bike company. But being the president of a bike company doesn't need to mean trading in your mountain bike for golf clubs and jeans for a three-piece suit, and more often than not Conroy takes advantage of Yeti's location to ride the miles of singletrack located a short pedal from the company's front door.





• Founded in 1985 by John Parker, who sells his 1928 Indian motorcycle to buy a frame jig and tubing

• 1990: Juli Furtado wins the first mountain bike world championships in Durango, CO.

• 1992: Missy Giove joins the Yeti team.

• 1995: John Parker sells Yeti to Scott Sports Group / Schwinn.

• 1999: Yeti is sold by Schwinn to Volant, moves to Golden, Colorado.

• 1999: Chris Conroy and Steve Hoogendoorn take over management of Yeti.

• 2008: Aaron Gwin places 10th in his first World Cup race.

• 2009: Jared Graves wins 4X World Championships

• 2014: Yeti announces they will not have a World Cup DH squad, and will be focusing on enduro racing.





How did you first get into mountain biking?
That's a good question. I grew up in Ohio, and I bought my first Stumpjumper around '85 or '86. That was a huge deal - I spent 800 bucks on a mountain bike. My parents thought I was crazy, since at that point mountain biking was pretty darn new. That bike had handlebars that I cut down to 18' wide and it had 1.5" tires on it; it's just crazy how far it's come. I also had an early Diamondback Apex, which was one of the few mountain bikes back then, at least in Ohio, that you could have access to. We would ride gravel pits near where I lived in southern Ohio when I wasn't going to Ohio State. There was lots of hilly stuff down there and we just kind of poached trails, and I rode whenever I could.
I moved to Sun Valley, Idaho, right after I got married - I married young, so I was 24. I had always worked in bikes shops leading up to that, and in Sun Valley I worked as a reporter for a while and split time between that and a bike shop. I eventually ended up at Scott USA in the warranty department, and that was when a lot of stuff was happening in the industry, the early '90s. I was really hooked into the industry early on, beginning with working in a bike shop, and I've just been doing it ever since.
Yeti's logos are instantly recognizable, as are the company's signature turquoise and yellow colors. Photos: Yetifan.com

Can you describe the path you took to end up as the president of Yeti Cycles?
When I was living in Sun Valley, Scott USA bought Schwinn out of bankruptcy. I moved to Boulder when they combined the bicycle product teams of Scott and Schwinn.. I think I was one of the only people on the planet that ever went kicking and screaming to Boulder, Colorado, but I loved Idaho. I moved down to Boulder, and was part of the first 15-20 people in that building. That number soon became 100 people, and then the Scott and Schwinn business' merged. That was '93, '94. Then Schwinn bought Yeti, and I was brand manager for Yeti in the mid-90s. That was right after the '97 launch of the Troy Lee Designs stuff, the colors and graphics. I worked with Brett Hahn and with John Parker to make a more traditional product line with complete bikes. I did that for a few years, and then they pushed me back on the Scott side. I've had a long history with Yeti.
In 1999 Scott and Schwinn separated, and I saw the opportunity to move on at that point. I did a short stint in Chicago, and during that time all I wanted to do was get back to Colorado. I had some friends at the Volant ski company and they were looking for counter-seasonal business. Yeti wasn't technically for sale, but I knew all the top guys at Schwinn, and they just didn't know what to do with it. They were focused on other things. We were able to put together an investor to buy it and I came in as general manager. We started across the street from where we are now. Steve Hoogendoorn, my partner here, was the only guy I inherited out of that Volant thing. They told me "You can pick your whole team, but we want to keep this guy because he's really important to the business and he wasn't super happy on the ski side." Hoog and I really started managing it in 1999; I was doing product development, marketing, sales, and he was doing all the operations and finance. Since then he's done a lot more engineering as well, so I do sales and marketing, and because I have a product development background we kind of meet in the middle on product development, and he does the engineering and the financial side of the operation. It's a really good yin and yang kind of balance.
Racing has always been a driving factor for Yeti, and historic bikes fill their headquarters. That massive chainring is on the bike that Caroline 'Curly' Curls reached the 98mph mark on in 1997. Other bikes include Jared Graves' 4X World Championship winner, and the bike that Aaron Gwin rode for his World Cup debut at Mont Saint Anne, where he placed 10th.

Yeti has always had an extremely passionate fan base. What do you attribute that to?
I attribute a lot of that to John Parker and what he built back when Yet started. Yeti has always been a very authentic company, you know, what you saw is what you got with Parker and Brett Hahn back in the day. Yeti's commitment to racing, which includes forming the first professional mountain bike race team, has also played a role. People really tied into that because it was new, it was exciting, And then there was that era in the early 90s when the first World Championships took place in Durango – Yeti was at the epicenter of all of that. There was a lot of momentum going on in the industry and it always seemed like Yeti was one step ahead – the deep dish carbon rims, the early adoption of full suspension, Easton taperwall tube frames. One of the coolest things is that you have this real slick race part of Yeti, but that isn't really what the Tribe is. The Tribe is people that are all about riding their bike, and hanging out with like-minded people. I think the catalyst that brought people together was the product itself. A racer could enjoy a Yeti at the highest level, while also any other customer could enjoy a Yeti out on the freedom of the trails. It's a strange dichotomy in our brand, but it seems to work.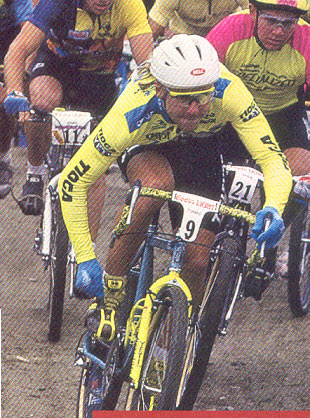 John Tomac, one of Yeti's
original racers. Photo: Yetifan.com

Yeti has consistently managed to attract some of the top riders in the sport; how do you go about finding athletes to be on the team?
It's an interesting thing - it's a long term commitment to racing, plain and simple. We're there, we're at the local races, we're at the national races. We've been racing for over 25 years, so it's not something we're fickle about or jump in and out of like other companies. We're a race driven company. It's what we do.
People always ask, "How do you find these guys?" I can point to so many in our recent history; let's take Aaron Gwin as a great example. Nobody knew Gwinny – he was a moto racer and it didn't work out for him, and at that point Rich Houseman was on our team. Rich was in charge of scouting for our SoCal regional team. Ever since I've been here we've relied heavily on racers to give us that information, and Rich said, "Hey, this guy's really fast – we need to put him on the regional team." So we put him on the regional team, took care of him with product, and after two races we moved him up to the national team. One more race after that we moved him up to the World Cup program and he finished top ten at the first World Cup he ever did at Mont Saint Anne. A few different things led to that – one, we had the infrastructure in place to have a regional, national, and World Cup team, and be able to move him through that, and secondly, we had racers that told us how fast he was. I had him ride with Blenki, Jared Graves, and Justin Leov, and I asked them, "Is this guy fast enough to race at the World Cup level?" And those three guys told me he could finish top ten at the World Cup... and he did.

Is it hard when racers move on to a bigger company, one with deeper pockets, or do you know that will eventually happen?
For us, and maybe we're just too emotionally involved in the sport, no; I think it's awesome. Yes, it's bittersweet, because we want them to race in the Yeti colors, but the sport is limited in terms of what an athlete can make, and at the end of the day I want that athlete to make as much as they possibly can, because they have a fairly limited career, just by virtue of injuries and all sorts of other stuff. Oftentimes we have long conversations with the team they're moving to prior to that, to make sure it's a good fit. Then we hand them off, and if those guys are able to make more money, and sometimes get better support, more resources, then we fully support that. We have a longstanding relationship with our racers – I think there are very few that would go away and say, "Oh man, it wasn't a good time."

Looking back, are there any bikes in the Yeti line that you wish had never made it to market, or that didn't end up working exactly as intended?
One bike comes to mind - the AS-3. It was designed back in the Schwinn era and it represents what happens when you make a bike by committee. Ugh. There have been plenty of designs we've shown that didn't make into production. The ASR 7, with the single-sided swing arm, was an expensive learning experience. We threw away a bunch of carbon parts and tooling, but in the end feel really good about the decision.
This configuration of the ASR 7 didn't quite work as Yeti intended, and turned into an expensive learning experience.

Earlier this season you ceased production of the SB-66, the same bike that Jared Graves piloted to a third place finish at the 2013 Downhill World Championships. What was the reasoning behind this?
We love the SB-66 and it's the best selling bike we've ever produced. We still sell the bike in international markets and online through Competitive Cyclist. The simple reason we stopped producing the bike is our dealers weren't comfortable stocking a 26" bike when 27.5" is all the craze. We still like 26" wheeled bikes and the SB-66 was one of the best in the category, but ultimately we have to make what our customers want. I can say that most of the Yeti staff still chooses the SB-66 carbon as their ride of choice.

Yeti's bike lineup includes both relatively simple single pivot designs like the 575 as well as more complex rail or eccentric driven offerings like the 303 and the SB line. Is there any underlying design principle that affects what suspension layout you choose go with for certain models?
In a perfect world, we would run a single technology throughout the entire product line. That could happen in the future... In our current product line, we choose technology based on application and in some cases cost. The SB platform works great for trail / enduro bikes. In its current configuration, it's a bit too heavy to push down into lower travel bikes and it's relatively expensive to make, so we couldn't push it through the entire line. We use single pivot technology on the 575 because it allows us to produce a high-performance trail bike that is relatively lightweight and costs less than our SB platform bikes. It's also a legacy bike for us - one of the first trail bikes on the market. The 303 is a purpose built, price-is-no-object, downhill racing machine. The 303 technology is amazing on square edged bumps and super technical sections, so it's ideal for DH.
Rows of frames await final assembly and quality control before being shipped out to shops around the world.

Wheel size and frame material seem to be the hot topics regarding downhill bikes these days. Are we going to see a carbon fiber, 27.5" DH bike any time soon?
Of course, 27.5" carbon DH bikes are on the horizon. I think the question many of us are asking is what the DH bike of the future looks like? Is it a long-travel enduro bike? I've heard it said that many EWS courses are essentially World Cup DH courses ridden on 6" bikes. Maybe the DH bike and enduro bike each have traits that could be combined to make the ultimate gravity bike? We have some ideas, but aren't ready to talk about them yet.

What do you consider to be the hardest part of running a bike company?
I think that there's no doubt about it – I have the dream job. This is what I've always wanted to do, and every day I'm lucky to be sitting in this chair. I think one of the things that is the most difficult is that it's incredibly competitive in the mountain bike industry, and it's incredibly competitive at the high end. You have the need to produce the highest end product, and because we're a smaller company, we don't have the volume to drive that through, so every investment you make is pretty substantial. We love it, we thrive on competition here, but that doesn't mean it's easy – sometimes it's really hard, but everyone here is crazy competitive, so that makes it easier, because our people just want to win.

What do you do in your spare time when you're not at the office?
I love to ride – weekends are for epic rides. I have kids now that are in their twenties, so it's great to get out with them and have them beat me around. I also love to fly fish, I'm a huge fly fisherman. I can stand in a stream all day and be just as happy as being on a bike all day. Really anything involving being outside, doing something active.

This last season you announced that there would be no Yeti World Cup downhill team for 2014, and the focus would instead be on enduro. What was the reasoning behind this decision?
For us it was a few different things. For one, all of a sudden we were running two World Cup level programs. You need to remember we're a really small company, and our commitment to racing, even for one World Cup program, is monumental relative to our size. When the World Series first happened many of the events were in Europe and we were able to split our time between it and the World Cup, and have racers compete in both disciplines. But two things happened – it became so competitive that you had to focus 100% on one discipline, and it also became a true worldwide event. We simply couldn't afford to run two teams. And with Jared doing so well our strengths were on the enduro side, so we decided to go in that direction. But it's not unprecedented for Yeti – remember, Yeti used to have one of the best cross-country teams in the world, and then when we went to downhill we had the same uproar, "Oh, Yeti's giving up on cross-country." The fact of the matter is we love all racing, and we haven't given up on downhill – we could very well have a downhill team in the future. This is just the way it worked based on the talent we have on our team right now.
| | |
| --- | --- |
| | The fact of the matter is we love all racing, and we haven't given up on downhill - we could very well have a downhill team in the future. This is just the way it worked based on the talent we have on our team right now. |

Where do you see Yeti going in the future? Are there any major changes in the works, or do you feel like the company is on the right track?
I think we're on a good path. We have some exciting stuff we'll be launching in the next three months, and that will kind of set the technology platform for a lot of years moving forward. We will continue to be committed to having really strong riders on our staff. It's important when you're testing products to be able to push it at the highest level, even before you hand it to your World Cup racers. I have this theory that if we ever have an average age that's over 32 here we're in trouble. We'll continue to bring young people in to make sure they keep old guys like me honest in terms of where the product's going and what we need out on the market, because at the end of the day we're not smart marketers – we just make product that we want to ride and we try to make it based on the kind of riding we do here. If we can control those variables we feel like we can find people that will also share those same values, so we have to make sure that we have the right people on staff to make that happen. We're as good as the people that work here.
Must Read This Week