Breaking bones to break records seems to be par for the course when setting forth to do things that few will ever attempt in the name of advancing the sport that you love. Ron Penney, Tedman Parkinson and Krystina Green are the owners of the Full Monte Dirt Farm and they understand these risks all too well as they have been pushing the envelope of advancement for years silently on their own. This Fall they set out to break the world record for distance jumping on a bicycle (currently held by Jason Rennie at 133.6 feet with a moto assisted tow in), but with a twist as they removed the motorcycle from the equation and are doing it the old fashioned way - with pedal and gravity assist only.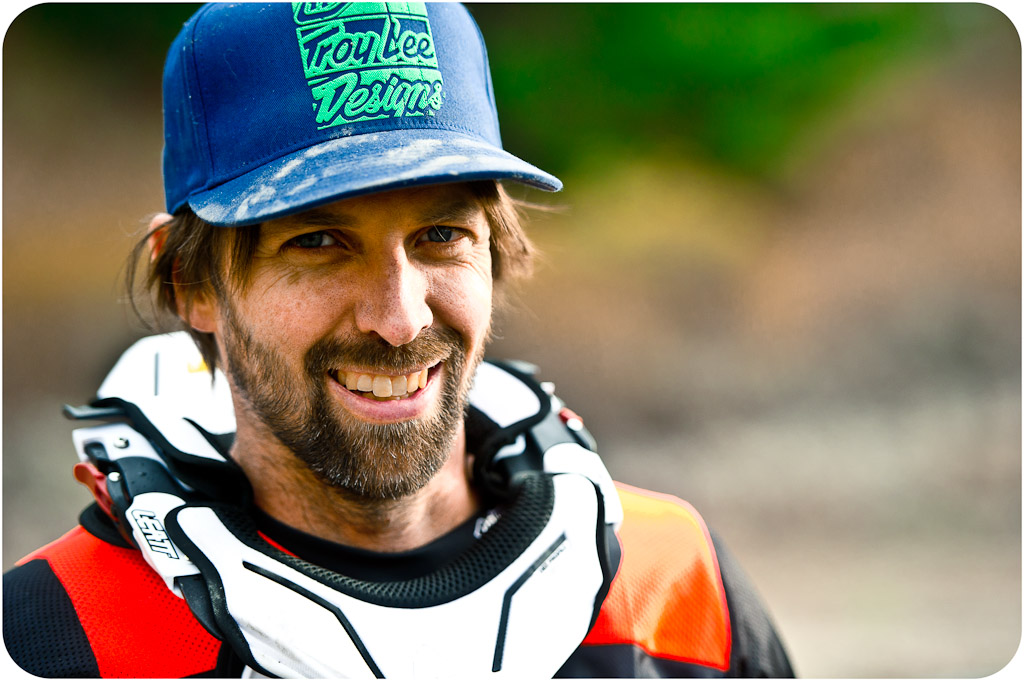 Meet Ron Penney, part owner of the Full Monte Dirt Farm and a visionary for how big bikes should be ridden.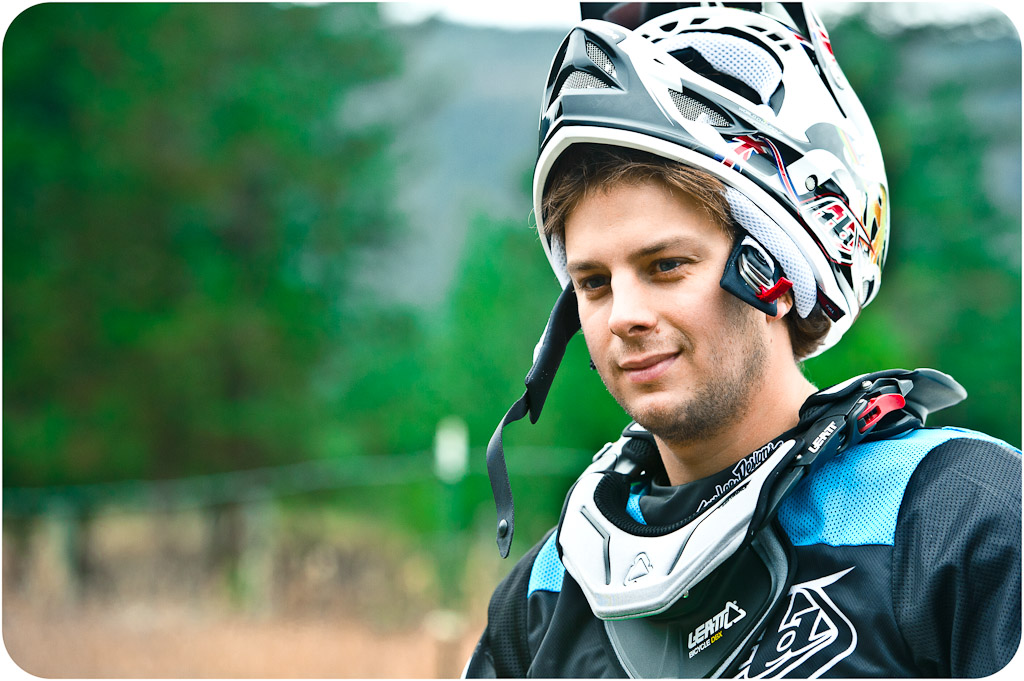 Introducing Tedman Parkinson, also co-owner in the Full Monte Dirt Farm and a pursuer of the art of sending it with style.
---

A lot of you out there are wondering who are these guys and why haven't most people heard of them?

The answer is simple - they are not limelighters. When we showed up at their farm every aspect of it made it look like they have been pro for years. They have a park that rivals or even surpasses the Whistler Bone Yard. Lines that are so big that it's hard to believe they are made for bikes with no motors.

Where does their motivation come from?

As humble as they are and as shy as they were to reveal their secrets, here is what they had to say…
---

How long have you been pushing the envelope and sending your bike on a larger scale?
Ron - I'd say, since '98 or '99, things started to click for me as far as jumping my bike went. It wasn't a slow learning curve for me at all. The only reason for that is because my life was snowboarding up until '96 when I found myself unable to snowboard in my usual all out way. I was diagnosed with severe hip arthritis in both hips and the pain was crippling. It didn't take me long to lose my mind - I needed an outlet. I had already started biking in the summers since the beginning of the 90's and, fortunately, the bikes were starting to change just in the nick of time. Somewhere in all that self-loathing because I was no longer able to snowboard, it dawned on me that, with suspension, I could still hit the snowboard park in the exact same manner, but with half the impact to my hips. And, because the Banff scene was so tight and low key, not to mention we had some guys on the inside, going up to Mount Norquay became a regular occurrence on weeknights. We had the keys to the palace, so to speak. Our good friend Kurt was a groomer and, when his shift started, we powered up the snowboard park lights. In all their glory of 40, 50 and sometimes even 70ft, tables were ripe for the picking. It was like I never stopped snowboarding… Life was good again.

And Tedman, what about you?
Tedman - Well… Ron likes to ramble on about the good old days so I will keep it short. I was only 14 when I met him and it was a looong time after those Banff days (laughs). 2001 or 2, I think. I had no idea back then what real mountain biking was, but I knew one thing: I wanted to huck my bike off of everything I could find. It was dumb luck or even destiny that he showed up when he did. He spent a lot of time keeping me grounded and teaching me what smart biking was - and I was a special case, being that my heroes were riders like Bender and my favourite movie titles were anything Superheros and any other vids with crazy hucking in it. I didn't understand trannys at the time, but from what was going on in the world of biking, neither did anyone else at the time. Ron hated that stuff. Back then, I never really thought of it, but he has been preaching angles and transitions ever since we met. I guess that wasn't a short answer - sorry!

How did the Farm come to be?
Ron - Let's just say I lost somebody close to me and it was time for a change. I have spent a lot of years bitching about the the stuff I come across on trails or in mountain bike parks to the point where my friends just thought that I was a grumpy old man with bad hips who whined about everything and was never happy. The truth was I had everything you see here at the farm all bottled up inside me. It was all based on a large snowboard scale and I couldn't understand why it was taking what seemed to be the last of my good years to get there. To me it was always there - big air and big bikes need big take offs and even bigger landings. This, to me, was safe - lots of room for error. Snowboarders and skiers had it figured out - why not mountain bikers? It was time that I let it all out in my version of what biking is to me.

Tedman?
Tedman - What he said. Ha ha ha! He always has the game plan and the Farm was the best one yet!

There is also a third party in the farm, tell me about that...
Ron - It's Krystina! Without her this would just be a pipe dream. It takes a special person and friend to jump on board with the dream of two mountain bike bums. This never would have gotten off the ground if she hadn't sold everything she owned to be a third owner in this 45acre fun park.
Krys - Ha ha ha! I don't have anything left… Except this park! Ha ha ha! Life is rough… I won't lie, it's tough riding with these guys - trying to keep up, I mean. Trying to keep up to the Farm, especially. They make everything look so easy, though, it's hard not to be provoked by the power of bike. And, a World Record jump? So sick. Definitely makes you wonder why there isn't more show in the sport yet…

And what brought on this World Record jump?
Ron - The jump was a passing thought from years ago when we saw Nathan Rennie's jump, but it really didn't surface until we watched Crusty Demon's Night of World Records. When Bubba went for the fat man world record at 100ft and he clearly couldn't ride a bike well at all, we set our sights on looking into why mountain bikers don't have their own title out there. With a little research we found footage of Jason Rennie's record of 133.6ft and and were totally unimpressed with the set up and old school flat bank to flat bank dead sailer styles going on, not to mention a tow in. And the only other jump out there was picture only - Nathan Rennie's still pic of his 122ft air that, unfortunately, ended in a crash. His jump looked much more impressive, but still the air looked dead and it was another moto tow in. The next morning we got up and hit the property looking for the hill that would pump out 84km/hr. This was the speed Jason Rennie used to fly his 133.6ft air. Krystina got on the math part of the jump using a ramp design we came up with that was largely based on Nathan's jump design. But… his had a 24 degree take off so we bumped it up to 28 degrees just so the air wouldn't look so dead. It was a modest increase just to be safe. My last name is Penney so I hope that is close enough to be part of the world record club...?
After searching the property I found the only place I though might be possible. A plan formed in my head and I started the process of measuring it out. During our spare time in the evenings, we worked on the ramp design and estimated the material costs to build. Also on our side was Tedman's career as a pressure welder. He has his own rig so this part, the ramp construction, was no roadblock and would save us a ton of cash, not to mention the ramp would be built to our exact specifications. Over the next three months, our plan became a reality.
Tedman - I'm pretty sure this was my idea! Ha ha ha! And if it wasn't, it's all I could think about for the entire summer. I would have had it built sooner, but Ron insisted it was the kind of thing you do at the end of summer - in case something happens. Then at least you had a good season and you can use the winter to repair yourself. But, to answer your question, the real reason is that we don't think the current records represent the sport very well. All I see is mountain biking taking from BMX - making mountain bikes barely mountain bikes at all… Downsizing them until they are pretty much funny looking BMX bikes. And then there are these two records making it seem like we can't do this on our own - needing a motorcycle to make it a reality!? I don't get it. I think we have yet to define ourselves. The future of this sport is big bikes doing big things. You are starting to see downhill front flips, back flips and spins. It has been a long time in the making because it's taken a long time for people to understand you need a jump that matches the size of these bikes. I have no interest in squeezing out tricks on a hard tail. I want to kill it all the way down from above tree line and into a snowboard-sized park, or, in my world, a V-10-sized park, all on one bike. A mountain bike! The ones that the fastest guys in the world ride. I like going as fast as I can and as big as I can. I guess that it's just boiled down to this… Ha ha ha!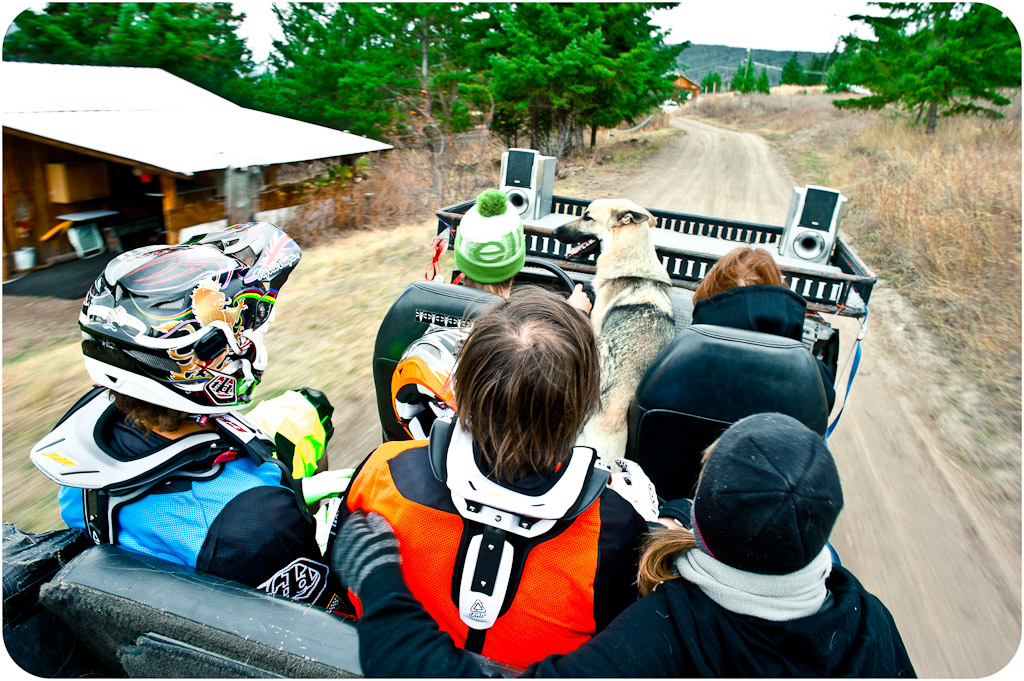 I heard a rumour that you might be turning this into to a world distance jumping invitational?
Ron - It's possible… Although that's a story for another article. But, I will say this: I'm an old dude. I still haven't replaced my hips. I'm just squeezing this in my all out time line. I'm not doing this for fame or recognition. This is purely out of love for this sport and the belief that we can do better at making it our own. There will always be a faster guy than me and there will always be a better jumper than me. There are guys like Cam Zink who blow my mind and who are taking the sport in the direction I always wished it would go. A guy like that needs to get in on this action, for sure. As it stands now, even this world record jump is no one hit wonder - to me, it's actually the last jump in a trail I have up here called the Hatchet. Nothing would stoke me more than to be able to, one day, ride my trail with all the heavy hitters of our sport and train into this world record set up. Not a camera around to even see it. Just a solid crew of guys who like the same style of riding and a good day on the mountain.
Tedman - I would like to see an invitational. Seems like a waste of a good set up not to share it… ha ha ha!

Sounds like we will have a chance to continue this interview again someday soon.
Ron - Especially if the weather cooperates! We will be back!
---
Official Video from the World Record Distance Jump Weekend at the Full Monte Dirt Farm

:
Here is the play by play of how the weekend at the Full Monte Dirt Farm went down with a ton of amazing photos from Ian Hylands to add a whole new level of stimuli to your reading pleasure.
A small group of friends and family were invited to witness and document the greatness that is distance jumping. Three days of jumping and hanging out with good people on the Dirt Farm is an ideal way to spend a Fall weekend. Here is a look at what all went down in the pursuit of sport advancement.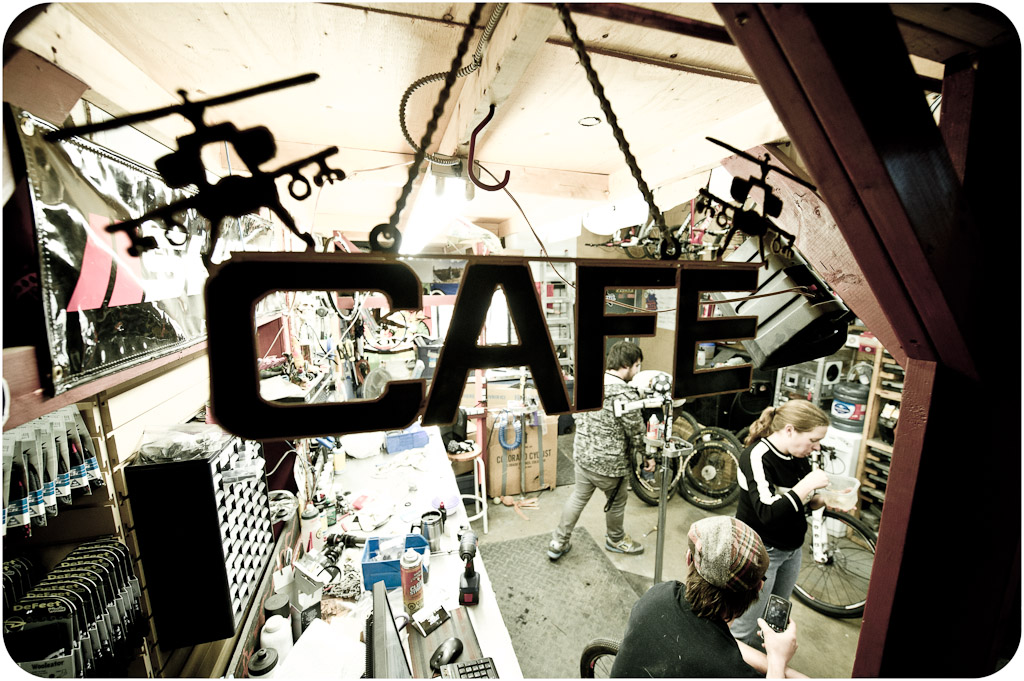 The Bicycle Cafe in Kamloops was the hub for bringing the bikes together and building them up - thanks Cheryl, Taylor, Dylan, Steve and Alex.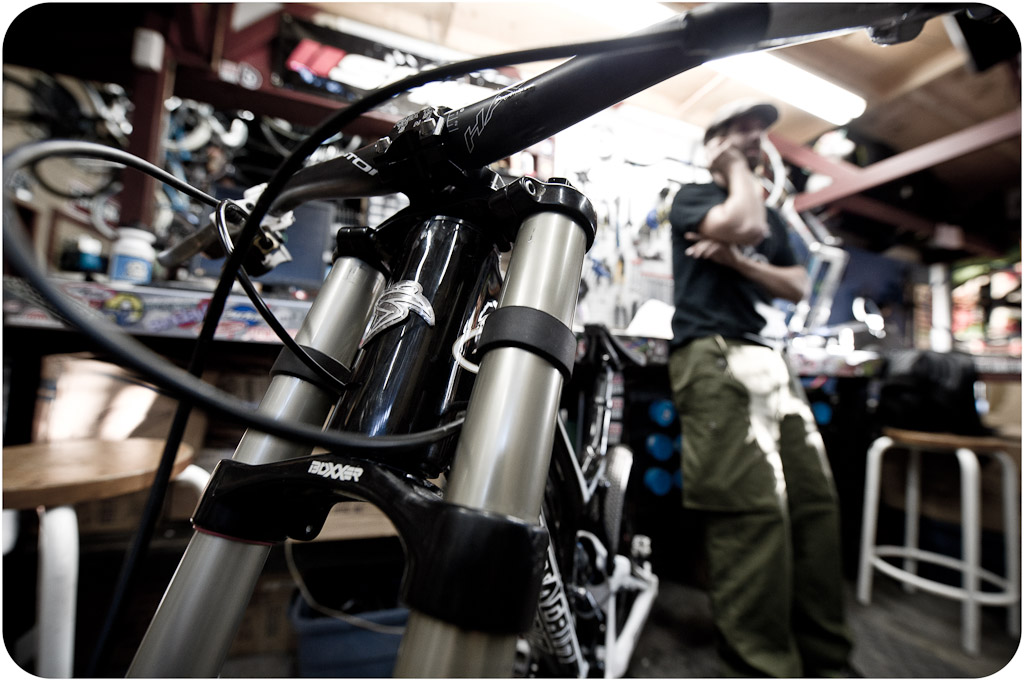 The Santa Cruz Carbon V10 is the right bike for this job.
Kenda Small Block 8's are what Tedman and Ron swear by in their park - it's all about speed at this distance. The new Easton wheels don't hurt either, they roll nice and fast...
On Thursday afternoon Ian Hylands and I rolled into Kamloops and met up with the guys at their local shop, the Bicycle Cafe. The Santa Cruz Carbon V10s were going through their last set up details and fine tuning for the next 3 days of air time. Dylan, Alex and Cheryl were making sure that nothing was being overlooked on the guys' rides as they set out for this undertaking. We all hit up Harold's Diner for a big meal and some event planning - our time line for each day's happenings was the primary focus of the night:
Friday
- Set up and prep at the jump site (they have been jumping this ramp set up for a few months now, so this would be more for everyone to see what the best angles are for documenting and for the riders to make any last minute bike tweaks). Speed testing the run in and practice jumps, maybe pull the ramp back a few times if the weather is good.
Saturday
- Continue from Saturday with more jumping practice and pulling the ramp back, survey the course for Guinness as per their instructions and keep documenting the action.
Sunday
- Jump off for the overall record between Ron and Tedman and an air show for all that came out to see them send it.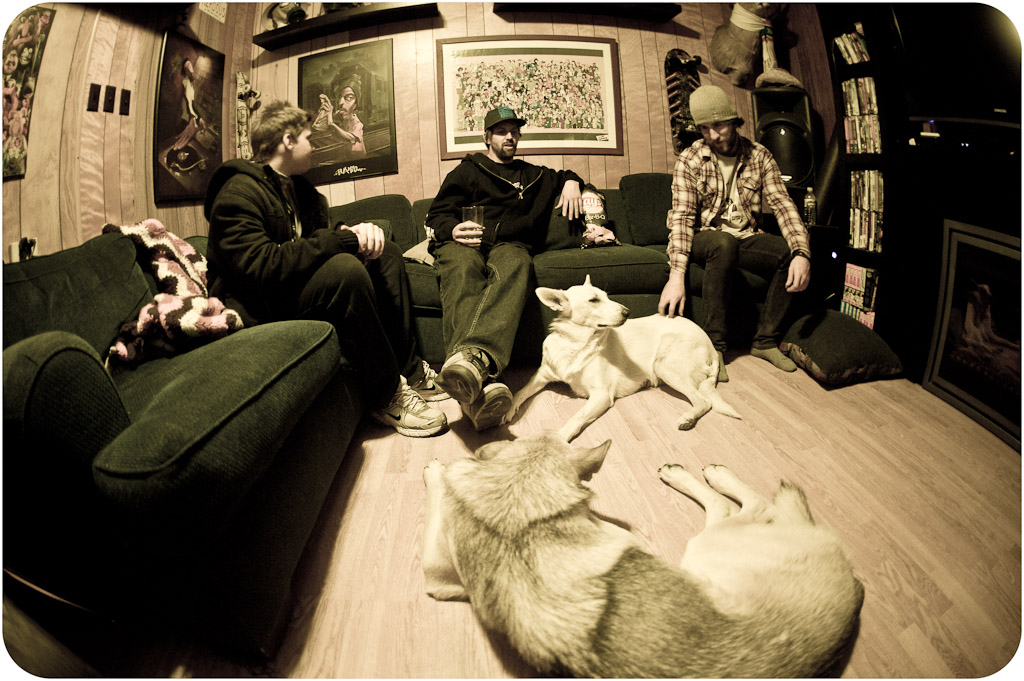 Sitting around the farm that night we were all recollecting the past decade (Tedman and I met while working for The Bike Shop in Calgary just over 10 years ago and Ron and I have known each other for around 7-8 years through the snow races that used to take place at Canada Olympic Park) of riding sick zones and how bikes have really defined who we all are in one way or another. Take Ian Hylands - the photography of bikes, riders and the world of cycling is how he makes his living. Myself - I get to share the ride with the world's cyclists and give them the best content out there through our site. Ron, Tedman and Krystina - pursuing their dream by building their own private riding park where they are able to grow our sport and not worry about whether their hard work gets torn down as it's theirs now. They are riders by all definitions of the word.
We awoke to see that some more family members had trickled in Thursday evening after we'd called it a night. A quick breaky was had and then it was time to suit up and head down to inspect the jump zone. Today was all about visual set ups - all filmers (Mitch Cheek, Matty Myles and Ace Hayden) and Ian Hylands on stills would spend the day finding all possible angles to best capture the event that was to unfold in front of us. Heck Ian found a ladder and used it to get up a tree for a better over view of the whole area - creativity nets better shots folks. I set up the flags for wind gauging with help from Ron, while Krystina raked the landing zone and made things more visually appealing. Seeing Tedman and Ron in their new Troy Lee Designs kits made you know that things were about to get serious once we kicked the day into action mode.
Since all of us bystanders were new to the setup, it was time to show us what it was all about with some speed test run ins while the wind did its thing (with distance jumping this is one factor that you have to pay the most attention to as it has to be extra calm for each air). The guys were hitting the high 70s (km/h) on their first test runs to see how the ground was rolling - each seemed happy with the current conditions and proceeded to show us what 85 feet looked like from the ground as they soared over head at the first drop in the wind - WOW! Tedman threw down table top after table top over the gap while we all got ourselves sorted and began to capture the action. I was on the radio letting Ron and Tedman know when the wind was in their favor (calm, as in no wind) and they would let out a bird call from their drop in point to signal that a show was on its way. After 8 jumps from the guys, we decided it was time to pull the ramp back to its first 10 foot marker from the starting point earlier in the day, now we were getting this jump off going. The wind tested us with some jumps taking 30+ minutes to be calm enough to drop in, but late in the afternoon it was rain that made us call it a day. It was now time to tarp up the take off ramp and a few hundred feet of the in run as we had no idea what mother nature had planned for the night ahead.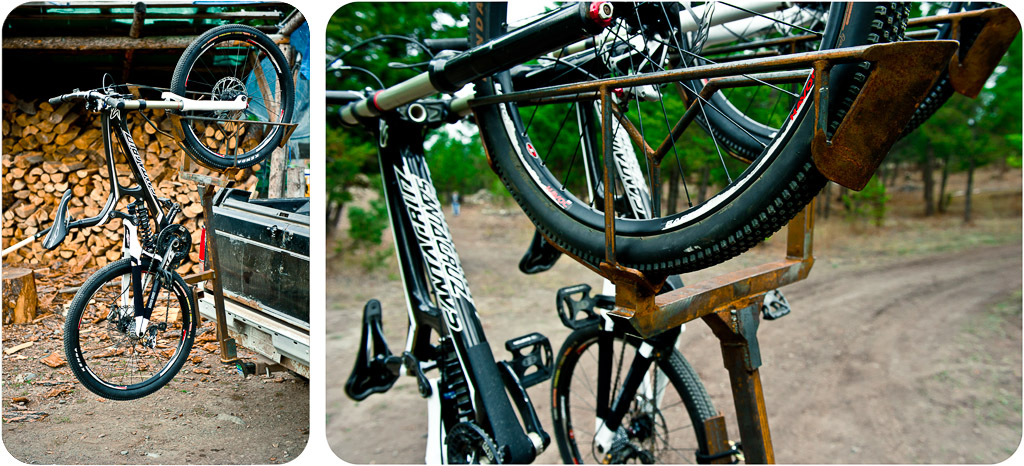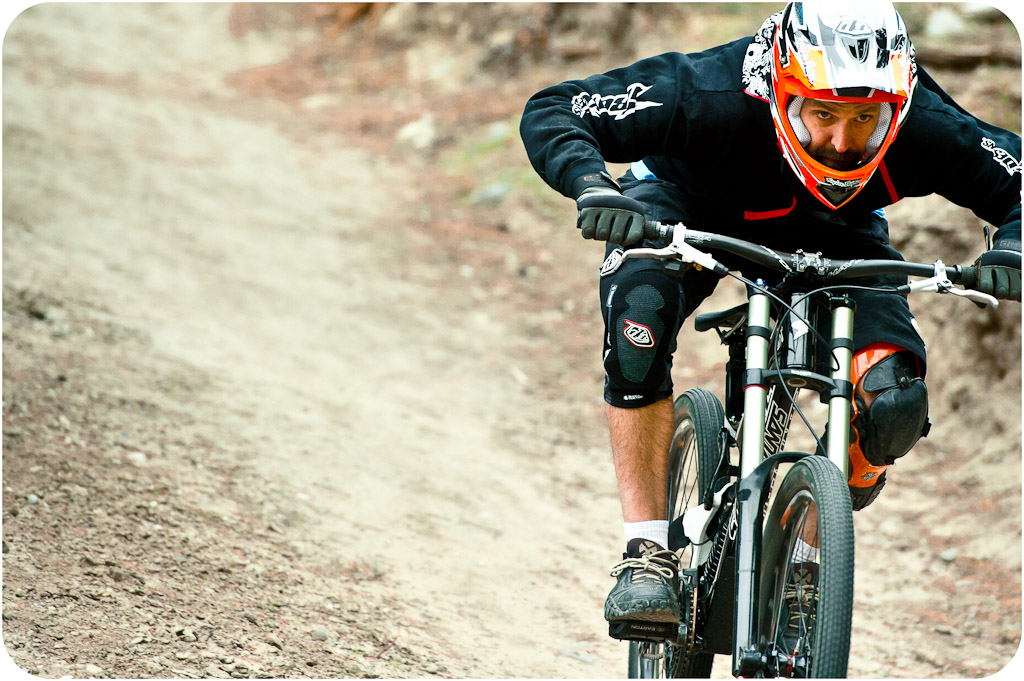 The first air of the day was left up to Ron and you could tell he was feeling the conditions right off the bat, with a slight head wind the lack of speed put him right on the safety pad and in the back seat of his air...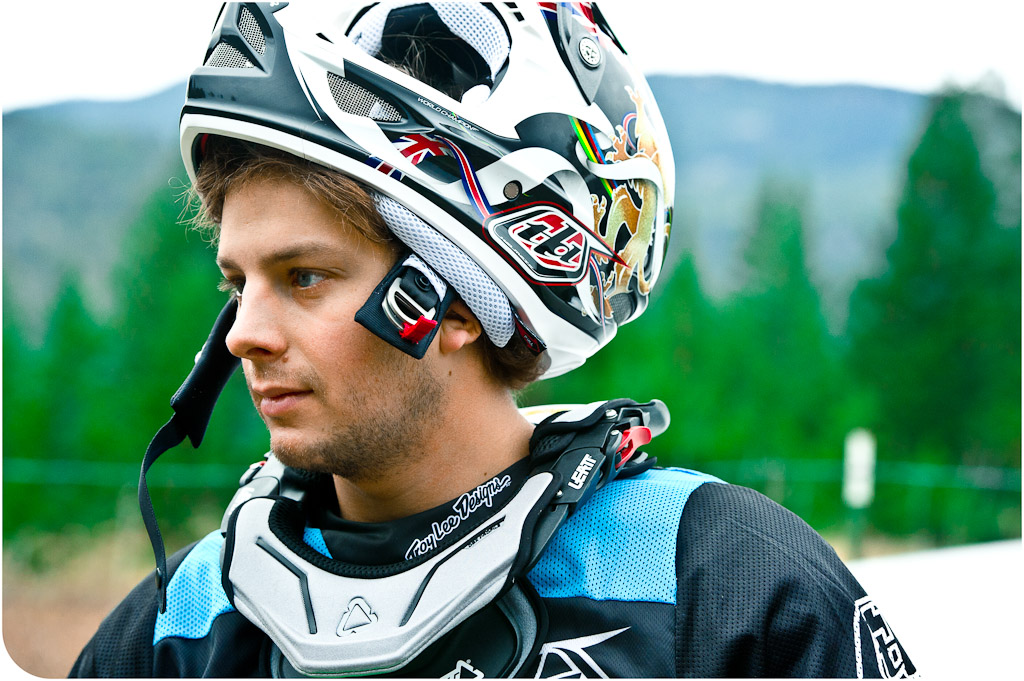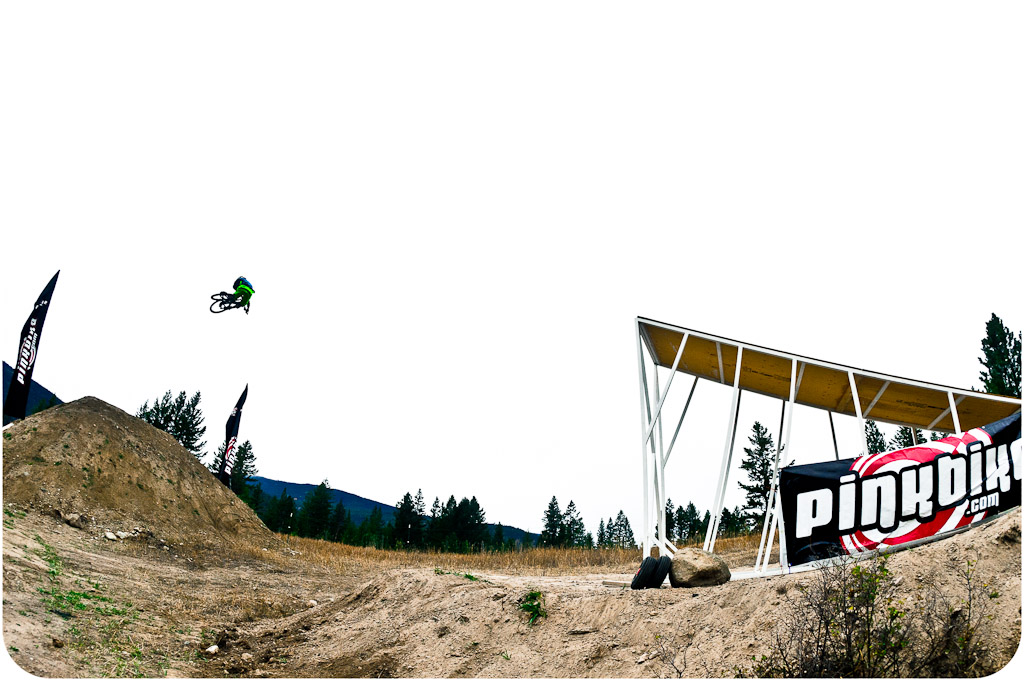 With a quick shout to Tedman at the top of the in run to hold nothing back and keep his tuck longer. The extra speed gave way to the normal style and grace of a solid first run for Tedman.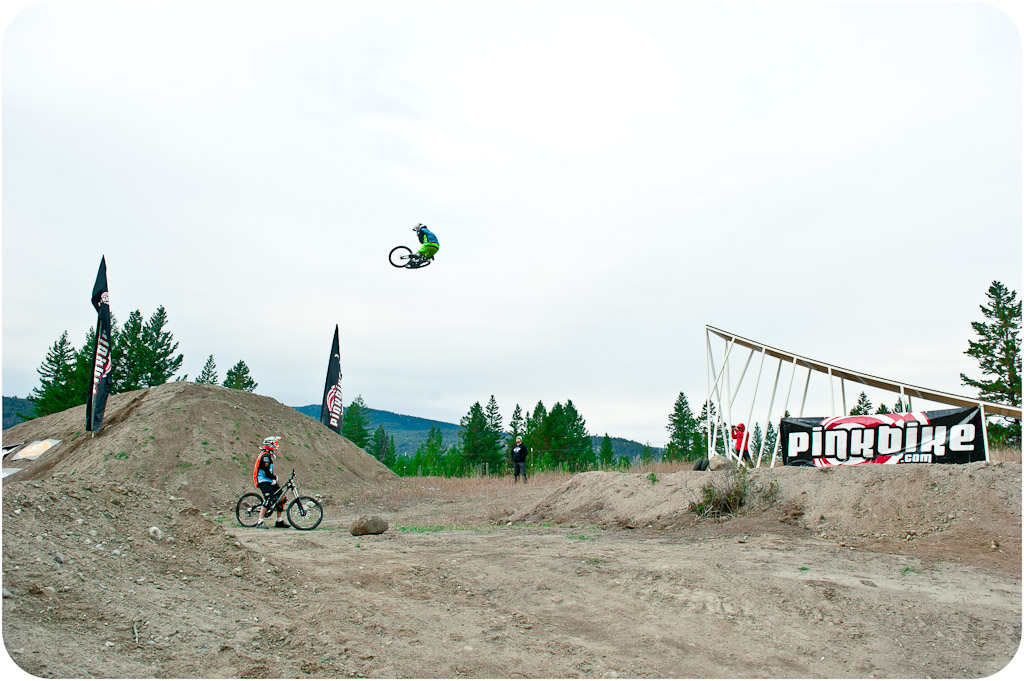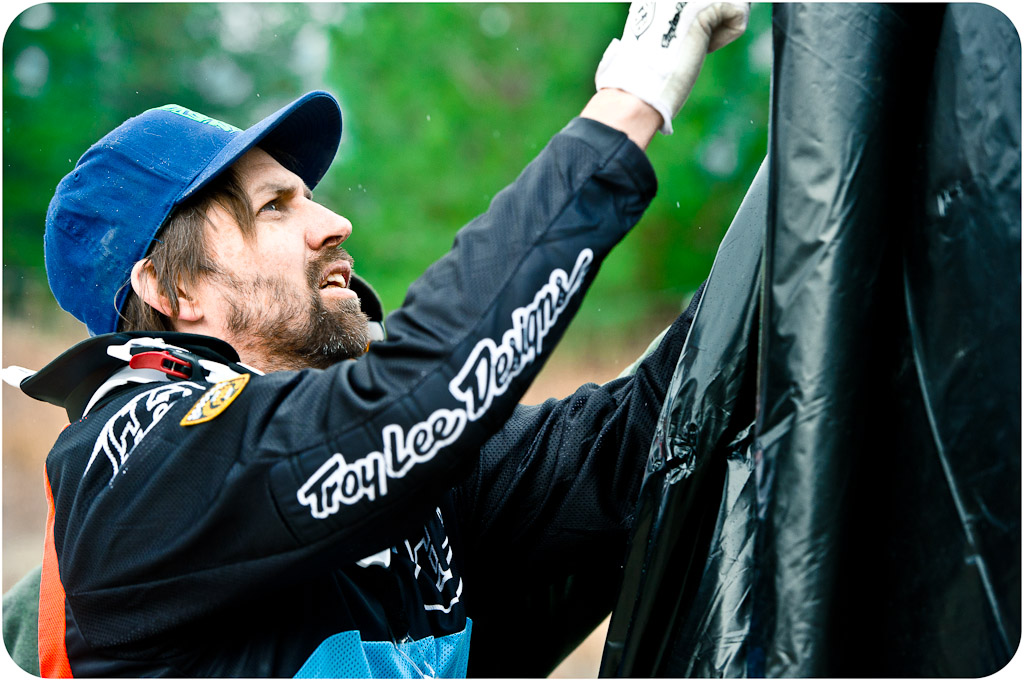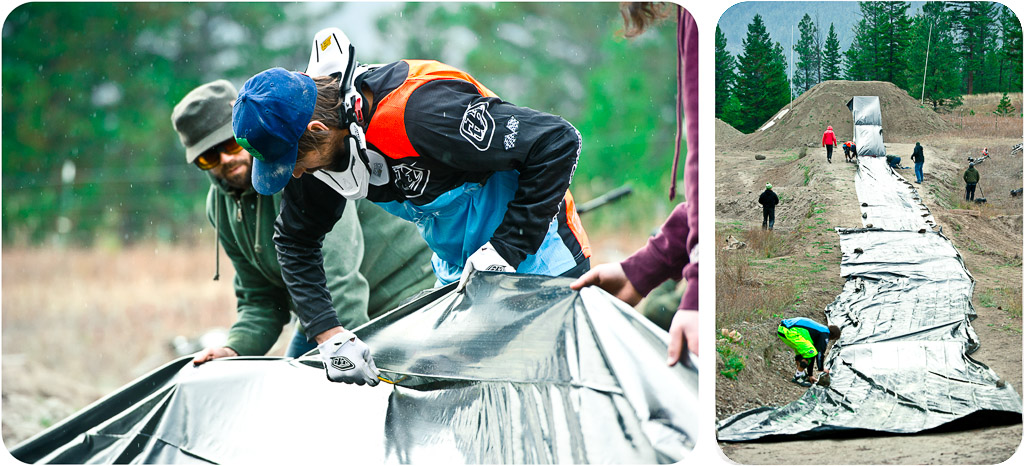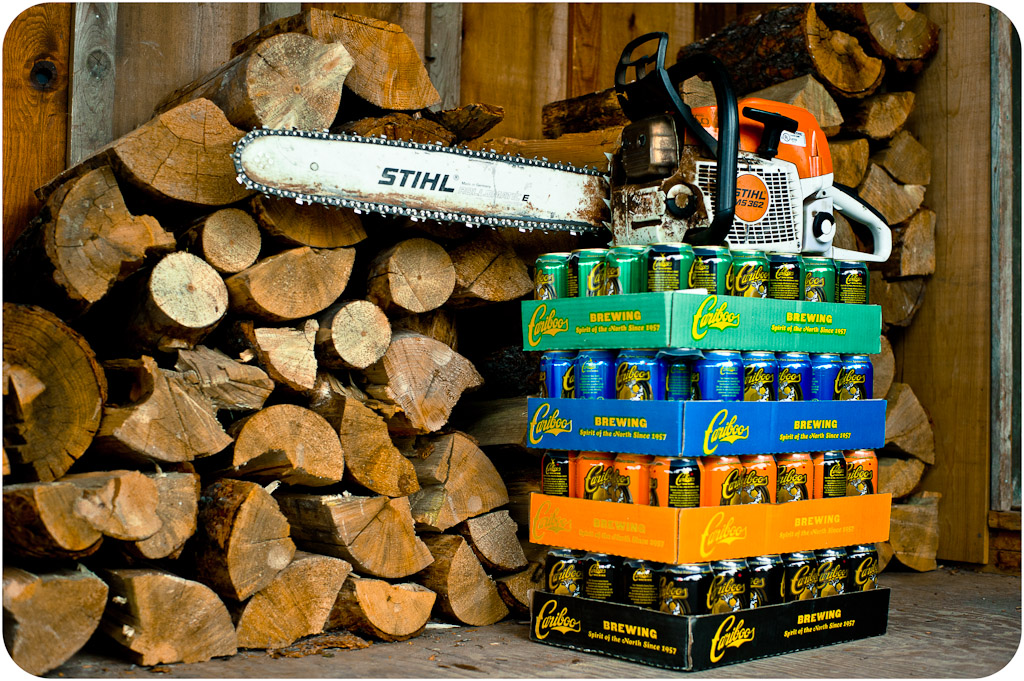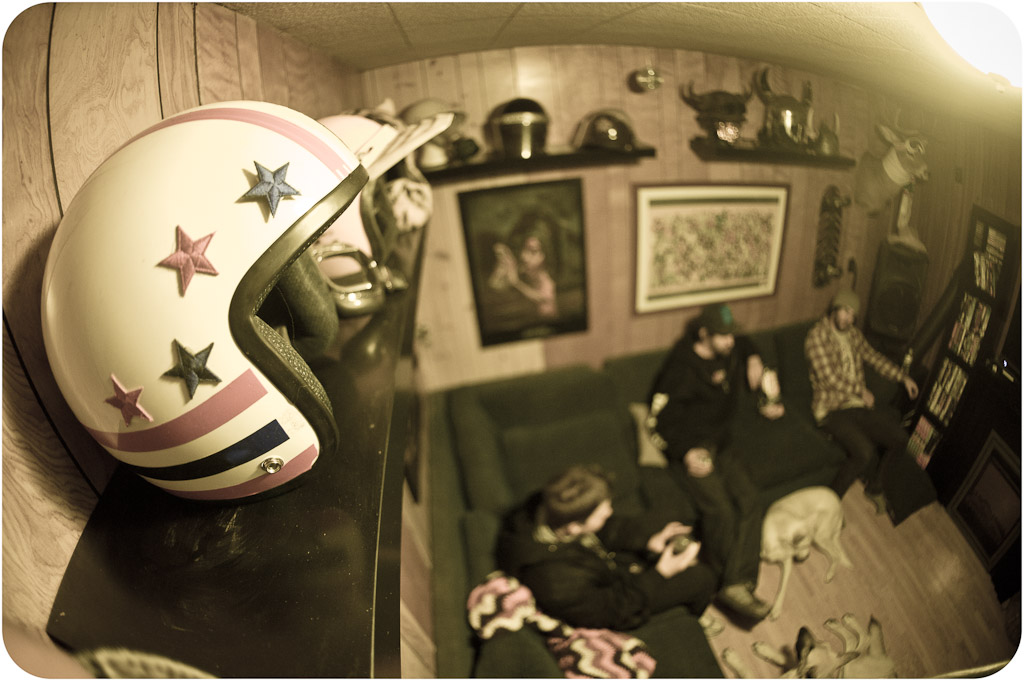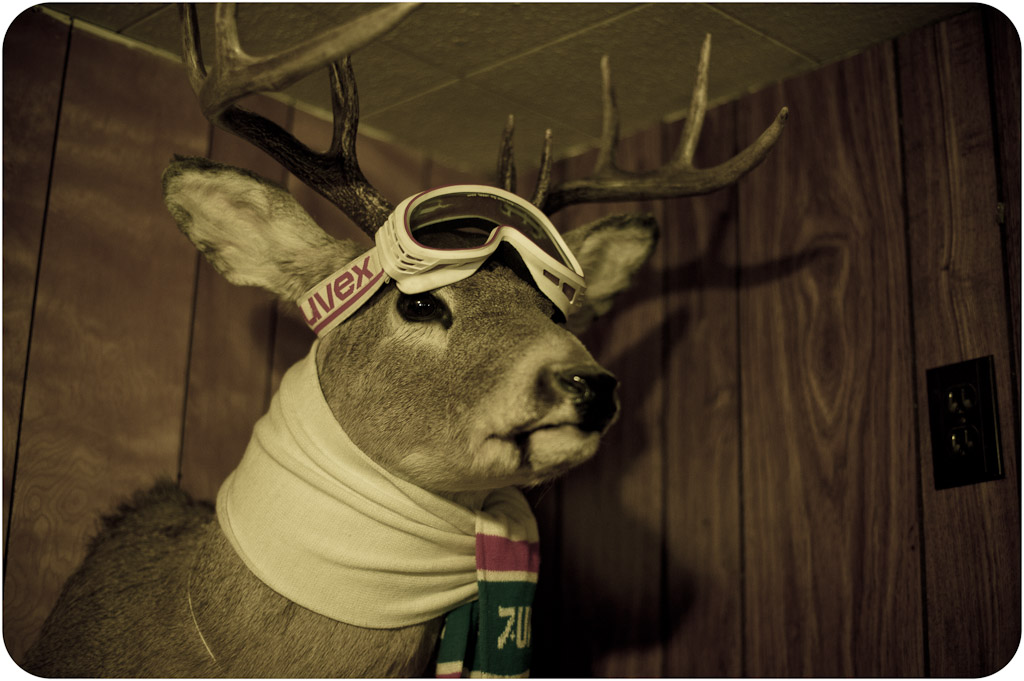 Krystina had prepared us a nice and healthy meal after all the covering work was done and it was time to make more plans for Saturday. More friends began to arrive from as far as Calgary and more locals from the 'Loops rolled in too as everyone was excited for the show. The guys went over their bikes with fine tooth combs and then joined the rest of us in a more amped up conversation of how intense it must be for them to be charging into a jump at speeds of up to 90 km/hr. For most of us there, wrapping our heads around this thought was next to impossible, but these two boys insisted that the only difference between this and any other jump is dealing with staying focused and ignoring a new level of wind blasting through their helmets. The key, they say, is to hold your tuck as long as possible, but still give yourself enough time to get into a more traditional riding position for jumping. Ron talked about his plan of attack: once he hits the ramp, he likes to keep it straight and smooth. And, with that kind of air time, if he's feeling good about halfway through, he can try to start throwing the bike around a bit. The more intense the situation seems to get, the comfier it is for him, he says. Tedman, on the other hand, usually comes out of the box charging. Nothing makes him happier than to be all whipped out and styled from the get go. He knows there's a finish line of 150ft, but that doesn't mean anything to him if he can't do it with a little flavour. These boys seem pumped! Excited to go to bed to get well rested but, at the same time, worried about starring at the ceiling all night in anticipation, unable to sleep.
The plan of an 8am start on Saturday was thwarted by the light overnight rains and morning frost. It was time to grab a quick breakfast and a broom and start the day's preparations. The tarps we'd laid down the night before did their job of keeping a few hundred feet of run in dry from the rain, but the light frost and now frozen tarps would have to be dealt with in their own way. It took over an hour for us to sweep off the tarps, more of the run in and the ramp itself as we watched the sun melt away any frost we'd missed. Now it was time for a show to pick up from Friday, and our surveyor tasked to provide evidence for Guinness was now here plotting out all the co-ordinates required for recording a world record - the wind was even behaving at this point.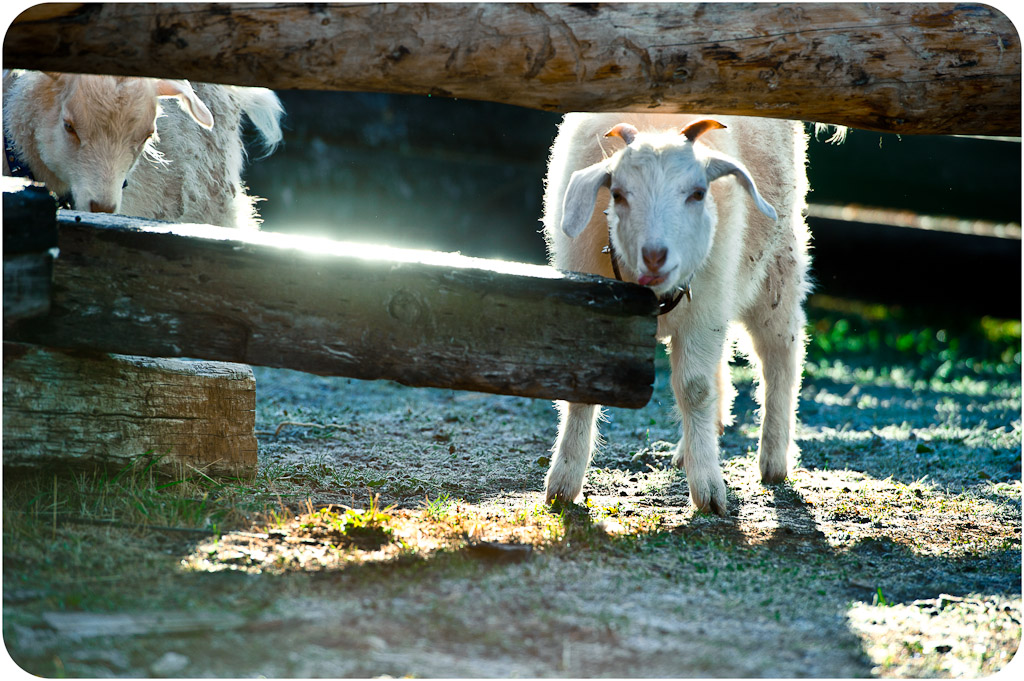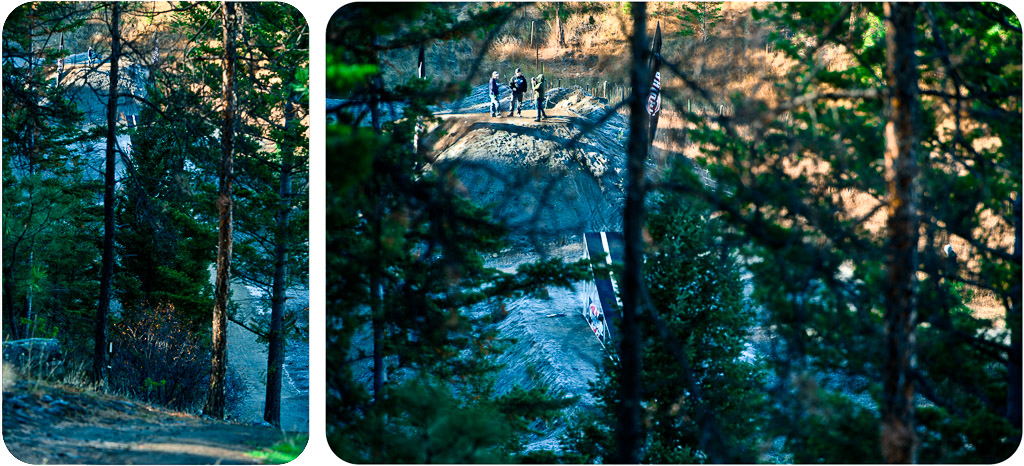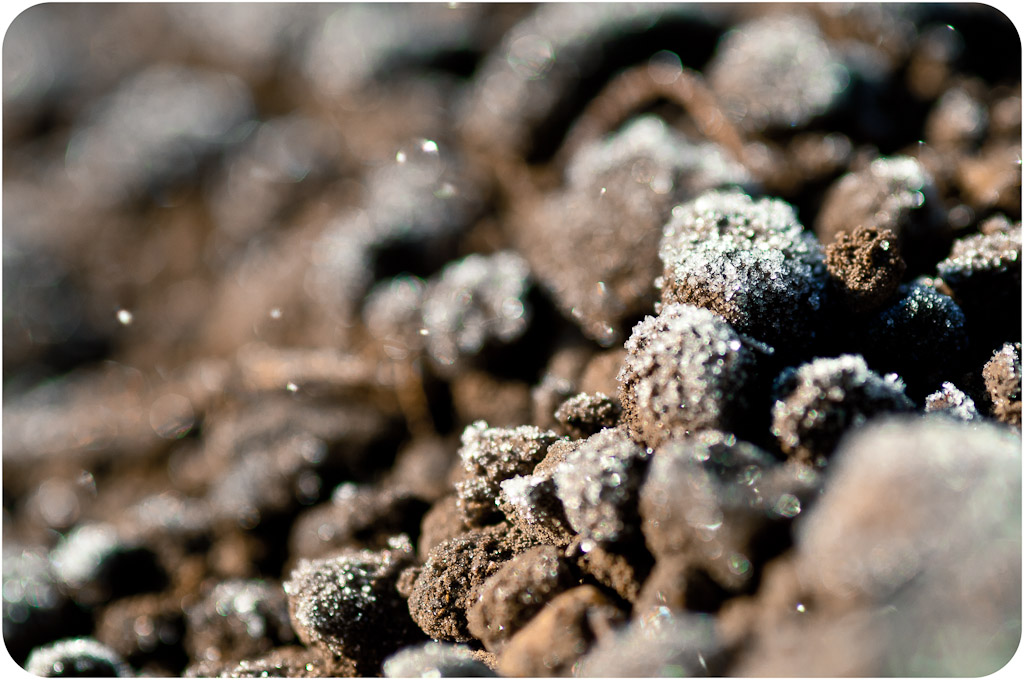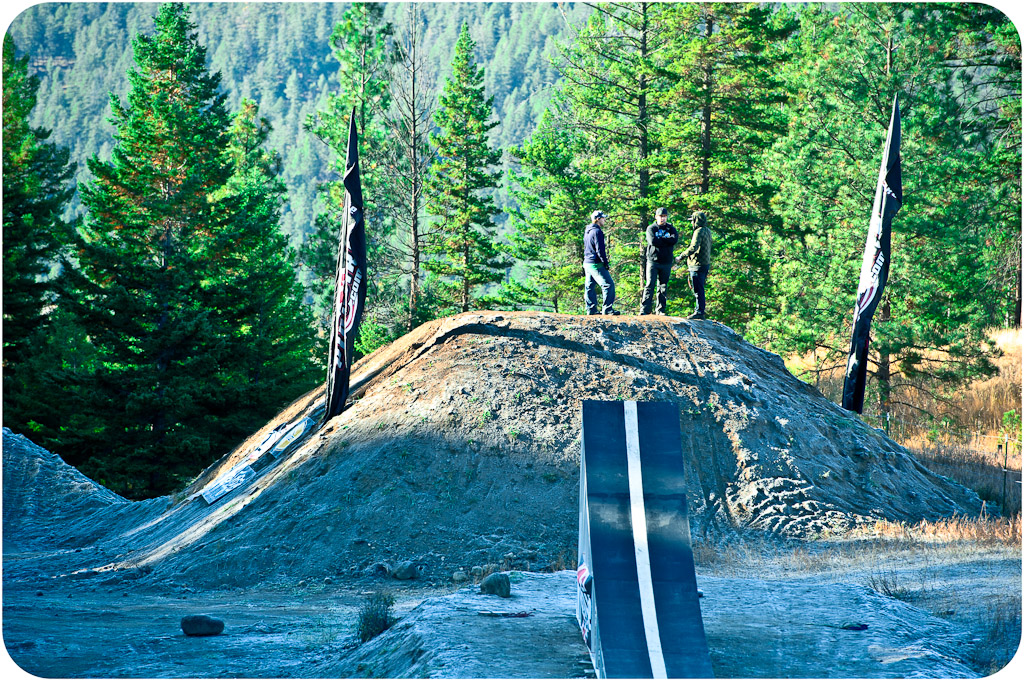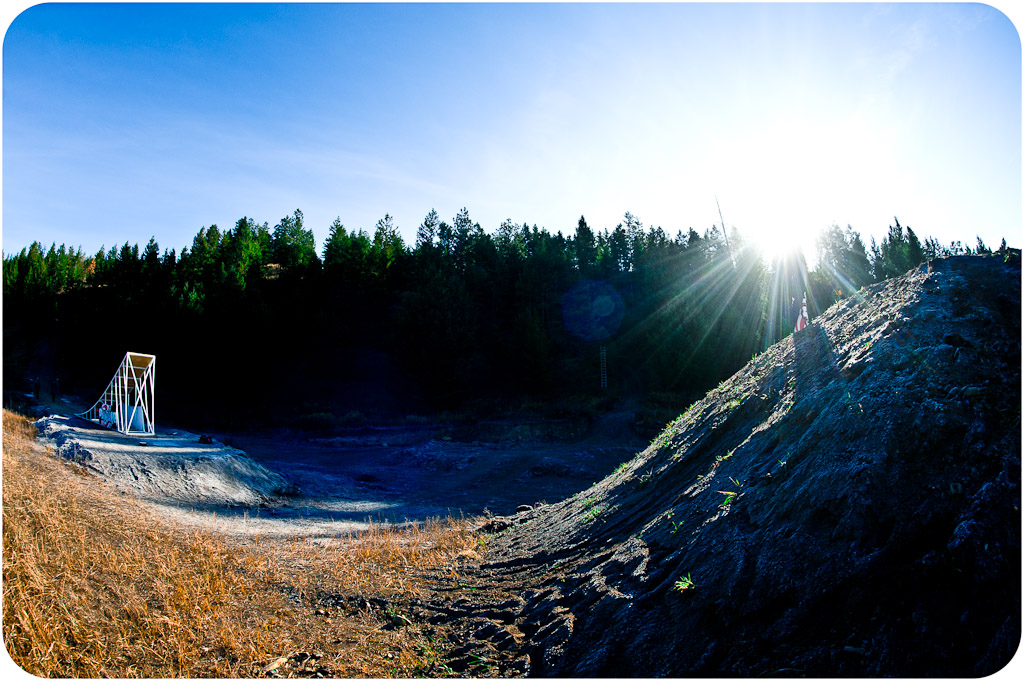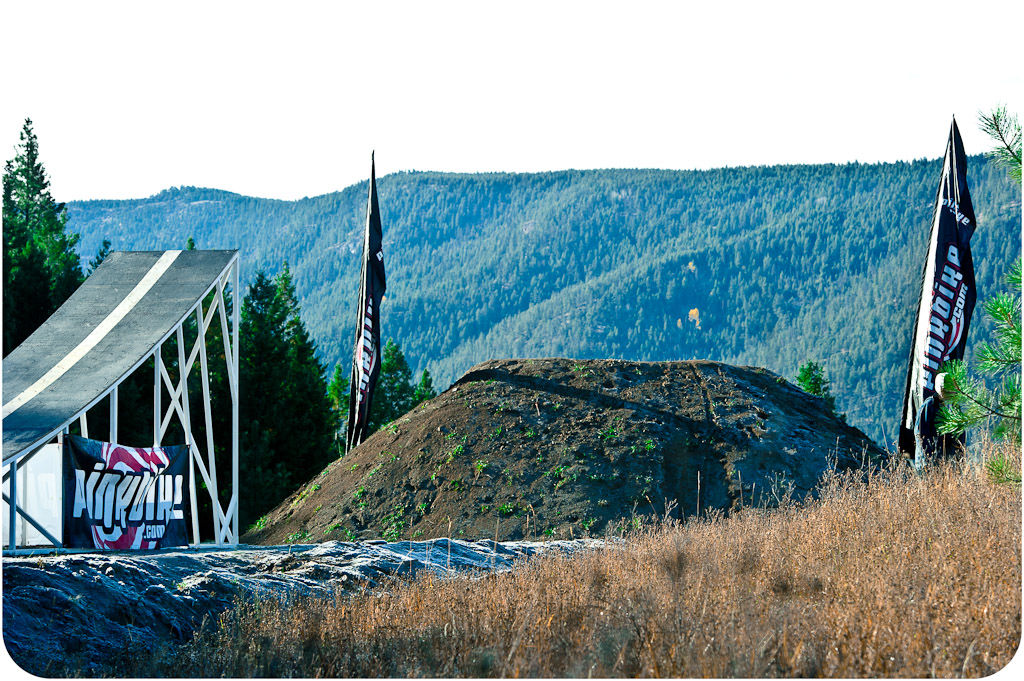 With the slight change to the ground (colder) and the top section of the run in wetter from the previous day's rain, the guys decided to start things off with some speed checks to get their starting point figured out so that they would have the proper drop-in point for a brakeless approach appropriate for the current jump distance. Ron, being concerned with the fact that he had to drop in using quite a bit more run in than he and Tedman normally use for this particular ramp distance, dropped in from even higher to make sure that a possible slow run in was not going to impede today's attempts for a series of quick ramp pullbacks. It was around 10:30am when the first run ins got under way - the guys were saying that you could feel feedback - with a tire pressure of approx. 60PSI, this was also part of their solution to try to ensure a good day of fast rolling dirt. The extra 20lbs of tire pressure made the bikes take on new life and you could see the intensity as they shot down the run in.

This here is a video of Ron doing a speed check run in earlier in the week when conditions were running at their prime, so that you all can try to gauge just how fast world record speed looks as they approach the ramp

: