Giant's Reign 27.5 1
was not intended to be some glitzy carbon fiber runway model with a four-syllable name, predestined to headline global publications the day it was launched. Even with its bright yellow and orange graphics, Giant's top-of-the-range, 160-millimeter-travel, aluminum framed AM/trailbike would have been a wallflower at that dance. To appreciate the Reign 27.5 1 for what it is, scrap the red carpet and head for the forest.
Giant designed the Reign 27.5 1 to be capable of handling any and every situation that a top trail rider may face in the backcountry or at the bike park - either willingly or by mistake. Its lines are remarkably unremarkable, because the Reign's curved main tubes and Maestro dual-link rear suspension represent almost a decade of long-travel trailbike development evolution. Its profile may mirror its ancestors,' but the 2015 Reign 27.5 1 represents a leap into the future for Giant. Its geometry is long and low. Its suspension is tuned to reward high speed and courageous line choices, and its best-in-class component selection backs up that mission statement.
At $5975, the Reign 27.5 1 costs three thousand dollars less than a carbon uber-bike and it still checks all of the boxes, with headliners like a RockShox Reverb Stealth dropper post, Pike RCT3 fork, and Monarch Plus Debonair RC3 shock. It also sports DT Swiss Spline One Wheels and a race-ready Maxxis Minion/High Roller II tire combo. Add a SRAM X1 one-by transmission backed up by an MRP chainguide, then bolt all those goodies onto a trail-proven suspension chassis with a 65-degree head tube angle and if you do not begin to visualize shred, I'd suggest a brain scan.
---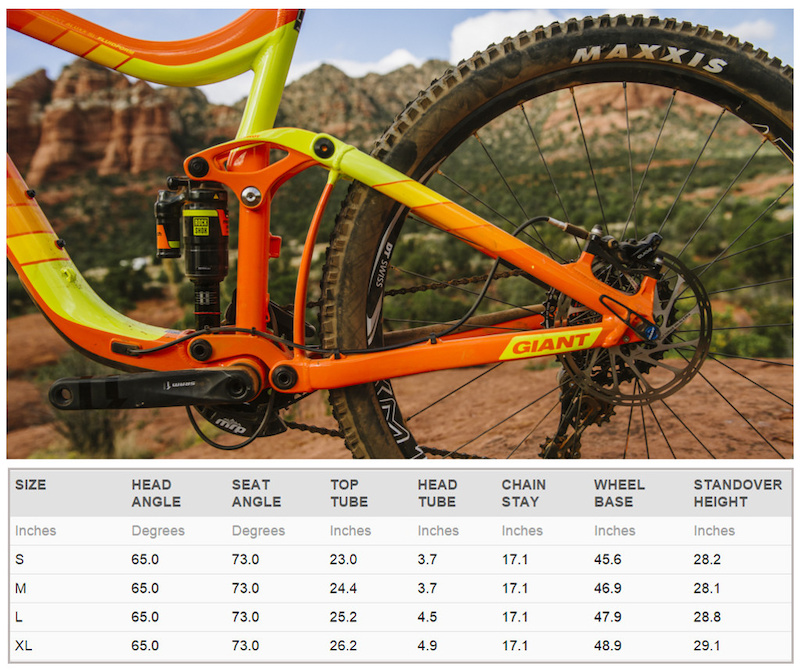 Details:
• Purpose: All-mountain/trail and enduro competition
• Frame: high-strength 6011-alloy aluminum frame, butted and manipulated tubes, 160mm Maestro dual-link suspension, ISCG 05 guide mounts, internal cable and hose routing.
• Fork: RockShox Pike RCT3 Dual Position Air, 160/130mm
• Shock: RockShox Monarch Plus Debonair RC3
• Transmission: SRAM X1, 11 x 42, eleven-speed
• Chain Control: MRP AMG, with bash guard
• Brakes: SRAM Guide, Rotors - (F) 200mm, (R) 180mm
• Wheels: DT Swiss Spline One, 27.5"
• RockShox Reverb Stealth dropper post
• Sizes: Small, Medium, Large
• Weight: 29.04 pounds, (claimed)
• MSRP: $5975 USD
• Contact:
Giant Bicycles
---
Construction
Giant calls it ALUXX SL-grade aluminum, which is marketing speak for high-strength 6011-alloy tubes that are given the royal treatment, with advanced butting techniques and a combination of hydro-forming and air-forming methods that Giant developed to squeeze the tube walls thin where stresses are light, and to thicken them or to increase their diameters where greater strength is necessary. Nothing new there, but Giant is better at it than most, because they do it all in their factory. Giant also uses two-pass welding techniques to create a flush, smooth connection between parts - a method which is proven to increase the durability of aluminum frames.
Geometry improvements for 2015 begin with longer top tubes across all the sizes - over an inch in most cases. The adjustment was done to keep the reach climbing friendly while compensating for shortened stems. Our large sized test bike had a 25.2-inch top tube, paired with a 60-millimeter stem. Typically, large size top tubes run in the 24 to 24.5-inch range. The good news is that Giant, and other industry leaders have finally accepted short stems as a benchmark and are putting medium riders back on medium sized frames. A few test riders commented that they would probably revert from their preferred large size to the Medium Giant, so read and note the geometry chart before you make your purchase.
Other noticeable changes were a low bottom bracket, which measured 13.6 inches
(345mm),
and a slack, 65-degree head angle. The combined effects of the two changes should greatly enhance the bike's descending and technical handling - but to the point where it would steer like a stubborn mule at slower, singletrack speeds. Giant, however, brought the chainsay length in to 17.1 inches
(434mm),
which is short for 27.5-inch wheels, to sharpen up the Reign's climbing and cornering manners. Plenty of stand-over clearance
(28.8 inches on the large frame)
, allows customers to select their sizing based upon the length of the cockpit rather than how much bike will fit between their legs. Short head tubes help reduce the stack of the bike's 160-millimeter-stroke front end, which further minimizes the big-bike proportions of the 2015 Reign.
Details call attention to almost every viewing angle, with rubber plugs sealing the internal cable and hose entries and a molded rubberized rock protector on the down tube. A rubberized chainstay guard silences any chain slap that gets past the bike's SRAM clutch derailleur and a screw-on cap disguises the direct-mount front changer boss. Giant chose a wider, 92mm press-fit-type bottom bracket shell to further enlarge the diameters of the frame members there in an effort to boost rigidity. ISCG 05 chain guide bosses are standard fare below and up top, Giant's tapered steerer fits standard 1.125-inch stems again. Hydro-pack haters can rejoice knowing that at least one large bottle will fit in the normal down tube location. Giant even added external dropper post fittings, anticipating the rare occurrence that a Reign owner may want to pitch the Reverb Stealth for another option.
Suspension
Two-position forks are a useful compromise for long-travel trailbikes with slack head angles, because the short-travel option feels firmer under power and the steeper head tube angle that is produced helps to keep the bike steering straight uphill. The RockShox Pike Dual Position Air fork drops 30 millimeters, from 160 to 130, which in turn lowers the bottom bracket height about one centimeter and increases the head angle a bit more than one degree. RockShock's Dual Position dial is on the left side of the fork crown and is easily accessed and manipulated.
Maestro rear suspension has been honed to the extent of its capabilities, at least within the realm of all-mountain and trail riding. The instant center
(the calculated swingarm pivot location at at given point in the suspension's travel),
of the Reign's dual-link design begins well forward and slightly above the bottom bracket axle and then migrates downward in a gentle curve towards the bottom bracket. By contrast, most dual-link designs are configured with much higher instant centers at the beginning of their travel to mechanically produce firm pedaling action. Maestro's kinematics are also designed to provide firm pedaling, but they are biased towards maintaining supple suspension action and also to uncouple braking forces from the suspension. Giant expects Reign pilots to augment the Reign's pedaling platform with the Monarch shock's three-position, low-speed compression lever as necessary. Giant builds just enough pedaling platform into Maestro, so that the bike can climb and accelerate with a degree of efficiency with its shock and fork wide open, which is a perfect compromise for the Reign 27.5 1. All-mountain riders and enduro racers expend most of their climbing efforts to enjoy the following descents. Like we discovered, most riders will only flip the lever for extended climbs and leave the suspension open for everything else.
Giant constructs the Reign's rear suspension to take a beating, with beefy tubes and large, easy-to-service pivot axles and sealed bearings. The lower shock shaft extends through the frame and doubles as the axle for the suspension's rocker arm. Lower suspension rockers are offset to the left to provide a stiffer, wider stance for the bearings and axle, and also to clear space for a phantom front derailleur which will most likely, never be fitted to a Reign 27.5 1. Tire clearance is reasonably good, which is uncommon for dual-link suspensions, because the triangulated swingarm and its lower links are forced to occupy the same space behind the bottom bracket. The swingarm appears to have ample clearance for DH-
width
rubber, but the crown of the tread may get close to the vertical strut that unites the seatstay and chainstay yokes.
---
Components:
Specifications
Release Date
2015
Price
$5975
Travel
160mm
Rear Shock
RockShox Monarch Plus Debonair RC3
Fork
RockShox Pike RCT3 Dual-Position Air, 130-160mm travel
Headset
Giant Overdrive, tapered
Cassette
SRAM XG1180 10x42, 11-speed
Crankarms
SRAM X1, 32T
Chainguide
MRP AMG
Bottom Bracket
SRAM, Press fit
Pedals
NA
Rear Derailleur
SRAM X1 Type 2
Chain
KMC X11SL
Front Derailleur
NA
Shifter Pods
SRAM X1
Handlebar
Giant Contact SL DH, 31.8mm
Stem
Truvativ Holzfeller
Grips
Giant Lock-on
Brakes
SRAM Guide, Rotors: [F] 200mm [R] 180mm
Wheelset
DT Swiss Spline One
Hubs
DT Swiss Spline One
Spokes
DT Swiss
Rim
DT Swiss Spline One
Tires
[F] Schwalbe Magic Mary, Trailstar, Snakeskin, Race Guard, 27.5x2.35, [R] Schwalbe Hans Dampf, Pacestar, Snakeskin, Race Guard, 27.5x2.35
Seat
Fi'zi:k Tundra M5
Seatpost
Rockshox Reverb Stealth, 30.9mm