You've seen it before. Yet another POV video... It is so easy to be lazy and just throw them together, I admit guilt, but it can be so easy to put together creative video using some different perspectives.
GoPro's POV cameras
have what are generally acknowledged to have the best mounts in its class. The popularity of the GoPro POV cameras have resulted in interesting mounting ideas using not just the GoPro mounts, but many refined and not-so-refined garage-engineered third party mounts.
Part 1 of this two part series will explore some mounting options for the GoPro with an emphasis on the chest mount
and hopefully give you some ideas on how to shoot creative video. Part 2 will discuss more esoteric mount options.
---
How to make the head strap mount into a chest mount
Because I'm a cheapskate, and because I like monkeying around with tape and webbing, I took the GoPro headband elastic mount (
which I've never used
) and made it into a chest mount. Skip this part if you'd prefer to pay the $ 39.99 for the chest mount or if you don't appreciate ghetto engineering.
• I cut the elastic piece which goes around your head when you're wearing this contraption as a headband mount into two. I then joined the pieces together with fastex buckles that you can buy from any outdoor store (
buckles cost me $ 0.75
). This will now go around your chest. Trust me - you'll be able to put this on and take it off a lot easier if you go through this step.
• You now need something to go over your shoulders. I took off the elasticized one-piece webbing that would normally go over your head. I then bought a ring from that same outdoor store (
$ 0.25
) and some webbing (
about a meter length did the trick, $ 1.30 - I bought the good stuff
), then I taped the webbing together into a shoulder harness. It doesn't need to be super-nice as it's not taking a load (the elasticized chest strap should take most of the load). It just needs to work. Pictures below will show more details of this bastardized creation and how the two pieces of webbing are attached to the rear.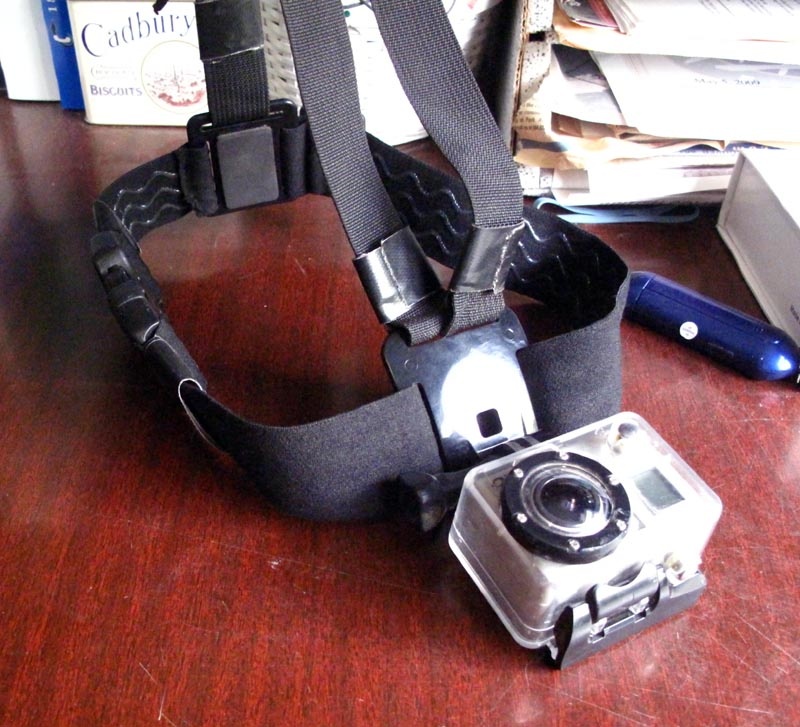 Here is the finished chest mount once the headband mount is converted. The GoPro headband elastic mount was cut in half and joined with buckles. Note that I've mounted the GoPro upside down so its the right angle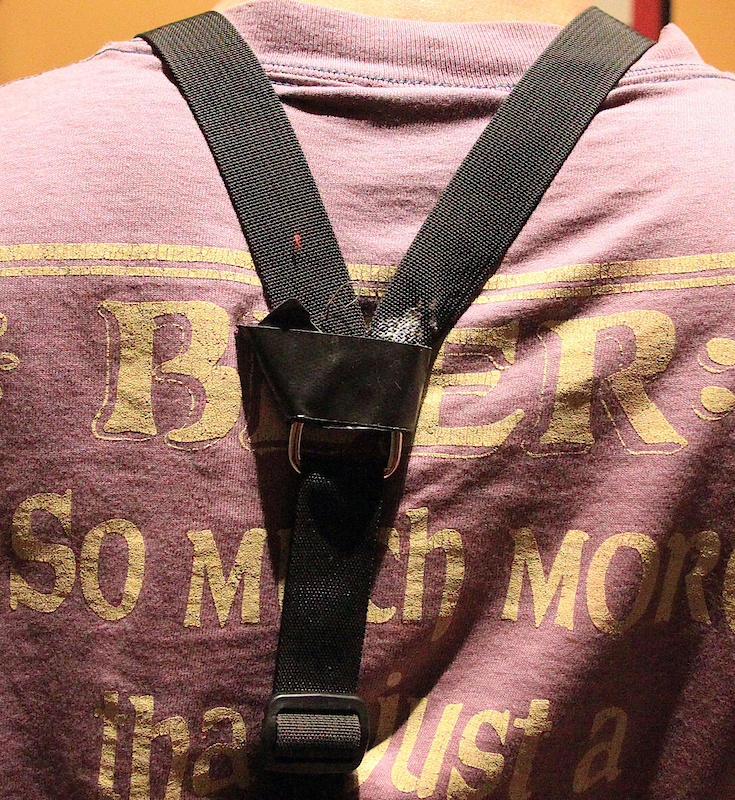 Here is the homebrew chestmount from the rear. It looks like the kind of braces your grand-dad might wear. The buckle on the lowest strap ($ 0.25) lets you tighten the two shoulder straps. The ring just splits the shoulder straps so that you can put one strap around each shoulder.
---
If you want to treat yourself to the real meal deal buy the GoPro HD Helmet Hero HD
via the Pinkbike store