Stefan Garlicki is a rider with big plans. His relaxed professionalism and all-out speed have helped him make rapid progress in the DH scene, both in his own National series, in Europe, and on the World Cup Circuit. 2017 will be Stefan's fourth season riding for Solid Bikes/Reverse Components. We caught up with him to talk through his 2016 successes, what it's like being a rider from South Africa and what he wants to achieve in 2017.
---
How old are you and where are you from?
My name's Stefan Garlicki, from Cape Town, South Africa. I'm 26 years old.
How did you get into mountain biking and who introduced you to the sport?
I started mountain biking in the beginning of 2010, before that I'd raced motocross for 10 years and on the side I'd ridden a bit of BMX, doing dirt jumps with friends but nothing too serious—motocross was the main thing. When I finished school, it wasn't really an option to continue motocross with the costs involved so I decided to go to the UK, where I spent 6 months traveling and working.
When I was over there I met some guys, one of whom was Ollie Jones, they were doing 4X and they said to come along to a 4X race (I had a jump bike at the time). Turns out it was one of the British 4X races. I ended up doing the rest of the series and really enjoyed it. When I got home there wasn't any 4X races and Motocross wasn't an option so that's when I started Downhill, I thought I'd give it a go and see how things went. It ended up going better than expected!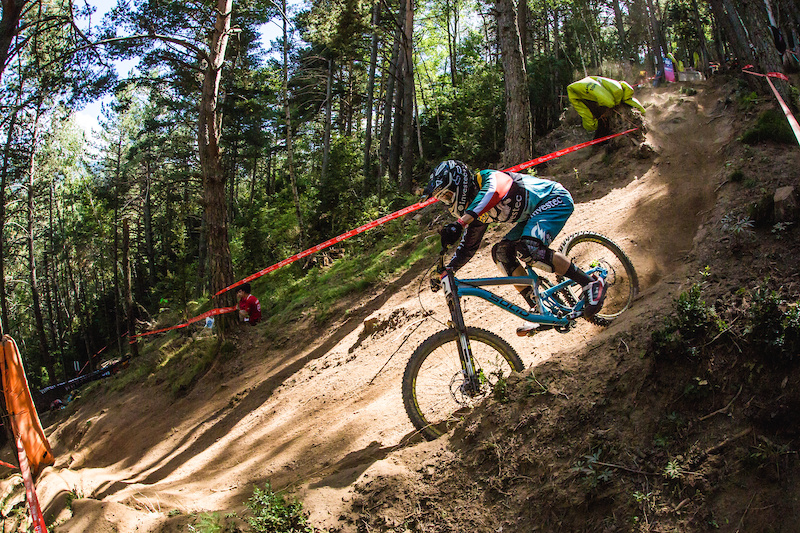 2016 looked to be a really successful year for you, what were your highlights and what was the best moment of the season?
Yeah, 2016 was awesome. I was so happy to follow up 2015 with a good year. 2015 had been such a good season for me and I was worried it might be hard to follow it up, but it ended up even better. The only thing I would say is that some of the World Cups were not as good as I was hoping. I had some bad luck with mechanicals and crashes, and things like that, but that's racing and that's how it goes. But definitely, in terms of the European and South African races, it was my best season.
Highlights for me were: Winning National Champs again was something that I knew would be really tough and I wasn't sure if I could do it, I knew I had the speed but I was hoping I could withstand the pressure to do it again. To do that was awesome! Getting a top five in the European Cup in Schladming in wet conditions which are not usually my strong point and getting another top ten in Spicak in the same series. And yeah World Champs; managing to survive Val di Sole for 57th, I wanted more than 57th but I was stoked to put together a relatively clean run on that track and get down in one piece, it was tough.
Finally winning Ilmenau in Germany, one of the IXS German Cup rounds—it's been a huge goal of mine to win a race in Europe and it would definitely be one of the most memorable moments of my career. I have been there six or seven times now and always felt I had the speed to win but never managed to do it, to finally pull that off and reach my goal of winning an event in Europe, with guys that are really quick—for me to do that, it was an amazing feeling and a day I'll never forget.
| | |
| --- | --- |
| | It's been a huge goal of mine to win a race in Europe and it was definitely one of the most memorable moments of my career. |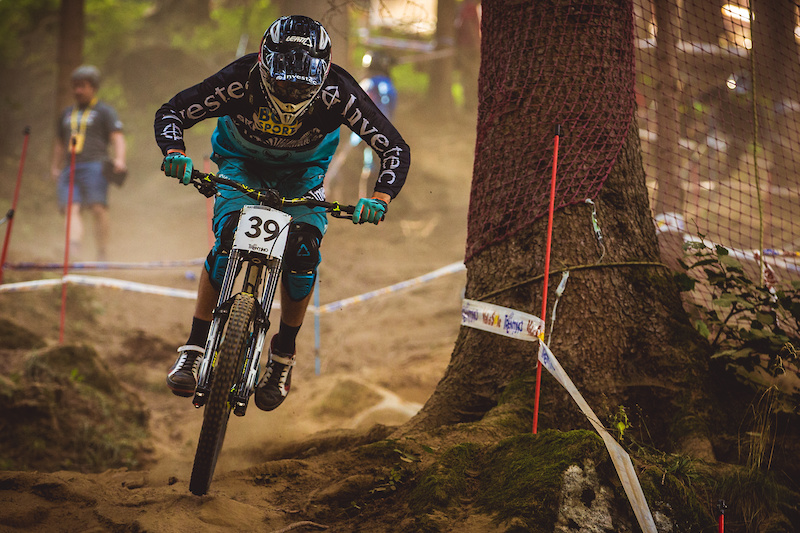 What's it like being from the Southern Hemisphere in a sport that is mainly European based, there must be both advantages and disadvantages?
Yeah, as you said there are advantages and disadvantages. The advantages are that we have good weather and can ride all year round, which is awesome. A disadvantage is that we don't get a chance to ride in the rain much, you rock up and if you haven't ridden in the rain for 6 months it takes a while to get back into it!
I also think because we're from a place that Downhill is not as prominent and in Europe, once you make a decision to pursue it you really put everything in it because you kind of have to. You're giving up your life at home and travelling the world—to start off with I was in a van all season. Not being able to go home between races means your out of your comfort zone, it does force you to want it more. It's like two different worlds, the tracks at home are so different vs World Cup. You could be fast at a South African track and slow at World Cup and vice versa, it's a different style of riding and it has its pros and cons.
So in 2016 you spent a good portion of the year going from race to race travelling around Europe. What is it like being away from home for such a long period of time?
It's a lot of fun. You get to see the World and meet a lot of awesome people, I think that's the best part, all the people you get to meet. You're in a bit of a family, like two different worlds, the mountain bike world (laughs)! After doing it for a few years, the travelling side loses it's glamour a bit, I love the racing but it's hectic being on the road and living out of a suitcase all the time, it's not for everyone for sure. But you know, it's got a lot of perks too. I don't think there's a perfect job out there but I think mountain biking is better than most (laughs).
The one thing I feel you miss out on a bit is that you travel to these amazing places all over the world but you don't get to see much of them because it's so focused on the race, you don't get time to be a tourist which is a pity. You try and do what you can, I wish they would split up the schedule a bit more and spread things, I find it very cramped—you have four or five races back to back that you have to do, then a gap. It'd be great if they were spread out with a bit more time in between to enjoy the venues.
| | |
| --- | --- |
| | I think that's the best part, all the people you get to meet. |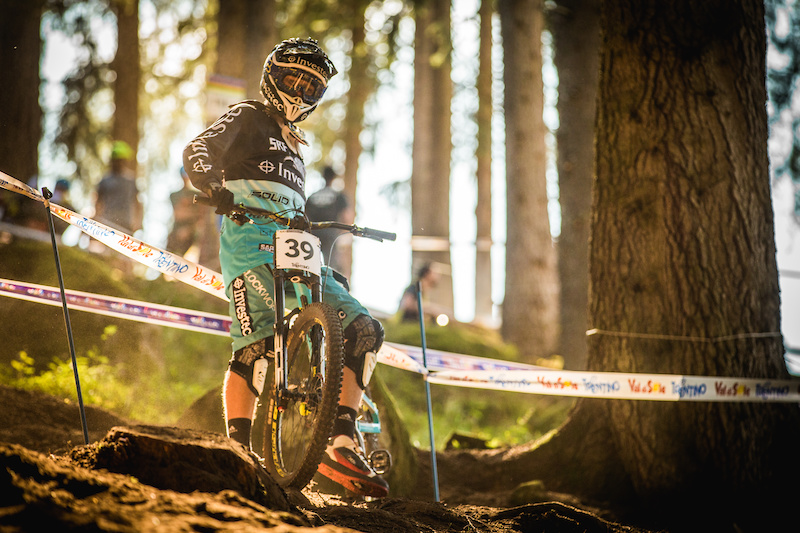 What was the turning point for you to becoming a full-time bike racer?
To be honest, I had always dreamed of being a professional athlete, it was the dream but I didn't really think it could happen. Then when I got involved in Downhill, it was more for fun. The plan was to go study—I had applied and all of that, the first year after I had started Downhill I was supposed to start studying. I had only been doing it for six months and I got 5th place in the National Championships, that was pretty much the turning point and after that was when I thought to myself, I want to see how far I can go.
It was a few months after that I sort of sat my parents down and told them that I wanted to go back to Europe and give this a real shot and see which way I can take it. That wasn't the point where I decided to go full time, I wasn't a professional or getting paid or anything but that was the point where I decided that was what I wanted to do, and then yeah, it's been a progression from there. Experience came and results came, partnerships and sponsorships and things like that, I'd say 2013 would be when I really saw myself as a professional.
| | |
| --- | --- |
| | It was the dream but I didn't really think it could happen... |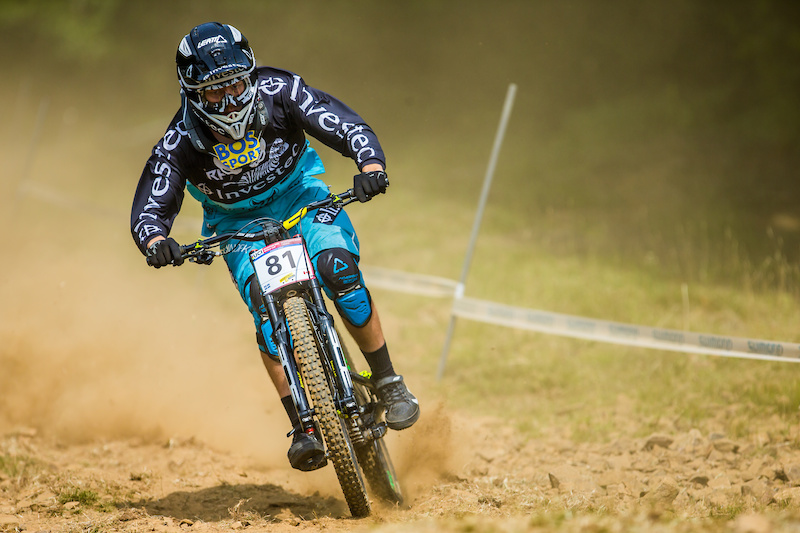 Were there any key sponsors who helped you on the way?
Well definitely Investec was the big one, I was so fortunate to get them on board. I wasn't in a great place in terms of support when I began working with them and I needed something good, it's been an awesome journey. Since then I have joined Solid and Reverse which has been huge as well. It's not just about sponsorship, it's about the relationship you have with the brand and having such a good relationship with Peter and Heike behind Solid, it makes you ride better—everyone's happy, there is a good vibe.
It's a lot to do with your feeling and confidence and all that when everything is going well when everyone is having a good time and they want you to do well. If you don't do well, they know that it's not like you're not trying—it's just Downhill, sometimes things happen. It's like "don't worry, next time", it's awesome. I've also been part of the Leatt brand, they were literally my first sponsor, they've been another key factor. Those were the key turning points for me, there's a good group of people that I'm working with and it's a good package. I'm very fortunate and proud to have the people behind me that I do.
What are you local tracks like where you live?
At home, we've got a real good mix. I'd say we have got four really good Downhill tracks, unfortunately not too long—the longest being about two and half minutes but they're really good, good technical aspect, fast, cool jumps and a lot of fun to ride. The only downside is that they don't get rough as we don't have enough riders to really make them rough, so in terms of training they don't get your arms as strong as they need to be but that's why I ride motocross as well, we have a really good motocross track not too far from me.
What bikes do you ride?
Right now I have a Downhill bike, a trail bike, a jump bike and a motocross bike. The DH bike is a Solid Strike, medium frame, which is pretty big, I am riding with a reachset though, with a wheelbase of 1250mm. I grew up riding smaller bikes and the medium suits my riding style better. I love it, really progressive rear end, responsive, poppy, aluminium but competitive in weight. BOS Suspension which I feel has been a huge help in my riding, Magura brakes which to me are hands down are the most powerful brakes out there. I really enjoy the bike and when I got on it the first time, I put in my fastest times down my local track. It just worked. First impressions mean a lot.
I have a Solid Blade 140mm Enduro bike, which is perfect for the trails around here, not as steep and really enjoy sending gaps on the thing, it's 26" and it's a lot of fun, I like the fact it is smaller, then when I get on my DH bike it feels bigger—I wouldn't like to go the other way! Solid don't do a jump bike right now so I have a Giant STP jump bike, bombproof and light bike and for me, a jump bike is a jump bike, it's small and feels almost like a BMX.
For moto I'm riding a KX 250F Motocross bike, 2013 model, stock standard, that's what I rode before I stopped motocross in 2009. So I got another one and it's a lot of fun and a hugely important training tool. If I had to choose one training technique (besides DH) I would say motocross is the most important thing. It's a full body workout. There's nothing else I do where I'm as broken afterwards! Doesn't matter if its intervals, DH, dirt jumping—motocross, I'm finished, game over!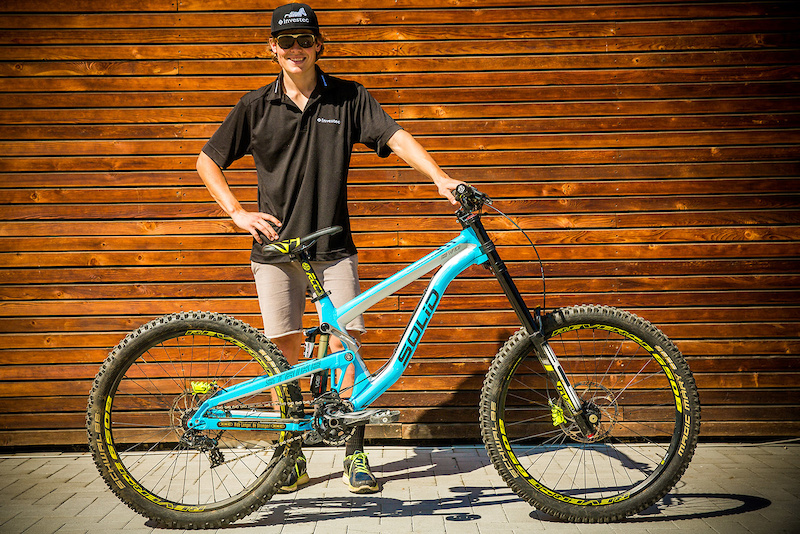 In 2016, what was your favourite track and why?

That's a tough one, there are quite a lot of tracks that I like and really enjoy. In 2016 I'd say Illmenau, the reason being because I won there! I don't know there was just something about it I really enjoy, it's not the steepest or fastest track but it's a got a flow to it and when you get that flow it just works. It's hard to pinpoint why but I have always enjoyed it there, the fans make it so special because they are so into it and it's almost like, it reminds me of a South African style track but in Europe, the dirt is amazing, it just works.
As a rider and racer, what are your strengths and weaknesses?

I would say strengths would be jumps and flow, kind of creating speed due to the motocross and dirt jump background. I'm pretty comfortable hitting big jumps, pumping speed I definitely feel that I get a good flow and keep it smooth.
Weaknesses; up until this stage it has been riding in wet conditions. This year it has been way better, I had one of my best results in the wet which was awesome for my confidence, maybe another slight weakness would be longer, rougher tracks due to that fact I've had issues with my arms in the past, my fitness has gotten better but sometimes arm pump has gotten the better of me.
Yeah fast tracks with jumps are my stronger side, and yeah, especially at the start of my career the steeper more tech tracks were not my strongest point, it felt a bit foreign to me but now I don't feel it's a weak spot anymore. I always try to focus on improving my weak points and put it all together.
| | |
| --- | --- |
| | If I had to choose one training technique (besides DH) I would say motocross is the most important. |
Goals, for 2017—what would you like to achieve?

For 2017 I have a few goals that I feel are realistic and high up on my priority list; winning National Champs would be amazing. Winning African Continental Champs would be amazing, I was second this year and that's the closest I've been. Winning a European Cup round; this year was the first time I've broke into the top five, so it's shown me I can put it together on the day. And finally, breaking into the top 30 at the World Cups, I know the speed is there from looking at the times this year and I think it's one of those things that when you do it once, it'll open the door and the confidence will be there and the next thing is to aim for top 20/top 10 and progress like that. But I really feel like the top 30 is achievable, I know the speed, fitness and head are there but it's just putting it all together and connecting the dots.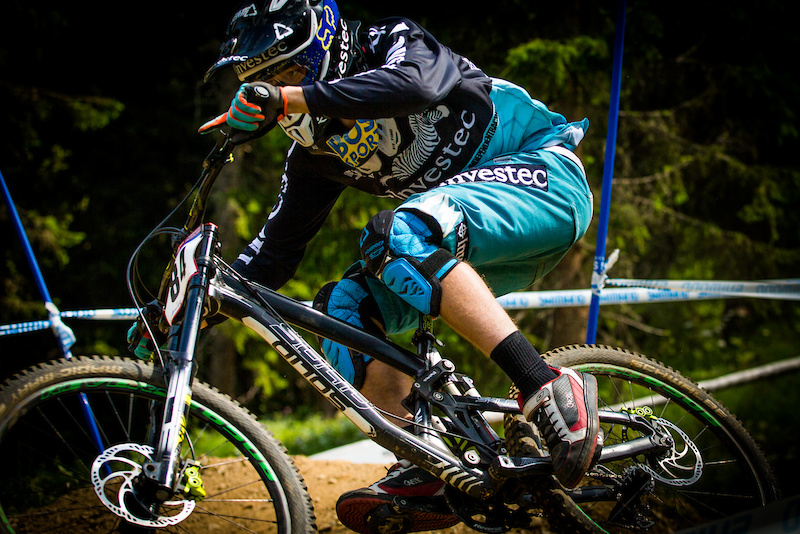 What riders inspire you?

I draw inspiration from a lot of people, I'm pretty self-motivated but I definitely look up to Greg Minnaar. I don't know Greg that well, as he doesn't live anywhere near me but just what he has been able to achieve and the fact that he's South African, he did it in a time when we were pretty unknown on the bike scene. He's also so humble about the whole thing and the way he's able to deal with pressure and put things together when it counts in a race run, to me is really something special and something that a lot of riders could pick up on. Also the way he rides—very smooth, very calculated, and he doesn't take unnecessary risks but knows what he needs to do, that's how I feel I'd like to ride.
On a more personal basis, a rider who inspires me would be a very good mate of mine, Johann Potgieter, also a really good rider who races in World Cups. He was the national champ when I started, we travelled together in our first year and we kinda had a love/hate relationship (laughs), were so competitive with each other, we do a lot of riding together, doing timed runs and I think that rivalry, that rivalry/friendship has been awesome for our careers as we push each other and we always want to be faster than the other one. There are a lot of times where I definitely wouldn't have pushed the envelope as much, but he's done a time that's better than mine so I push to go that bit faster, just progressively you go faster and push each other harder. I definitely draw inspiration from him and I think we feed off each other; I definitely think he's been a big influence on my career.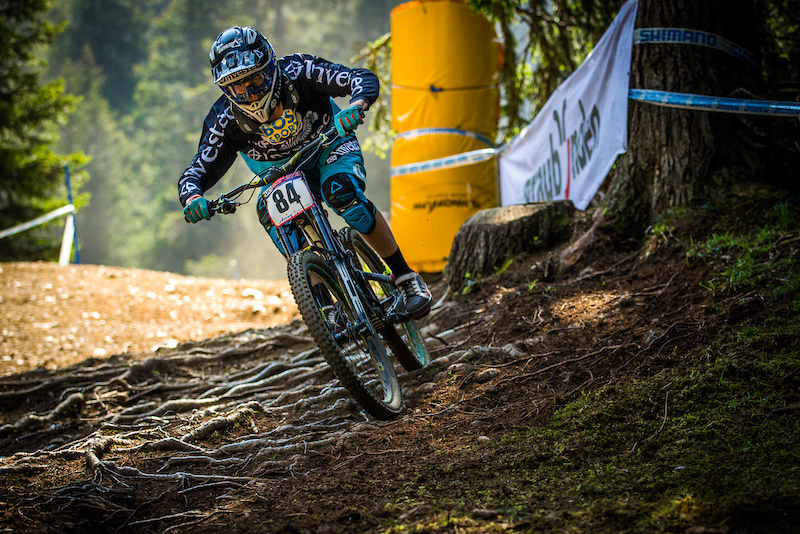 Are there any key sponsors that you'd like to mention that have helped you on the way?

Definitely, as I said we can't do this alone and it takes a lot of support from a lot of people. I'd like to thank firstly my personal sponsors, Investec, BMW, BOS Sport, Leatt, Virgin Active, my trainer John Wakefield from Science in Sport, and Fox Clothing. They're brands that have been with me for a while and without them, I couldn't have gotten this far. For the last few years I've been riding with Solid and Reverse, BOS Suspension, Magura, Schwalbe tires and Sapim Spokes. Those are the team sponsors from the past few years and without them, we wouldn't have the support, the bikes and everything you need to get the job done. It's a group effort, it's really expensive to travel from South Africa to get overseas and race all these events and I really appreciate the effort that all these guys put in and I hope that I can keep climbing the ladder and making the sponsors proud. Thanks for taking the time to chat with me and see you guys at the races next year!
www.stefangarlicki.com
Photos: Zach Faulkner /
Martin Donat
/ Ruben Louw
---
MENTIONS
:
@solid
---