Pinkbike Product Picks
Juice Lubes
was born in the UK - a brand that grew out of the need to alleviate stiction from grubby DH forks. In less than five years they have grown in to a global brand, with one of the broadest high performance lubricant ranges on the market, including cleaners and fluids - all designed and manufactured in the UK. Founder Will Miles says, "I don't think any other brand offers the same range of products that we do and we are the newest lube brand to the party - as far as I know." Juice Lube's aim? To keep you lubed up so you can ride as hard as you can while having fun.
---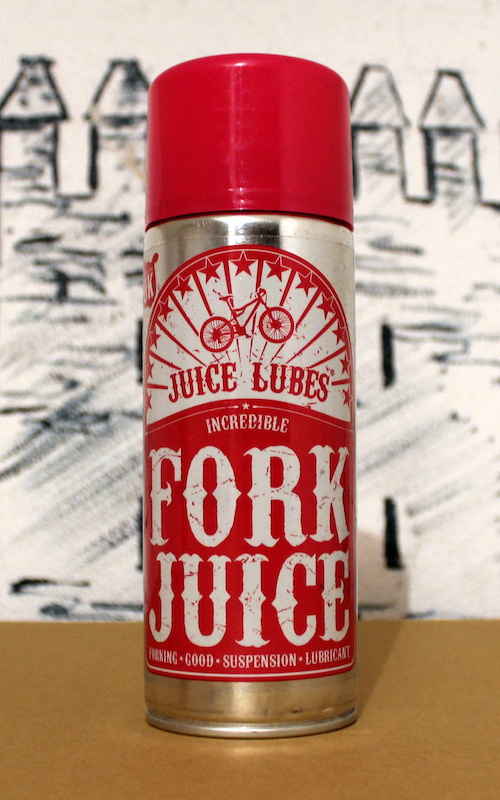 Fork Juice
Fork Juice is a silicone-based spray lubricant and the product that launched the company. With tens of thousands of units sold, Fork Juice can be spotted in the back of many racers' vans at British downhill venues. The spray is directed onto the fork stanchions, dust wiper seals and shock or dropper post shafts, where it instantly improves small-bump sensitivity and breakaway points by reducing friction. Reportedly, Fork Juice also repels dirt and moisture from getting in to your seals, which prolongs expensive service intervals. I asked Will why he thinks his Fork Juice is superior to any other brands of silicone on the market he replied: "Quite simply, we put more oil in the can than competitors. The concentration and grade is also higher, with a higher lubricating affect. As with anything, you can use cheaper, lower quality for less performance, or higher quality for more performance, but inevitably, at a higher price."
I generally just use one quick spray on fork stanchions, the shock and in my dropper-post before each ride - after a quick wipe of any grime on the seals. I have a dropper post that is at least one year past its service interval, and after washing the bike it will drop slower than a balloon. Literally, one spray of Fork Juice, a few bounces up and down, and it's back in action until the next wash. Avoid getting it on your brakes, as they will become super slippery too. If you do, Juice Lubes also sells a disc brake cleaner. A can of Fork Juice used a couple of times per week should last a year. Volume: 400ml. MSRP: $16 USD/£10 GBP.
Fork Juice
---
Hand Juice
Juice Lubes say their Hand Juice is beaded for your pleasure. The abrasive-based hand cleaner is not as aggressive as similar products on the market, plus the Fruit Salad aroma is pleasing. Generally, I try to avoid the tools and leave it to somebody who knows what they are doing. So, the Hand Juice stays in my garage, which is also a long way from my sink. If my hands are starting to get greasy, I'll normally rub some on, then wipe off with a towel, which seems to keep grease from becoming ingrained in to my skin, and makes it much easier to wash when I make it back inside. Also if I get fork oil or brake fluid on my hands, I will use the Hand Juice, rather than letting it burn my flesh while I finish of the job. If I wasn't such a spanner dodger, I probably would have got through a lot more of the stuff. Volume: 400ml. MSRP: $12.50 USD/£7.99 GBP.
Hand Juice
---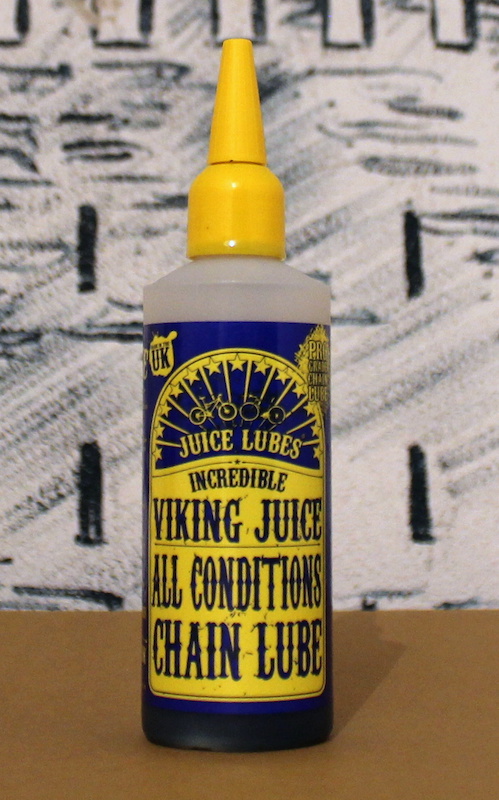 Viking Juice
Viking Juice is claimed to be the most advanced and long lasting chain lubricant on the market. Originally designed to endure the full 280km of the infamous Paris-Roubaix - over the cobbles, under the rain and to suffer the power of Tour de France stage winner Magnus Backstedt. Viking Juice has some specific instructions if you want the best performance. You must thoroughly clean and de-grease your chain, wipe it dry, then apply up to four very thin layers of the lubricant, allowing a few minutes between each coating to dry and set. Adding to the process is that Viking Juice is a thin, runny lube, so you'll need so go easy on the application or it will end up all over your garage floor. Will that Viking Juice performs well because a special solvent is used to reduce the viscosity of the ingredients that make its waxy, solid film. The solvent thins the product to help penetrate the chain links and pins and it then evaporates, leaving the tough, protective film."
.
Although a trip to North-East France to test the Viking Juice at its proving grounds would have be nice, a Portuguese mountain sufficed. The lube lasted three to four days of 1000-1500 meter climbing, both on and off road, with the addition of an equal amount of vertical descending. It lasted well, really well, in Portugal's rainy autumn weather, and the expected hassle of hyper cleaning the chain amounted to an easy add-on to our frequent bike cleanings. Viking Juice is a little more time consuming than applying a regular lube, but if you have the patience in the workshop, it will reward you in the long run. Volume: 130ml. MSRP: $16 USD/£10 GBP.
Viking Juice
---
Pinkbike's Take
| | |
| --- | --- |
| | I have been using the full range of Juice Lubes this season, and their Fork Juice, Hand Juice, and Viking Juice were the products that stood out over the past months. For around 45 dollars, they can improve the performance of your bike, and make your life a little easier at the same time. If you are a British locavore, then you will be a happy bunny being able to get quality service products from a UK brand. The best of the three products tested here is Fork Juice. On-par value for money and a drop in the ocean, compared to similar products which have negligible advantages, Fork Juice may represent one of the best money-to-performance ratios of any suspension related product. - Paul Aston |
Look out for the handy 'How-To' videos on their site at
www.juicelubes.co.uk
---
MENTIONS:
@JuiceLubes
---