For 2006 Lake has a plethora of new shoes – fourteen new models to be exact. In this article I will focus more on the Freeride, BMX & DH line. To create the best shoes for this discipline, Lake teamed up with Canada's finest rider, Richie Schley. This new line of shoes is stiffer, more stable and better breathing than skate shoes - optimal for the obstacles, jumps and descents of freeride, DH, BMX, and for just goofing off.
Recently sponsored rider
Jeff Lenosky
got in touch - offering me some samples to try out. He sent me a pair of 2005
Signature
and a pair of
Nasty
. I opted for the non SPD version of the Signature shoes since I don't ride clips.
The signature shoe are very nice. Made of full grain leather with molded heal, toe, lace and instep panels makes for a real comfortable shoe, one or off the bike! Due to the extra padding, the Richie Schley signature shoes feel a tad snugger than the Nasty's.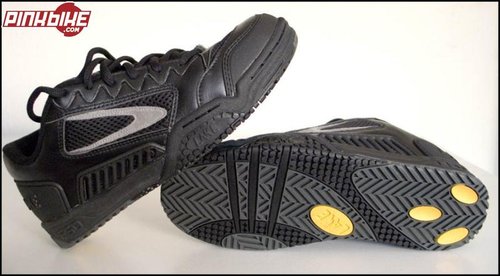 Richie Schley Signature shoe
I can't comment on the durability of the sole, but I was pretty surprised how grippy the outsole was. These shoes are also available in a SPD® compatible version. For 2006 there are the few visual changes, but for the most part have all the same great features. Available in Black, White or Brown.
Like mentioned above, the Nasty's have less padding, thus giving them a roomier feel. Just like the signature model, the sole on these puppies are pretty damn grippy. Made of supple full grain leather uppers, these sure are sure to stand up to the abuse. For 2006 these shoes have been renamed Station. Also available in Black, White or Brown.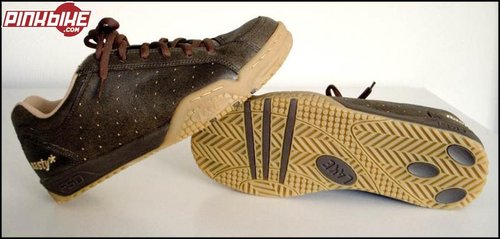 Nasty
There are two other shoes in their Freeride, BMX & DH lineup for 2006, which are worth mentioning. The
5050
and
DH165
. The 5050 was developed in collaboration with French cycling visionary, Max Commencal. A tough shoe with a breathable but structured upper & extensive visual detail. Leather & mesh upper. Available in a SPD® compatible. Available in white or Black
The DH165 was developed with the help of the Commencal-Oxbow racing team in Europe & their 2005 European Downhill Champion, Anne-Caroline Chausson. The DH165 gives the downhill rider world class support & protection they need. 3/4 height with extra ankle protection.
Lake is making its mark on the sport of mountain biking by adding a team of high profile riders and increasing it's product line. In 2004 LAKE created the first shoe designed specifically for freeriding, this year they have added several new models and colors in an effort to maintain their position as a leader in the freeride arena. The expanded product line can be seen at www.lakecycling.com. In order to promote the brand and continue manufacturing the best shoes possible Lake has recruited a team of some of the biggest names in the sport. Here are the riders:
Team Riders


Paul Basagoitia
Aaron Chase
Jeff Lenosky
Steve Romaniuk
Richie Schley
Chris VanDine



Flow Riders


Jim "Hacksaw" Severt
Lars Tribus
Kirt Vories
George Ryan
The 2005 Lake FR shoes are currently on sale at www.ride-this.com – check them out!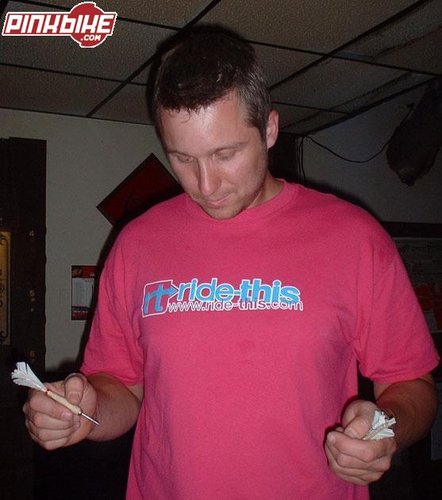 Team Rider Jeff Lenosky