Pinkbike Product Picks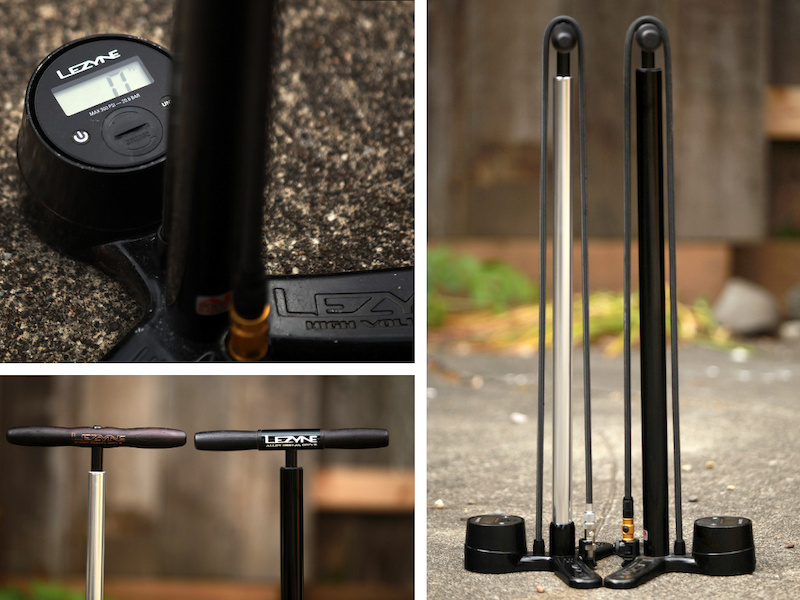 (Clockwise) "Digital Drive" refers to Lezyne's addition of an accurate, digital pressure display. The Shock Digital Drive pump on the left had a smaller barrel and piston that work to attain higher pressures. Wooden handles are the best.
Lezyne Alloy Digital Drive and Shock Digital Drive Pumps
Lezyne's slogan is "Engineered Design" and as such, their products are designed to function well and look good. The two Digital Drive pumps we review here are no exception:
The Lezyne Alloy Digital Drive
is a high-pressure digital floor pump with a CNC-machined aluminum barrel and base, a steel piston, and a varnished wood handle. It is equipped with a claimed, 3%-accurate Digital Gauge, an ABS Flip-Thread air-chuck and has an extra long, nylon-reinforced, braided hose with a double-threaded, screw-on aluminum connector that easily docks with Presta and Schrader valves. The included "Speed Chuck" makes this pump compatible with disc wheels. Your choice of an anodized high-polish or black powder-coat finish makes this digital pump stylish and durable.
The Shock Digital Drive
floor pump offers all the benefits of the Alloy Digital Drive pump, while pumping air at one-third the rate to and at a much higher delivery pressure to more easily service road bike tires and the inherently lower volume and high spring pressures of suspension components. The pump ships with a dedicated Shock-Thread screw-on-type chuck which allows removal without the shock or fork losing any air pressure.
MSRP for both pumps is $109.99. Lezyne also offers a higher-end variant called the CNC Digital Drive with lots more machined bits for $20 extra, and for those with a smaller budget, there is the Steel Digital Drive, with steel replacing certain aluminum elements for $20 less, and finally, the Sport Digital Drive which substitutes the aluminum base for molded plastic for another $20 savings.
Lezyne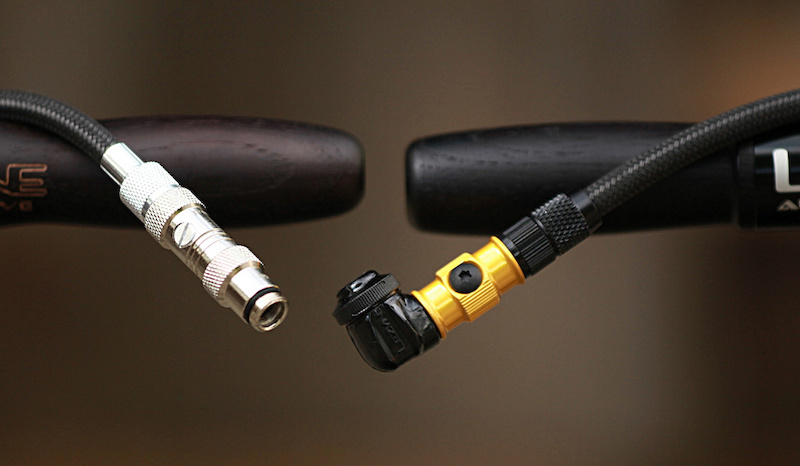 Two styles of Lezyne's screw-on pump heads are shown; on the left is the Shock Thread Chuck, on the right is the standard Flip-Thread Chuck. Lezyne also sells other styles of pump heads.
Pinkbike's Take:
| | |
| --- | --- |
| | Lezyne's Digital Drive series offers great performance in a good looking package. The 3% accuracy offered by the gauge means that at around 30psi you're within 1psi of the actual pressure plus the digital display is large and easy to read which puts you in better control of your pre-ride tire preparation. Having to replace batteries, on the other hand, adds complexity to a once-simple tool. The entire series of Digital Drive pumps are high-pressure designs, that seem better suited for road bikes; us mountain bikers will be left wishing for larger-volume barrels to get more air per stroke into our fat treads. The Flip-Thread Chuck is also going to be polarizing; those of you who prefer the secure attachment of a thread-on air chuck will prefer this system, versus those who like the speed of a more typical push-on or lever-type pump head. The presumed improved durability of a thread-on attachment over the rubber seal of a standard head may win some of you back. One thing we didn't get on so well with was the air-bleed valve smack in the middle of the Flip-Thread Chuck. While it works really great with a Presta valve, it doesn't seem so well thought out for a Shrader valve. We wish there was more material above or below the bleed valve as it was hard to unthread it without accidentally releasing some air - there just isn't enough gripping space on either end. This isn't a problem for a Presta; it's meant to release the pressure from the hose before unthreading. One observation we made was that if you run 99-cent Presta-Schrader thread on adapters, both pump heads will not engage the Presta plunger like a standard pump would. The Shock Drive, while potentially being overkill for a casual biker, was a great tool for filling up forks and larger volume rear shocks like the DB Air. The 3% accuracy is on par with best hand pumps, and getting the high pressures required by the suspension components was a relative breeze. The Shock Thread Chuck was also fantastic. None of our gripes with the Flip-Thread Chuck applied. - Michael Klimek |