-

Introduction

-

The purpose of this review was to ride the 140mm travel Magura Thor all-mountain/trail fork over a moderately long period and to report findings. Mike has already reviewed the Thor previously on this
previous Pinkbike article
. I'll take some space to summarize his description.
Physical attributes
- All-mountain/trail air sprung fork Double crown design to add stiffness
- 32 mm stanchion tubes
- Standard, tapered, and 1.5" steerer tube options
- 20 mm Maxle Lite thru-axle QR (licensed from Rock Shox)
- Post-mount brake for 180mm rotors
- Total weight: 3.9 lbs. (with the tested standard steerer)
Adjustability
- Travel adjustable from 100 to 140mm
- Remote control lever (RCL) option mounted on the handlebar
- Rebound adjustment on lower leg
- Albert Select+ compression adjustment on right leg (Improved shim configuration for more low-speed compression - therefore less fork dive without compromising plushness)
- Air sprung adjustment on left leg
---
-

Useful links

-

- Excellent Magura Community with dedicated suspension board - example points to
discussion re Magura Thor oil levels
- Magura air fork
service manual
with diagrams and instructions and photos (PDF put together from 3 page word document) -
open this in an external Adobe reader; some browser Adobe plugins will return errors if you view it in a browser
- Magura
service videos
on the Magura site (annual service and periodic service)
---
Lee Lau's biases
-
I am 5' 11", 160 lbs and have had over 15 years experience riding bikes in North Vancouver, Squamish, Whistler, the Chilcotins and many other areas in B.C. and Alberta. I've also made many bike trips to Utah, Washington, Oregon, California and Ontario (for example) so I've had some experience biking in a variety of terrain. My bias is towards pedaling up and unlike many people who learned to ride bikes on North Shore trails, I actually enjoy riding (and sometimes bushwhacking) uphill.
I've ridden all manner of front suspension. In the all-mountain genre, I've owned or had extensive experience with the RockShox Pike, Revelation, Reba, Magura Thor 2009 and Fox Float RLC.
---
-

Setup and Ride Impressions

-

Installation
Ease-of-setup is the bare minimum I would expect from any modern suspension fork (particularly a German fork). The Magura Thor was a breeze to install; fork races slid on smoothly, brake cable guide is integrated on the lowers making for smooth routing and tolerances are German-anal perfect. The one glaring omission is the remote control lever (RCL) which is used to actuate the flight control remote (FCR) height-adjustment (110mm to 140mm travel adjustment on the fly). Put the RCL lever on the handlebar and soon you will feel like Inspector Gadget especially if you have a remotely adjustable seat-post. Your bike will be festooned with cables & your rider compartment very busy - best to put a "GEEK" fluorescent sign on your backside while you're at it.
Setup
Setup is a breeze. There is an air pressure chart conveniently stickered on the left fork leg. Interestingly I usually run higher air pressure than recommended on most forks, but for the 2010 Thor I ran air-pressure 5 psi below my recommended rider weight (I ran 60 PSI and am 160lbs - approx 76kg). I can only attribute this to the improved compression shim stack as I ran much more air pressure on the 2009 Magura Thor than recommended to prevent from blowing through travel. According to Magura, the 2010 Thor uses a far more progressive air spring than previous Thors. Therefore the 2010 Thor requires lower pressures, thereby increasing small bump sensitivity.
I would add (for those who do not read manuals) that there are two air chambers which must be filled so you must cycle the FCR height adjustment while adding air otherwise you will have about 5 - 15psi less air in the fork than you might think.
Rebound adjustments make a good deal of difference on the Thor. Solved from last year's Magura Thor is the rather annoying top-out clunk sound that could only be mitigated by running excessive rebound. You now can run very little or a lot of rebound without getting mystery noises. Compression adjustments via the gold Albert Select (AS) knob also make a lot of difference with a few twists of the dial. Fully turning on compression and engaging AS locks out your fork for climbing roads or smooth surfaces; putting a little bit of compression mellows out fork dive (although it should be noted that there's little to no fork dive - more on that in a bit)
My minor quibble is that the anodized knurled aluminium knobs are a bit hard to turn and also hard on the fingers if you're bare-handed, so making adjustments while you're riding along is not that easy.
---
Riding
There's not much to say about the Thor in climbing. It's in the middle of the range for weight for forks of this travel. It's stiffness neither helps or hinders climbing.
My non-comments aside, the more serious issue is the Thor is basically not height-adjustable while you are climbing technical trails. The plastic RCL doohickey doesn't look particularly tough and it isn't. Although I didn't break it, I know others who have broken it - and on relatively small tumbles. More to the point, the cable actuation has a lot of stiction so you have to press down hard on the RCL lever while simultaneously pressing down hard on the Thor to get the fork into short travel mode. This ain't happening if you're climbing anything remotely technical.
Without the RCL, travel-adjust is even more of a polite fiction. The FCR knob must be turned with one hand while the other hand presses down on the handlebar to actuate the shorter travel. In short, Magura must re-think the entire travel-adjustment mechanism. The process of pushing down on the fork while turning the FCR (either by hand or by the lamentably fragile RCL) is overly complicated and is difficult to perform while in the process of riding anything other then the smoothest of trails. This poorly thought out height-adjustment was and still is the Achilles heel of the Thor.
Fortunately, front suspension is more about downhill than uphill and the Thor is a superior performer downhill. It's not a free-ride fork and I found its limits when airing out jumps or torpedo'ing down steep rock gardens, but within the "all-mountain" envelope of technical descending the Thor is a tunable, stiff, precise magical rapier that dissects trails. A distinctive attribute of the 2010 Thor is that it doesn't suffer from excessive brake dive, which seems to plague many forks in this class. In short, the Thor's action is very progressive. The top end of the stroke is plush (therefore the excellent small bump sensitivity), the middle of the stroke is very progressive and the bottom of the stroke even more so.
Here are other key positive attributes of the 2010 Thor
:
- Thor is stiff. The fork doesn't deflect easily
- Thor is plush. Small bump sensitivity is best in class. Better than the Fox, RockShox and/or older Maguras I have tried. Don't believe me? Take one for a test-ride
- Thor's compression settings are meaningful. While the adjustment knobs could be a bit more user-friendly, the adjustments actually do affect the forks' attributes. In particular brake dive is easy to tune out.
For reference, I used the fork in a one week trip to Sedona (ultra-technical uphill and downhill slickrock), another road-trip to Salmon Arm, BC (smooth fast Interior BC trails); and on Vancouver's North Shore but mainly on the more all-mountain trails.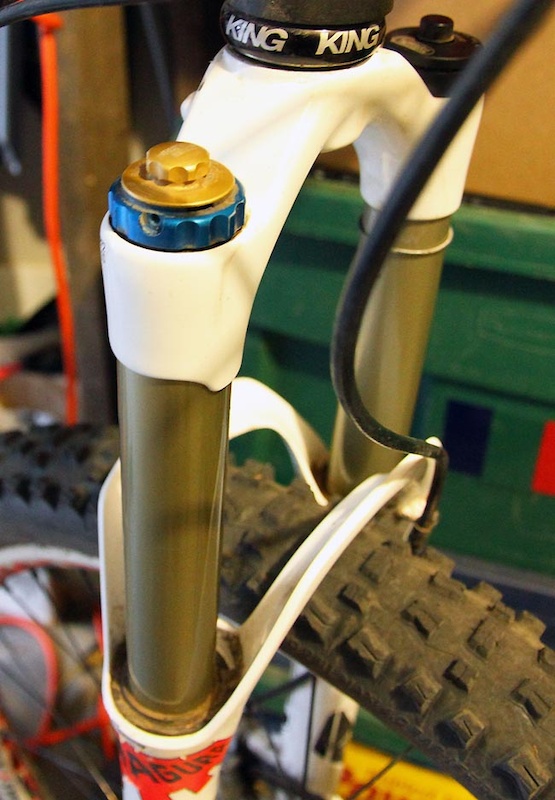 Magura Thor features adjustments such as compression via the Gold Albert Select dial on the fork leg in foreground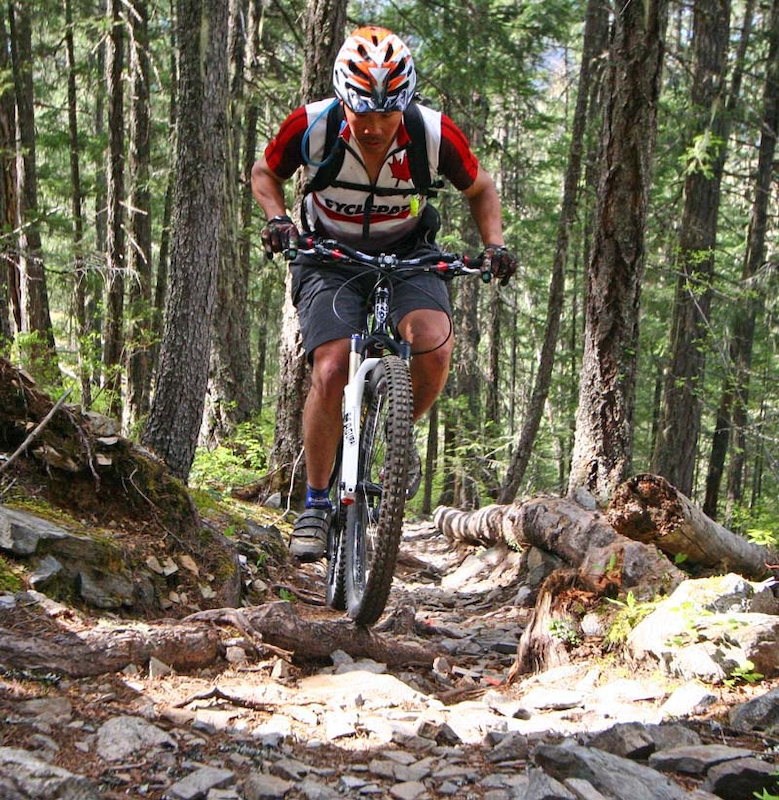 Climbing rocky roots in Lumpy's Epic - Pemberton, BC
---
-

Magura Thor Stats

-

Price: An MSRP of $899




Pros:



- Torsionally stiff
- Distinctive good looks
- Plush; you get the full 140mm travel
- Easy to maintain
- Easy to tune



Cons:



- Almost useless height adjustment (whether with the RCL remote lever or without)
- Stickers and paint get banged around easily

See the
Magura site
for more information about specifications.