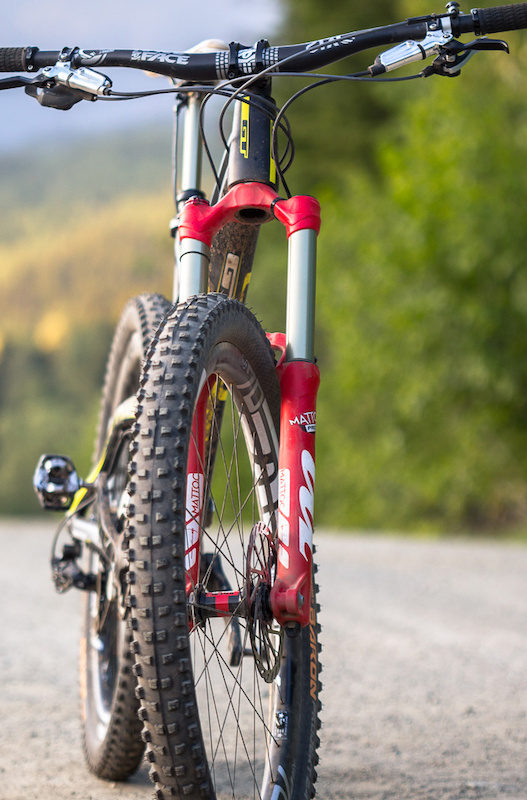 It's fair to say that, as of right now, Manitou isn't exactly the name that pops into anyone's head when they're thinking about a new high-end fork for their bike. Sure, there is the constantly underrated Dorado downhill fork that many riders don't realize is both competitively priced and works very well, but it's common knowledge that the Manitou name isn't as respected as it once was. When the company lost ground in both OE and aftermarket sales, and saw its product line shrink, their competition seemed to make some serious strides forward. Enter the Mattoc, a 160mm travel all-mountain fork that we broke the news about back in August of last year. Ten months on and we've been putting some significant time on two different Mattoc Pro forks in order to see how Manitou's new contender compares to the proven champs in its class, the Pike and revised 36. Things have moved on quite a bit since Manitou was last a real option, but does the Mattoc close that gap?
Mattoc Pro Details
• Intended use: all-mountain / enduro
• Travel: 27.5'' - 160mm, 26" - 170mm (
both adj. to 140/150
)
• External adjustments: rebound, separate low and high-speed compression, hydraulic bottom out
• Spring: air
• Stanchions: 34mm
• Steerer: tapered only
• Brake: 180mm post mount
• 15mm Hex Lock thru-axle
• Weight: 1,877 grams
• MSRP: $850 USD
There are two aftermarket versions of the 160mm travel Mattoc available: the $850 USD Pro that is reviewed here, and an Expert model that comes in $100 cheaper and employs a slightly different version of the Pro's sealed TPC damper that weighs just a touch more. There is also a Comp model, available only as original equipment on stock bikes, that sees a downgraded air spring and damper. The Mattoc can
be had in either 26" or 27.5" wheeled flavours, with the former going up to 170mm of travel and the latter topping out at 160mm, and both can be dropped down to 140mm in 10mm increments by adding spacers internally. Those on big wheels will be disappointed to hear that there is no 29er compatible Mattoc. The fork chassis is available only with a tapered steerer tube and uses 34mm stanchions - 2mm smaller in diameter than FOX and 1mm less than the Pike. As you'd expect, it sports Manitou's long-used reverse arch design, and a 15mm thru-axle ties the legs together.
Hex Lock QR15 -
The fork's 15mm thru-axle is round along its center section but features a hexagonal shape to both ends that keys into the fork lowers. The left end of the axle also sports a T-shaped extension that slots into an aluminum cap threaded into the disc side of the fork, and the design only requires one quarter turn to either lock or un-lock it. Here's how it works: flip the Hex Lock lever open, give it a twist and the axle pulls out of the fork. To install the axle, slide it in, twist the quick release lever one quarter turn to lock the T-shaped end in place, and then close the QR lever. The lever always indexes in the same spot, and a knurled dial inboard of it adjusts the closing force of the mechanism.
Damper Tech -
Despite what you may have read elsewhere, the Mattoc's damper isn't a shrunk down version of what you'll find inside Manitou's Dorado downhill fork. The TPC acronym, which is short for 'Twin Piston Chamber' still applies in that there is a separate compression and rebound piston within the Mattoc's sealed right stanchion tube, but that is also found in the majority of high-end suspension forks on the market. Manitou uses the MC² designation for the fork's compression damper that sits at the top of the leg, and it's home to both low- and high-speed compression duties, as well as the fork's HBO (
Hydraulic Bottom Out
) system that we'll touch on below. All three can be tuned externally via dials at the top of the fork, with the low-speed compression dial sporting a lever-esque fin that makes it easy to reach down and flick to a firmer setting at the base of sustained climbs. Given how well Manitou's three piston TPC+ damper performs within the Dorado, we were curious as to why Manitou didn't also utilize it inside the Mattoc. Nick Pye, the lead engineer on the Mattoc project, told Pinkbike that it really came down to the space constraints of a single crown fork: ''
We basically had to decide whether we wanted to keep the floating piston (TPC+) or the hydraulic bottom out feature found in the Dorado,''
he explained. ''
The most positive feedback we received since the release of the 36mm Dorado was the bottomless feel, so the consensus was that the hydraulic bottom out was more valuable, and, given the limited packaging space, would be the value added feature of the Mattoc.
''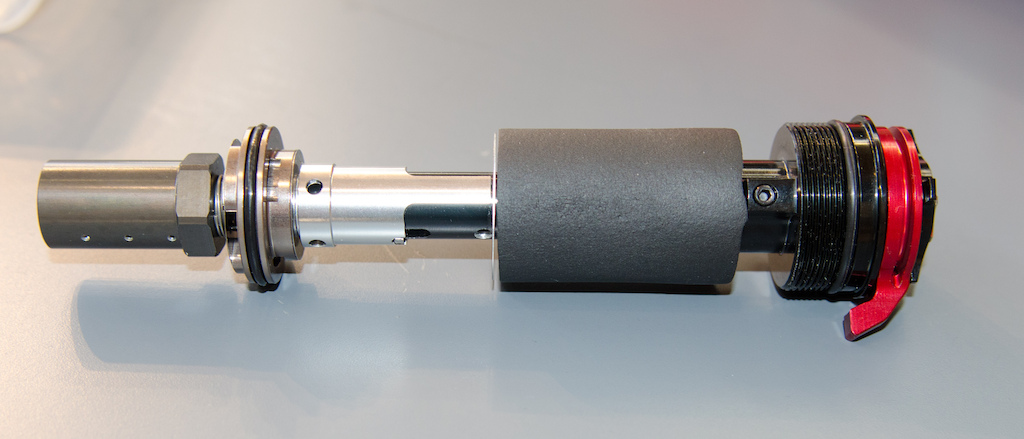 The far left portion is the hydraulic bottom out control, and just to the right of it, above the o-ring and below the silver ports, is the high-speed compression shim. Low-speed compression is altered via a needle valve inside the damper that is adjusted by the red dial atop the unit. The large grey piece on the right is the closed-cell foam compensator.
One of the more interesting design points in the Mattoc's damper leg is the use of a closed-cell foam compensator instead of an extruded rubber bladder as found in both RockShox's and FOX's top offerings. Basically, the fork's foam element compresses in order to compensate for the volume displacement of the damper rod being pushed into the stanchion, as well as providing back-pressure to limit cavitation when the fork is working hard. It certainly isn't as high-tech looking as what's found in the Pike or FOX's FIT-equipped forks, but then again its job is pretty simple in that all it has to do is get squeezed down by internal pressures. There's also no doubting that the use of closed-cell foam as a compensator is a big factor in the Mattoc sporting a much lower MSRP than its competition, but it should also be easier for the consumer to service compared to a bladder setup.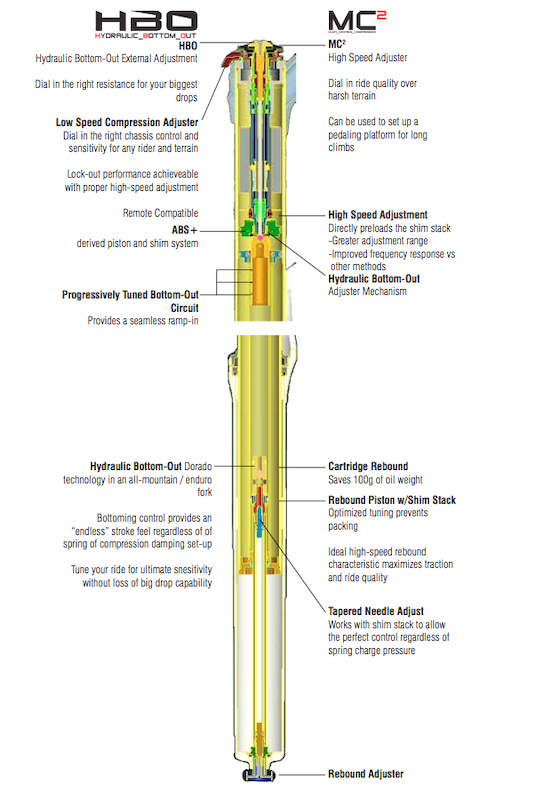 Hydraulic Bottom Out -
Many forks in the mountain bike world depend on a simple rubber bumper to keep you from smashing into the end of its travel, and while we all usually try hard to avoid such scenarios, it's inevitable if you're out there charging hard. The Mattoc's HBO system that's been lifted from the Dorado is designed to prevent exactly that from occurring, while also not forcing you to depend on either excessive ramp-up by altering the volume of the fork's air chamber, or having to dial in massive amounts of high-speed compression damping that can sacrifice performance in other areas. As its name suggests, HBO harnesses oil displacement to slow the fork down during compression in the later stages of its stroke, doing so by using a position sensitive valve on the bottom of the MC² compression damper. As the fork nears the end of its travel, a small extension on the end of the Mattoc's rebound damper enters the hollow HBO unit, and since the confines are tight and the entire system is submersed in oil, the fork's compression action is slowed. ''
The HBO creates an independent end-of-travel damping component that acts as a safety net for unexpected hard compression events,
'' says Pye. ''
The result is travel-specific damper characteristics, a very supple high-speed in combination with end-of-travel support that maximizes the fork's usable travel in a controlled manner.
'' Small bleed holes up the side of the HBO unit allow oil to pass through, and Manitou has spent a good amount of time tuning the system so that it does its job while still allowing for full travel. No, Manitou isn't the first to put a hydraulic bottom out system into a fork - FOX and others did it many years ago, and it is also common in the motorbike world - but they are the first to offer an externally adjustable version.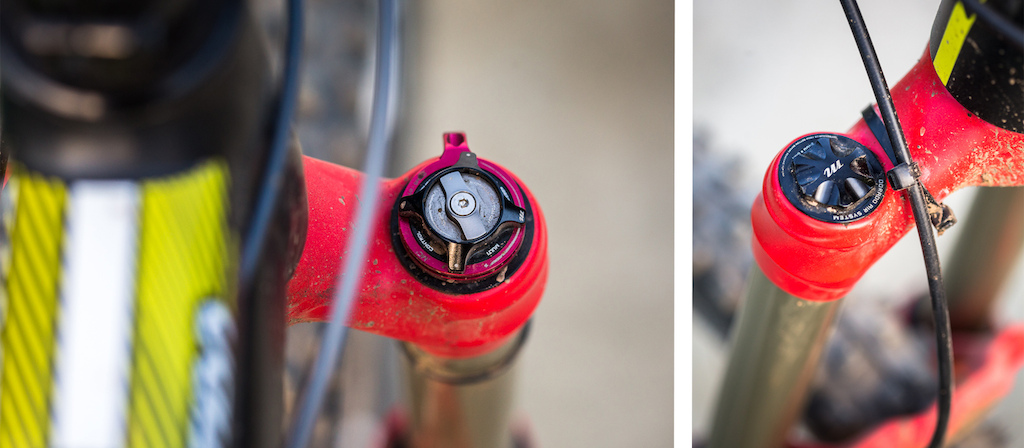 The top of the right fork leg is the control center: the red dial adjusts low-speed compression, the black does high-speed compression, and the HBO function is tuned via the silver dial at the center of it all. Rebound adjustments are made by a dial at the opposite end of the fork. The left leg houses the Mattoc's air spring, with the pump attaching to a valve at the bottom of the leg.
DH Air Spring -
Just in case the name of the Mattoc's air spring didn't give it away, the design is lifted from Manitou's 203mm travel Dorado downhill fork, and it features a similar high-volume, self-equalizing negative air chamber. Spring rate is adjusted via a schrader valve at the bottom of the left leg, and threading a shock pump on opens both the positive and negative air chambers, thereby allowing the latter to constantly self-adjust to whatever you want to run in the positive chamber. It's interesting to see that Manitou decided to locate the valve at the bottom of the fork and right next to the brake rotor given that a very small amount of lube oil can escape when you bleed off air pressure during adjustments, something that was a complaint on older Dorado forks until Manitou flipped the system so the valve sat at the top. ''
It is possible to flip the system by using a cartridge design, but we could not justify additional weight, potential failure modes, and cost to customer for the sake of convenience,''
explained Nick Pye, the lead engineer on the Mattoc project. We never ended up having an issue with any lube oil escaping during our time on the fork, though, and, as Pye suggests, the K.I.S.S. approach is very likely the best way to go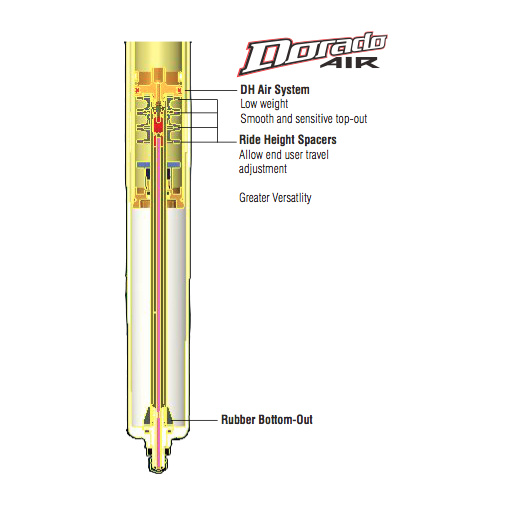 The Mattoc is missing two features that all of its main competition can brag about: an external travel adjust system, and the ability to add or subtract volume-reducing spacers that determine how much the fork ramps up in the later stages of its travel. The former will likely be a major point of contention of some riders, even if most of us at Pinkbike prefer the set-and-forget approach to fork length, although Manitou does give Mattoc owners the ability to alter the fork's travel in 10mm increments via clip-on spacers that are installed on the air side. This setup allows our 160mm Mattoc to be dropped down to either 150 or 140mm of travel, which is something that we took advantage of during testing. And what about the lack of volume spacers? ''Most of our development riders were pleased with the stock air spring since it was specifically designed to work in parallel with the damper, but riders who were coming off of other forks onto Mattoc may have preferred a more progressive air spring, and we certainly want to accommodate them,'' Pye explained to Pinkbike. Manitou will be doing exactly that by including a volume spacer kit in future aftermarket forks, as well as a separate kit for those who may have already got their hands on a Mattoc sans spacers. The fork's HBO system should also come into play when talking about ramp-up, a fact that means many riders who assume they'll need volume spacers may actually not require them.
---
The standard suspension review goes a bit like this: I take whatever item I'm testing and put in a good number of set-up rides on it, always on familiar terrain, in order to come up with a proper baseline to start at before pushing my luck a bit on the bike. And while the most useful feedback comes when you're riding at around 80%, a pace that allows one to go hard but still take in what they might be feeling under them, it's often only when you begin to roll the dice that you find out what a new fork or shock can do for you. Add in copious amounts of chicken-scratch note taking that no one but myself can decipher, all taken while doing as much riding as one can squeeze in over the test period, and you have enough ingredients to assemble a proper in-depth review. I did things a bit different this time around, though, by taking possession of two different Mattoc Pro forks and getting them under three different riders, all of very different sizes and with very different skill levels. The feedback from all three was used to put together the review below.

The Riders

Rider

#1

installed the fork on his Kona Process 134 with it dropped down to 140mm of travel, calls Whistler home, is what I would call a pro-level bike handler, and weighs 160lb; rider

#2

rode the fork at 160mm on the front of GT's new Sanction, is a solid expert-level shredder and weighs 175lb; and rider

#3

used the Mattoc at 160mm on the front of his Norco Range, and is more of a sport-level weekend warrior who comes in at 220lb. All three have spent time on nearly all of the top-level suspension offerings on the market, and they all know enough about suspension to set up a fork to their liking.

In other words, a good cross-section of riders to provide feedback on the new Mattoc. Let's get on with it...
Sensitivity -
The Mattoc is very close to matching the competition's latest offerings in this regard but does feel like it falls just a bit short. That's not to say that it isn't supple off the top or mega-smooth when changing direction in its stroke, just that it seems to be a hair off of the Pike and latest 36 in this regard. Is it still going to take in that micro-sized root or tiny rock? You bet, and to be completely fair we never found ourselves wishing that it was smoother or more supple. Out-and-out comparisons is surely what you're looking for, however, and the Mattoc comes in a very close second in this category given that the Pike and new 36 are undoubtedly tied for first. It's really just splitting hairs once it gets down to this level of performance, isn't it? Either way you slice it, both of our Mattoc test forks are more active than anything else from just a few years ago.
Air Spring -
Manitou absolutely nailed the Mattoc's air spring, with it offering a good level of suppleness combined with great ramp-up that kept all three test riders from hitting bottom hard. Changes of just a few PSI are immediately noticeable, and while aggressive riders will likely end up running a touch more than the recommended pressure (
isn't that always the case?
), the air chart decal on the fork's lowers is a good place to start. And what about our test forks' lack of a volume adjustment system like RockShox's Bottomless Tokens or the blue spacers in FOX forks that can be added to the air chamber to promote ramp-up in the last part of the stroke? All three testers were unanimous in saying that they didn't feel like they needed more ramp-up, despite Manitou's Nick Pye tell us that the Mattoc's air spring is a bit more linear than the competition's. It simply didn't feel like more progressivity was required, likely due to the fork's HBO system that's located in the damper leg. Not only is the HBO design very effective at literally erasing any and all hard bottom out moments, the aluminum HBO dial at the top of the fork allows for super easy tuning that doesn't require tools. We experimented with this by coming off of the same drop-to-flat multiple times at the same speed with the dial set to different positions. The outcome? The O-ring on the fork's stanchion showed that we were using full travel with it backed all the way out, which resulted in what we'd call a "soft bottom out" that still didn't pass any of the impact through to the handlebar, yet turning it all the way in showed that we could use noticeably less travel by making a quick change.
The adjustable HBO system is pretty neat, but it gets even cooler when you realize that you can quickly and easily adjust the fork's ramp-up to compensate for your preferred spring rate. Want a more active stroke and more forgiving ride? Drop a few PSI and neutralize those hard bottoming moments that would usually come from that by turning the HBO dial clockwise - that is exactly what we did and found it to be very effective. The same goes for high-speed compression settings, with us able get away with running it in a more open setting, and therefore reaping a more forgiving ride, by depending the on the HBO dial. It's a great feature that is much more efficient than opening the fork up to add volume spacers, but don't assume that you should just run it all the way in because you think you're the next big thing on the World Cup circuit - it's so effective that it can keep you from getting all of the fork's travel when needed.
One other point that needs to be touched on relates to when you're making pressure adjustments with your shock pump: because both the positive and negative air chambers are connected by the shaft running through the center of the air leg, and both are open simultaneously when the pump is attached, you can very easily hold the fork down its stroke slightly if it's compressed a bit when you're airing up or down. You could use this fact to adjust ride height but we don't see many riders doing this other than by accident, much like we did at first.
Torsional Rigidity -
Much like we said in our ride impressions of the new 36, torsional rigidity can be a tough one to judge. Wheel choice, tire choice, and even what handlebar and stem combo one prefers can all take away from one's impressions of a fork's rigidity. With that in mind the red fork was installed onto bikes that the testers were familiar with, and only with wheel and cockpit components that fell under the same category. The result? The Mattoc left test rider #1, the most hard charging of the bunch, asking for more. He consistently felt that the fork had a bit more torsional flex than the Pike, noting it most at the bottom of steep, hard corners that put quite a bit of stress into the chassis. Riding the same sections of trail both before and after having the Mattoc on the same bike and with the same wheel, tire, and handlebar only further convinced him of this. Surprisingly, the other two riders didn't come away with the same impression, saying that the fork felt like it matched the Pike in this regard.
Who's right? Both, actually, and we're not just being nice. Rider
#1
was not only on terrain that many others wouldn't even roll into, he's also likely coming in hotter than most casual riders would think is possible. And while the other two testers are less aggressive and usually on less demanding trails, they also weigh more. It all adds up to a fork that, while likely not as torsionally rigid as the Pike or 36, is stiff enough to keep the large majority of riders out there from taking note of this fact.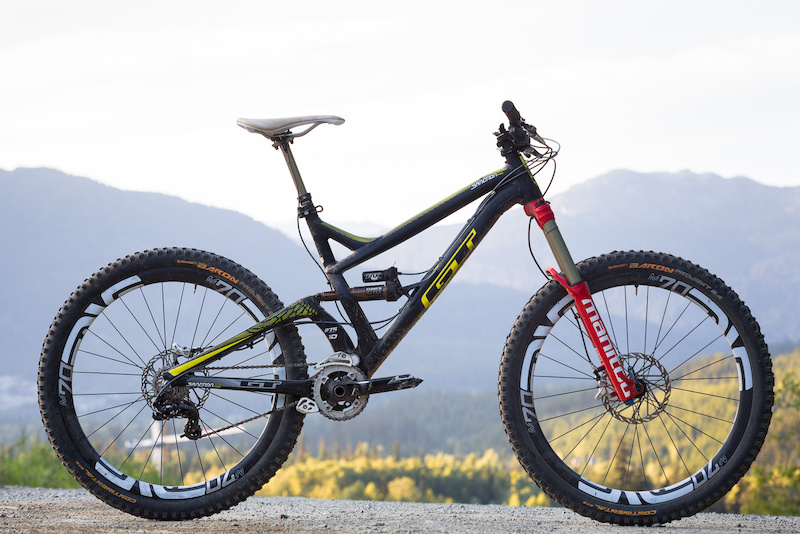 Damping -
If Manitou had debuted the Mattoc two or three years ago there's a good chance that anyone who spent time on it would be hailing the unique looking fork as a game-changer, but, as we all know, the Pike is the fork that did exactly that. And it took FOX an extra year but their new 36 now matches RockShox's offering. It all means that the bar has been lifted pretty damn high while Manitou was developing the Mattoc, and that their new fork has to at least equal the level of control that the two leaders currently offer. So, does it? We believe that it not only does exactly that, but actually feels more controlled in some ways, with all three riders reporting back that the fork's MC² damper blew them away with how well rounded it feels on the trail. Not only were all three able to dial-in a setup that provided a ground-tracking ride, but also one that kept the fork quite high up in its travel when we required it.
That balance of low-speed control and suppleness is one that's mandatory for any high-end fork these days, and Manitou hit a home run in this regard, but it's how the red fork gobbles up square edged, high-speed bumps that surprised us most. It's not that the fork simply absorbs those usually harsh impacts, it's how it nearly erases them from under you - enough so that it makes the competition feel a touch "spikey" in hindsight. This makes the Mattoc great for those moments when the only thing you can do is drop your heels, lean back, and charge through the worst of the worst, and is exactly what we were talking about when we said above that it actually feels even more well rounded than the other options on the market. It's not a downhill fork, but there was a time, not that long ago, when performance like this would shame even the best 200mm travel sliders on the market. And no, with 160mm of travel the Mattoc doesn't pretend to be a downhill fork, but the level of control on tap literally bests some of the current longer-travel offerings out there.
Other Details -
Manitou's QR15 thru-axle is like nothing else on the market, and while that can sometimes be a good thing, we don't think that's the case this time around. Can you get the wheel on and off quickly? Yes, but only when you've had fifteen minutes of practice in order to understand how it works. All of the testers felt a bit like they were trying to pull a digit out of a Chinese finger trap until they looked up how the Mattoc's QR15 axle functions, and even then it simply isn't as intuitive as a Maxle or FOX's 15QR design. We'd rather see an easier to use design over one that can save a few seconds compared to what's already out there. It is, however, obviously faster than the 15/20mm bolt-on axle that the new 36 employs, but it would benefit from some orientation marks on it that would make it easy to see if the latching end of the axle is lined up correctly before turning it to lock it into place. Manitou also need to come up with a cable routing solution for the front brake line instead of asking riders to concoct their own guide on the crown with zip-ties. The hose guide on the lower part of the leg is fine, but after that you're left with trying to figure out a way to keep the line from rubbing the crown excessively or simply looking terrible. A small detail, no doubt, and one that's complicated by the fork's reverse arch design, but also something that should be sorted out.
We dropped the fork's lowers in order to see how difficult it is to change its travel, which turned out to be a pretty easy task for the most part. It's as simple as adding or removing some simple clip-on spacers in the air-side leg, with the leg's seal head requiring a standard cassette lockring tool to unthread rather than asking you to put a big ass wrench onto some tiny wrench flats - pretty clever. One thing that we don't like is how the air-side foot bolt calls for a thin-walled 8mm socket, something that isn't exactly common in most people's tool boxes. Besides that, the job is about as easy as cooking up a good steak on the barbecue. Unlike both the Pike and 36 range, however, there is no Mattoc with an external travel-adjust feature in the lineup, a fact that will no doubt be a turnoff for more than a few riders who like to steepen-up their bikes for climbing.
Pinkbike's take:
I know exactly what you want answered: is the Mattoc Pro better than the new 36 or Pike? In many ways it is, but there are a few details that keep it from being as polished as those two - that pesky axle and questionable cable routing might be small beans but they're details that need mentioning regardless. It also needs to be said that RockShox, and especially FOX, both offer a wider range range options, including forks with on-the-fly travel adjust, although all cost appreciably more than the $850 USD MSRP that the Mattoc Pro retails for. Options and cost aside, when you're talking about out-and-out performance, the fork's damper does feel incredibly controlled when you're on the limit, even more so than what we've seen from the competition, and the HBO bottoming adjuster really is a thing of functional beauty. Those two elements add up to a potent package that, at the very least, matches the competition, and even manages to outshine them in some regards. Neither of our two test forks showed any hints of reliability issues, either, and there is no reason why the Mattoc shouldn't be considered a real player if Manitou has nailed this last factor.

- Mike Levy
www.manitoumtb.com
Photos by Robin O'Neill
Must Read This Week