BIKE CHECK:
Mick Hannah's
Polygon DH Racer

Mick Hannah put eight seconds on the pro field, handily out qualifying a tough crowd at the Australian National Championships. Last year he was on Fox suspension. This season he switched to a BOS fork and shock. Is there a new sheriff in town?
By all accounts,
Mick Hannah was absolutely flying down the course last weekend in Bright, Australia. Looking smooth and in control, the hard man of World Cup DH was on a tear all weekend - and he was the favorite to win the Aussie National Champs after putting over eight seconds on the nearest qualifier in Sunday's seeding races. It was not to be, however, as Sik Mik had some trouble on his race run that relegated him to a fifth place finish. That said, one has to wonder where Mick's magic flow came from? The track at Bright was brutal, a true testament of the racer's resolve and of the bike's performance. Reportedly, both Mick and his Polygon looked very settled on course. One explanation may be the switch to BOS suspension. PB Photographer Kane Naaraat stopped into the Hutchinson United Ride pits to shoot some pictures of Hannah's Polygon DH prototype so we could take a closer look.
Hannah's Polygon was reported to be the
same chassis
he and the Hutchinson United Ride team used last season - an updated version of the Collosus with different suspension metrics and slacker geometry. The news for 2014 was the team's switch to BOS suspension. The small French manufacturer was once a self-proclaimed coil-sprung suspension maker, but all that changed with the development of the air-sprung Void damper, which now joins two air-sprung versions of its legendary Idylle fork in the BOS DH range. Mick Hannah used the
Void shock
and the air-sprung
Idylle Rare fork
at the Aussie Nationals.

The air-sprung BOS Idylle Rare fork (left) and air-sprung Void shock (right). BOS says the shock weighs only 519 grams, and the Rare fork is pegged at 2680 grams. As time splits between the top ten racers become ever closer, clothing gets tighter and bikes get lighter.
Components
Mick's build, like most pros, is constrained by sponsorship considerations. That said, he has a good kit, with an e*thirteen crankset and guide powering a Shimano Saint derailleur that is activated by an XTR shift lever. Wheels are also e*thirteen and the bar and stem are by Spank. With Hutchinson as the title sponsor, Mick can choose between the
new Squale
or the DH Toro. This time he ran the Toro. Brakes are Formula RO, with aluminum levers and the lighter, aluminum-spider-type rotors. Hannah's setup is conservative, in that it doesn't have any carbon parts, yet it is set up to be a lightweight, fast-rolling chassis.

E-thirteen wheels (26-inch), cranks and chainguide with a Shimano Saint mech. The crankarms look like 165mm items, which indicates a low bottom bracket height. The cassette is a nine-speed. Mick helped design Hutchinson's new Squale tire, but he chose the 2.6-inch Toro for Australia - lots of grip in dry conditions.

Formula RO brakes have calipers with ovalized pistons and are the Italian maker's most powerful stoppers. Among riders who have a choice, the verdict for brakes on the World Cup circuit seems to be divided between Shimano and Formula.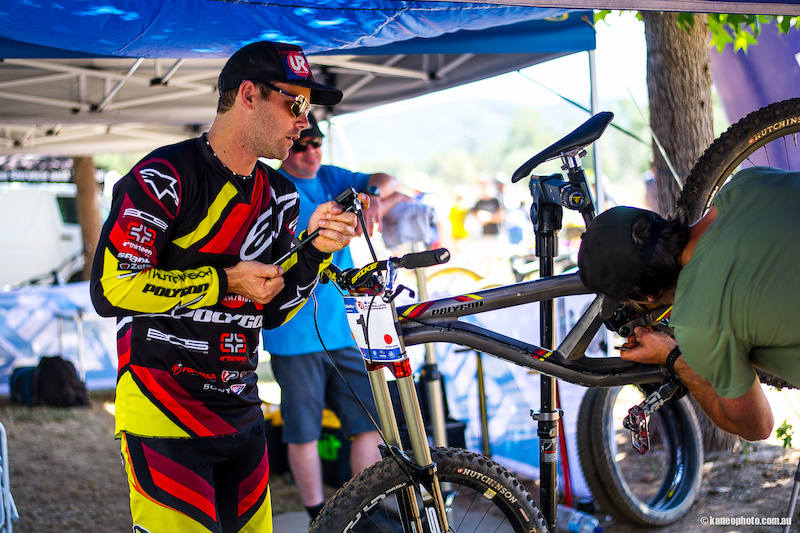 Mick Hannah checks the pressure in the BOS Idylle Rare fork.
Is this a scene that will be repeated throughout the pits in the future?
Mick Hannah is fitter and more focused than we have ever seen him and he is on the hunt for podiums this season, but he will have to fight the strongest field DH has seen in a long time to bag one. Which begs the question: "Is the switch to a air-sprung suspension a gamble to pick up precious seconds on pedally sections, or does BOS and Australia's Man of Steel know something that they are keeping close to their chests?" BOS' Void shock made it to the top step last year - the first for an air-sprung shock in contemporary downhill history. With more talent switching to BOS suspension, Hannah will be the man to watch. The wheel debate would be quickly forgotten, at least in the DH world, if 2014 triggered the demise of the coil-sprung shock and fork. Right now, though, that premise is pure speculation.

- RC