"
Going down in Golden, BC for a Decade
" was this 10th and final year's slogan. Looking back at the 9 years that I've attended this event I can't help but smile and remember all the great memories that it's brought to my life each year. Every time I pull into Golden B.C. I know it's going to be epic, be it either due to weather or because some of the world's finest are in town to battle it out with the locals for bragging rights. Year after year, the crew that comes together to put this race on is nothing short of amazing and very well organized as this is no small feat to pull off.
Here's a look at everything that happened this weekend up there on Mount 7 from our lenses, enjoy it as I know that I've thoroughly been stoked by it all!
3 videos inside
Knowing that this 10th year was going to be the final
Mount 7 Psychosis
and also knowing that I'd been at the last 8 of them, there was no option in my head to even think about missing it. The first time I pulled into Golden BC for the second annual Psychosis I was on a trusty Rocky Pipeline and I can honestly say that Mount 7 really opened my eyes to what was going on in regards to BIG mountain riding at that time. Upon returning home, the Pipeline was sold and it was the beginning of my BIG bike days. Yes Mount 7 changed me for the better.
No year has ever been the same in regards to the weather, the riders or general conditions. The only constant is that this course has always been bad ass and hard on you and your bike. From the top where you are faced with Dead Dog right off the bat to keep you on your toes, to the hike a bike to show you that you are only human, then open it up for a bit only to hammer on the brakes again for R.T.C. and then back on the gas (if you have anything left at this point). From the 5K marker down, you have Wet Dream, the root drop, the huge road gap and then it's off the brakes and let it fly through the end section of snake hill to the finish line where the crowd is cheering you on and the Red Bull girls are there to greet you with a beverage and a smile.
Typically the summit race is on the Sunday, but this year everyone wanted to be able to really celebrate the last one, so the summit race took place on Saturday. This meant that if you were serious about the race, you had to be there at least one day early and get your practice runs in. Well Mother Nature wanted to remind everyone that she was infact still in charge around there and dumped some rain on the course mid afternoon. To say things got interesting is an understatement:
For Saturday the shuttle service for the racers was in full swing and the Golden Search and Rescue were on hand to make sure that everyone got off the mountain should there be any crashes and trust me they were busy! With such a long shuttle road, you really have to regulate who will be on the road during the event, cause really who wants to get surprised by one of Scott Belton's Logistic trucks?
After the rider meeting it was time for everyone to do their mandatory pre-runs of the course to see what kind of condition it was in and also for the organizers to be able to verify that everyone had infact done one. No pre-ride equals no race run. All I remember hearing about the first five riders that dropped in that morning after the rain was "Ok we've got 5 riders on course and dropping into Dead Dog. Oh ok we've got 5 riders down on Dead Dog. They are saying it's like riding on glass covered in cooking oil! Things are slick down here, so tell riders to be extra cautious." Well out of the first 100 riders doing their pre-rides I'd say only 4 cleaned that section, but that's when Mother Nature decided to be nice and let the sun shine through. In no time the rest of the riders were cleaning the Dead Dog section in the mandatory pre-ride and this meant that the race was going to be epic!
Once the mandatories were done it was time to get this race underway. With this many riders, it was expected to take about 7 hours to run the race from start to finish.
Here's the action from top to bottom
:
Davin MacIntosh's helmet cam footage of his race run from top to bottom (approx. 17 mins)

:

Top and first shale slope above Dead Dog
:
Dead Dog is where it gets steeper
:
Wet Dream is a section with 2 mandatory airs or a safe line
:
The big crowd pleaser is the Road Gap near the bottom
:
A collaboration of race footage from through out the course (approx. 4 mins)
:
The course claimed a few riders, but at the end of the day it'll be written in the history books that Chris Kovarik won the tenth and final Mount 7 Psychosis and set a new course record in the process.
The bottom of the course is at the Rodeo grounds, so this is where all the companies set up their pits and where folks wandered around during the weekend. If you were paying attention to some of the bikes, you may have even seen some pretty fancy bits up there too.
While everyone waited for the final results to be tallied and the awards to start it was a prime time for the groms and fans to meet some of their favorite racers. Other racers kicked back and talked about how well or scary the day went for them and then is was time for Brad Ewan to call up the winners of the 10th Annual Mount 7 Psychosis.



Results for the 10th Annual Mount 7 Psychosis in Golden B.C.

:



Sandbagger Men

:

1-Kris Johnstone 15:32.75
2-Chris Addario
3-Ryan Walters




Sandbagger Women

:

1-Dominique Doyon 21:38.50
2-Dawn Cashen
3-Jerusha Millar




Masters Men

:

1-Reg Mullet 13:57.39
2-Adam "Smokie" Wright
3-Ryan Kuhn




Hardtaillers

:

1-Kevin Phelps 15:12.80
2-Trevor Lumley
3-Ian Ritz




Psycho Women

:

1-Clair Bouchar 17:02.33
2-Sarin Warman
3-Bethany Parsons




Psycho Men

:

1-Chris Kovarik 12:35.14 *

New Course Record

*
2-Nick Quinn
3-Tyler Morland
4-Sam Hill
5-Andrew Mitchell


Check out
www.psychosis.ca/results
for a full results listing from the 10th annual Mount 7 Psychosis!
Riders' impressions from the race (approx. 6 mins)

:

Once the awards and pay cheques were handed out to the racers it was time to celebrate a decade of history in mountain biking-Golden Style! The bands fired up and the riders grabbed the closest Pilsner they could find. The celebrations went long into the night at both the rodeo grounds and the Road House pub.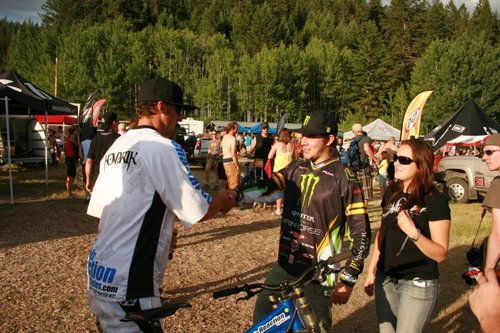 Congratulatory hand shake from Hill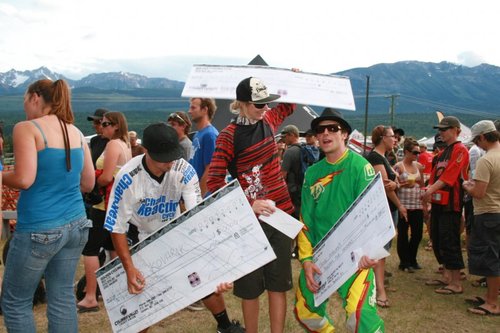 Rocking out
As I loaded up on Sunday morning to make my way back to the coast, I couldn't help but be a little sad that this was the end to an era in my mountain bike world. I cut my teeth riding out in Golden B.C. and I know that I'll be back even if the race that started it all for me has now gone down in history after it's tenth event. I want to thank everyone that has ever raced Mount 7, all the volunteers over the years that kept everyone as safe as possible and the amazing organizing crew that has pulled this event off every year-you're all amazing people!
Happy Trails,
Tyler "Brule" Maine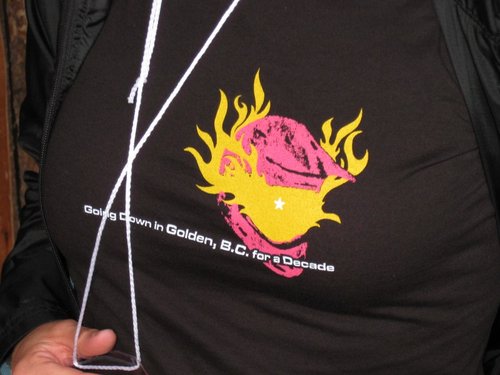 It's been a great 10 years-Thanks Golden
*
http://www.psychosis.ca
*
*please check my
Psychosis album to view all my pictures from the event
*
*some pics provided by
Dishboy14
*
Must Read This Week