Mountain Racing Products
is widely known for their large range of chain guides, but they also have a long history as a suspension company under the White Brothers Cycling brand. That said; MRP has been working hard over the past year to introduce a range of new suspension items under the MRP banner, the first of which is the $969 USD Stage fork that is the topic of this review. With a manufacturing facility in Grand Junction, Colorado, MRP was able to capitalize on the established production and development processes of its White Brothers operation in order to streamline the creation of their first branded fork - and also has allowed them to focus on offering a great level of customer support from the get go. The Stage is aimed squarely at enduro and all-mountain disciplines - although, with travel options ranging from 120mm to 170mm, it could serve anything in the trailbike class - and the platform supports 26, 27.5 and 29-inch wheel diameters. The Stage sports external adjustments for both rebound and compression, as well as an interesting 'Ramp Control' feature that allows riders to adjust the fork's spring curve near the end of its travel. MRP prides itself on the level of quality and support it provides customers, with each and every Stage fork undergoing a full dyno test before leaving the factory. The 150mm travel 29er Stage that we tested weighs 4.5lb
(2.5kg)
, and comes with an MSRP of $969 USD.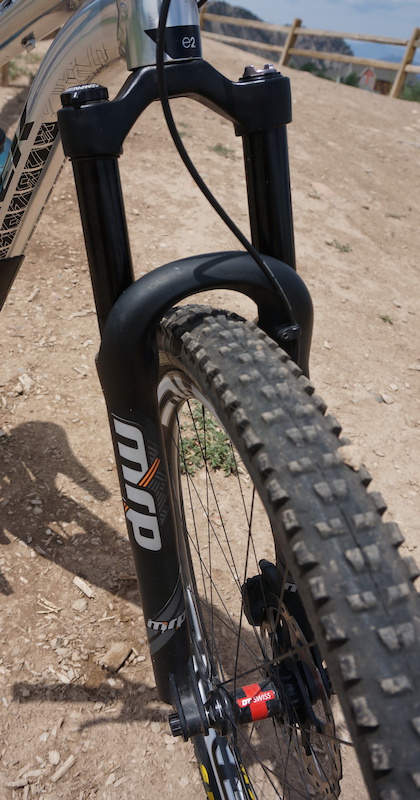 • Intended use: trail / all-mountain / enduro
• Wheels supported: 26"/27.5"/29"
• Travel: 26" or 27.5'' 140mm - 170mm, 29" 120mm - 150mm (tested)
• External adjustments: rebound, compression, Ramp Control, air bleed valve
• Spring: air
• Stanchions: 34mm
• Steerer: tapered only
• Brake: 180mm post mount
• Axle: QTAPER 15mm
• Offsets: 26"/ 27.5" - 43mm, 29" - 51mm
• Weight: 4.5lbs (29")
• MSRP: $969 USD
---
Inside the Stage
A key feature touted by MRP is their EQUALair spring and the externally adjustable Ramp Control system that allows riders to fine tune the spring curve on the fly to suit specific terrain. Controlled via a 16-postion knob on top of the left leg, Ramp Control allows you to dictate the ending stroke spring curve - ie ramp of the fork. This feature is especially useful for riders who find themselves on widely varying terrain, and it should let them quickly tune the fork to any condition - no need to mess with internal volume adjustments. The Ramp Control adjustment is also truly independent from compression and rebound damper settings on the Stage. Within the Ramp Control knob sits a small bleed valve that allows for easy air chamber bleeding on the trail without the need for a shock pump, meaning that you can soften the fork up slightly while easily compensating by dialing in more bottom-out protection via the Ramp Control knob.
The Stage uses a sealed damper unit with a bladder compensator to separate its fluid from atmospheric contamination. The damper provides eight clicks of compression damping paired with an eighteen click, speed-sensitive rebound adjustment. A unique magnetic compression valving system allows the user to adjust the fork on the fly. Switching to full compression provides a nice pedaling platform, while turning it to full open makes for a supple ride. The magnetic compression valve means that full compression doesn't mean full-on lockout. When a sharp, square-edged hit is encountered, the valve will blow-off its seat and allow oil to flow as in the open position - theoretically providing the best of both worlds. The valve is also said to make the fork impervious to spiking, keeping harsh feedback to a minimum, even when riding through rough terrain while using a heavy compression setting.
On the Trail
We were fortunate to have a variety of terrain available to us when it was time to put the Stage through its paces, and since it was designed to be a competitive enduro and all-mountain fork, we rode it on everything from rocky, primitive terrain to new-school jump trails. This approach highlighted the tuning available with the Stage's Ramp Control feature, with days at varied bike park trails showing that turning the crown-mounted knob made a huge difference in how the fork performed. In fact, we actually found ourselves fiddling with this adjustment more than we expected to. Pointing the Stage into the unknown is where the fork really felt at home - with its early stroke suppleness and adjustable ramp-up, we were able to commit with confidence. The fork moved into its travel very smoothly from new, and the setup process was a cinch, thanks to the clever bleed valve atop the spring-side leg. Yes, you obviously still require a pump to increase the fork's spring rate, but the tiny button made dropping a few PSI at a go really easy.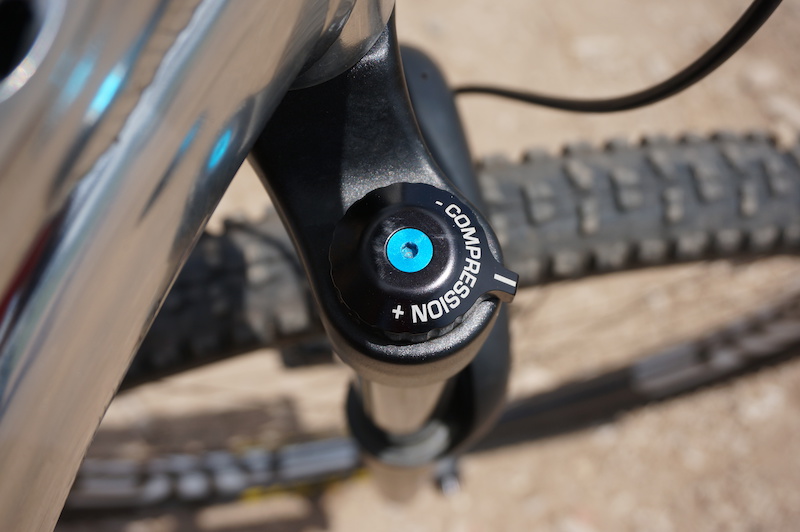 The Stage's on the fly compression adjustment offers eight clicks of incremental compression damping, although adjustments were mainly noticeable in full open, half closed, and fully closed positions.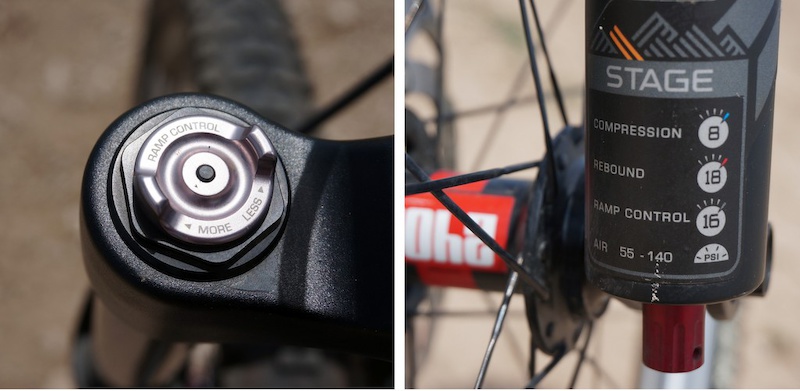 The bleed button at the center of the Ramp Control knob allows riders to drop incremental amounts of air from the Stage while on the trail, making setup and adjustment more user friendly than always fiddling with a shock pump to remove air. Ramp Control was a feature we found useful on those big days when we were moving over a variety of trail types, though we found a place for it quite regularly. Setup guidelines at the back of the fork give users a good place to start.
Working with air pressure and rebound initially, we were able to find our preferred settings that gave us a subtly plush early stroke that soaked up slower, bumpy terrain extremely well. The initial suppleness that we felt early on extended nicely to small bumps we encountered out on the trail, giving us a new confidence when picking our way up slow rocky climbs. We also appreciated the Stage's easy to use compression knob when things smoothed out a bit and we craved a stiffer platform. Turning the compression knob gave the fork just enough firmness to make hard out-of-the-saddle segments palatable, although we would have preferred a bit more drastic of an adjustment range overall. In the long term, the Stage performed well within our expectations each and every ride. Its adjustability offered a nice touch without being cumbersome for the less dial frenzy riders, but it allowed solid manipulation when the trail demanded it. Despite a few minor issues, the Stage is a solid example of a well-designed trail fork for riders looking for another option from the big names, and it kept us comfortable and in control no matter how rowdy the terrain became.
Issues
Initially, our early production fork had some issues with the axle sliding through the hub of our test bike. MRP was able to remedy the problem quickly and get us out on the Stage within a couple That said, the 15mm Q-Taper axle take some fiddling to get used to. Also, the tracks that guide the hub into the fork sliders were a touch too small, making wheel or roof rack installation a bit of headache. Each time we installed the front wheel, we had to take extra effort to make sure everything lined up properly so the axle would slide through. Though not a major issue, it was something we found a bit frustrating.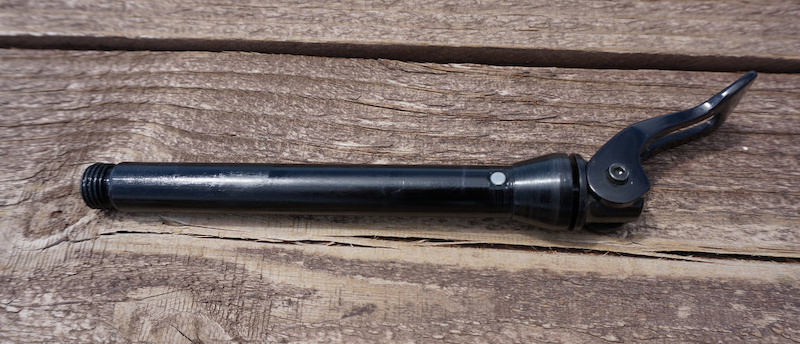 Despite its simple nature, MRP's Q-taper axle system takes a while to get used to. While it functioned well, the first one hung up inside our test bike's front hub.
Pinkbike's take:
We spent the majority of the season riding the Stage, which speaks well for it. The Stage is a top-level offering with unique features that proved to be handy when on the trail. It provides supple, small bump compliance, while the Ramp Control feature allowed us to fine tune the spring rate on the fly - try that with any other fork. Despite some minor issues up front with the axle interface, MRP's Stage fork offered impressive suspension performance - a level that one would not expect from a relatively small player in the suspension game.

- Jordan Carr
Mountain Racing Products