Crazy 70 km/h MTB footage from Mick Hannah and Fabien Cousinié, as they take on the first ever 10 rider downhill race at the Pinnacle Bike Championship, in Waterville valley, USA. Footage from UR team with Sony Action Cam.
Bryn Atkinson - 1st Place:
"All in all this race turned out to be pretty fun, and the concept was good. I do think there is room for this type of event to take off with the right support from our industry. Having said that, the helmet cams don't do a track like this justice. It was mega gnarly, doing up to 40mph on a steep grass ski slope, littered with bomb holes, rocks and wet grass. It really was impressive seeing a track like this ridden by some of the best. With a few top WC guys showing up for $10,000- I knew the final was going to be wild, everyone was going for it. I took a risk lining up on the outside in lane 9 not wanting to be inside of Mick, Simmons or Fabien, as those guys were starting stronger than me earlier in the day. I ended up getting the snap when it counted, cut over on the rest of the field, and rode it like I stole it to the botttom. Stoked to come away with the win!!"
Mick Hannah - 2nd Place:
"I've been racing for a while, doing all kinds of races, I knew that the terrain here was really rough even if it doesn't look like it. 10 riders going down at the same time on one gnarly track, hitting big jumps and crazy speed, this one was definitely something new and I really enjoyed it. I won qualifying and all my heats but in finals I had a bad start and battled my way from 6th to 2nd! My shoulder is feeling better and better, I can't wait to race next year!"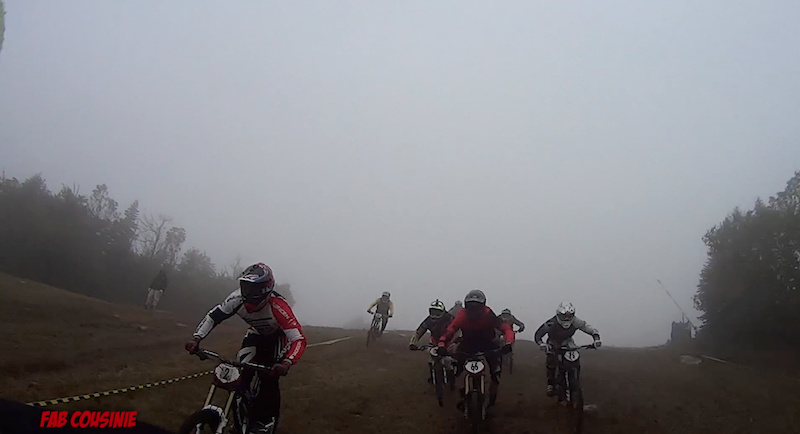 Fabien Cousinié - 3rd Place:
"I always love try different style of racing and this race format was definitely something I was curious about. When I first got to the venue, I thought the track was going to be super easy because of the grassy terrain, but during first practice I almost broke my ankle hitting one of the hidden rocks. You'd be a fool to think that you can make it down in one piece on a hardtail.
I used my 4X background to take a good start and make some passes to end up 3rd, something that I'm really stoked about! Especially, as a team owner, after this busy trade show marathon. It was definitely a new experience racing with those guys, at 70km/h, bar to bar, I can't imagine how good Pinnacle racing is going to be once it gets more momentum."
Matt Simmonds - 4th - Place:
"Flying into Boston then driving up to Waterville Valley Park I was a bit unsure about how this new and exciting race format was going to workout. After a few scary moments in practice it was clear that the ten man finals in the afternoon was going to be wild. A crowd started to assemble and it was time to race. Great starts from Bryn, Fabien & also super high speed over takes from Mick left me in 4th spot. I honestly can't believe how fast we were going over such unpredictable terrain. All in all a great weekends racing & I can see there being a future for events like this if the right sponsors and infrastructure was to be put in place."