I guess you can say I am an early adopter. I was one of those kids in the 80's that used his bike for anything but the commute to and from school. After all, it was the era of
Flatland Freestyle BMX
. I would spend countless hours with my crew of friends at empty parking lots practising tricks like Miami Hoppers, Cherry Pickers and Tailwhips till the sun went down. Those were the days that I remember feeling free as a kid and getting to know myself through the artistic expression of bike riding as a sport. When the Freestyle scene cooled off so did my passion for it and I spent my time Snowboarding and hiking hand-built halfpipes in its early days.
It was not until
MTB Freeriding
in the mid 90's came to be that I got back into bike riding, again as an early adopter. After watching the original
Kranked
and
New World Disorder
videos on VHS, I would ride the cool, dark forests of the North Shore whenever I could. Now that I have kids, most of my riding is done at lift access parks, namely the
Whistler Mountain Bike Park
, and we tend to spend a great amount of time there. In fact, as a family active in Winter mountain sports as well, we spend more time at Whistler during the summer than the winter because of the Bike Park. It is an expensive sport, but the value we receive sharing these experiences together is incomparable to the costs.
There is a first time for everything - Shepard at 4 years old in June of 2013
As a Father of 2 boys,
Griffin
and
Shepard
(8 and 6 years old), I get to share my passion of bikes with them and the community of other like-minded parents of second generation riders. It started as a mission to find Griffin, then 4 years old, a good quality mountain bike that would withstand the ruggedness of the Whistler downhill trails and I was fortunate to meet Brian from
Lil Shredder Bikes
early into my investigation. I think I was one of the first handful of his customers and we have a great friendship now. I mentioned the day I meet him and first saw his bikes that if he did not create such rad little machines I am pretty sure I would have in his place. Brian has gone on to sell hundreds of bikes and every time we visit the Whistler Bike Park, the Lil Shredders seem to multiple.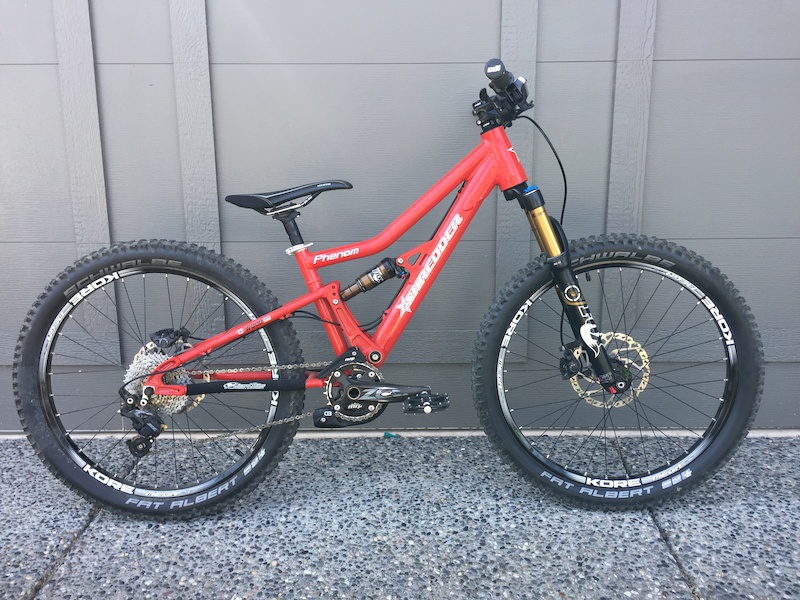 Griffin's 2015 Lil Shredder Phenom in Ferrari Red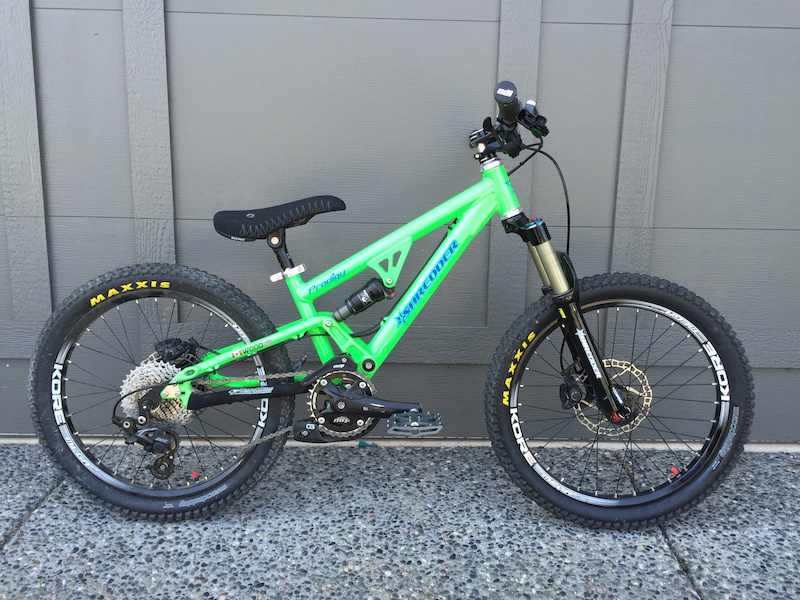 Shepard's 2015 Lil Shredder Prodigy in LimeLight Green
Introducing the world of Extreme Sports at a young age is surely a concern for most. I figured out early on that a guideline was needed to be followed to reduce the chance of injury and instituted it with the boys. It is a simple 3 step process that we always follow. 1) Talk about our plan before riding and ensure we each understand and visualize what we are going to do, 2) I always ride first to show the action for guidance, 3) Respect energy levels and not be afraid to call it a day before we complete our plan. So far we have been successful with this and avoided injury. Whistler has also recently instituted similar guidelines in the park to follow -
PreRide - ReRide - FreeRide
.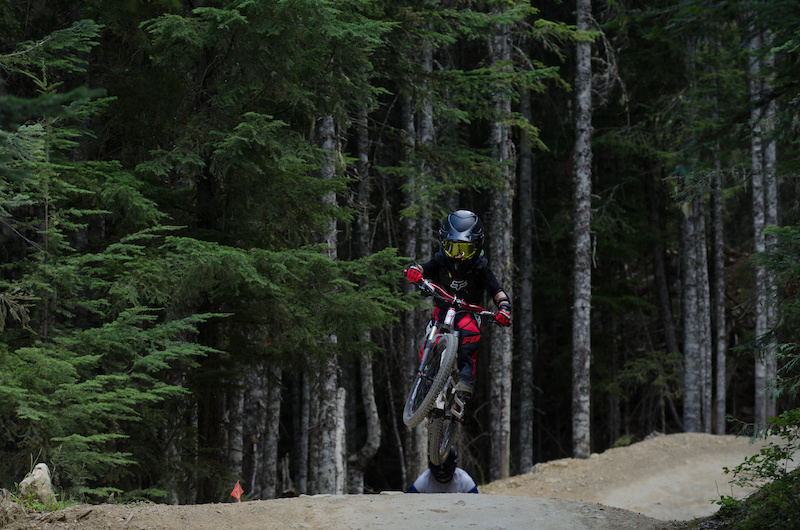 Griffin testing out the Lil Shredder Prodigy - August 2013 - age 6
With one of the FMB World Tour's main events of the year,
Redbull Joyride at Whistler Crankworx
, we have made it a mainstay family vacation to attend each year. Last year the organizers really stepped up their game with the
Kidzworx
events for 7-15 year olds. They added a number of disciplined events that mimic the pro level equivalent which is a great way to introduce the world of professional mountain biking and allows the kids to find the style of riding that suits them and feel part of the big show.
Shepard waiting for the Kidsworx fun laps on the Ultimate Pump Track in August 2014 - age 5
The boys started BMX racing this year and are loving it. It is a good time for the parent in me to come out and teach them about respect in sport and to win and lose with grace. Griffin is also competing in the
Phat Kidz
DH Race series at Whistler and hopes to follow in the footsteps of another young Prodigy, Whistler local
Finn Iles
, who at 15 seems just years away from becoming the next Canadian World Champion once he is actually eligible to compete in the UCI World Cup series.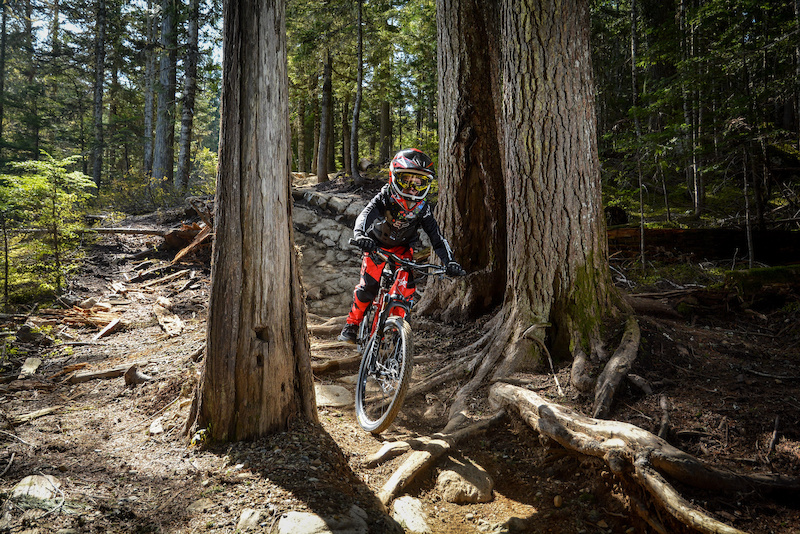 Griffin maneuvering through the rocks and roots of Samurai Pizza Cat - May 2015 - age 7
I am 42 years old now and I keep waiting for the mid-life crisis thing to come along. But to be honest, I don't see it anywhere in the future. I still feel that kid inside of me, stoked to ride, the same feeling I had back on my Haro in the 80's. I am pretty sure I still have some of those old tricks in the bag, but I will wait for a resurgence of the Freestyle BMX scene before I go out and kick it Old School. For now I am enjoying my time riding alongside my kids, my new crew, watching them express themselves and feeling free. I guess I am just
not done yet...
Birthday Photo - June 2015 - Turns at 42
See you on the mountain,
Kevin Wood
---
MENTIONS
:
@Sorrymom_Groms
@LilShredderBikes
@FinnIles
---