Nearly 30 years
after it was first welded up to form a mountain bike, titanium remains a coveted material for frame building, and while carbon fiber and aluminum may rule the roost when it comes to full-suspension frames, there's still something about a ti hardtail that gets the heart beating a little quicker. Alpinestars' Ti Mega, with its eye-catching elevated chainstay design, garnered a good deal of press when it was released in 1991, even snagging a spot on the cover of
Mountain Bike Action
magazine. The 3AL-2.5V titanium frame was welded in the USA by Litespeed, one of the leading titanium frame builders at the time.
The elevated chainstay design that gives the Mega its distinctive look reached its peak in the early '90s, and according to the Alpinestars original ad copy, building a bike this way created the "ultimate combination of power climbing, traction, and ground clearance." Those are some bold claims, and eventually the extra weight, as well as the flex that occurred around the bottom bracket area during hard pedaling caused this frame style to be passed by in favor of the double diamond configuration that most hardtails use to this day.
This Ti Mega is part of
The Pro's Closet's
growing vintage bike collection, and was built from the frame up with period correct components. The era's most lust-inducing brands are well represented, with Ringlé, Onza, and Cook Brothers Racing all finding their place on the bike. Ringlé takes care of the seatpost and wheel quick releases, although they're not the bright anodized colors that the New Jersey based company became best known for. Onza's Racing Porcs were a popular tire at the time, but now their round knobs cause them to more closely resemble a mud spike rather than anything you'd want to roll up to a cross-country race on.
The gearing on the bike is quite tall compared to today's mountain bikes, but the Ti Mega's 24 x 34 x 48t triple ring set up is actually slightly lower gearing than the 28 x 38 x 48t configuration that prevailed at the time. The chainrings are bolted to a set of Cook Brothers Racing cranks and paired with a 7 speed 13-30t Hyperglide cassette in the back. Shifting and braking duties are taken care of by Shimano's XT gruppo (XTR would make waves when it hit the market later in 1991). The frame isn't the only bit of titanium on this vintage ride – the 130mm stem was also made by Litespeed, and the Syncros manufactured the titanium seatpost. Those Ringlé skewers are ti as well, along with the Cook Brothers crankarm bolts. And what about the rigid aluminum fork? Well, front suspension still had yet to gain widespread acceptance, although RockShox's RS-1 was generating a healthy buzz, one that would turn into a roar by the middle of the decade as lighter, more reliable options became available. Until then, a ride like the Ti Mega was near the top of the heap when it came to exotic mountain bikes.
---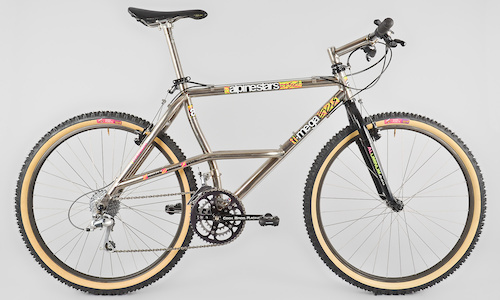 Alpinestars Ti Mega
Fork:
Alpinestar Aluminum Blade 1 1/4″
Stem:
Litespeed Titanium 1 1/4″ 130mm
Handlebar:
Alpinestars Mega Lite 7005
Grips:
ODI Attack
Seatpost:
Syncros Ti
Brakes:
Shimano XT BR-M734
Brake Levers:
Shimano SLR BL-M733
Shifters:
Shimano Deore XT SIS 7s thumb
Front Derailleur:
Shimano Deore XT
Rear Derailleur:
Shimano Deore XT
Cassette:
Shimano HG90 7 speed
Chain:
Shimano CN-91
Crankset:
Cook Bros. Racing 172.5″ BCD 110 /74
Chainrings:
SR 48 / Onza Buzz Saw 34 / Onza Buzz Saw 24
Pedals:
Shimano Deore XT PD-M737
(Shimano's first SPD model for MTBs)
Quick releases:
Ringle Ti Holey Cams
Headset:
Tange Aluminum 1 1/4″ Stock Alpinestars
Hubsl:
Shimano XT HB-M730
Tires:
Onza Racing Porcs II
Saddle:
Perforated Flite Red Label Dated 1991