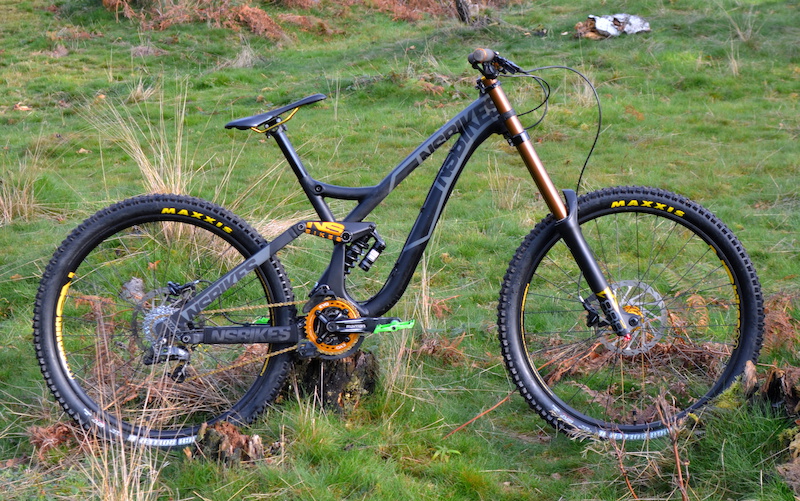 For those unfamiliar with NS Bikes, the Polish company's story begins in 2003 when their first hardtail frame, the Streetlegal, was launched. The Soda, their first full suspension bike, arrived in 2011, and the 26" wheeled Fuzz DH bike hit shop floors in 2013. For 2015, the Fuzz keeps its clean lines and low, central shock location, but takes on bigger wheels, even more generous sizing and a revised component package.

The 27.5" wheeled Fuzz 2 is built using a selection of components including in-house parts and items from NS' sister company, OctaneOne in order to keep the cost down without sacrificing quality. The frame has 203mm of rear wheel travel, and is built from AL6061-T6 and AL6066-T6 custom formed and butted tubes. Small, medium and large sizes are available and have roomy cockpits; the reach on the medium size is 440mm, and the large size is a whopping 470mm which will keep six foot and over guys happy. Cables can either be routed internally or externally using the bolt on cable guides, and the seatpost is fixed by a built in clamp.




• Intended use: DH
• Fork: Marzocchi 888 CR w/200mm travel, 20mm axle
• Shock: RockShox Kage R coil
• 203mm travel
• 63.5° head angle, 447/432 mm chainstays
• Sizes: S, M, L
• Weight: 40.5 lb (claimed)
• MSRP: £2599 $3499 USD
Pricing is £2599 ($3499 USD approx) which makes the Fuzz one of the most affordable, raceable complete bikes on the market. The low price does come with a weight penalty, and at 18.4 kilos it's not the lightest ride around, but its price and spec does make it ideal for a first DH bike, or for somebody looking for simplicity, reliability and a good base to build upon. The first upgrade will probably be the SRAM X7 derailleur to a clutch type mech to keep things quiet. The frame is identical to its more expensive brother the Fuzz 1. The geometry is spot on and well balanced, with the long top tube adding plenty of stability, and good sizing for people 6 feet and over. Riders wanting to get more extreme numbers geometry-wise might be looking to anglesets and offset bushings, but unless you live in Champery, the stock angles should be just fine.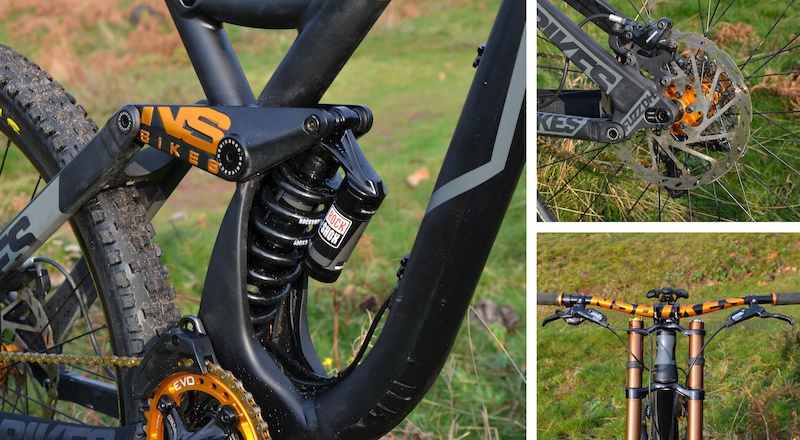 The RockShox Kage shock is a simple affair, with rebound and the spring rate being the only externally adjustable settings. The flip-chip dropouts allow you to change chainstay length between 447mm and 432mm. This may be a budget bike, but it includes the top of the range 800mm NS Evidence handlebars.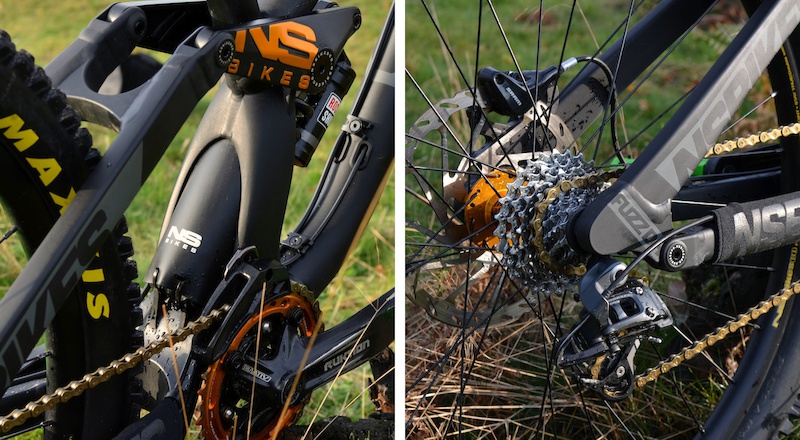 The custom plastic cover keeps the RockShox Kage protected from the elements, although it does make adjusting the rebound very difficult, but it could easily be modified with a Stanley blade to ease access. The drive side dropouts are smooth, with the axle being enclosed from the outside.
Geometry
---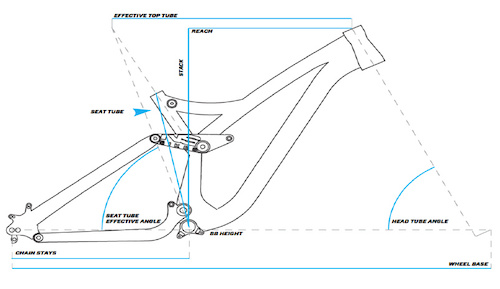 NS Fuzz 2
Medium Frame
Rear wheel travel
203mm
Reach
440mm
Stack
605mm
Front center
785mm
Effective top tube
615mm
Seat tube height
t 400mm
Chainstay
447/432
Bottom bracket drop
+2mm
Head tube angle
63.5°
Effective seat tube angle
73°
Wheelbase
1230mm/1216mm
Bike weight
t 18.4 kg w/o pedals