Transition Bikes has teamed up with Pabst Blue Ribbon beer to offer a very special limited edition frame. "We believe your bike is a reflection of who you are and our riding culture which is why we encourage custom painting, let customers choose their own decals and customize their build options. Doing a limited edition PBR BottleRocket was just another step in offering our customers a unique bike that is a reflection of their own personal style, says Kevin Menard owner of Transition Bikes".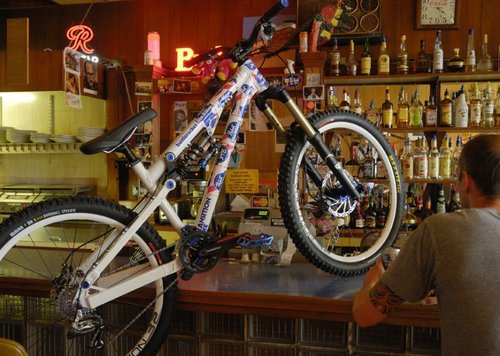 "Pabst has a long history of being the unofficial beer of cycling and our number one choice for post ride refreshment so it seemed like the perfect fit, says Menard". The PBR BottleRocket features a new technology in painting and decals with a new heat transfer decal that is seamlessly placed over welds, gussets and CNC'd parts. " We went with a design that makes it look like someone slapped PBR beer labels all over the frame. Every frame is totally unique as all the decals are hand cut and placed to make every frame look different, says Menard". Transition Bikes will be doing a one time limited run of these frames so once they are gone they will be a part of mountain bike history. Contact your local Transition Dealer for more information.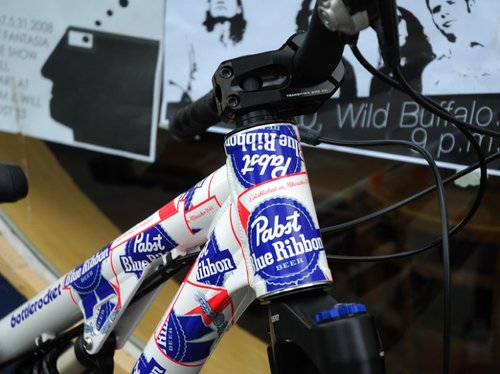 Special thanks to Bryan over at Pabst Blue Ribbon and Liz from Cap Hansens Bar in Bellingham for the photo shoot.
Kevin Menard
Transition Bikes
2641 Delta Ring Rd.
Ferndale, WA 98248
(206) 353-0007
www.transitionbikes.com
info@transitionbikes.com
Must Read This Week