After POC's 3 short years of work in the Snow Protection business the Swedish company has made the transition to mountain biking lids. Utilizing the same basic design as there snow helmet, the Receptor Flow is POC's answer to the needs of mountain bikers in general. Designed with endless adjustments, a functional ventilation system, and offered in 4 different color schemes, the Receptor is a very unique helmet.


For those seeking a more ventilated bike helmet, optimized for low weight and user comfort, the
POC Receptor Flow
is an excellent choice. Safety is kept at a high level thanks to the advanced shell from the Receptor+ helmet with an EPS liner optimized in density to match perfectly with the shell. The adjustment system provides a simple way to customize the fit of the helmet.
POC Says:
"We have listened to the demands of our pro riders, seeking for a more slim design that grips snugly around the head to stay comfortably in place during the various movements of the head that takes place while performing tricks in the BMX park or riding a bumpy Dirt track."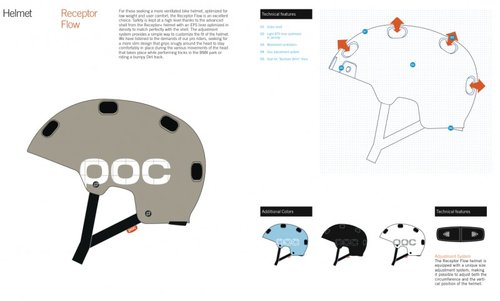 Features:
Light EPS liner optimized in density
Maximized ventilation
Size adjustment system
The Receptor Flow helmet is equipped with a unique size adjustment system, making it possible to adjust both the circumference and the vertical position of the helmet.
For more information on POC visit their website at
www.pocsports.com.