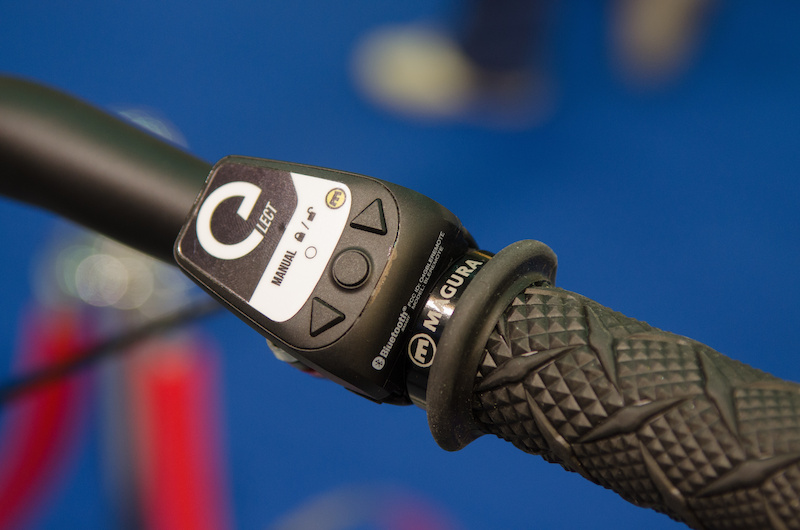 The eLECT's handlebar mounted wireless remote.
Early last summer Magura launched their eLECT compression damper, a battery powered unit designed for their suspension forks that uses 3D acceleration sensors to either increase or decrease the damping depending on the angle of the terrain. When the bike is angled uphill, the sensors communicate with a small motor and close the damping ports, firming up the suspension, and when the bike points downhill the same motor opens up the ports to allow the fork to use all of its travel. The unit also has the ability to detect when a bike is free falling, allowing it to open up a previously locked out fork in order to absorb the impact of landing.
Now Magura is working on bringing those same principles to rear suspension, displaying a prototype version with the electronics contained in a small unit mounted on top of the shock, similar to where the reservoir would be on a piggyback style air shock. Like the version already available for Magura's front forks, the rear unit will be able to communicate wirelessly with a handlebar mounted remote, where riders can choose to operate the shock manually if they wish, selecting between open or closed, or allow the sensors to automatically adjust the damping to suit the terrain. Because the shock is still being tested, battery life hasn't been confirmed, but Magura said they expected it to be comparable with the fork unit, running between 40-60 hours before needing to be recharged via a USB cord. On the front fork, if the battery dies the fork resets to a fully open state, a feature we'd assume would also be implemented in the rear shock. The shock isn't expected to be available until the end of the year, and the first run will be for OEM manufacturers only, which means that it will initially only be available on complete bikes, not as a standalone aftermarket option.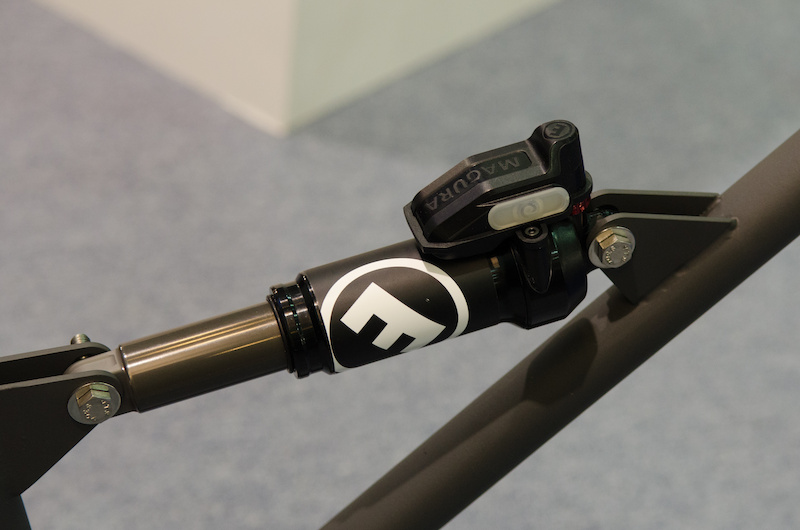 Magura's prototype eLECT equipped air sprung rear shock uses sensors to detect the terrain angle and adjust the damping accordingly.
www.magura.com