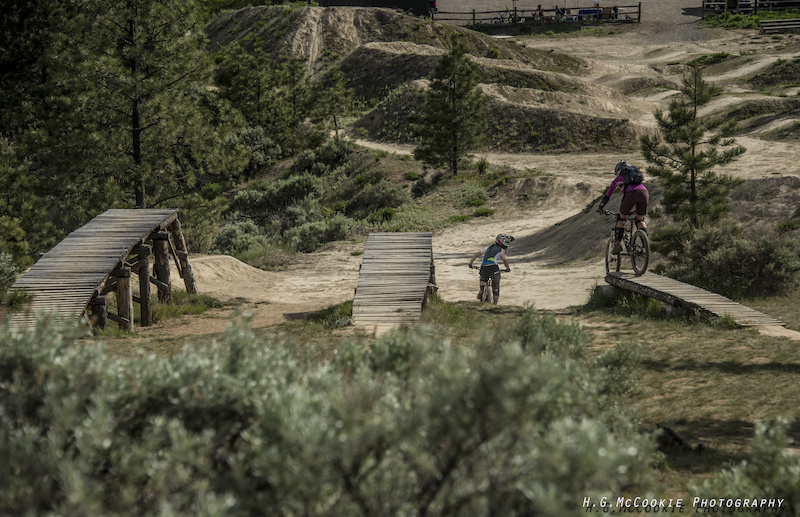 It's not too often that the word "
mother"
and "
mountain biking
" get put into the same sentence unless one is an expletive. However, at this weekend's Ranch Camp in Kamloops hosted by Lorraine Blancher, quite a few mothers were out learning the technique and skills required to master loose berms and wood features. While they all came for a common purpose: to progress their skills and gain confidence on a bike - the reason why they mountain bike is quite surprising.
Here are a few of these mountain matriarchs
.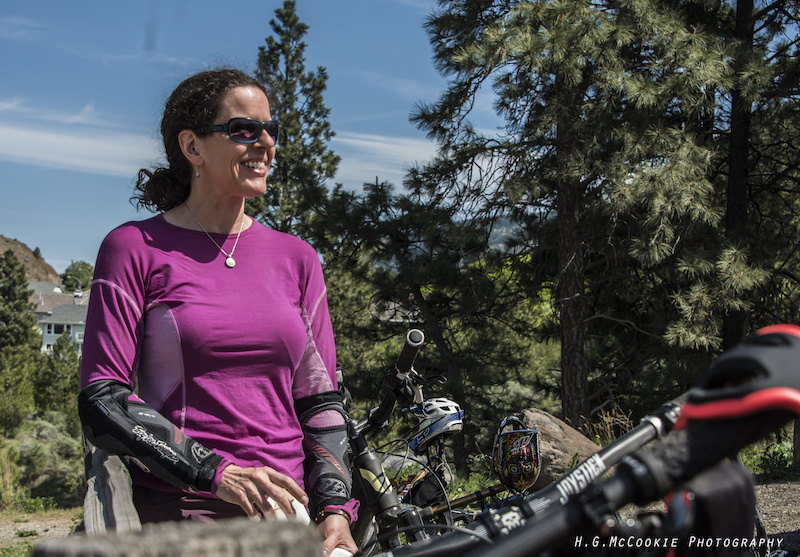 Kerry Greenley
Coming from Nelson, BC for the Ranch Camp, Kerry got into mountain biking about four years ago when she borrowed a bike from a girlfriend and was hooked ever since. "
I do it to keep my mind off… other things
", she says with a shy smile. Her goal at Ranch Camp is to build confidence, approach trails at speed, and work on her jumping.
Sandra Pelley
Sandra drove from Hinton, AB to be coached by Lorraine Blancher's crew. She said she got into mountain biking about five years ago and since then has tried every aspect of the sport from downhill to fat biking. I asked her which of her kids mountain bikes, to which she replied "
none
". "
My daughter said she doesn't want to join my 'bikey gang' and my son thinks I act more like a 21-year old when I'm on my bike
," says Sandra. For her, the camp is all about changing her mind set and progression.
Laura Ramsey
Another Washingtonian, Laura drove from Kingston to be at the camp. When asked why she mountain bikes, she shrugged, "
To have a life outside of my family
." Like so many other women at this camp, Laura is here for herself. She says she got into mountain biking about eight years ago when a coworker took her out for her first ride. She fell in love with the sport and from the get go it had just been her and the boys of the local bike club. Now, the club has grown to be one hundred women-strong.
Wendy Carter
An American driving the six hours from Bremerton, WA, Wendy has been mountain biking for three years now. As an empty nester, she also doesn't do it for "
family
" time, saying "
mountain biking is all about being outside and having fun with girlfriends
." She's attending Ranch Camp to gain bike confidence.
Bonnie Johnson
Another Kootenay mom, Bonnie made the trip from Nelson, BC with her three "
awesome girlfriends
". The same ones that got her into mountain biking about four years ago – deciding they would try mountain biking after camping for a weekend. She has two daughters with her husband, but she is the black sheep of the family – the only one on two-wheels off-road. When asked why she mountain bikes, she replied "
it gets me out of the house
". She's at Ranch Camp to improve her style, citing Katrina Strand and Lorraine Blancher's ease of flow on singletrack.
Ranch Camp guest coach,
Steph Nychka,
was also on hand to inspire both mountain bikers and new moms, being one herself with a three year-old, one year-old, and six-months pregnant with baby #3.
"
What's it like being a mountain biking mom?
"
It's something for myself. It's something that my husband just understands is mine and I need to go do it – whether it be coaching or on a trip or competing.
She beams when asked about her three-year-old daughter's bike skills
.
"
She absolutely kills it on the pumptrack. She is fearless. I can tell she's going to be a great mountain biker someday
."
For Nychka, becoming a mom shifted her pride from her own achievements into pride for theirs. Not only that, she says when she gets back on a dirt jump bike and is cleaning tricks, it's another sense of accomplishment , "
It's like 'Guess what I can still do?
'"
When asked about what it's like to mountain bike while pregnant, the passion flares up in her eyes.
"
The general public perception about pregnant women is that they are fragile. I'm a chiropractor and I hear all sorts of stories about how people stand up and hit their heads on cupboards – injuries occur anytime. What people don't understand is that the baby is in a [safety] bubble when pregnant. I think it's important to continue doing the same things you did before you were pregnant, but know your limits and stick to them. So often new moms get tunnel vision with their kids... Keep doing what you're doing.
"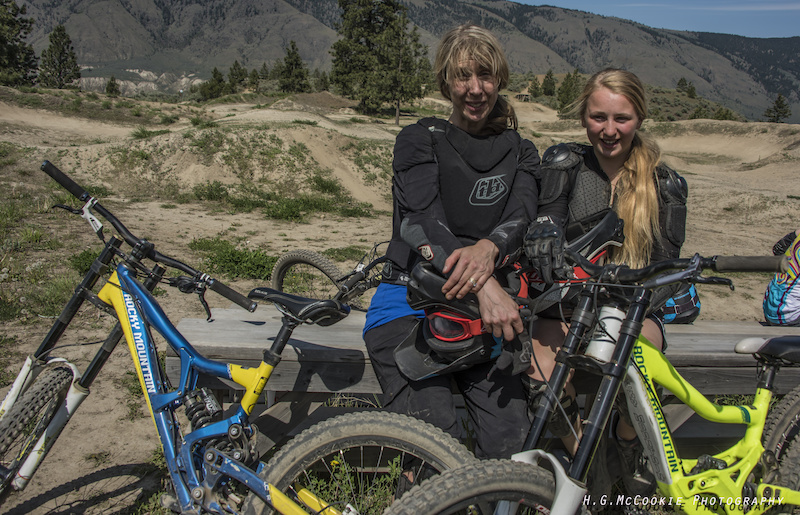 Sara & Carmen
This mother-daughter duo decided to sign up for Ranch Camp together, being locals to Kamloops and only a year into their new hobby. Sara says her brother got into mountain biking, then she followed, and shortly after her mom. I got to witness these two on a section of course. Sara bravely volunteered to guinea pig a new feature on the trail and, after successfully clearing it, her mom cheerfully followed suit, so inspired was she by her daughter.
Kelli Sherbinin
Kelli leads the life every mountain biker family dreams of: her and her husband, Darren, started Endless Biking out of North Vancouver eleven years ago. Now a mother of three year old Myla, Kelli says the two things she's learned about running a mountain bike business and being a mom is Efficiency and Resourcefulness. "
You have to be efficient with your time if you have someone watching your kid
," she quips. Her and Darren often go biking together and get pretty resourceful when searching for child care for Myla. However, it won't be long until Myla is able to keep up on wheels.
"She is so adaptable and absolutely loves mountain biking. We take her to the BC Bike Race and she's the mascot of the group. Afterward, she even said to us 'More bike race!
'" Kelli leaves new- or expecting- moms with this for thought, "
[having a family as a mountain biker] is what you make of it. It's important to have your own life.
"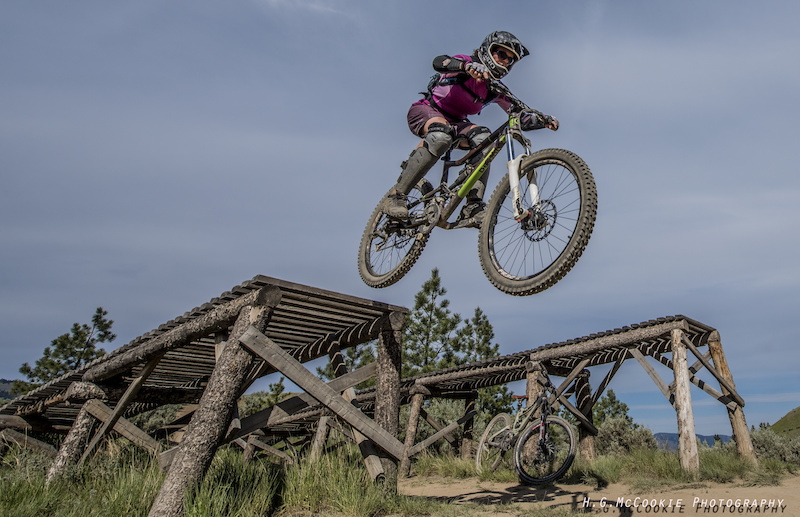 It's great to see so many women – of all ages and abilities – out enjoying something for themselves.
For more information on Ranch Camp click here
.
---
MENTIONS
:
@monicosh
/
@lbbikes
---
Must Read This Week