Original Source
: Norco Bicycles
Mountain bike trials legend
Ryan Leech
will be moving into the 2012 season offering a unique blend of excellence through his Ride & Reach Retreats, Trials of Life presentations, and one-on-one Integral Coaching®*.
While this fresh focus will have Leech doing fewer trials shows, Ryan will continue his role as a professional athlete representing
Norco
Bicycles for the 15th year. Leech will be riding the new Norco Sight and Revolver on all his mountain bike adventures. Also continuing their sponsorship, long-term supporters Shimano products will adorn these bikes and
Ryders Eyewear
is along to help keep his vision clear.
| | |
| --- | --- |
| | Ryan amazes us with his riding abilities, his community interaction and positive vibe. Ryan has been a true ambassador not only to Norco, but to the sport of cycling, and his new plans will continue to have him do just that. - Pete Stace-Smith, Norco PR Marketing Manager |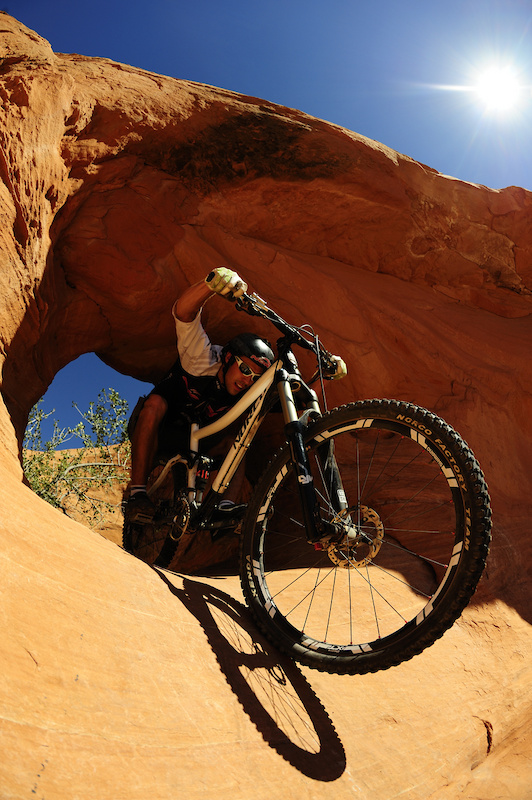 Photo By: Margus Riga
The demand for Leech's inspirational Trials-of-Life school presentation remains strong. Through this, Leech strives for integrity by encouraging students to make heartfelt decisions. The dynamism of the multimedia delivery allows his message to resonate and stick with students and teachers alike.
Leech credits much of his longevity as an athletic performer to his embrace of yoga. After nine years of practice, becoming a certified yoga instructor was a natural step and has allowed Leech to share the physical and mental benefits with the cycling world. By combining his prowess as a mountain bike instructor and guide with his cycling specific yoga approach, Leech created the Ride & Reach Program. He has scheduled week long retreats at
Boreale Mountain Biking
in Whitehorse YT and has weekend sessions planned in other locations yet to be announced. If you're not able to attend in person, stay tuned for his Yoga for Cyclists DVD to be launched late 2012.
| | |
| --- | --- |
| | Ryan is as cool as it gets. His energy, focus and mastery to his craft is contagious. Where Ryan goes, people follow and that includes Lululemon. - Eric Peterson, Lululemon Global Brand Director |
As a public personality and role model, Leech knows that challenges arise and inspiration may be sacrificed due to ever increasing external demands or internal conflicts. Seeing others silently struggle with this life-balance, Leech underwent two years of intense training and apprenticeship to earn his certification as a Professional Integral Coach™. With this certification, Ryan is available as a life coach to stimulate healthy and inspired lifestyles. More information is available on Leech's new website
ryanleech.com
.
| | |
| --- | --- |
| | Ryan is known for pushing the boundaries of his sport, and it will be no different with his new endeavors. Ryders is excited to be along for the ride! - Ryders Eyewear |
*
| | |
| --- | --- |
| | Integral Coaching is a discipline that enables clients to become more aware of their current approach to situations, to see new possibilities and then build sustainable new competencies to achieve outcomes that deeply matter to them. The coach and client are dedicated to the unique developmental needs of the client. - Integral Coaching Canada |
Closing Bio
:
Ryan Leech is widely considered to be one of the most progressive trials mountain biker ever, in fact, he is also believed by many to be the most technically skilled rider in the world. He has spent 15 years on the road showcasing his skills in front of more than a quarter million people and has been featured in more than 25 mountain bike films. Through his Trials of Life school presentation he has inspired thousands of students at over 200 schools. Known to have signed more posters than any other mountain biker in history, he's been an inspiration to young and old fans alike. To share his multi-talented skills more intimately, he has designed the Ride & Reach program, blending yoga & mountain biking, uses his skills as a Professional Integral Coach™ to promote healthy and inspired performance for generations to come. Visit
www.ryanleech.com
for more information.
Integral Coaching® and Integral Coach™ is a registered trade-mark in Canada owned by Integral Coaching Canada Inc. and licensed to Ryan Leech.