Pinkbike recently dropped in on Santa Cruz's California headquarters for a tour of the grounds, including their prototyping facility and company skatepark. We also had the go-ahead to visit their test lab, a room that, until now, had always been off limits to photo and video cameras. Joe Graney, head engineer at Santa Cruz Bikes, not only opened the doors for us, but also fired up their custom test machines for some bad-ass destructive 'research'. Putting frames through their paces until they fail is not unusual, every manufacturer goes through this process. Allowing the likes of us in to film however is far from common. This is especially true when it comes to carbon. Fortunately for us, Santa Cruz was feeling a bit more open minded during our visit, pitting an aluminum Nomad frame against their carbon version in a battle to the death. The goal: destroy both, discovering which one took more force to break in the process.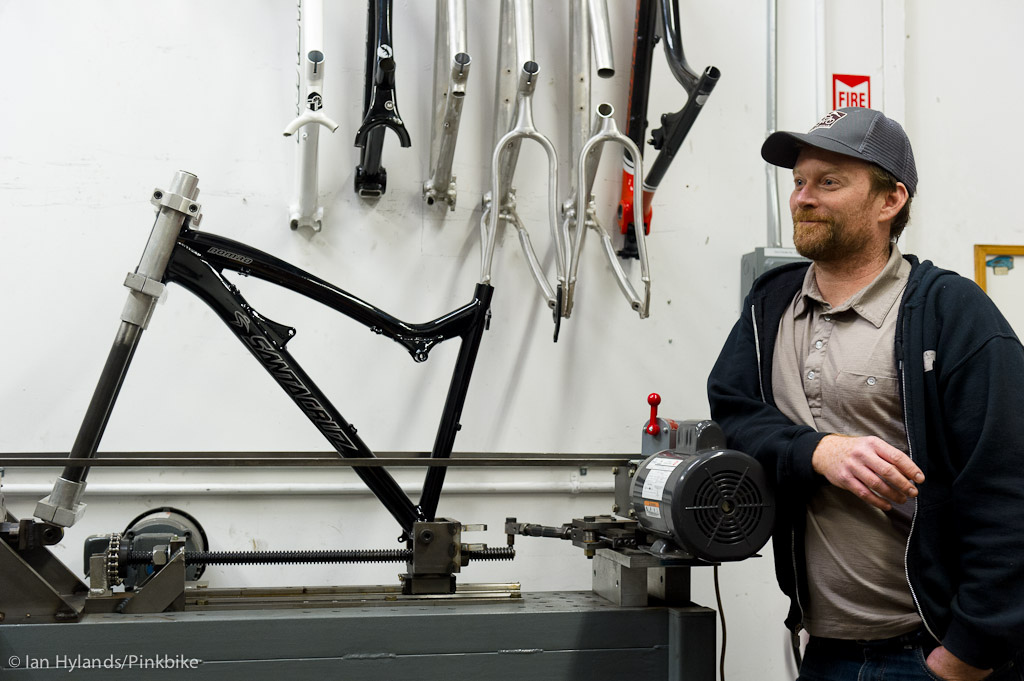 Graney smiles at the thought of destructive testing, and who can blame him? Breaking stuff in the test lab is always is a dream job, but importantly, information and insight are also gleaned from each and every test. All that then gets put toward bikes that we'll ride in the future. The test machine that Joe is leaning on was custom built by Santa Cruz. They felt that off the shelf test jigs are not capable of properly replicating some of the forces that frames are put through in the wild, especially when it comes to certain full suspension designs. The machine shown above emulates a massive and catastrophic frontal impact, picture casing a rather large gap with your front wheel. The front of the bike is held stationary with enormous steel fork tubes, and the bottom bracket is forced forward until failure. The test lab has aptly named this the JRA Ultimate test. JRA refers to the well known adage 'just riding along', and Ultimate denotes the test's destructive nature.


Aluminum Nomad peaks at 1464lbs: When the machine is turned on the motor driven chain turns a steel gear cog that is attached to the threaded rod. The rod then spins within its sealed bearing support, forcing the carrier that is attached to the frame's bottom bracket towards the front of the bike. The forces involved are so immense that the solid steel fork legs can be seen flexing slightly just before they reach their peak. For reference, Graney states that even the worst frontal impact would doubtfully ever exceed 800lbs of force, although he is quick to point out that the variables involved while riding are nearly impossible to measure adequately. While that type of crash is often the worst on your body, it's at least comforting to know that your aluminum Nomad should be able to brush it off.


Carbon Nomad peaks at 2050 lbs: The Nomad Carbon is up next, the very first to be filmed during destructive testing. This particular Nomad Carbon has already seen its fair share of abuse, having been through 200,000 cycles of fatigue testing, two different impact test scenarios, and then ridden hard for two years by a Santa Cruz employee. She has more than proved herself, but she still met her maker at the hands of Joe Graney. Mounted in the JRA Ultimate test rig with the same solid steel forks, it took a whopping 2050lbs of force to see it fail. Although the failure mode is clearly more catastrophic than its aluminum cousin, it required an extra 585lbs of energy over the aluminum model, and an impressive 2.56 times the forces that it would expect to see in a worst-case scenario out in the real world, before it finally failed. It's for this reason that Santa Cruz encourages larger and more aggressive riders to choose carbon when considering a new frame - they are simply stronger.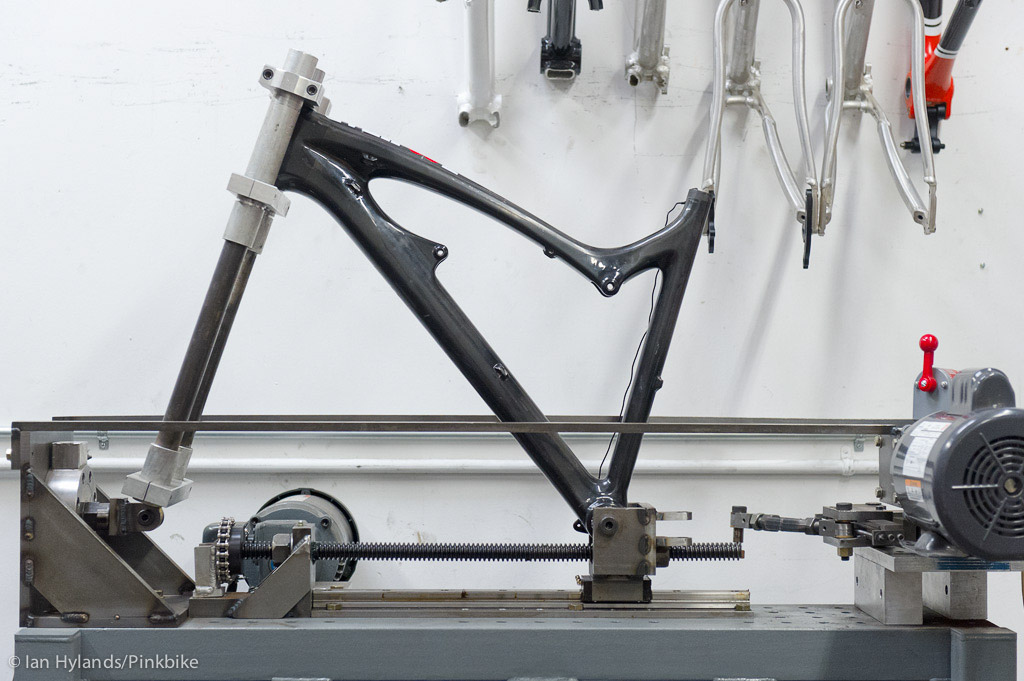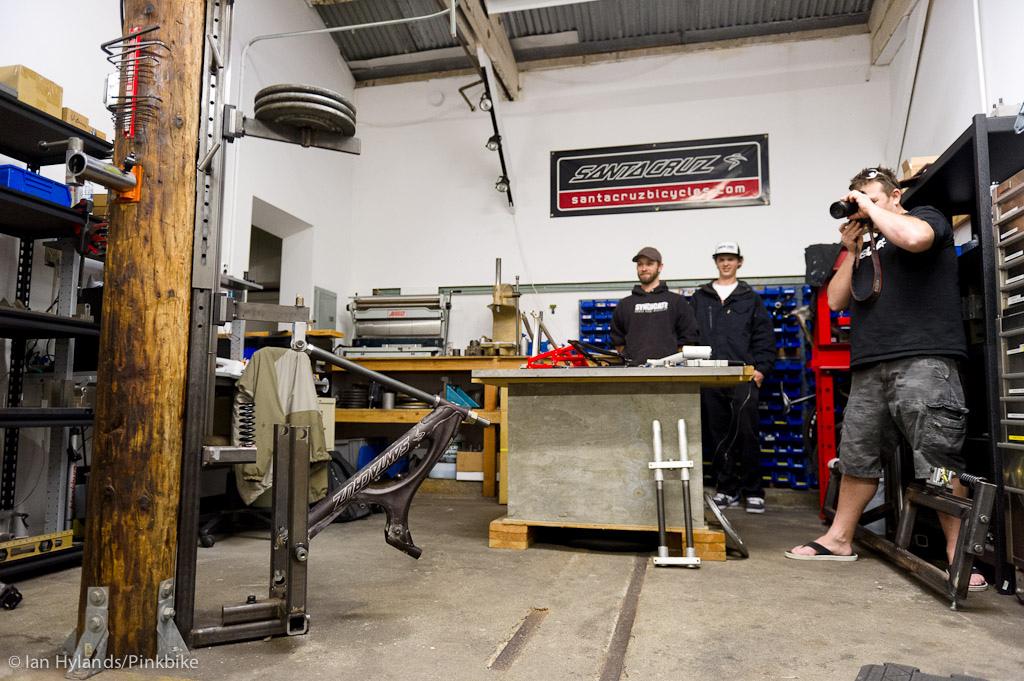 The next experiment is the JRA Impact test, a destructive procedure that involves dropping heavier and heavier weights from increasing heights until the frame fails. Santa Cruz declined to publish any exact weight figures, although they did say that say that they use ''twice the industry standard, as well as adding another 25lb weight for testing carbon frames''. A sturdy steel bar is installed through the head tube by way of custom made headset cups and is then tightened down firmly to keep it from shifting. The opposite end of the bar is attached to a cart that can cycle up and down on a rail, the very same rail that a different, and heavily weighted, cart follows. This setup ensures that the impacts strike in a consistent manner, regardless of the amount of weight being dropping each time. It also means that whoever is running the JRA Impact test receives a workout when a frame seems to defy physics, as was the case with Sven's Martin's used Nomad Carbon. Thank you Sven.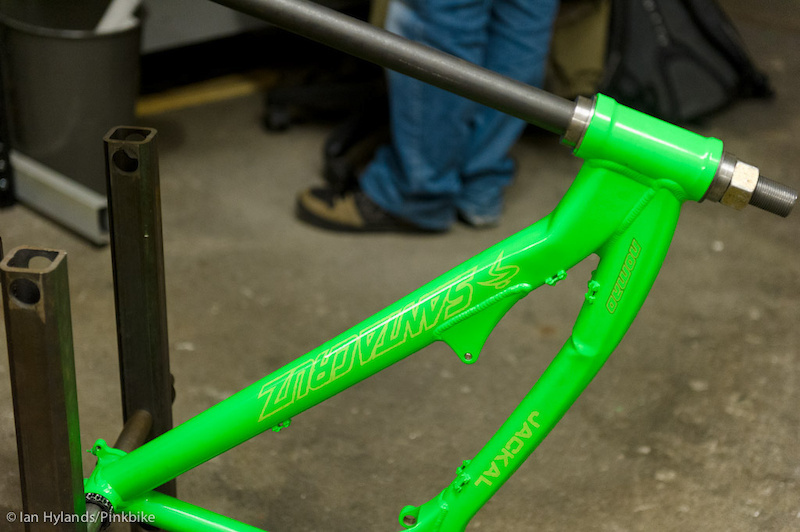 JRA Impact test. Again, it was aluminum v.s. carbon in a battle of who could take more abuse before becoming unrideable. Up first was a gloss lime aluminum Nomad front triangle that took its first impact from a height of 350mm, a collision that made some noise, but didn't seem to cause any visible damage. The same weight was then dropped from 400mm, but it wasn't until the height reached 450mm that we saw the front triangle begin to fold just behind the head tube. Next up, another Nomad Carbon, this time Sven Martin's personal frame that, prior to us deliberately trying to break it, spent much of its life travelling the world under the ex-pro WC downhiller. Yeah, it has already had a tough life, but its time had come. Graney is well aware that the Nomad Carbon far exceeds the aluminum version in strength, but it was only fair to replicate the exact testing. Six drops later and he was letting the weight fall from 900mm, twice the height that damaged the aluminum Nomad, with Sven's old frame shrugging it off easily.
The death blow didn't happen until we added extra weight to the cart, making it 35% heaver than what took out the aluminum frame, and upped the height to 900mm. The increased mass and height finally caused fatal damage to the old steed - she had a good life bless her soul. Again, the carbon front triangle proved itself to be considerably more resilient than its aluminum counterpart, this time in a straight up impact test. The failure modes between the two are quite different, with the aluminum triangle buckling and the carbon cracking, but the forces required to bring the carbon frame to failure are significantly higher. Can a rider expect to replicate this impact in the real world? Barring a car accident, it's highly unlikely that even the most miscalculated jump or drop could ever approach them.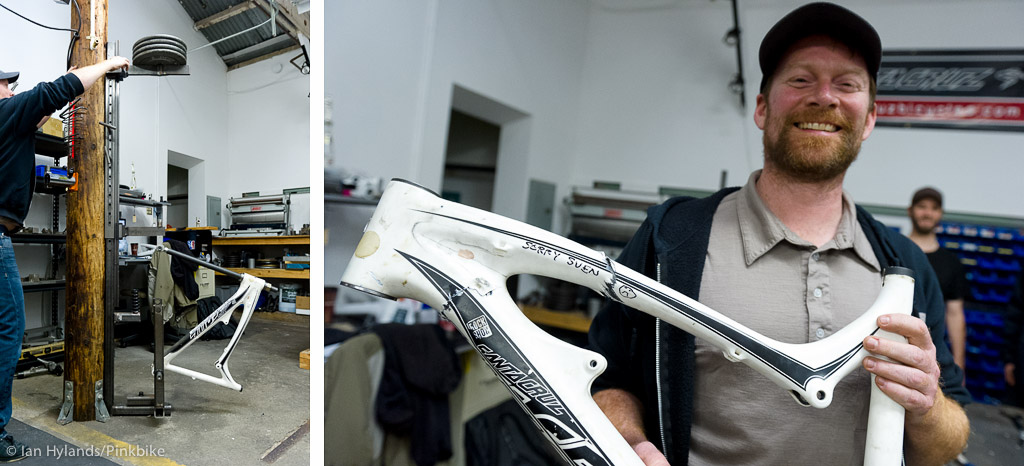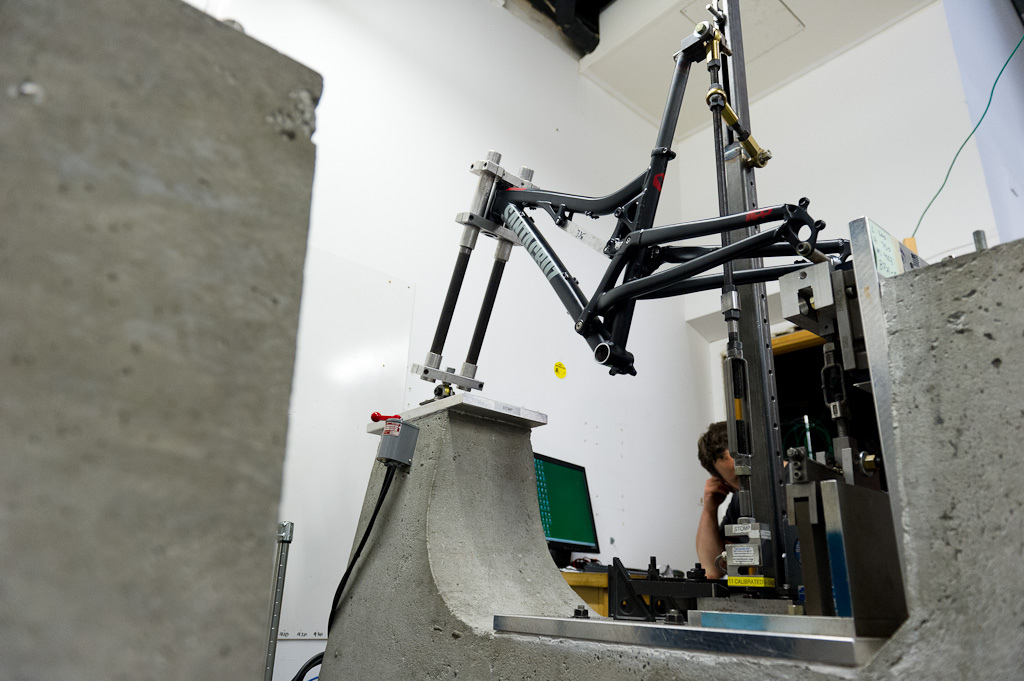 It would have been much easier for Santa Cruz to purchase their own frame testing jigs, but that would have locked them into specific tests. They feel standard tests don't do a good enough job of emulating the abuse their bikes will see in the wild. Instead, they cast their own cement bases, and designed proprietary tests that not only eviscerate the required standards, but also take into account real world forces that the average jig simply can't produce.
Must Read This Week