Santa Cruz's new Nomad
created quite a stir when it was introduced earlier this season, and the video accompanying the launch, which had Dylan Wolsky and Iago Garay channeling their inner caballeros and riding horses to the top of a peak in Chile, sparked plenty of good-natured comments, much of it related to the magenta and aqua frame color, a combination not seen since Don Johnson appeared sans socks in Miami Vice. Luckily, for riders who aren't quite ready to be seen on a bike that screams 'look at me', the Nomad is also available in stealth black, and comes with matching fork and shock decals that should help make it easier to fly under the radar.
With 165mm of travel, 27.5" wheels, and a full carbon frame, this bike was designed to excel on the most challenging courses of the Enduro World Series circuit, while at the same time being versatile enough to serve as a daily driver for riders whose terrain tends to be rough and rowdy. Santa Cruz isn't known for skimping on their build kits, and the Nomad we tested checks in at $9995, a hefty sum no matter how you look at it, but by forgoing the high zoot carbon wheels and dropping down to an X01 drivetrain from XX1, that price can be brought down to a slightly less wallet-emptying $6599, and there's also an X1 / SLX equipped version for $5899 USD. Santa Cruz recently updated their build kits for 2015, with Race Face's SixC carbon cranks now available as an option, along with Santa Cruz's own 800mm carbon bar and Palmdale lock-on grips.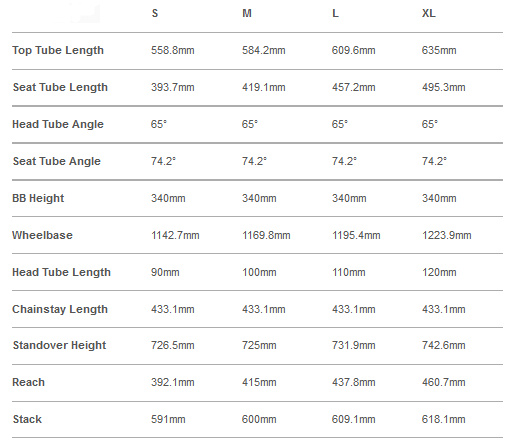 • Intended use: all-mountain / enduro
• Wheel size: 27.5''
• Rear wheel travel: 165mm
• Carbon fiber frame
• VPP suspension
• RockShox Pike RCT3 160mm fork
• RockShox Vivid Air shock
• Sizes: S, M, L, XL
• Colors: magenta / aqua, black
• Weight: 28 lb (size L w/o pedals)
• MSRP: $9995 USD
Frame Design
Work on the revised version of the Nomad actually began before the 150mm Bronson was conceived and released, but Santa Cruz wanted to make sure that the Nomad had a clear purpose, and wasn't just a set of slightly larger wheels slapped onto the previous frame design. Taking into consideration rider feedback and changes in drivetrain technology, the length of the bike's top tube and front center have been increased, and the decision was made to do away with a front derailleur entirely. This allowed for the aluminum lower link of the VPP suspension design to be tucked up even higher into the frame, protecting it from damage and making a lower bottom bracket height more feasible. As far as number go, on paper the Nomad looks ready to take on the burliest terrain around, with a slack, 65 degree head angle, low, 13.4" bottom bracket, and a relatively short 433mm chain stays. It wasn't long ago that these numbers would have been found solely on full-on downhill bikes, and in fact, the new Nomad's geometry numbers are reminiscent of those found on the Iron Horse Sunday. But the DH sleds of years past weighed 40 pounds and weren't meant to be pedaled uphill, while the Nomad tips the scales at 28 pounds and has a 74.2 degree seat angle for a comfortable pedaling position.


Aesthetically, the Nomad is incredibly clean looking – there's no rat's nests of cables, no convoluted rear suspension linkages, just smooth lines that are fitting for a carbon fiber machine of this caliber. Internal cable routing has come back in favor over the past few seasons, since enough time has passed that everyone seems to have forgotten about the headaches that a fashion over function approach can bring mechanics. Luckily, the designers at Santa Cruz remembered, and they have incorporated a continuous carbon tube on the inside of the frame. Simply feed the housing into the top tube opening and it will emerge low on the downtube, eliminating the fiddling about with flashlights and bent spokes that can happens with other internal routing designs. There's even room to mount a regular sized water bottle on the down tube, a nice touch, especially since this is typically a rarity on longer travel bikes.



Suspension Layout
Santa Cruz's VPP suspension design has served them well over the years, receiving praise for its crisp pedalling characteristics, which is thanks to the two counter-rotating links that join the rear swingarm to the front triangle. The suspension layout on the new Nomad isn't drastically different than the previous version; it's mainly the location of the links that has been altered, with the lower link being raised up to provide more ground clearance and shorter chain stays, while the upper link has been shifted slightly backwards to allow for a lower top tube height. The Nomad uses Santa Cruz's
collet type axle retention system
, a design intended to keep the bearings running smoothly for as long as possible. In addition to being able to adjust the angular contact bearings if any play begins to develop, the lower link, the one exposed to the most possible contaminants, has a grease port that can be used to push old bearing grease out of all four bearings and new grease in.
Specifications
Price
$9995
Travel
165mm
Rear Shock
RockShox Vivid Air
Fork
RocShox Pike RCT3 160mm
Headset
Cane Creek 110
Cassette
XX1 10-42
Crankarms
XX1 34T
Rear Derailleur
SRAM XX1
Chain
XX1
Shifter Pods
SRAM XX1
Handlebar
Race Face SixC 35mm
Stem
Race Face Atlas 50mm
Grips
Lizard Skins Peaty lock-on
Brakes
Shimano XTR w/ 180mm Ice Tech rotors
Hubs
DT Swiss 240
Spokes
DT Swiss Aerolite
Rim
ENVE M70
Tires
Maxxis Highroller II
Seat
WTB Volt SLT TI
Seatpost
Reverb Stealth 31.6 150mm
---
| | |
| --- | --- |
| | The Nomad wants to be pushed to the ragged edge, urging you to carry just a little more speed into that steep chute filled with a lattice work of roots, or down that nearly vertical rock face that doesn't seem to ever end. |
Climbing / Fit
With the recent increase in the number of bikes with longer front centers, it makes sense that Santa Cruz has been touting the fact that the new Nomad has an inch more room in the cockpit than the previous version. However, it's worth keeping in mind that Santa Cruz's bikes have traditionally run a little smaller than others, and the size large Nomad's 609.6mm top tube length and 437.8mm reach aren't as extreme as what's found on bikes like the Orbea Rallon or the Kona Process. That's not meant to take anything away from the Nomad's geometry, though, and with a 50mm stem and Race Face's 800mm wide carbon SixC handlebar, the cockpit felt spot on right from the beginning; we didn't need to make any changes to make the bike suit our needs.
The number of all-mountain bikes that are mediocre climbers and excellent descenders keeps growing, and looking at the numbers it'd be easy to lump the Nomad into that category. A bike with such a slack head angle and 165mm of travel isn't going to climb very well, right? Wrong. Even when equipped with the Vivid Air rear shock, which is oriented more towards downhill rather than climbing performance, all it took was adding a few clicks of compression to create a firm enough pedalling platform to resist the forces generated by out of the saddle cranking while still being able to respond to larger impacts. It's the VPP suspension design's pedal-friendly performance combined with the bike's 28 pound weight that makes the Nomad able to keep up with shorter travel trail bikes and then leave them in the dust once gravity takes over. Even on five or six hour outings with 6,000+ vertical feet of climbing, rides with enough pedaling where a trail bike would typically be the machine of choice, the Nomad did just fine, and was definitely worth it on the way back down. Its front end handling might not be the quickest when it comes to slow speed, technical bits of trail, but that never prevented us from being able to get up and over whatever tricky obstacles got in the way. The only small issue we ran into was that the 175mm cranks and the low bottom bracket height meant there were more pedal smacks than usual - we'd recommend that potential customers consider running 170mm cranks in order to save those pedal pins and crank arm ends from encounters with the ground.
Downhill / Technical Riding
From Nevados de Chillan, Chile, to Whistler, British Columbia, our Nomad saw action in three countries and two continents over the course of the testing period. No matter whether it was pounding through dusty, volcanic soil or skidding through muddy piles of pine needles, the Nomad never missed a beat, consistently leaving us floored by its capabilities. We've mentioned multiple times how much fun shorter travel bikes can be, but there's still something to be said about having that extra bit of travel to really let you peg the fun-o-meter in steep, technical terrain. The Nomad has the feeling of a big bike, in that it can be ridden full speed into the roughest sections of trail and come out none the worse for wear on the other side, but it also has a nimbleness to it that you wouldn't typically expect from a bike with this much travel. It's a bike that wants to be pushed to the ragged edge, urging you to carry just a little more speed into that steep chute filled with a lattice work of roots, or down that nearly vertical rock face that doesn't seem to ever end. All manner of drops and jumps were handled without any trouble, and the Nomad's light weight made it easy to carry speed and pop over tricky gaps that usually take a full speed sprint to clear.
As adept as it is monster trucking down the trail in a straight line and lofting skyward off of the lip of a jump, the Nomad is quick through the corners as well, with no wallowing or feelings of sluggishness, just a satisfying forward surge when you power down on the pedals to accelerate out of a turn. That blend of quick acceleration and the ability to smooth out rough trails is what makes the Nomad stand out from the crowd - it's no one trick pony, and is just as capable on a smooth jump line as it is on the most heinously steep and rough portions of trail.
Component Check
• RockShox Vivid Air:
We chose to go with the Vivid Air on our test bike, since it better matched our plans to take the Nomad onto the wildest terrain we could find. The small bump sensitivity and controlled stroke of the Vivid Air is excellent, good enough that we found ourselves wishing that more bikes (
even trail bikes
) came equipped with this shock. The highest praise for an air shock is usually "It feels like a coil shock," but in the case of the Vivid Air, it feels even better, with a liveliness that makes it easy to preload and get airborne, while still maintaining the supple, bottomless feel to take the edge off harsh landings.
• ENVE M70 Wheels:
At $2700 per set ($999 for each rim), the M70s are a large part of the reason why our test Nomad's asking price is situated in the stratosphere. On the trail, the M70's are as stiff, light, and responsive as ENVE claims, but they're not flawless. After hitting a small stepdown and landing into a rooty section of trail, the rim's sidewall cracked the whole way through with a loud 'snap' and a belch of Stan's fluid. The landing itself wasn't the smoothest, but it also wasn't hard enough that we would have even expected a flat tire, let alone a cracked rim. We spoke to ENVE, and they said they had determined that the stiffness of the spokes, DT Swiss Competitions, was causing more stress than the rim could handle under certain situations. We sent the wheels back to ENVE's Utah manufacturing facility, and they were returned laced up with DT Swiss's bladed Aerolite spokes. According to ENVE, once the issue was discovered, "
We set out to find a solution immediately and ultimately made improvements in a running change to accommodate the added stiffness of the Competition spoke. The end result is a wheel that exceeds the performance criteria we'd established prior to the launch of the M-Series."
We haven't run into any other structural problems on the new set of wheels, even after hitting the same small drop that did in the original set, plus countless other hard landings and rough trails.
It's also worth mentioning that the M70 wheels can't be trued without taking off the tire and rim strip, which is less than convenient, especially if you've set them up tubeless. ENVE says that using an internal nipple "
produces a more consistent build, and a stronger structure. This process yields a superior build quality and virtually eliminates the need to true the wheel assuming the builder does a thorough and quality build.
" In the end, carbon wheels continue to be heralded as 'the next big thing,' but it's still a tough sell – the cost just doesn't seem to match the benefits, and if you're going to spend close to $3k on a set of wheels it'd be nice to at least be able to true them without taking off the tire. That being said, ENVE's wheels do come with a five year warranty and a lifetime crash replacement program, so it's not as if customers would be left high and dry if they ran into any issues.
• Race Face SixC 35mm handlebar, Atlas stem:
There's usually something we can mention about the handlebar, stem, dropper post or brakes on a test bike that could be done better, since it's difficult to get all of the little details correct, but not on the Nomad. Race Face's stiff and wide SixC bar mounted to a 50mm Atlas stem, and the RockShox Reverb dropper post remote under the bar on the left hand side are exactly what should be found on the front end of a bike like this.
• SRAM XX1 rear derailleur:
We didn't have any troubles with the shifting performance of the XX1 rear derailleur, but it did develop a nasty creak that took a full disassembly and rebuild to chase away. Our bike did see rather harsh testing conditions, but it still seemed like the creaking developed sooner than we would have liked.
Pinkbike's take:
| | |
| --- | --- |
| | Santa Cruz has hit a home run with the new Nomad, blending big hit capabilities with excellent pedaling performance to create a bike that raises the bar in the all-mountain category. Of course, with our test bike ringing in at nearly $10k you would expect this type of top tier performance, but a good portion of that expense comes from the carbon wheels, which aren't a necessity to enjoy the Nomad's impeccable trail manners. The Nomad is a bike that would have been a daydream only a few years ago, when the technology didn't exist to create a 28 pound bike with 165mm of travel. Luckily, those dreams have come true, and the reality is even better than anyone could have imagined. This is a bike from the future, except that it's available now. - Mike Kazimer |
Must Read This Week