Scott

released its DH Gambler and Voltage range in Europe and then followed it a month later with a trailbike launch in Deer Valley, near Park City, Utah. The stars of the show in Deer Valley were the 170-millimeter-travel Genius LT 700 enduro racer that is based on 27.5-wheels, and its two trailbike brothers: the 130-millimeter-travel Genius 900 29er and the 27.5-inch-wheel Genius 700. While we were there, Scott showed us their 2015 helmet and shoe lineup, which featured some promising candidates for harder-edged riders, in addition to its well respected skinny-tire kit. Scott had a huge demo fleet at Deer Valley with more high-modulus carbon fiber on display than a military air show. For those who are put off by the thought of a ten-thousand dollar bike, this was not the opportune time to ride the lifts at Deer Valley. Every high-end 2015 Scott, both road and mountain, were lined up and guests were encouraged to bust out laps on as many different bikes as we could.
---
19.1-Pound Scale 900 SL
---
21.4-Pound Spark 900 SL
---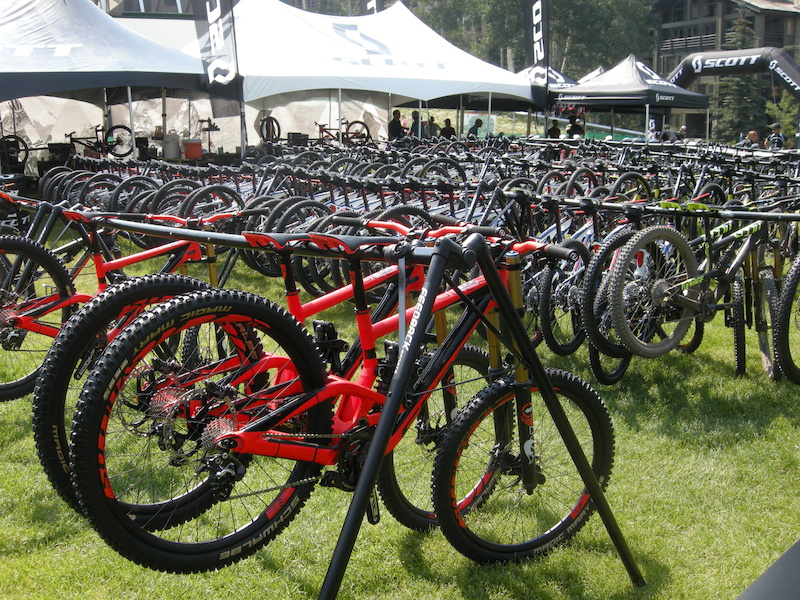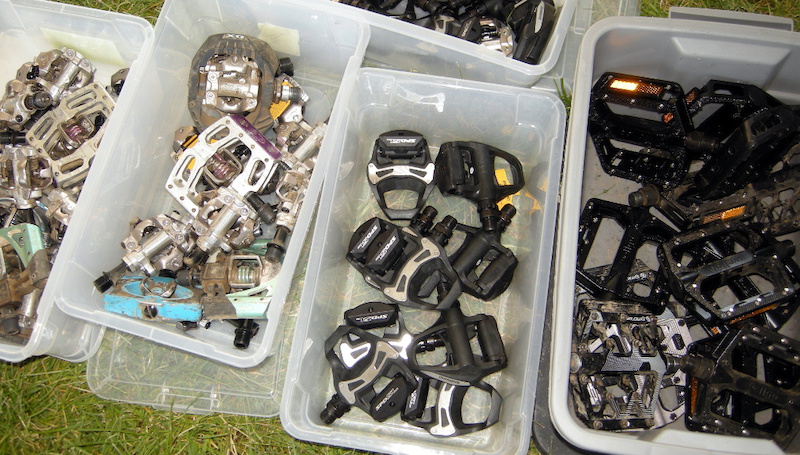 Choose Your Weapons
Attractive as it may have been to stomp out climbs on a 21.2-pound dual-suspension Spark or an 18.7-pound Scale hardtail - or to bomb the area's intermediate DH trails on a big bike like the Voltage or the Gambler, Deer Valley's fast, loose and rocky singletrack is best devoured upon a mid-travel AM/trailbike with 2.35-inch tires, or for the more cultured rider, savored aboard a fast-rolling dual-suspension 29er. Having put in a lot of miles here, I waved off Scott's purpose-built racing machines and opted to maximize every corner and kicker on the mountain with the Swiss-based bike maker's version of the ultimate trailbike. I was not alone. When pressed for a vote, the replies among journalists and Scott staff alike were unanimous: the Genius.
After nine hours of lift-access shred, I am happy to present riding impressions of on two very different 2015 bikes from Scott that share the Genius name. Along the way, enjoy some images and sound bites from the launch that will hopefully translate the vibe at Scott Sports. Everyone there spoke bikes, and throughout the launch I could count on seeing every person on staff there on the mountain. While Scott's designers, engineers and marketing personnel were on hand to answer questions, there was rarely a need to seek them out, because chances were good that everyone, from the receptionist to the boss, had first-hand experience on the bike or the accessory in question. The takeaway from the Scott launch was that they are a passionate, very race-driven bike company, and while some may question their innovative approach to design, every facet of their bicycles is motivated by performance.
---
GENIUS LT 700 TUNED:

First Ride
Scott's 2015 Genius LT 700 Tuned is a textbook enduro racing machine. Sporting 170-millimeters of suspension travel that is powered by a Fox 36 fork, a lightweight carbon chassis, gravity approved geometry, wide wheels and tires, and a SRAM XX1 one-by drivetrain, the 27,5-inch wheel Scott does not need the "E" word printed on its top tube decal to be recognized as a contender in the sport's fastest growing venue. "LT" stands for long travel and, until enduro racing solidified the need for a downhill capable machine that was sufficiently lightweight and efficient to be powered at race pace uphill and on the flats, the Genius LT had a difficult time finding a toehold in the market. The original 180-millimeter-travel LT was launched in 2011 with a lightweight carbon chassis, innovative pull-shock, and Scott's first TwinLoc remote suspension adjustment. But the LT was seen by gravity types as too lightweight to be a serious freeride bike, while trail riders could not look past its pull-shock and monster suspension travel to consider the bike to be an adequate climber. Recently, however, the long-travel trailbike has undergone a rapid evolution, which has catapulted the genre into the popular imagination. Call it luck or serendipity, but the planets have finally aligned in favor of Scott's LT concept - and the latest iteration, the Genius LT 700 is ready to take full advantage of it.
Genius LT 700 Details
Frame:
This year's Genius LT shares the same single-pivot swingarm, rocker-driven shock chassis as the
2014 model
. Scott offers the LT with 27.5-inch wheels only and at three build levels. The LT 700 frame features its highest strength HMX carbon layup and both the front section and rear suspension is carbon, which is claimed by Scott to be 20-percent stiffer and 14-percent lighter than its standard HMF layup. The LT 710 uses Scott's HMF carbon layup and has an aluminum rear suspension, while the LT 720 has an all-aluminum chassis. All share the same geometry, rear suspension configuration and features, including internally routed cables and hoses, protected rear brake caliper mounts, and a suspension chip on its rocker link that lowers the bottom bracket six millimeters and slackens the head angle by one-half degree. Carbon frames have carbon bash protectors on the underside of the down tubes and feature a Scott-designed upper chain guide that rotates on the swingarm, and a lower guide that bolts beneath the right chainstay Internal routing for its dropper post is standard and sizes will be small, medium and large. The top-drawer LT 700 Tuned frame that we rode is reported to weigh only 2450 grams including its shock
(5.4 pounds)
in the medium size, with the complete bike coming in at 26,6 pounds
(12.1kg)
. MSRP is $7,999 USD.
Geometry:
You can use the
2014 geometry
for this year's Genius LT, but the important numbers are: The head angle is 66.3 degrees, which is slack for 27.5 wheels and both frames and bikes will be shipped with Syncros fixed headset cups that can be used to add or subtract one degree; The bottom bracket height is 346 millimeters
(13.62")
and the chainstay length is 439 millimeters
(17.3")
. As mentioned, the rear suspension's rocker link has a "chip" that can further tune the bottom bracket height and head angle. Top tube length for the medium size is 600 millimeters
(23.6")
, which is roomy as enduro bikes go.
TwinLoc suspension controls:
Reportedly, the upper actuator lever of Scott's TwinLoc suspension controls has been lengthened slightly to ease its operation. The three-position lever assembly operates the fork and shock simultaneously from the left side of the handlebar. Up front, the Fox 36 Fit fork is switched between its standard "Climb," "Trail," and "Descend" modes. Scott calls the middle position "Traction Control" and thus, the LT's Fox-made Nude shock is designated CTCD. In Traction mode, the shock's travel is shortened to 110-millimeters and the air-spring curve ramps up sharply. When the lever is on Descend, the fork and shock are wide open and the shock's spring rate is much more linear. In the rarely used Climb mode, suspension travel is reduced to 110-millimeters and both the fork and shock feel nearly locked out. The rear suspension rides quite high, giving the bike an ergonomic feeling pedaling position on the steeps. Fork travel remains at 170 millimeters in all modes.
Component highlights:
The best component upgrade to the Genius LT is its Fox 36 fork. With the new internals, the 36 remains the most capable long-travel single-crown fork in its class. Fox also upgraded the Nude shock internals as well to give the LT smoother action in the mid-stroke. Scott retains grippy 2.35-inch Hans Dampf tires on both ends, mated to new Syncros AM 1.5 wheels that sport a wider, lower profile than the previous AM model. LT 700 models sport RockShox Reverb Stealth dropper posts and SRAM also fills out the drivetrain with an XX1 ensemble driven by a just-right-for-climbing, 30-tooth chainring. Brakes are Shimano XTR and the cockpit is decked out with a 50-millimeter Syncros' 1.0 stem and a 35-millimeter-diameter, 760-millimeter wide aluminum handlebar.
Genius LT 700 Riding Impressions
"Capable" is a good word to describe Scott's 2015 Genius LT 700. Gone is the sense that the LT was simply a pumped up version of a lightweight trailbike, replaced with the sense that the new LT 700 would be hard pressed to find any of the trails at Park City challenging. Point the oversized-diameter, 760-millimeter width handlebar where you want and the Scott will carve, drop and leap, just like a good AM/enduro bike should. Credit for the LT's muscular handling goes to its Fox 36 FIT fork, which rarely pushed the O-ring to the top of its 170-millimeter stroke. Scott's Fox-made Nude CTCD shock feels better this year too. Most bikes in this travel group sport some sort of reservoir shock like the Fox Float-X, so we were expecting a less than satisfactory performance over Park City's signature braking bumps and sharp, imbedded rocks.
To be fair, the LT 700's compression tune was on the stiff side of comfortable, but when pushed hard, the bike remained at its proper ride height and maintained grip in the turns. Scott's Global Marketing guy Jochen Haar admitted that they had settled on a firmer race tune on the LT's suspension because that was ultimately what the bike was intended for. Lowering the fork and shock spring pressures helps to smooth things out a little, but without a low-speed compression adjustment the rider must use spring pressure to maintain proper ride height.
That said, the Genius LT 700 leaves little to want. Even without the assistance of its TwinLoc system, it climbs quite well - no doubt assisted by the fact that it weighs a few duck feathers over 26.6 pounds
(12.1 kg)
. Once adapted to the TwinLoc lever, it proves to be an effective tool. I used the middle "Traction Control" option almost exclusively. By raising the tail end up slightly and doubling the stiffness of the fork and shock the middle mode allowed me to stand up and pedal without compensating for the effects of the suspension, and if I hit a rough section, the bike was free to suck up the worst of it. In Climb mode, the suspension was too harsh to be useful for all but the smoothest trails. Opened up, the LT 700 feels predictable and easy to control. Its brakes are powerful and there is plenty of traction and stability on hand from its wide-stance Syncros AM 1.5 wheels and Schwalbe Hans Dampf tires. Steering feels light and sure, but without the dull sensation that the present crop of super slack head angle bikes impart. Hard charging all-mountain types and aspiring enduro racers who want it all will find almost everything in the 2015 Genius LT 700.
---
GENIUS 700 TUNED:

First Ride
Scott's Jochen Haar said that, in Europe, the 150-millimeter-travel Genius 700 is considered an all-mountain bike, while in North America, the same model is perceived as more of an XC/trail machine. Either way you look at it, Scott's intention was to make the 700 as close to a do-it-all mountain bike as possible, without hiding the fact that it weighs less and accelerates better than bikes that other brands claim to be XC racing sleds. That's 23.3 pounds
(10.6kg)
in case you were wondering, for a six-inch-travel trail shredder with a RockShox Reverb Stealth dropper post, a SRAM XX1 drivetrain and a trail-worthy component pick. Scott's TwinLoc system toggles the rear suspension travel from 150 to 100 millimeters, while simultaneously boosting the shock's spring rate and switching the fork and shock to 'Traction" or nearly locked out "Climb" modes. The "Tuned" addendum to the 700 refers mainly to the act that it is the ultimate model in the range, and also that its chassis design, suspension tune and component selection were balanced towards a single performance goal - which in the case of the Genius 700, means Scott's most versatile trailbike. The Genius 700 Tuned MSRP is $8,999 USD.
Frame numbers are a little steeper than the LT, with a 67.9-degree head angle and a 754-degree seat angle, and the bottom bracket height is slightly lower, at 345 millimeters, which works out to 11.6 millimeters below the axle-line - a big benefit for stability during cornering and when rolling over rough terrain. Top tube, reach and wheelbases measurements are very similar to the Genius LT, as the two share the same frame, so the cockpit is roomy, with an additional 10-millimeters of reach due to the longer stem. All Genius frames use an adjustable chip on the rocker link that can raise or lower the bottom bracket by six millimeters and the numbers furnished here are with the chip in the low position. Get the full geometry
here.
Genius 700 Highlights
The 700 and LT 700 share 27.5-inch-wheels and the same frame, with slight modifications to their suspension to configure their different wheel travels and numbers, including the HMX carbon layup for its front section and rear suspension. The 700, however, only gets the upper chain guide and is spec'd with a lighter weight Syncros TR 1.0 carbon wheelset and a Schwalbe Rocket Ron Evo rear-tire/Nobby Nic front-tire combination. To enhance climbing and acceleration, Genius 700s arrive with a 70-millimeter carbon/aluminum stem that clamps a 35-millimeter diameter, 760-millimeter-width TR 1.0 carbon handlebar. Like its LT cousin, the 700's rear suspension is handled by a similar Fox-made Nude CTCD shock, but up front is a more conventional 150-millimeter-stroke 32 Float FIT fork, modified for the TwinLoc remote system. Scott offers frame sizes in small, medium, large and X-large, with the weight of a medium frame and shock stated to be 2000 grams
(4.41 pounds)
, and with a complete bike at 23.3 pounds
(10.6kg)
Genius 700 Tuned - Riding Impressions:
Stepping off of the monster-travel Genius LT and jumping onto the svelte, 150-millimeter 700 Tuned on the same trails was a rare opportunity to measure the benefits and possible drawbacks of each. Would the lighter-spec'd, reduced-travel bike climb significantly better? Would the 700's the narrower rims and minimally studded tires turn the resort's dry, twisted expert trails into religious experiences? The answer is "no." While the more trail oriented 700 required more attention on the steeps and more specific line choices to set up for turns, the '700 turned out to be quite a ripper on the downs - to the point where I finished off the day riding the DH courses just to see how deep I could go on the Genius before trepidation turned into trouble.
Uphill, there is no arguing that climbing will be better aboard a 23.3-pound carbon wonder-bike. Flip the TwinLoc to the middle position and flowers bloom, testosterone bursts into the bloodstream, oxygen molecules super-saturate the air around you and your legs start pumping like steam engines. Well, not so much, but the Genius 700 does climb beautifully with the TwinLoc engaged, especially in Traction mode, where the suspension is sufficiently active and the lever can be ignored for longer periods of time. Those who are wary of remote pedaling aids might become converts after spending a day on the Genius 700. Once you get the hang of the TwinLoc levers, being able to firm up the suspension precisely where you need to make an effort and then return to rock and roll in a millisecond becomes a powerful tool. Complain about the nest of cables sprouting from the handlebar, but hold your judgment about the value of TwinLoc until you've spent a day on the Scott.
Scott's Genius has been around in one form or another for 12 years, but its evolution into a top contender in the trailbike class required the race-based brand to step out of the cross-country box and refit their carbon super-chassis with more contemporary kit. Its wide handlebar, acceptable-length stem, dropper post and XX1 drivetrain announce that the 2015 genius has arrived. Comparing the 700 with the longer-travel LT is a no-brainer: The LT is a weapon and as such, requires targets of opportunity, The LT is best for the rider who seeks out more difficult trails and chooses alpha lines that send most riders in search of ride-arounds. The LT also suits less talented riders who can use its capable handling and ample suspension to boost their A-game. The Genius 700 Tuned, however, is the bike that, with the addition of some more aggressive rubber, could descend just about anything the LT is capable of under an accomplished rider - albeit, at a slightly slower pace - and still rip around the forest at a true cross-country pace. For most, though, the 150-millimeter-travel Genius 700 Tuned is about versatility without compromise – and in that respect, it is as close to the perfect, do-it-all mountain bike that can be had.
---
Genius 900 Tuned
---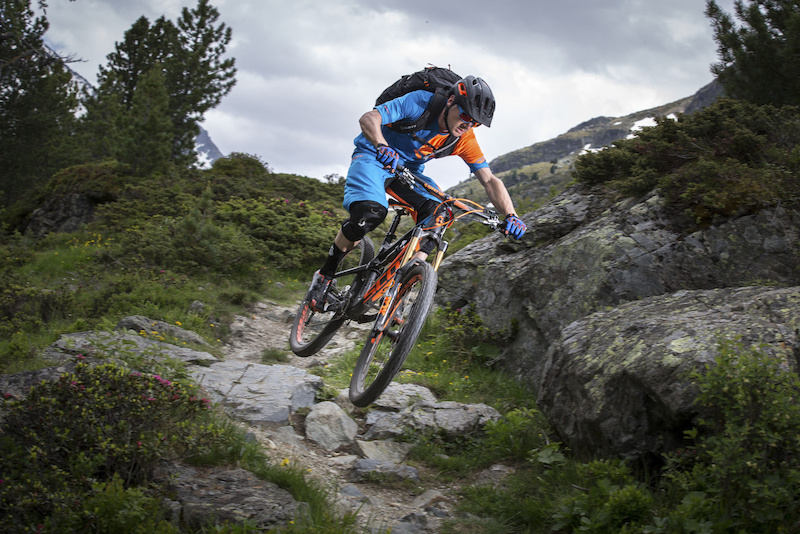 Tuned Kits
Scott also rolled out the key players in its accessory and soft goods ranges. Not available in North America, but worth taking a look at, were Scott's "top to bottom" kits that feature clothing, shoes, hydration packs and helmets integrated into "Tuned" kits, each designed to match the colors and riding styles of its high-end road and mountain bikes. Scott's crew were sporting the kits while we putting in laps. I especially liked the "Trail Tuned" ensemble, styled to match the Genius LT. The cut and styling was bold, but not in your face. It looked sharp. It's a shame that we won't see them here.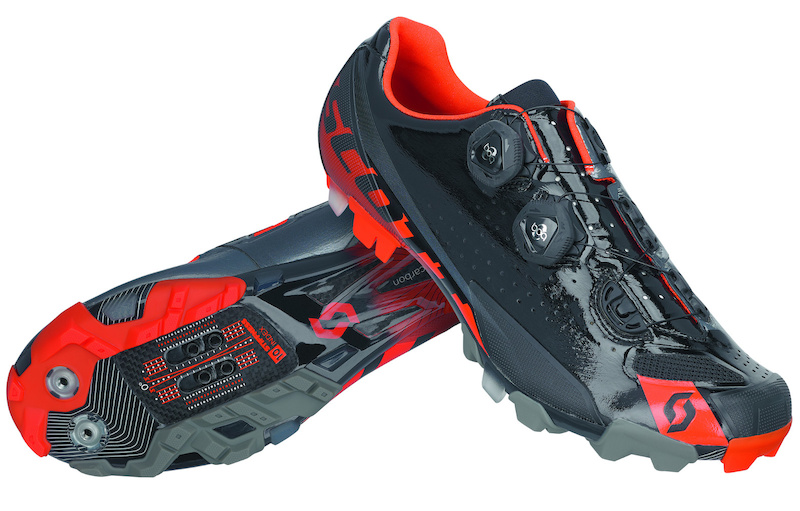 MTB Premium Shoe
Those who ride more conventional cycling shoes might take a look at Scott's "MTB Premium" enduro-style offering. It has a grippy sole, stiffened with HMX carbon, but with enough of a rocker to be useful for off the bike excursions. The uppers are well ventilated and feature welded seams that prevent chafing. A new BOA lacing system can be tuned to put more or less tension at each of the upper's three lacing stations. When asked about the possibility of a flat-soled DH shoe, Jochen remarked that Scott's previous attempts to produce a flat-pedal shoe did not get any traction in the marketplace, so the decision was made to abandon the project and to focus on conventional racing styles which are popular among Scott's core customer group. The MTB Premium features a footbed with removable arch and metatarsal pads. Average weight is 380 grams and sizes range from Euro 38 to 48 with an MSRP of $349 USD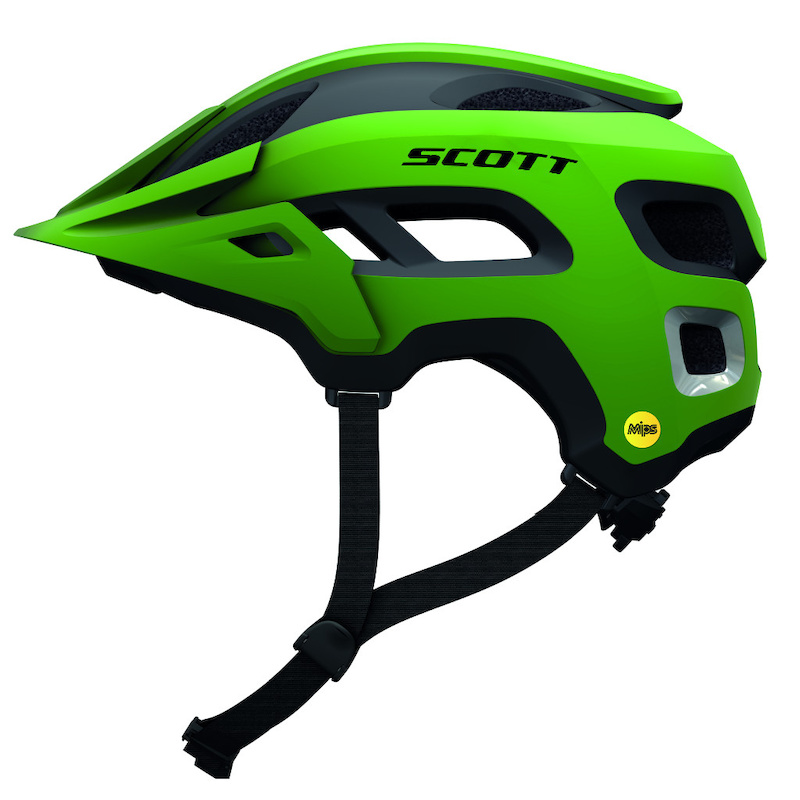 Stego Helmet
New for 2015 is Scott's version of the neoclassic extended-coverage
half-shell enduro helmet
. The Stego is designed with a busload of safety features, beginning with large areas of smooth surfaces on the outer shell with which to better deflect impacts and inside, an MIPS layer to prevent brain injuries created by rotational impacts. Scott uses its latest MRS-2 fit system - an adjustable head band that nearly encircles the head that secured by a 32-click ratcheting dial
(that is 16 clicks more than most helmets use)
.
According to Scott, larger vents in the forward and top of the helmet, paired with smaller ones towards the rear provide more cooling effect inside the shell, especially while climbing. Scott claims that its new Stego passes all European and North American safety standards, and has sent the helmet for independent testing to scientifically evaluate its rotational protection, as there are no existing standards. Stego helmets will be sold in green and black colorways and should be in stores this autumn. We should have a proper review up about the same time. Weight is pegged at 340 grams and sizes are small, medium and large. MSRP: $189 USD
---
Big Ed Fatbike
---