We packed our bags as per
Mitch Chubey's
hockey bag method (goalie bags work best), flew into Las Vegas, rented a Mazda 6 and drove the 123miles(2 hours) to St. George - the gateway to Red Rock Country.
A warning
: although there are downhills in this area (this area is where the Red Bull Rampage is held) we opted to bring bikes which can pedal. Reason one is that we wanted to be self-contained and could not always rely on getting shuttles. Reason two is that we don't mind pedaling for good trails and, in our opinion, pedallng gives you more flexibility and the ability to get to the best trails in the surrounding area.
The following is a suggestion for your next road trip
!
Pack the car and get ready to go
Now that the bags are packed and bikes are ready to do, where do you go?
Here is a suggested loop based on our two trips down there in
2009
and
2010
.
A - First Stop -
St. George - Zen Trail
- 9.7km ride with 400m of climbing and 360m of descending.
Straight up then straight down
B - Second Stop -
Gooseberry Mesa and Jem Trai
l ( Gooseberry Mesa is a network, the loop we did was 20km. Jem trail was another 20km loop).
Classic all-mountain terrain; lots of technical ups and technical downs. Jem is more XC
C - Third Stop -
Virgin River Rim trail
- 27.6km ride with 950m of climbing and 740m of descending. You climb to just under 3000m of elevation on this ride.
Classic Utah XC. Good views. Fast downhills
D - Fourth Stop -
Thunder Mountain
- 25km ride with 654m of climbing and 638m of descending.
Perhaps the best views of any trail that any one in the world could be privileged to ride.
View Larger Map
---
First Stop - St. George.
St. George is a working Mormon community that has not focused on recreation. But there is a strong mountain bike community here as well as in the neighboring community of Hurricane. You may have heard of Gooseberry Mesa? Red Bull Rampage? Other events that have recently come onto the scene which are more cross country oriented are the
6 and 25 hours of Frog Hollow
events.
St George has its back yard trails accessible right from town. West of St. George is an area that includes the Zen Trail, this trail is considered to be one of the more technical pedaling type trails in this area. The Zen trail can keep you busy for half a day, but can be connected with other trails. The local St George trail network itself could keep you busy for quite a few days.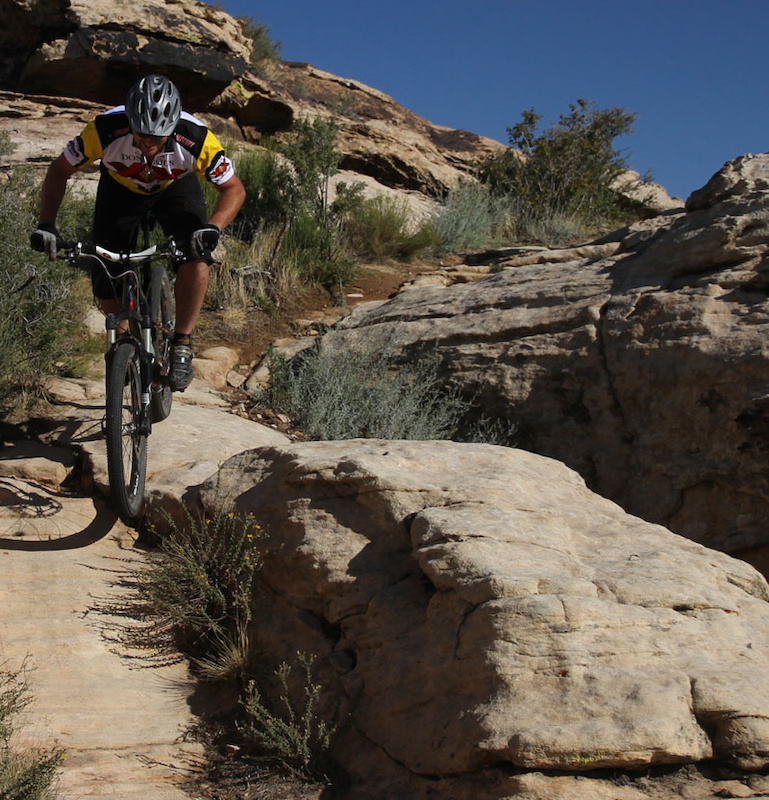 Bryce on the Zen Trail
St. George Utah - Zen Trail at EveryTrail
---
Second Stop - Jem Trail and Gooseberry Mesa
A mere one hour drive away from St George is Hurricane ( Pronounce Hur - Kin ).
The closest trail network to Hurricane is the Jem trail, home of the
Frog Hollow 6 and 25 hour events
. It's scenic, fast and not all that technical, but beautifully laid out with classic fast desert riding.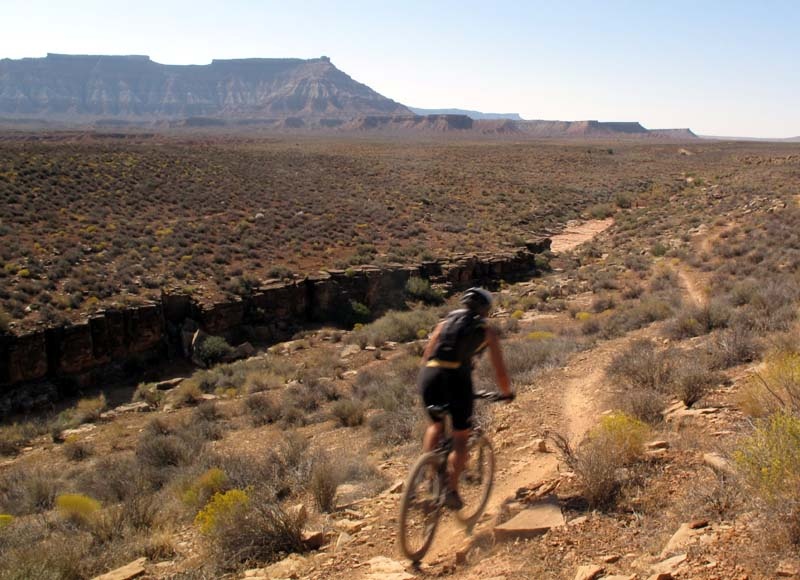 Rippin' on the Jem
A little further up the road is Gooseberry Mesa. Talk to the guys at
Over the Edge Sports in Hurricane
for info. There is a trail head map and the trails are marked with painted dots. Gooseberry is a slickrock playground. The main trail itself is rideable by strong beginners and intermediates. There are playful variations off the trails (steep rock faces, natural half-pipes etc) so a stronger rider can do Gooseberry with a more mellow group and both skill-levels can still have a blast.
Gooseberry slickrock slickness!
---
Third Stop - Virgin River Rim Trail
Once you've acclimatized you can challenge your altitude fitness with a ride on the Virgin River Rim Trail. This is a loop where you ride between 8,000 to 11,000 feet; not so easy for us sea-level dwellers. It's a good option for this area if it's super hot as the elevation keeps temperatures reasonable. This is about an hour and a bit north from St George itself in the Brian Head area. It's a scenic loop which is definitely more on the XC-ish side. Of course, it has wonderful views and if you time it right (we didn't) the Fall colours here are stupendous.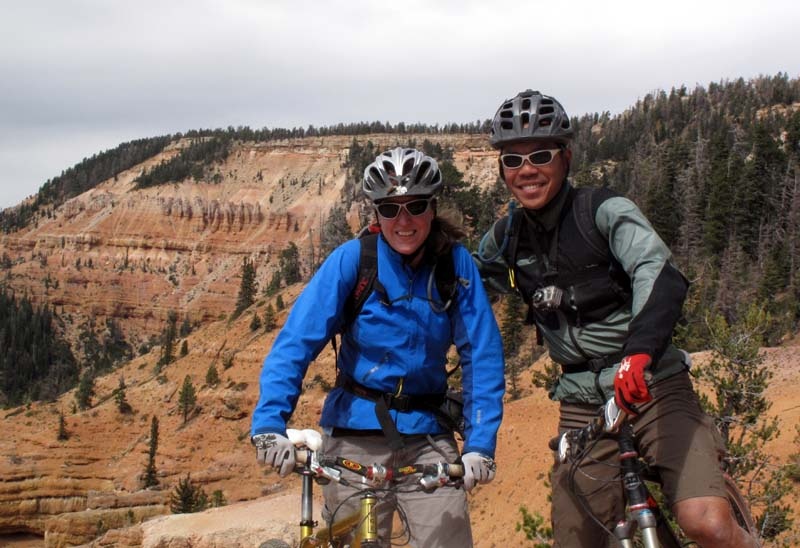 Lee's applying the vulcan "take up more oxygen grip" on this high altitude ride!
We started our ride at a trailhead east of Cedar City near the Brian Head ski area. There are many options to start this ride and lots of information about this trail as it's a popular area to ride; Google is your friend on this one if you want to try variations (one of the better ride description examples is
here
).
Virgin River Rim Trail at EveryTrail
---
Fourth Stop - Thunder Mountain in Red Canyon
There's not many trails that I would put in the category of trails you must ride before you die. To me, they must be unique, have views & fun singletrack. All of these aspects must not be meh or just merely good. The views MUST be killer and the singletrack superb. Thunder Mountain fits this category. It's two hours from St George in the
Red Canyon state park area
(just outside its more celebrated cousin area, Bryce Canyon National Park), but it's well worth the drive.
If you get a chance or have camping gear, pay up for a camp site in this area. The evening and morning light on the red rocks is beyond description (more on this below).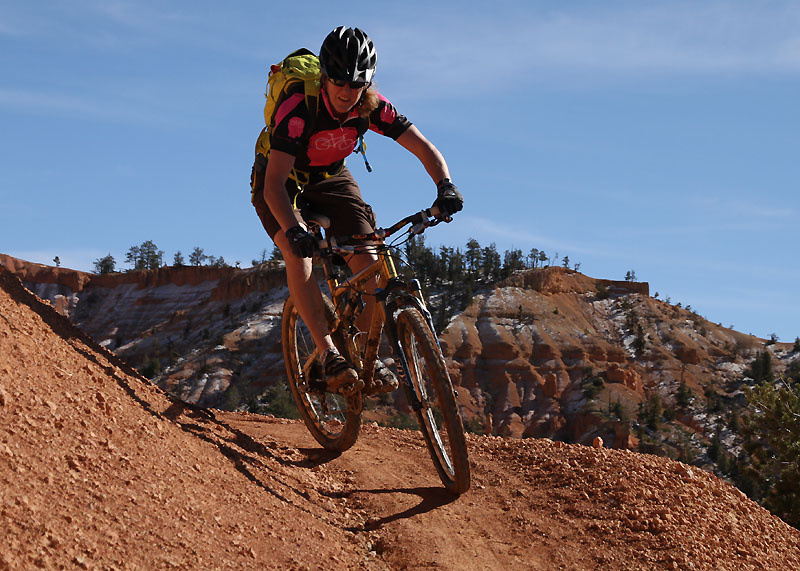 MUST RIDE TRAIL. Fun, fast, epic scenery
Thunder Mountain, Red Canyon near Bryce at EveryTrail
---
Accommodations
-St. George is a major city in the area and there are many
hotels
to choose from.
-At Gooseberry Mesa you can camp right at the trail head. Bring water!
-Virgin River Rim ride - check out our trip from
2009
for some accommodation options.
-Thunder Mountain - There is a campground across from the visitors' center where the trail ends. There is also a campground at the road to the Thunder Mountain trail head. You can also get
accommodation near Bryce Canyon
which is also worth a visit.
What else is there to do?
On your riding days off you can go for a hike or ride down the closed to vehicles paved road of
Zion National Park
. At Thunder Mountain you can go for a hike at Bryce Canyon.
What time of year has the best temperature to ride?
Don't worry, rain is not an issue!
Lots of warmth and sunshine
Bike Shops
Since you are going there to ride your bikes, you'll need to know which bike shop to visit.
Red Rocks Cycles in St. George: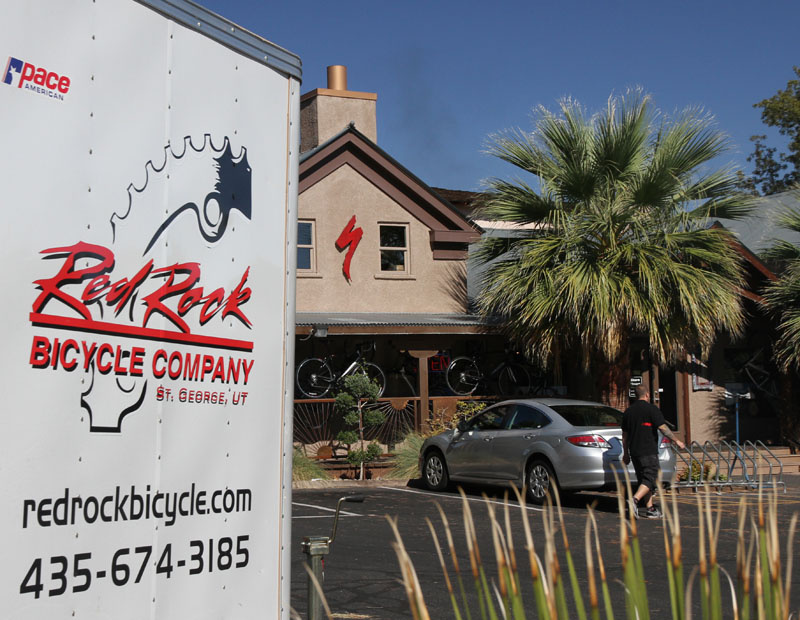 Red Rock Cycles


Over the Edge Sports in Hurricane: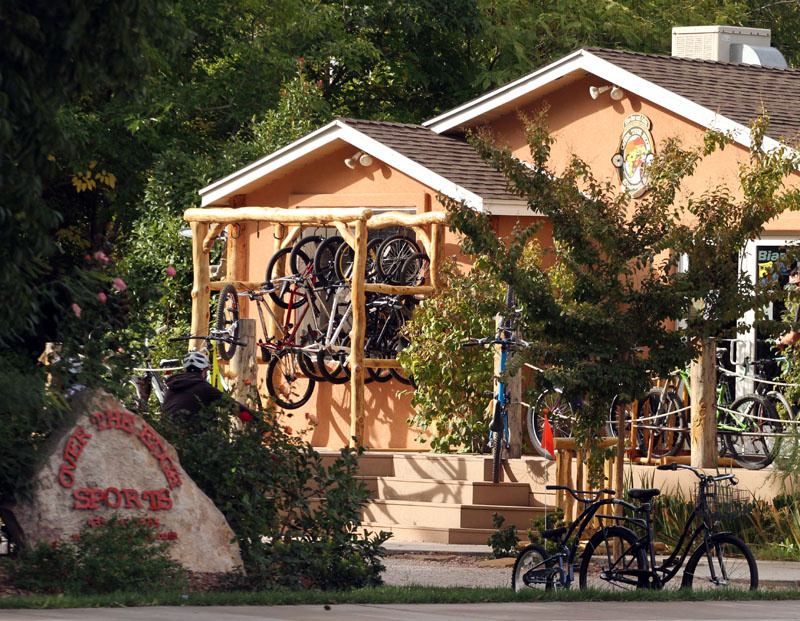 Still not convinced?
Check out our trips in
2009
and
2010
to Southern Utah. Here you will find more pictures, links to maps at Everytrail.com, more videos and information on where to camp and ride.
Next time you're thinking of heading south check out St. George and the southern part of Utah! If you are a racer, definitely check out the Frog Hollow Race series. This is probably one of the last warm places in North America you can ride before the snow flies!
See you there!
Must Read This Week