There is a good chance that the freehub system within your rear hub features three or six steel pawls, with each of them depending on separate springs that are small enough to never be seen again if you were to drop them on the floor. That basic layout has been around for many years and has proven itself to be quite reliable when the hub is sealed adequately, as well as relatively easy to clean and work on. DT Swiss' Star Ratchet system is even simpler, consisting of only the design's two ramped Star Ratchet wheels and the opposing springs that force them together when you load the hub, making for just four moving components. There are, of course, other ways to create a clutch system, as Chris King, True Precision Components and a few others have shown, but it's fair to say that at least 90% of rear hubs on the market depend on either the classic three or six sprung pawl layout, or use DT Swiss' Star Ratchet system. Spank and DT Swiss think that there might be a better way to get the job done, though, and both have been investigating the use of magnets to do it. Yes, magnets. Have you ever tried to push opposing magnets together only to find that they want to repel each other? Now take that theory and put it inside of a rear hub. Spank and DT Swiss won't be the first to do such a thing, as Soul Kozak, a Polish component brand, has been offering their M-netic hub for a few years now, but it will be interesting to see if the theory takes off with the weight of these two companies behind it.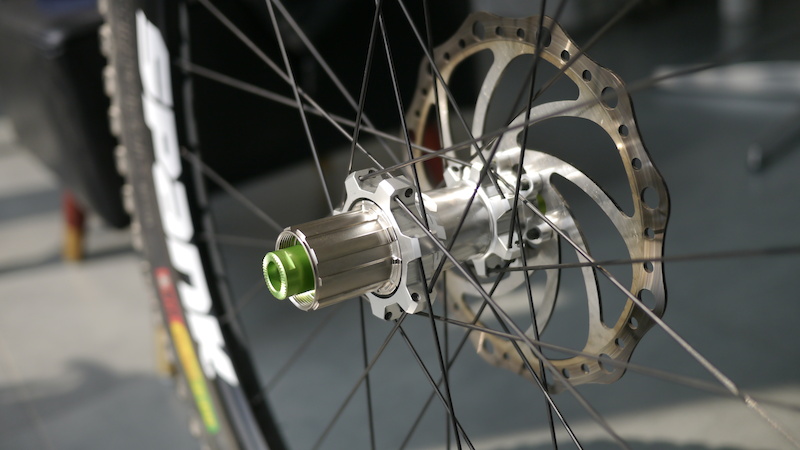 Spank says that their Mag-Drive hub has been in the works for two and a half years, with working prototypes being tested in the field at this moment.
Spank's Mag-Drive Hub
Spank gave us an exclusive look at their Mag-Drive hub while at the Taipei tradeshow last week, and although the company didn't want to reveal too many details at the time, we were able to take a close look at a working version that is now built into a complete wheel for testing. It features straight pull spoke flanges and an extremely loud ratcheting freewheel, but you'd likely never guess that it's significantly different internally than anything else on the market. That is, until you pull it apart and see that it uses opposing and repelling magnets to engage the clutch mechanism under pedalling loads. That quick description might be selling the impressively simple execution of the design a bit short, but it's about as much as Spank was willing to share at this point in time, although you can expect photos of the hub's internals to be shown here on Pinkbike in the near future. Interestingly, Spank says that they have been working independently on the system for two and a half years, and that it is in no way related to the DT Swiss' patent-pending design that is pictured below. Having had Spank's Mag-Drive hub apart in our own hands, we can say that their layout looks extremely simple compared to what DT Swiss have cooking, and that it will be interesting to see what the two companies end up with by the time both systems hit the production line.
---
DT Swiss Prototype
Just made public now, DT Swiss' application for a patent shows that their freehub mechanism ''
is biased to the engaging position via a magnetic biasing device,
'' meaning that it depends on magnets to engage the clutch and allow the rider to transfer power to the rear wheel. The
entire application gives a detailed description
of how the system works, albeit in patent-speak that can be a handful to take in, but the exploded illustrations shown below will give you a good idea of the system's layout.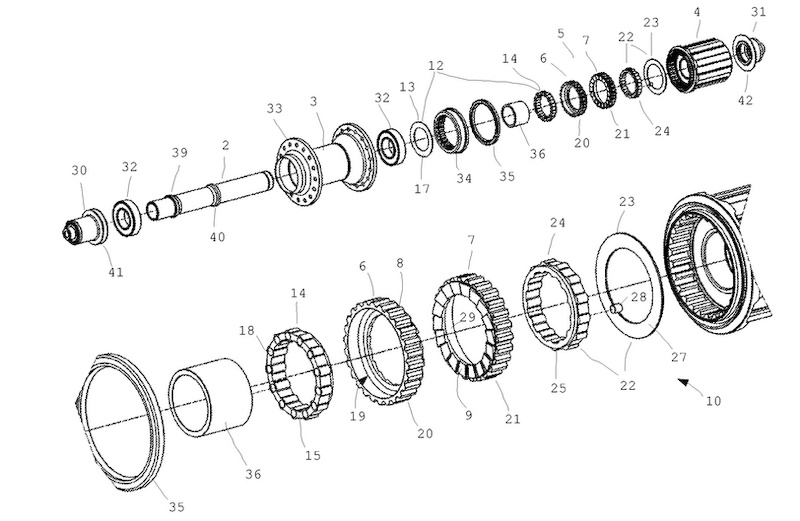 DT Swiss hasn't dropped the Star Ratchets within their prototype hub, only the springs that push them together.
The two most obvious points to note are that DT's ubiquitous Star Ratchets are still employed, and that the two wound springs usually found on each side of the Star Ratchets aren't present. Instead, a carrier with a number of small cylindrical magnets is contained within the backside of each Star Ratchet, and opposing magnetic rings are located in the hub shell (
behind the inner Star Ratchet and its magnetic carrier
) and the freehub body (
in front of the outer Star Ratchet and its magnetic carrier
). It appears that the inner magnetic ring acts on the inner Star Ratchet and its magnetic carrier, with the ring repelling the Star Ratchet out towards the freehub body. The exact same thing is happening to the outer ring and Star Ratchet, but in the opposite direction, meaning that the two Star Ratchet wheels are being pushed together in the same manner as if two springs were pushing them together. As the application reads, ''
In a preferred specific embodiment of the invention at least one magnetic device comprises a pair of mutually repelling magnetic components.
'' The DT Swiss design is actually more complicated than their current system, and its additional components also make it more complex that Spank's prototype Mag-Drive hub. Having said that, the two magnetic carrier rings hold a number of small magnets, and DT Swiss can likely vary the repelling forces of the system by changing up the number of magnets in each carrier.
Why use Magnets Instead of Springs?
''
The fact that the two engagement components are biased to the engaging position and urged toward one another by at least one magnetic device,
'' the application explains, ''
each achieves more optimum mechanical and also acoustic properties.
'' Basically, the patent says that, instead of using a single magnetic ring or ring of magnets to pull the moving Star Ratchet towards an opposing fixed ratchet, having a ring of magnets on either side, one positive and one negative, makes for a stronger holding force when the Star Ratchets are engaged. It also reduces the closing force by a factor of four when they are pulled apart slightly each time that the ramped ratchets jump over each other.
The opposite happens when a steel spring is used because the spring's tension is greatest when the pawls are pushed up to the top of the ramped ratchets in freewheeling mode and weakest when the ratchet mechanism is fully engaged. This is the opposite force of what is required. Weak when engaged and stiff when freewheeling adds up to more noise, less positive engagement, and more freewheeling friction. The magnet system, because its attraction is exponentially less when the two magnets are moved a short distance apart, reverses this to a positive end - more engagement force is created, significantly less force and friction occurs when freewheeling, and less noise occurs because when the ratchets ride over each other and separate the magnets, the closing force is dramatically reduced.
Theoretically, it may be possible, using DT's patent illustration, to "time" the positive and negative poles of the magnetic rings on either side of the star ratchet segments to draw the rings together where the spurs engage and to push the rings apart where they ride over each other - effectively removing almost all of the friction and noise associated with the freewheeling mode altogether.
Spank and DT Swiss are still working on their magnetic drive hubs, and it isn't clear when we'll see production versions of either, and therefore a few questions still remain. Will the magnets lose their power over time? How will the designs deal with contamination? Can they be made to be as reliable as current setups? We'll try to answer those questions as more information, and hopefully production versions of both designs, become available in the future.
www.spank-ind.com
www.dtswiss.com