SRAM
is on the move again, and this time it's in a direction that is sure to please many mountain bikers who have wanted to give its wide-range eleven speed drivetrain a go, but have been rebuffed by its lofty cost. Their new GX drivetrain is priced below the Chicago-based component maker's X1 one-by-eleven system, and it is cross-compatible with all of its eleven-speed mountain bike offerings. One-by GX drivetrain ensembles start at an impressive $564 USD at retail stores, which is not inexpensive, but is still mighty attractive when one considers that just the X-Dome cassette from an XX1 group runs about $285 USD. The best news should be for new bike buyers. Typically, only the higher priced versions of the most popular bikes had SRAM one-by drivetrains, forcing less moneyed customers to settle for a two-by-ten system that's bolted on an identical chassis. We expect to see fewer two-by cranksets, and much cross-pollination of GX with upper level SRAM components by OEM brands in 2016.
GX is targeted at OEM bike makers and as such, comes in a plethora of options, including a one-piece crank with a 94mm bolt circle, as well a two-piece GXP-style crankset that should adapt to direct-mount chain rings. However, the shockers are the (gasp) two-by-eleven and two-by-ten versions with (cough, cough) dedicated front derailleurs. GX shift levers are Matchmaker compatible, and a Grip Shift option is also offered for both one and two-by systems. Only the upper echelon GX parts will appear at the retail level, which makes sense, as they would be an upgrade over a less desirable mid-priced offering. GX is a 2016 product, and while SRAM did not give us an exact date for its release to retailers, when they debut a new product as early as this, we expect to be riding it at 2016 bike launches near July and to see it in shops in early autumn. Scroll down for all the images, specs and complete pricing.
---
The One-Two Punch
A handy chart, supplied by SRAM, suggests that GX is clearly aimed at dethroning Shimano's rule over the mid-priced enthusiast mountain bike market. Shimano has staunchly held that the perfect mountain bike drivetrain has closely spaced gearing, with about a 13-percent change in leverage between gears. SRAM, however, blew that notion to pieces with XX1, which has jumps between gears at or in excess of 15 percent.
Banking upon overwhelming satisfaction among a wide cross-section of riders, SRAM claims that its GX ensembles dominate Shimano's equivalent Deore and SLX drivetrains by offering wider overall gearing ranges, which translates to lower climbing gears and taller speed gears for SRAM customers. SRAM's one-by chart claims that its GX one-by-eleven has a 425-percent change, while the delta of Shimano's comparable eleven-speed group is 382 percent. All that gearing spiel is sure to launch philosophical discussions about gears and steers, but SRAM's glove is already on the ground, so let's have a look and see what the fuss is about.
---
Cranksets
SRAM offers two aluminum cranksets within the boundaries of GX: The GX 1400 is the boss, with SRAM's 7000-series alloy, "Open Core AL" hollow-forged arms and two-piece GXP-style spider. The 6000-series alloy, GX 1000 crank is the workhorse one-by-eleven option, with a one-piece drive-side arm and a 94-millimeter bolt circle. Both the 1400 and the 1000 cranks are offered with 30, 32, 34, 36 and 38-tooth X-Sync chain rings in the one-by option, and while it is not specifically advertised, the two-piece 1400 crankset should be cross-compatible with SRAM's direct-mount X-Sync rings for customers who want lower gearing.
Both the 1400 and the 1000 cranks are also sold in two-chain ring configurations as well. The two-by-eleven option features a 36/24 chain ring and a bash ring option. The lower-priced 1000 crank is also sold in a two-by-ten configuration, with both 38/24 and 36/22 ring options.
GX One-By Cranksets:
• GX 1400 option (Open Core Technology aluminum)
• GX 1000 option (6000-series aluminum)
• CNC-machined 7075, two-tone anodized X-Sync™
chain ring (30, 32, 34, 36, 38 )
• Bottom bracket configurations: PressFit 30, BB30, GXP, and PressFit GXP
• Both 24mm and 30mm BB axles supported
• Chain ring guard option
• Crank lengths: 175, 170mm
• Colors: black, red
• Boost 148™ compatible
• Weights: 680g (GX-1400, GXP, 175mm, 32t); 720g (GX-1000, GXP, 175mm, 32t)
GX Two-By Cranksets:
• GX 1400 option (Open Core Technology aluminum)
• GX 1000 option (6000 series aluminum)
• X-GLIDE™ 2 x 11 shifting technology
• Chain ring option: 36/24
• Bottom bracket configurations: PressFit 30, BB30, GXP, and PressFit GXP
• Both 24mm and 30mm BB axles supported
• Guard option available
• Crank lengths: 175, 170mm
• Colors: black, red
• Boost™ 148 compatible
• Weights: 727g (GX-1400, GXP, 175mm); 774g (GX-1000, GXP, 175mm)
---
Derailleurs
SRAM makes three GX rear derailleurs: The GX-Horizon mid-cage rear derailleur, which is dedicated exclusively for one-by-eleven drivetrains; and two more conventional slant-parallelogram long-gage rear derailleur designs for its two-by eleven and two-by-ten drivetrains.

The GX Horizon has some improvements, but it is basically the same platform as SRAM's X1 rear derailleur, with its pronounced offset pulley cage and sturdy body - which is a good thing, because the X1 derailleur has been an excellent performer. Compare the GX with the current X1 below:

GX X-Horizon Rear Derailleur:
• X-Horizon™ design reduces shift force and chain slap
• 12-tooth X-Sync™ pulley wheels
• Large upper cage-pulley offset automatically adjusts chain gap
• Sealed cartridge bearings
• Aluminum cage
• Colors: Black, Red
• Optimized for one-by drivetrain with a 10 x 42 cassette
• Weight: 265g
GX two-by drivetrains require a different rear derailleur. The GX 2 x 11 rear derailleur has a less pronounced offset at the upper pulley, which is paired with a more conventional slanted parallelogram. The two strategies are necessary to accurately track the angle of the cassette while compensating for two different sized chain rings. Nothing new here, because the long-cage GX 2 x 11 design has been ironed out over two decades, and now, armed with a Type 2.1 roller clutch, it is configured for eleven-speed drivetrains.
GX 2 x 11 Rear Derailleur:
• X-Actuation™
• Long cage design offers the widest available gearing range using a 10 x 42 cassette
• TYPE 3 technologies: Roller Bearing Clutch™ and CageLock™
• Focused chassis design for all conditions and usage
• 10 x 42 cassette compatible
• Colors: black, red
• Weight: 289g (long cage), 286g (medium cage)
SRAM has played catch-up with Shimano with its front shifting since its inception as a drivetrain maker, but it may be on its way to closing that gap. The fact that it offers two different cage configurations for its eleven and ten-speed front changers is evidence that SRAM is serious about capturing a sizeable share of those remaining customers who love and want a left shifter on their handlebar. Reportedly, the eleven-speed front derailleur has been shaped to function at the exaggerated chain angles created by SRAM's 10 x 42 cassette, combined with the additional vectors caused by rear suspension. Upon inspection, there are significant differences in the cages of the eleven and ten-speed GX front derailleurs. SRAM offers both in clamp and direct mounts, and with top and bottom cable routing.
---
Shifting
SRAM offers both trigger shifters and Grip Shift at the GX level, which may fuel a groundswell among mountain bikers just entering the sport who have not experienced twist shifting yet - more surprising things have happened. GX triggers feature an aluminum thumb paddle for a professional feel and action, and are interchangeable with SRAM's upper level X1 and XX1 derailleurs, although the GX models lack some of the adjustability. As expected, the pods are Matchmaker compatible.
GX X-Actuation Shifters

• SRAM 1x™ X-Actuation™
• Multi-position mounting
• MatchMaker compatible
• Aluminum pull lever
• Discrete Clamp
• Colors: black, red
• Weight: 122g

GX Grip Shifters

• SRAM 1x™ X-Actuation™
• Metal indexing keeps shifting crisp and precise
• Three rows of ball bearings provide low friction
• Grip Shift shifter and grip interlock to handlebar with forged-aluminum clamps
• Colors: black, red
• Weight: 144g

---
Brand New Cassette
Looking more like a secret component stolen from an enemy submarine, SRAM's Full Pin Cassette is literally a stack of steel sprockets that are riveted together with 123 steel pins. Considering that proper shifting cannot tolerate even the slightest deviation in tracking, the precision required to assemble this beast boggles the mind.
SRAM's 1180 "Mini Cluster"
cassette formed the basis of this feat, with the seven middle cogs riveted together and attached to an aluminum 42, and to a trio of sprockets machined from one piece of steel on the small end. The Full Pin design allows for the use of inexpensive stampings to form the individual cogs. The 394g GX Full Pin cassette fits XD hub drivers
---
SRAM GX MSRP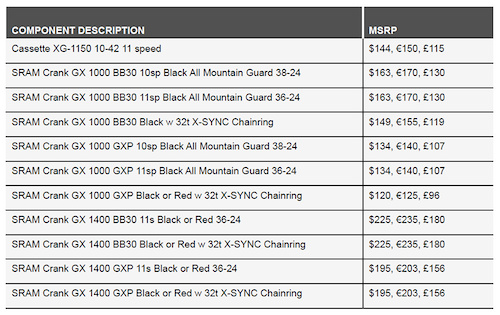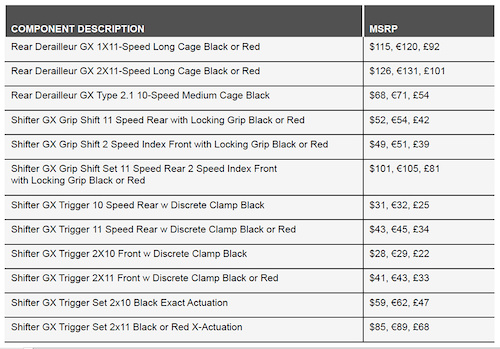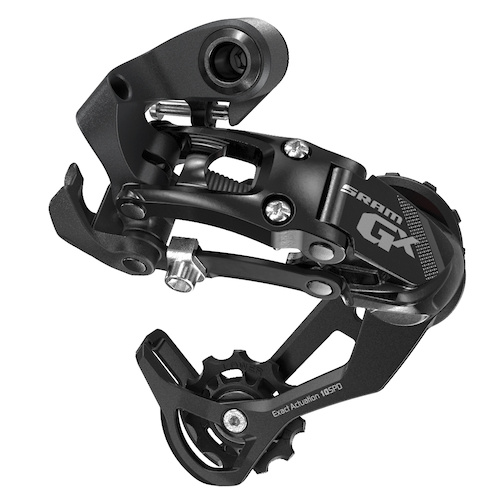 The GX ten-speed rear derailleur looks very familiar.