The annual Sea Otter festival is always home to new gear, much of it being debuted for the first time. It was no different today, although SRAM chose to tackle their show-and-tell in a different manner than most: instead of the usual media circus out in the sun, they showed us their new 650b sized RISE 40 wheels at their quiet campground high above the Sea Otter venue. The small crew that gathered together to learn about the additional wheel size then hit the trails on the wheels, trails that turned out to be surprisingly fun given how much negative chatter the venue receives about its mountain bike courses.
Wheels could still be considered a relatively new addition to SRAM's component lineup, despite the fact that they already offer both carbon and aluminum rim choices in 26'' and 29'' sizes. Riders will soon have another option to pick from, though, with the July release date of the new 650b sized RISE 40 wheels. Why another wheel size? The answer is two fold: SRAM admits that there is certainly more OE (
original equipment
) demand for 650b sized wheels on new bikes than riders looking to make an aftermarket purchase, but the other reason is that they do see enough performance potential from 650b to add it to their roster. Like most, SRAM are happy to admit that they don't expect 650b to take the mountain bike world by storm, but it may be just the ticket for certain bikes on the right terrain. Remembering that the resistance to 29'' wheels was and still is strong, despite the fact that a well designed 29er can put the boots to a 26'' wheeled bike on many trails, makes it clear that many consumers won't be rushing to embrace 650b bikes. With that in mind it is key to remember that the 650b size isn't here to replace our beloved 26'' wheel, or the slightly less beloved 29'' wheel, but rather give riders yet another option that they can use to their advantage. SRAM now offers their RISE 40 wheels in three flavours: 26'', 29'', and the 650b size that you see here.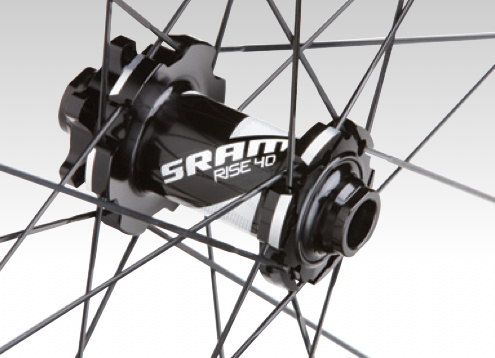 The new 650b RISE 40 rims utilize the exact same extrusion profile as the standard RISE 40 rims, just in a larger diameter, meaning that the same tubeless kit can be used. Going this route allowed SRAM to manufacture and test prototypes far quicker than if they had produced the new wheels with an entirely different rim shape. Word from SRAM is that the 650b project kicked off in November of last year, a relatively short time ago when talking about brining a new product to life. Consumers can expect to be able to purchase the 650b sized RISE 40 wheels this coming July.
RISE 40 650B details:

• 650b (584 ETRO) rim diameter
• 19mm wide rim bed (internal)
• 24 bladed spokes, 2-cross (front and rear)
• Uses the same hubs as standard RISE 40 wheels
• Axle compatibility front: QR or 15mm thru-axle, rear: QR or 12x142mm
• MSRP $550 USD (same price as the 29'' RISE 40)
• Availability: July, 2012
On The Trail
Unlike most product unveilings at Sea Otter, we actually got to hit the dirt with the new goodies that we just spent time discussing. The singletrack around the Sea Otter venue can't be called technical by any stretch of the imagination, but it is incredibly fast, dusty, and full of some great corners. Those three points added up to a fun loop that served as more of an introduction to SRAM's 650b sized offering rather than a true test, but it was enough for us to want to investigate further, a task that we'll undertake on out own trails when we return home.
Our RISE 40 650B wheels were bolted to German made Nicolai test bikes, along with a new 650b Revelation fork and a Monarch RT3 shock that has received tuning updates for 2013 - more on those items soon. The package was new to us, but one thing quickly became very clear: the 650b wheels feel and handle more like standard 26'' wheels than 29'' wheels. While the impression is clearly going to differ from bike to bike, the new RISE 40 equipped Nicolai didn't give us the 'sitting in' feel that is associated with a well designed 29er, but rather felt very much like a standard mountain bike. We honestly can't comment on how the wheel size handles technical terrain - there simply was none of it to be found - but we can see riders being more open to the 650b option given their handling that leans more towards 26'' wheels. The question that needs to be answered in order for us to jump aboard is if the 650b size can come close to offering the traction advantage that 29'' wheels can brag about, but without the geometry challenges associated with fitting the larger wheels to a mountain bike. We're all for more options, but it needs to make sense for us to get behind the idea.
There is bound to be resistance to 650b wheels within the cycling community, but we can only see them gaining more and more traction given that component manufacturers like SRAM and tire companies such as Schwalbe and Kenda are pursuing the concept. 650b wheels and tires have actually been around for many, many years after all, and who is to say that 26'' is the
only
size that makes sense, let alone 29" wheels. In the end it all adds up to more choices for riders to pick from - the 26'' wheel isn't going anywhere, but having the option to pick from three wheel sizes is likely going to be our future.
Photos by Adrian Marcoux
www.sram.com