Filmed and edited by Taylor Sage
Press camps, those media gatherings where companies often do their best to drown us journos with an unrestrained flow of product information, usually seem to take place is a somewhat 'sterile' setting. Hotel meeting rooms filled with people like myself who are furiously scrawling down notes to keep up, often resulting in a sort of completely indecipherable and useless chicken scratch. SRAM's 'Trail House' gathering - notice I didn't refer to it as a press camp - takes place in Santa Cruz, California, and is a completely different experience. Our accommodation was a house located only feet away from the sandy beach, a novelty for this land lubber, and instead of throngs of journalists all converging at once, there would only be two or three hacks in the house at a go. This setup meant that we were able to get far more one-on-one time with the people responsible for the products that we'd be using during out stay. Home cooked dinners, pre-ride coffees from down the street and post-ride beers on the ocean view deck, with long rides and plenty of shit talk between the two. In other words, a great setting to learn about the new Type 2 derailleur while also making the most of our surroundings.
Roller Bearing Clutch
The plus size knuckle on the XO derailleur shown above houses the unit's new roller bearing clutch, a system that applies friction in the forward swinging motion of the derailleur's cage while letting it pivot backwards easily. You'd be correct if you're thinking that you've recently heard about such a system being used on another company's derailleur - they both share the same goal: adding tension to the chain to keep excess slap to a minimum in order to improve shift consistency, lessen the chance of dropping a chain, and greatly quiet noise from chain slap. How they go about it is quite different, though.
How is it different to the competition?
Although the end goal is the same, there are some big differences between Shimano's and SRAM's clutch designs. This not only includes how friction is applied, but also the ability to adjust it... or rather the lack thereof on the SRAM unit. Without comparing how the two systems perform head-to-head (
that will come down the road
), lets cover how they go about accomplishing similar goals with different designs. Inside the Shimano design you'll find that the friction is provided by a steel band that wraps nearly completely around a cylinder attached to the derailleur cage, while the SRAM design employs a tuned polymer bushing and needle bearing combination. While we were denied any photos of the SRAM's internals at this point, they do claim that their layout provides a complete 360 degrees of bushing contact, while Shimano's steel band concedes a small gap between the ends of the friction providing steel band. Does that fact matter? Only time will tell, but SRAM asserts that their bushing design has shown to provide more consistent friction in the long run. Again, we'll have to ratify that claim with a longterm review before agreeing.
The two designs also vary greatly when it comes to being able to adjust the amount of friction applied to the cage. Shimano's setup features two adjustments: an external gold lever that either engages or disengages the friction band, as well as an internal spring adjustment (
accessed by removing a plastic cover
) that adds tension to the steel band via a nut that increases the bands tension around the cylinder. At the other end of the spectrum is the SRAM roller bearing clutch. It comes preset from the factory with a calibrated amount of tension, and while there is no on/off switch, the Cage Lock feature is utilized to allow the cage to be locked in a position that allows for easy wheel removal. Does one system have an advantage over the other? Does simpler win out, or are the adjustments needed? We can't say at this point, but we're looking forward to a proper head-to-head review in the future.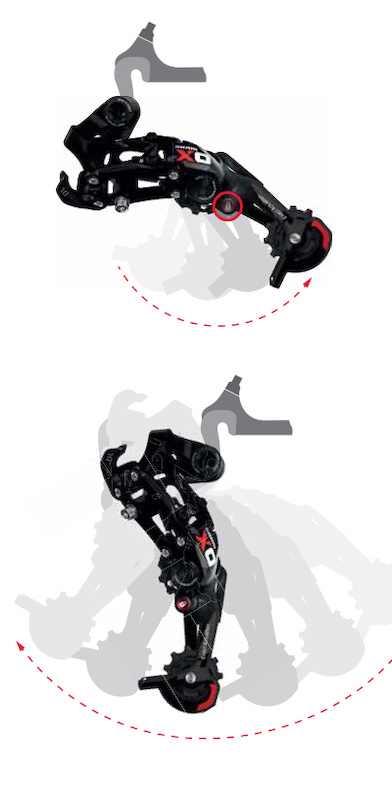 What is Cage Lock?
Put simply, Cage Lock is a small button that locks the derailleur's cage in the forward postion, thereby creating excess chain slack that makes for painless wheel removal and installation. The goal behind Cage Lock isn't to reinvent the rear derailleur, and SRAM doesn't claim to have knocked down any technological doors with the simple push button system, but the idea is simply to make dealing with wheel removal a bit easier. If you are thinking that any mountain biker with his salt shouldn't have trouble dealing with reinstalling his rear wheel, we completely agree with you. But the system starts to look interesting when you consider that it adds only mere grams to the derailleur's overall weight while making life easier, and that it doesn't alter the derailleur's compatibility with any pre-existing components. Oh, and the upcoming Cage Lock equipped Type 2 derailleurs will retail for the same price as the current non-Type 2 version.
Step 1.
Flat tire? Push the derailleur's cage forward to create chain slack, then push the Cage Lock button (
at right, circled in red
) to lock it in place. All of the chain tension will now be removed, creating enough slack to make the job even easier than it is without pushing that little button. While the chain slack created does make removal easier, it mostly comes in handy after you've fixed your flat and comes time to drop the wheel back into the dropouts.
Step 2.
With the cage held in a forward postion, the derailleur and chain are now free to swing out of the way of the cassette. Once your wheel is back in place you simply give the derailleur cage a small nudge forward to release the tension on the button, allowing it to retract instantly and the cage to return to its usual position. What happens when you forget to release Cage Lock before continuing down the trail? Absolutely nothing. The Cage Lock button will release as soon as you hit the first bump, acting as a failsafe and quickly reverting the derailleur back to normal. It also looks like it would come in handy when installing a new chain, thanks to the ability to remove the cage's tension and allow the two chain ends to be joined easier.
On The Trail
We were able to spend three solid days of riding on the new Type 2 derailleurs, and while that certainly doesn't come close to qualifying as a true test, it did give us an idea of what to expect down the road. We first rode the derailleur on a bike equipped with standard XO trigger shifters (
the second day was spent on the new XX Grip Shift - stay tuned
) to give us an idea of how the clutch system affected shift effort, with the conclusion being that while it was certainly noticeable, it was a lighter feel effort-wise than the competition's friction clutch model. This may come as a surprise given the purposeful 'ka-chung' feel of SRAM's shifting - that was still very much the same - but we'd have to venture out on a limb and say that lever force required to shift to an easier gear was lower with the SRAM roller bearing clutch derailleur than what we've felt with Shimano's setup. It is still very early days, though, the first day actually, and this impression could very well change as the system gets much more trail time on it. As for the Cage Lock, it works just as advertised. We suffered a flat tire that gave us the perfect opportunity to test the system while fixing it, and came away impressed with how easy it made the job. We certainly have no problem removing and installing a rear wheel, but we're not on too high of a horse to admit that the tiny button made getting the wheel back in easier, especially because without it the derailleur's roller bearing clutch would make the job difficult. Call us sissies, but we like it.
And what about dropping chains and noise? All of the test bikes were running dual ring XO cranks and front shifters during our stay at the Trail House, a setup that can lead to a dropped chain every now and then when on rough terrain, and especially when not in the ideal gearing combo, but there was little to no bother to be found. Both of our test bikes came through each day's ride without a hint of trouble, and there seemed to be only a single bike in the group who's chain dropped down from the big to the smaller ring on more than one occasion. Not a bad first showing at all. Chain slap noise is harder to quantify given we were riding unfamiliar bikes on very unfamiliar terrain, and we'd hesitate to say that the system makes for a night and day difference in trail noise. But we are confident in admitting that the bikes did seem quiet on the fast Santa Cruz singletrack, it's just that we'd have to ride with the Type 2 derailleur fitted to a bike that we're better acquainted with, and on our local trails, before making an honest evaluation.
Three days on the Type 2 rear derailleur left us eager for more, not due to it blowing us away with how it performed, but more out of curiosity. The new derailleur isn't a paradigm shift in drivetrain technology, SRAM readily admits that much, but rather it looks to be another piece to the puzzle that improves our bike's drivetrains one step at a time. The question is, how does it perform over the long haul? We'll be able to answer that for you in the near future.
Stay tuned for more from the Trail House, including the first ride impressions on both SRAM's new Grip Shift setup and Avid's four piston XO Trail brakes.
Photos by Adrian Marcoux
www.sram.com