The online mountain bike scene nearly had a complete meltdown when SRAM finally released all the details of their seven speed, downhill-specific X01 DH group, something that they had been teasing the public with by having their BlackBox racers aboard it in the preceding months. Given that this was their long awaited answer to Shimano's Saint group, and that it sports a much asked for chopped down cassette, all the fuss was pretty much to be expected. I got to put a few days on the new group in March, but it wasn't until this summer that I finally got my paws on a complete test group in order to see how it functions in the real world. Individual prices for each component are listed below, but a complete group (
shifter, derailleur, cranks, cassette, chain
) starts at $1,100 USD if you add it all up, plus $97 for the XD driver if your wheel doesn't already have it installed.
www.sram.com
@SramMedia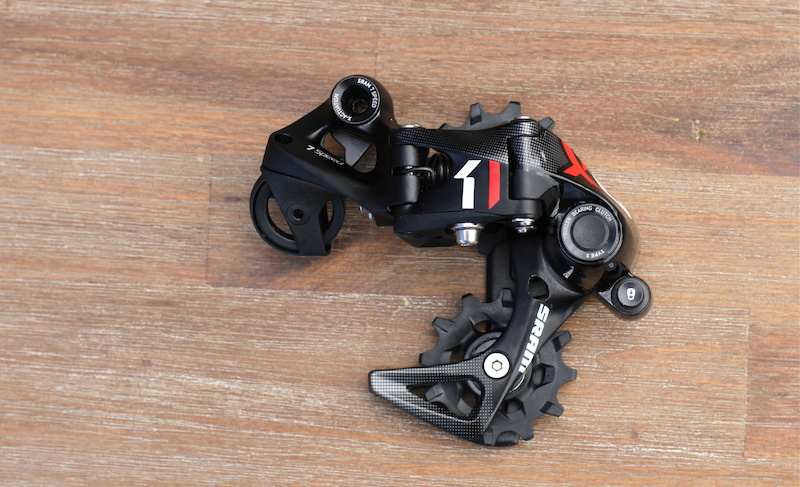 The $277 USD derailleur sports a shorter cage and modified low-limit stop geometry compared to the eleven speed version, and it's available in two cage lengths: a short and a medium that will cover the chain growth of every downhill bike on the market. Many will be able to use the short cage model, but bikes with a more rearward axle path than usual, such as Canfields, should be fitted with the longer of the two options. SRAM modified their fourth generation shifter with a revised stamped steel ratchet wheel sporting four less teeth, which is a relatively simple way to go about it. The $143 USD shifter sports the same ergonomics as found on SRAM's other offerings, with an adjustable thumb lever, two-position mounting, and is also Matchmaker compatible.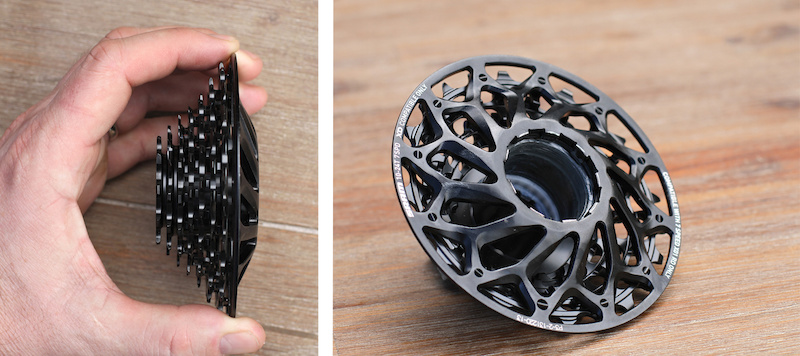 SRAM's X-DOME cassette is arguably the crown jewel of both the XX1 and X01 component groups, with its extensively machined away steel construction and aluminum large cog / backplate combo making for an extremely light finished product. The very same manufacturing methods have been used to create the seven speed X01 DH cassette, with the finished product weighing just 136 grams. That's a bit lighter than their top tier eleven speed RED cassette, and thirty three grams less than Shimano's Dura-Ace offering, although having four less cogs obviously works in X01 DH's favour. Weight isn't the real story here, though, with the relatively large jumps between those seven cogs, yet featuring the same spacing as their 11 speed blocks, counting for much more than a handful of grams being shed. How so? SRAM says that they have data showing that racers are double shifting - grabbing two gears per shift - over fifty percent of the time when running a standard road bike cassette, something that points towards those cassettes having far too closely spaced gearing jumps to be ideal for downhill racing.
Fractions of seconds are lost while slightly easing up on power during those double shifts, which adds up over a short race time. No, that's clearly not going to be all that important point a casual rider or sport-class racer, but consider that the sharp end of a World Cup downhill field is often on the same second and you can begin to see why it might matter. SRAM tested and settled on a 10 - 12 - 14 - 16 - 18 - 21 - 24 spread, as well as an integrated spoke guard that attaches in the same manner as the large 42 tooth cog on their XX1 and X01 cassettes. The $303 USD cassette is also compatible with the same $97 XD driver bodies that their 11 speed cassettes require.

The group's carbon cranks are carried over versions of the X0 DH arms that were previously available, and they come in 165, 170, and 175mm lengths. Weight varies depending on the bottom bracket used, but expect a sub-800 gram total when it's all put together. The X-Sync chain rings are available in 30, 32, 34, and 36 tooth sizes to fit the drive side crank's 94mm BCD, or you could run SRAM's new spider-less rings as well. GXP compatible setups retail for $315 USD, while BB30 version go for $347 USD.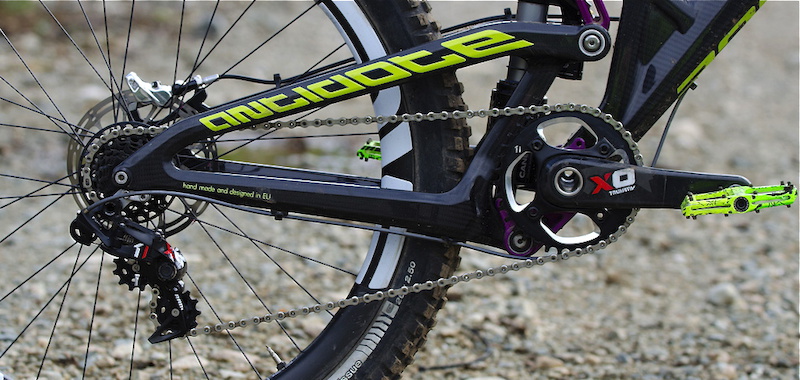 Yes, the Antidote Lifeline DH has chain guide tabs. No, I didn't mount a guide. I didn't drop a chain once, but you should still run a guide.
Pinkbike's Take:
I know what you're thinking: why the hell do you need a downhill-specific drivetrain when the one you have works just fine? The answer is that you probably don't need it if you're recreational descender, and you most likely won't be thinking that the X01 DH is the drivetrain equivalent of the second coming of Christ if you don't go up against the clock at a relatively high level of competition. But, as with anything that's built with a very specific purpose in mind instead of a bunch of different uses, X01 DH most certainly does perform better on a downhill bike than the current norm of combining a bunch of drivetrain bits from different groups. The two most obvious benefits include its ability to remain ridiculously quiet when you're smashing your way over rough ground, even without a chain guide fitted (more on that below, so don't get upset with me yet), and bang-bang-bang snappy shifting that has more traditional setups feeling a bit wishy washy. I remember having to add foam or rubber protection all over frames in order to keep chain slap noise down, but I spent exactly zero minutes doing that on our Antidote Lifeline DH test bike that I bolted the X01 DH group to, and it was likely the quietest setup that I've ever ridden. Don't they say that a quiet bike is a fast bike? Shifting across the cassette feels extremely positive, even compared to SRAM's other single-ring groups, and the 10 - 24 spread felt spot on for use on a downhill bike. I'd argue that going from ten or eleven cogs to seven, and thereby getting a more focused gear range and having to shift less, is likely small beans to a casual downhiller who doesn't race on a regular basis, but it was pretty obvious to me that I was shifting less than I would be if I had another three or four cogs, and when it comes to a downhill bike the less shifting the better.

The photo above shows the X01 DH group without a chain guide, which is clearly going to stir the pot, but it's also how I ran the drivetrain for the entire time I had it. Yes, the Antidote Lifeline DH frame does have tabs for a chain guide, and yes, you'd be an idiot to not run some type of chain guide on your downhill bike, especially if you're spending money to be in the bike park or race on a regular basis. That said, I wanted to be a bit of an idiot when testing the X01 DH group, if only to see how long I'd go before dropping a chain... and I'm still waiting for it to fall off. Plenty of days in the bike park and shuttles on my local mountains have not seen the chain bounce off, but that doesn't mean I'd recommend doing the same to anyone else. In fact, don't do the same. Use a guide so that you can't blame me if your chain does fall off, especially considering that some bikes and some riders are going to be more prone to causing trouble.

I can't really grumble when it comes to anything about X01 DH's performance, which is exactly how it should be given the group's singleminded focus. The one caveat here is that this is an expensive drivetrain that, for the most part, needs to be used together as a whole, at least when it comes to the driver, cassette, shifter, and derailleur. However, I do question if the average downhiller who does some shuttles on the weekend would be spending their money in the right place by picking up an entire X01 DH group to replace their standard nine or ten-speed setup. A competitive downhiller, on the other hand, will benefit from the system's relative low weight, quiet action and, most importantly, the on-point gearing range that won't see you double or even triple-shifting at times. - Mike Levy
Visit the high-res gallery for more images from this review