This morning saw SRAM issue a short press release alluding to a new group titled XX1, a name signifying that it will sit atop their component range alongside the current XX group. While very little information was actually divulged, they do make it clear that it is an entire group based around a single-ring setup (hence the ''1'' designation) that has been engineered for enduro and all-mountain use, as well as being compatible with both Grip Shift and their trigger shifters. The words from SRAM are rather brief, but there are a few points that piqued our interest, notably the mention of an extremely wide range cassette and their use of ''Innovative chain management technology...'' that works with the recently released Type 2 rear derailleurs.
Why A Single Ring?
A single chain ring setup is often the ticket for fit riders who can push the taller easy gear up their local climbs, or for those who spend time on flatter terrain, but making the switch to one chain ring can be an intimidating change for mountain bikers who don't feel they are in good enough shape to get by without a bailout gear. That may change in the near future with SRAM's announcement of its wide-range, single-ring drivetrain that could have more riders considering going the single ring route. Why would a single ring make sense if it offers a more limited gearing range compared to a two-chain ring system? Given the narrow ranges that present one-by drivetrains offer, there are riders who need more gears, and terrain where a single ring is never going to be ideal, but the system's simplicity, often lighter overall weight, and the very fact that there isn't a bailout gear are the selling features for riders who are willing to push themselves.
Devinci's Gabe Fox agrees, telling Pinkbike ''
I think the new XX1 address all of the needs of the Enduro rider, it takes some modifications which the top riders have been doing for years and expands on them, creating a well-thought-out, discipline-specific setup. XX1 will really benefit this category.
" Fox hits the nail on the head, noting that XX1 is likely going to be a tool for a very distinct type of rider who can get the most from the setup.
---
Since the introduction of 2 x 10 we've always offered choices, that's been clear from our gearing options. We're not here to change standards, we're here to innovate. Innovation comes from within SRAM and our global athletes, something that has been made apparent as we continue to sweep the podium at World Cup cross-country events and in the enduro scene. But by no means is this a replacement for 2 x 10, a system that makes the most sense for the majority of people.
- Tyler Morland, MTB PR Manager
---
That said, there are compelling reasons for a one-by drivetrain in the rapidly-expanding 29er marketplace as well. With the tire and front derailleur competing for the same space in the rear of the frame, bike designers would love to eliminate it entirely. A single-ring drivetrain would allow for shorter chainstays and wider tires without compromising mud clearance or the chainline. But the single-chain ring drivetrain will not gain traction in the wider market unless it can offer a gearing spread that is at least comparable to existing two-by-ten drivetrains like SRAM's XX.
11 Speed Cassette
SRAM's boasting of their XX1 group having the widest gearing range available has us believing that the new group will utilize an 11 speed cassette - a fact that is backed up in the photos shown here - confirming rumors that have been circulating within the industry for months. The reasoning behind this is that the gear ratio jumps from cog to cog are close to ideal on the current two-by drivetrains using 11-36, ten-speed cassettes. To match that spread with a single chain ring, SRAM's drivetrain engineers would need to increase the number of teeth on the largest cassette cog and also reduce the number of teeth on the smallest cog. To do so and remain within the confines of a ten-cog cassette, however, would create larger jumps between gears. Presently, the ideal jump from cog to cog has been established at 13 percent - which has been proven successfully in competition and the trail. This knowledge explains why SRAM added an eleventh cog to the cassette - a production first in the mountain bike world. (Although 11-speed has been available on the road for a while now.)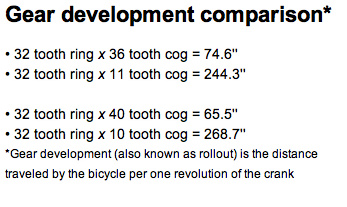 So, what sort of cassette gearing would be required of an 11-speed cassette to create a range that approaches that of their current 2 x 10 setup? Two important facts have to be kept in mind when predicting what the range will be: first, the XX moniker designates the group's race ready intentions, meaning that it likely won't be geared for casual riders who don't get out often. While XX components are certainly used on bikes that never see a race course, they are intended for fit riders who push themselves. It is for this reason that we don't expect XX1 to offer anything close to granny gear type numbers. Second, many full suspension bikes are designed so that their suspension functions best when their chain is close to where it would be when on a middle chain ring sized ring. With that in mind we expect it to use a ring that is at least as close in size to a standard 32-tooth ring, meaning that the XX1 cassette will likely feature a much larger spread than anything we might anticipate at first in order to compensate.
SRAM would not tell us exactly what the gearing options will be for XX1, but with a little sleuthing and a calculator, we can say with a level of certainty that the small cassette cog will be a 10-tooth (
or even smaller
), while the larger one will be either a 41 or 42-tooth sprocket. Why? If SRAM's claim that X1 has the widest gearing range available holds true, then the absolute minimum spread between the large and small cassette cogs would have to be 10 by 41 teeth. We counted the chain ring teeth on Jerome Clementz's Cannondale Jekyll shown above and guessed it could be a 32 (
a figure that matches the smallest big-ring available for its X0 crankset
). If one compares the gearing spread of a 39 by 26 two-ring crankset using an 11 by 36 cassette, we arrive at a 3.54:1 high gear and a 0.72:1 low gear. Our theoretical SRAM XX1 32-tooth single-ring crankset driving a 10 by 42 cassette gives a similar spread, with a slightly lower, 3.2:1 high gear and a slightly taller, 0.76:1 low gear. The cassette in the pictures leads us to believe that SRAM chose a 42 tooth large cog, because a 13% jump from the existing 36-tooth cog would be 41.5, thus a 42-tooth cog would make more sense. The smallest cog in the cassette depicted appears larger than the nine-tooth sprockets we have seen on Hope and Shimano-hybrid cassettes, so our bet is ten teeth there.
Technically, there is room to add an eleventh cog on the large end of the existing SRAM cassette without requiring a special freehub body because the angle of the drive-side spokes makes room for it there. A close look at the rear-view of the cassette seems to reveal the lack of an external lock ring – a necessity which could allow the cassette to be shifted a few millimeters to the right without causing clearance issues with the frame. The design of the cassette suggests that the 42-tooth sprocket is pinned to the adjoining cog. We are curious to see if SRAM will introduce a narrower 11-speed chain, although it is doubtful as the prototype XX1 system has been in use for some time and developing a new chain would require a huge commitment. Hopefully, their existing ten-speed chain will be compatible.
---
It's great to see advancements in the sport of cycling, especially the ones that make the ride more enjoyable. A single ring setup may start out a little daunting, but for the right experience and done properly, it's the ticket! In the case of enduro riding, the terrain and speeds can get pretty insane and the less I have to worry about my bike and my equipment the better. The two scenarios that really pop out at me are smashing over things like rocks and logs, my buddy that crashed right in front of me, and getting on the gas out of corners. For those two, the extra clearance of a single ring and the fact, that chain retention is far improved, means I can get over more obstacles without hitting it (good news), and I don't worry about throwing in some hard pedal strokes when the chain is not on (if you have plowed your own top tube, you know what I am talking about). Not to mention that it's lighter and the handlebar cockpit is cleaned up.
- Sam Benedict, Specialized MTB Product Marketing
---
One Chain Ring, But A Wider Gearing Range
Again, it is important to keep in mind that XX1 is clearly going to be aimed at riders who are fit enough that they may be already considering going to a single ring setup. If XX1 does combine a 32-tooth ring with a 10 - 42 tooth cassette, it will actually include a lower low gear and a higher high gear than any current single-ring setup: a 32-tooth ring and 36-tooth cog gives a gear development of 74.6'', while a 32/42 combo offers a lower 62.4'' development. At the other end of the spectrum you'll find that a standard 32/11 allows for a 244.3'' development, compared to a 268.7'' development from a 32/10 high gear (
note the graphic above
). If you fell asleep reading all those numbers, then all you need to remember is that a single-chainring crank driving an 11-speed cassette with a 10 by 42 tooth range has a similar gear selection than present 2 by 10 drivetrains. That is certainly a wide enough range for a fit rider to make do with.
New Rear Derailleur
A new 11 speed cassette will also require an entirely new rear derailleur design, one that employs different geometry from what is currently used. A prototype version of the derailleur can be seen at right, and it's clear that it is quite different from the 10 speed derailleurs available now. The most obvious difference is the pully wheel that the shift cable rides on before being clamped in place on the actuation arm. The cable clamp point is also now under the front side of the parallelogram, as opposed to tucked behind as found on the current design. You can also make out the Cage Lock button just below the derailleur's knuckle, signifying that the prototype also uses SRAM's one-way roller clutch system that applies friction in the forward swinging motion of the derailleur's cage while letting it pivot backwards easily. This adds tension to the chain to keep excess slap to a minimum in order to improve shift consistency, lessen the chance of dropping a chain, and greatly quiet noise from chain slap.
Don't expect the current 10 speed shifters or derailleurs to be compatible with any of the new 11 speed components, although SRAM has stated that the new and yet to be named derailleur can be controlled with either Grip Shift and trigger shifters, meaning that we can expect to see 11 speed versions of both in the future.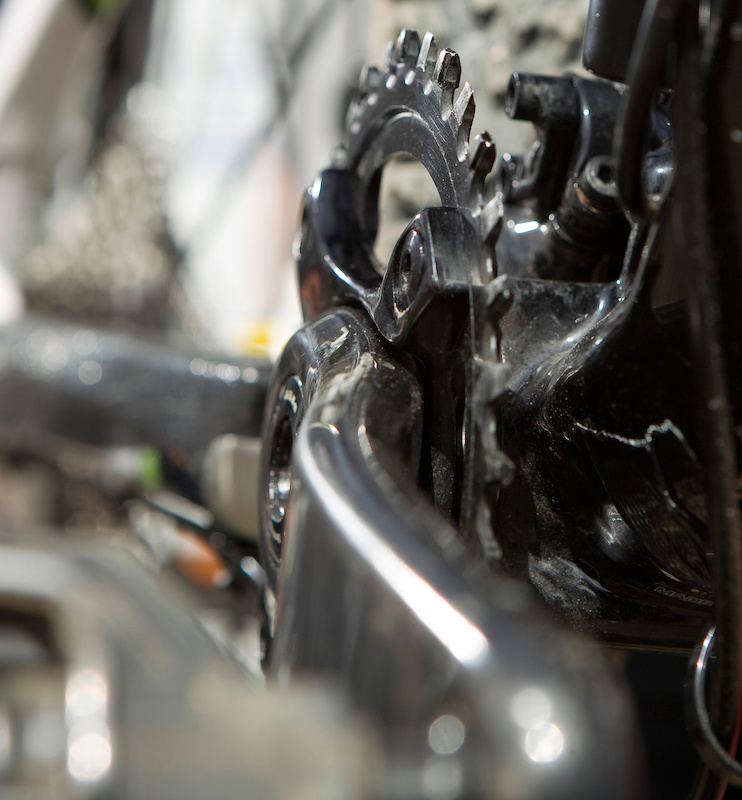 Modified Chain Ring Teeth
When you think about a single chain ring setup you surely also picture a chain guide in the picture, be it either a lightweight or full-on guide, to help keep the chain in place. But what if a layout could be used that managed to keep the chain on the ring without requiring a guide? Not using a guide would eliminate chain rub and complication from the equation, not to mention the added weight the comes along with bolting a chain guide to the bike. SRAM's new Type 2 rear derailleur increases chain tension, a step that goes a long way to keeping the chain on over rough terrain, but we believe that XX1 goes a step further than that.
The photo to the right shows a prototype XX1 chain ring that, if you look closely, sports some very different looking teeth. This, we believe, is what SRAM is referring to when they mention ''
Innovative chain management technology...
''. It looks as if SRAM has approached the challenge of chain retention right at the heart of the matter, by designing chain ring teeth that help to hold the chain in place. Shaping the chain ring teeth is nothing new - inspect the rings on a two or three chain ring crankset and you'll notice how some of the teeth are actually shorter than others, as well as pins and shaping just below the teeth, details that are all there to encourage the chain to move from one ring to the next as fast as possible. SRAM has likely done just the opposite with the XX1 chain ring, although it remains to be seen if the design can be as effective as a lightweight upper slider-only type guide. We still expect to see a lightweight guide intended to work with the new XX1 group, though, regardless of the clever tooth shaping.
Pinkbike's take:
| | |
| --- | --- |
| | We are big believers in single chain ring setups, with many of our personal bikes sporting 10 speed cassettes combined with a single 32 tooth ring. We've found that this setup works quite well, despite our rather steep and hilly local terrain, but we do admit that there are situations where it is far from ideal. The issue boils down to gearing range, or rather the lack of it, during those early season rides when we're far from being fit. It isn't just the lack of low range, though, but also those times when we find ourselves wishing for a bigger gear. And that's what has us so excited about XX1, with its wider gearing range that will allow more riders to take advantage off running a single chain ring setup. Having said that, we're sure that SRAM is fully aware that there will be resistance to a new 11 speed component group, even if it might make sense from a performance point of view. The current 10 speed systems are not going to disappear anytime soon - 2 x 10 makes more sense for many riders - but think of XX1 as an option that could suit certain riders and conditions. The bottom line is that 10 speed isn't going anywhere anytime soon. XX1 will be an option that will work for some riders in some places. The math proves that it can be used to create a simpler drivetrain that actually has a wider gear spread than some double ring combos. Now we just need to ride it. - Mike levy |
www.sram.com