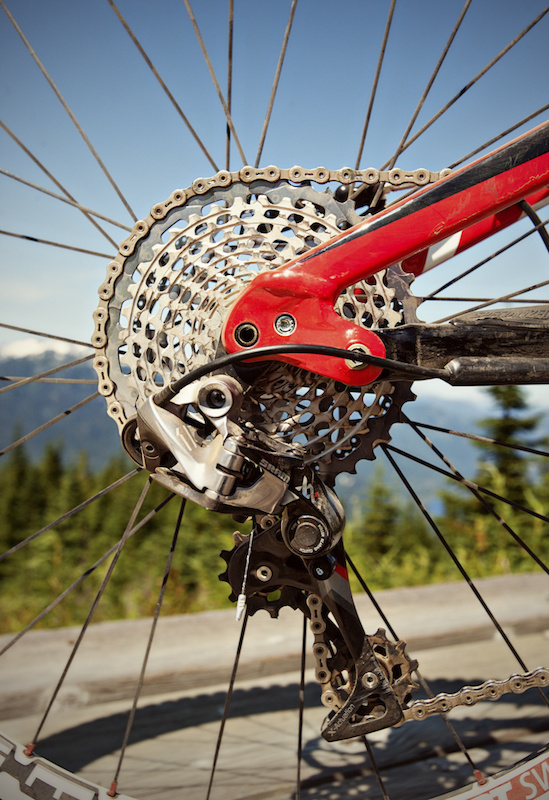 DH Beginnings
While the XX1 group is aimed squarely at enduro racers and fit trail or all-mountain riders, the rear derailleur concept was originally conceived purely for DH use where the bikes use only a single chain ring. The thought was that current rear derailleurs must also handle duties as a consequence of having multiple chain rings: that is, take up the extra chain slack, or allow for enough slack to shift up to the big ring. Eliminate those two jobs and the rear derailleur can be optimized strictly for rear shifting. That early prototype featured a 'straight parallelogram' that moved directly across the cassette, unlike the angled, 'slant-parallelogram' design found on all modern derailleurs. The slant parallelogram is necessary to keep the derailleur's upper guide pulley close to the cassette cogs while the pulley cage is busy trying to reel in and pay out excess chain as the front changer is shifted between chain rings. It wasn't until a few years down the road that the Straight P concept was looked at again when SRAM began development of a single-ring drivetrain for all-around use.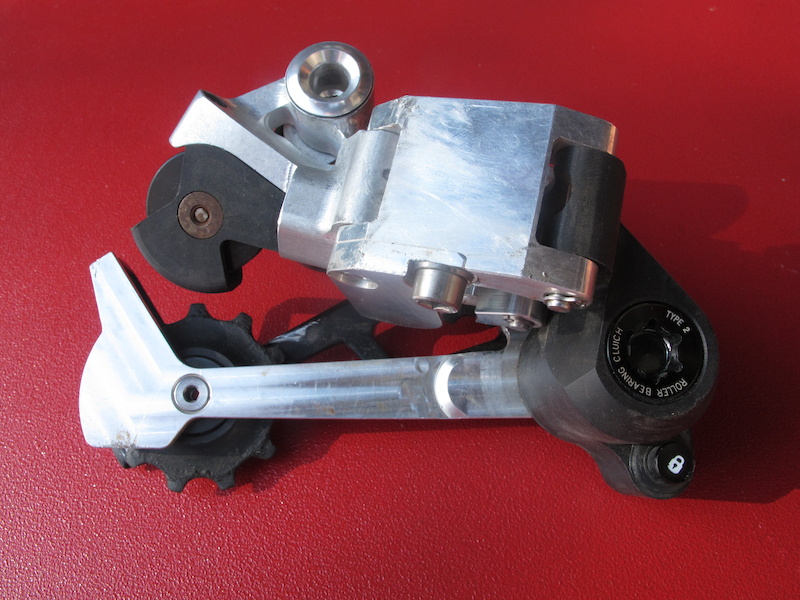 The Straight P design will only ever function correctly when combined with a single-ring crankset due to its inability to manage the difference in chain length required by multiple rings, but the concept presented other challenges as well. In order to preserve shift speed and precision, the derailleur's upper pulley must track the cassette relatively close, a task that is accomplished on a standard derailleur by way of the slanted parallelogram. The same task on the XX1 unit is performed by a drastically offset upper pulley location that sees the pulley wheel move to the correct position as the cage is pulled forward by chain tension (
in the photo above, notice the upper pulley's position well behind the cage pivot
).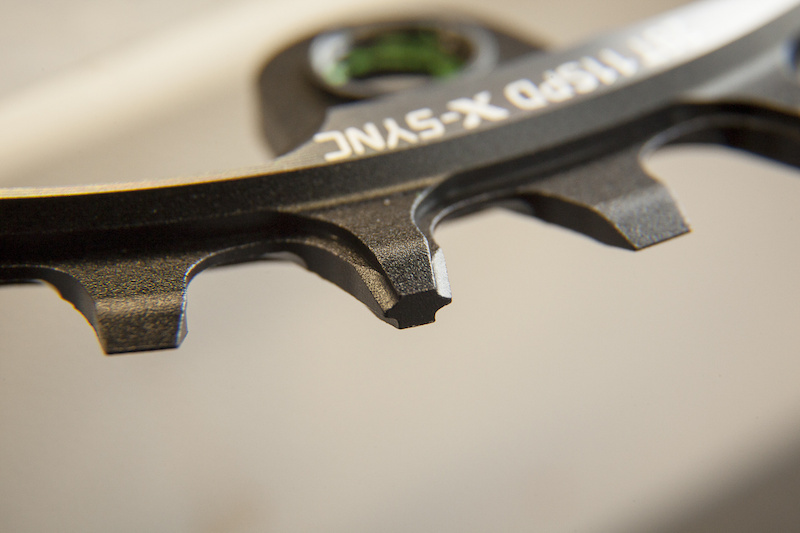 Techy Teeth
Much like how the XX1 rear derailleur originally began as a product for the DH world, the group's X-Sync chain rings also have roots in another realm: touring. The story goes that a unorthodox chain ring was developed for cycle touring that employed radically shaped teeth designed to hold the chain onto the ring as the bike was being ridden over rough roads, thereby keeping the casual cyclist from having to get themselves covered in grease when reinstalling the chain. Although XX1 uses the same concept, the idea has been taken to the next level. The design uses alternating tooth profiles; one with a thicker and heavily stepped shape, followed by a more standard looking tooth. When viewed from above, the alternating teeth match the inner profile of the male and female chain links. The radical teeth work with the XX1-specific chain to limit the chance of it lifting up and off of the ring. Size options will include 28, 30, 32, 34, and 36 tooth rings, although odd tooth ring sizes will not be available due to the alternating pattern of the X-Sync design.
The XX1 cranks themselves are actually the same carbon arms as used elsewhere in SRAM's lineup, but use a different aluminum spider with a more compact bolt pattern that allows for smaller diameter rings to be fitted. Interestingly, the crank spider is also offset slightly to allow chain rings to be removed and installed without having to pull the drive side crank off of the bike. The 650 gram crankset (
claimed, w/ BB
) will be offered with both BB30 and GXP bottom bracket spindles.
XX1 On The Trail
We could go on and on about the features and technology employed on XX1 group but, this being our first proper ride on the new 11 speed system, we're more interested in how XX1 performs. Our four hour ride on the group doesn't add up to a review by any stretch of the imagination, although the rough and technical lap that we did (
Top of the World, Khyber, and into some lower trails
) was more than enough for us to return with some initial thoughts.
11 Cogs, Same Action
What does an eleven speed drivetrain feel like in use? As it turns out, a lot like a ten speed drivetrain - this is a good thing. The shifter itself has a slightly different feel to it, especially when pushing on the thumb paddle, that we were told is down to the combination of its X0 internals and the carbon fiber thumb paddle lifted from the XX shifter pod. The difference is very subtle, and shifting in either direction is very SRAM-like regardless, with a familiar 'ka-chung' from both paddles that offers a positive feel. If you like how SRAM's current ten speed shifters work, you'll likely be a fan of XX1's tactile action.
Pushing the XX1 shifter's thumb paddle through its entire stroke moves the chain over five cogs, the same as on their ten speed shifters; the release trigger to drop to a higher gear is also the same, with it offering single jumps per push. Shift speed is quick, and we would say that it is slightly faster than what a well setup ten speed drivetrain offers, although this is to be expected given the tighter cog spacing. What did come as a bit of a surprise, though, was just how large of a range the 10 - 42 cassette truly offers. It's one thing to compare gear charts and speculate as to what it will feel like on the trail, but another entirely to shift through the massive cassette, from top to bottom, and actually feel the range for yourself. Our ride didn't include much extended climbing, but we did have to make our way up some seriously steep, granny gear worthy pitches. Shifting up to the pie plate-sized 42 tooth cog allowed us to power up all but the steepest of mandatory walk sections, and we feel confident in saying that most reasonably fit riders will be able to get by with doing just that. Keep in mind that our Enduro test rig was fitted with a 34 tooth ring, and that you could easily drop down to a 32 or 28 tooth option, lowering your entire gearing range to suit your terrain. Those near vertical portions of the trail did reveal one possible weakness of the XX1 system, though, in that getting surprised by a steep pitch necessitates that the rider shifts across the cassette to access the easiest gear. The same rider on a double ring setup only has to shift once, moving the chain down from the big to the small ring, in order to obtain a similar gear.
On the other end of the spectrum, dropping down to the ten tooth cog gives you a massively tall gear that we never came close to spinning out, and can't imagine anyone being able to do so on singletrack, even on Bend, Oregon's, mega-fast trails. More importantly, it refused to skip when we put the power down over rough sections. Conditions were about as dry and dusty as we've ever ridden in, so we can't speak to how the cassette, and especially the smaller cogs, will do at clearing mud that might otherwise prevent the chain from engaging properly, but we suspect that SRAM has spent a fair bit of time running the system through grime during the testing phase.
Chain Guide Optional

Our XX1 spec'd Specialized Enduro was, surprisingly, put together without any type of chain guide. It looks odd to see a bike of the Enduro's stature sporting a completely visible chain ring, almost incomplete in away. That wasn't the case, though, with SRAM confident in their chain ring's X-sync tooth profile's ability to keep the chain in check. The Type 2 rear derailleur is also an important part of the system, as its chain tension-adding clutch works wonders at keeping the chance of derailment to a minimum. Did we lose a chain at any point during the ride? Nope. Are we surprised? Yup. We came down some seriously chunky, stepped sections of trail, most of which we would expect to bounce a chain off on any bike not equipped with a guide of some sort, but we never once had an issue. Feeling somewhat defeated that we couldn't dislodge the chain from its home, we went so far as to make sure to be in the smaller, ten and twelve tooth cogs - the gears that offer the least amount of chain tension - when crossing over rough sections. We even tried back-pedalling over rough, fast singletrack. All of our efforts to derail the chain were stymied, with it staying put regardless of what we did.

This doesn't mean that all XX1 riders will be able to get by without a guide - some bikes seem to throw chains more often than others - but we'll say with certainty that we'd at least run the Enduro sans guide on our home trails without worry. Super-D and Enduro racers will likely still use a guide for rough tracks, but it looks like XX1's X-Sync design could eliminate a lot of guide-related setup headaches.

Stealth Mode

With no chain guide fitted, we expected our XX1-spec Enduro to make quite a racket over rough terrain, but we actually had the opposite experience. The bike was extremely quiet, even when the chain was in the smaller cogs and tension was at its lowest. Part of this is down to the lack of a front derailleur cage for the chain to slap against, but the clutch-equipped Type 2 rear derailleur and grabby X-Sync chain ring surely played a role as well. It has been said that a silent bike is a fast bike, and the Enduro's surprisingly quiet ride certainly added to the trail experience during our time on it.
Questions Remain
• Our first ride on SRAM's XX1 left us with nothing to complain about, but we still have a few questions that only time can answer. While we were blown away by how well the Type 2 derailleur and X-Sync chain ring worked to keep the chain on when crossing over rough terrain, we want to know how well the ring's radically shaped teeth will function once they start showing some wear. Will the fancy X-Sync technology be for not after half a season of hard use? And speaking of wear, keep in mind that XX1 users will be spending
all
of their time with the chain on that one ring, as opposed to a dual ring setup that sees the wear spread out between both rings.
• Many riders will consider the group's gearing range too tall for them, either for fitness or terrain reasons, which leads us to believe that SRAM will soon be offering a cassette with an even wider gearing range. Sound ridiculous? SRAM's Chris Hilton pointed out that the rear derailleur's upper pulley sits far enough away from the large 42 tooth cog to allow for yet a larger option. Will we see an X01 group with an even broader gearing range, or another XX1 cassette choice?
• Given that the XX1 rear derailleur has its roots in an unrealized DH-specific group, we believe that SRAM will debut a DH derailleur using the same straight parallelogram design as found on XX1 - it only makes sense given that the design looks to be ideal for use with a single chain ring setup. We don't believe that it will be eleven speed, though, more likely ten or less, but it will replace the current X0 DH derailleur that uses a shorter knuckle to keep the upper pulley close to tight-range cassettes. SRAM refused to comment when we posed the question, but they also didn't deny it.
Pinkbike's Take:
| | |
| --- | --- |
| | The XX1 group is certainly not going to be for everyone - its $1499 USD group price will make sure of that - but it could be just the ticket for a fit rider who is looking to simplify their drivetrain. No, it doesn't offer the same gearing range as a double-ring, ten speed setup, but that isn't SRAM's goal with XX1. What the group does offer, though, is a simpler drivetrain layout that is aimed at strong riders who know exactly what type of gearing they need. And we're not talking about only cross-country racers, but also fit trail riders out there as well. The single ring group should also have an impact on bike design - will we see frames built without front derailleurs in mind? We're betting that is exactly what will happen, especially in the 29er market where front derailleur clearance issues with the rear tire have been a concern. The final point to keep in mind is that SRAM is not trying to replace the ten speed drivetrain - XX1 will be one option of many that allows riders to choose what makes the most sense for them. - Mike Levy |
www.sram.com
Photos by Adrian Marcoux