Some say the days of the hardtail are dead and buried, but don't go saying that to Stanton Bikes. The small UK based company has made quite a name for itself over the past few years amongst those who still appreciate what a great hardtail can offer, and this latest Switchback looks to build upon the success of their Slackline frame.

The Slackline is their 26" wheeled frame that can throw its hand to pretty much anything, and in simple terms they've taken the DNA of that frame and injected some larger 27.5" wheels, with the result being this new Switchback. It's available as a frame only in either titanium or Reynolds 631 steel, with prices being £1599 and £550 respectively, or you can go for a complete build as tested here. Stanton Bikes offer a couple of upgrade options on the standard build, but the only one we opted for was the addition of a Reverb dropper which put the final cost at £2480 with the steel frame.
---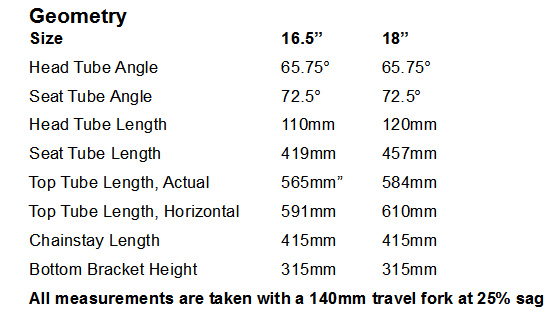 Stanton Switchback Details
• Intended use: trail / all-mountain / fun
• Wheel size: 27.5''
• Reynolds 631 steel main tubes
• BOS Deville AM 140mm fork
• 30.9mm dropper post compatible
• Interchangeable dropouts
• Sizes: 16.5", 18"
• Weight: 28lbs 11oz (size 16.5" w/o pedals)
• MSRP: Frame Only £550 GBP (approx. $844 USD), Complete £2480 GBP (approx $3807 USD)
•
www.stantonbikes.com
,
@StantonBikesUK
---
Frame Design
For some reason the UK has been a real hotbed for what's probably best described as 'aggro hardtails'. If you look at the majority of hardtails on the market, the ones from the big players, you'll find that they are based upon your traditional XC style racing hardtail, i.e. short travel forks, steep head angle etc, but along with some other likeminded companies Stanton Bikes believe a hardtail can be so much better than that.
With no rear suspension to deflect attention there really isn't anywhere to hide when it come to making a hardtail, and subtle differences in construction and geometry can make big differences out on the trail. I can give you great example of this…a while ago I rode the original Stanton Slackline and loved it. Then I got the chance to ride a later version that ran a 31.6mm seatpost rather than a 27.2mm. Everything else was the same, but I couldn't believe the difference in the ride, so much of the originals 'life' had been lost, and it was all because of that fatter seat tube.

I was a little worried that the beautiful feel of a quality Reynolds 631 double butted steel frame would once again be dulled thanks to the dropper friendly seat tube on this Switchback, but without giving too much away too soon, the first ride proved me wrong. I couldn't work out how Stanton Bikes had managed to achieve this, it was messing with my head, so I got on the phone to them. It turns out that with this frame they've gone for a 30.9mm rather than 31.6mm internal diameter seat tube, which also has a slightly thinner wall section, and they've taken 0.1mm off the wall thickness of the Reynolds 525 seat stays. Like I said before, seemingly trivial differences can make the world of difference.

There's one key aspect of this frame though that could never be described as a subtle change from the norm, and that's the head tube sitting at a seriously slack 64°. That might sound a little insane at first, but you can't really compare the head angle of a hardtail with that of a full suss. The reason being that when you sit on a bike with front and rear suspension they should both sag together, therefore maintaining the static head angle, whereas with a hardtail only the front can drop, which of course steepens the head angle. It's because of this that Stanton Bikes choose to measure the geometry with a 140mm travel fork at 25% sag. This puts the head angle at 65.75°, and it's that number that Stanton believe you should use to compare against the static head angle of a full suspension bike. Yes it is still considerably slacker than most hardtails (even when compared against their static measurements), but at the same time it suddenly seems a lot less crazy and a lot more on the money.


So yes, Stanton Bikes have well and truly sweated over the finer details on this frame, and so it comes as little surprise to see that more regular concerns are equally well taken of. Up front the 44mm headtube ensures compatibility with either tapered or regular steerer tubes, and whilst you are at the headtube it's hard not to notice the welcome finishing touches such as the logo in the top tube gusset and the classy head tube badge. As you move further back you find yet more features to aid compatibility, such as ISCG 05 tabs, routing for a front mech, and replaceable dropouts which allow you to choose between 12x142, 10x135, or horizontal. Throw in routing for full-length gear cable outer and a stunning stove enamelled paint job, and it really is hard to find a fault.
---
Specifications
Price
$3807
Fork
BOS Deville AM 140mm
Headset
Cane Creek EC44 / ZS44
Cassette
Shimano SLX, 10 speed, 11-36
Crankarms
Race Face Ride 32t
Rear Derailleur
Shimano SLX
Chain
SRAM PC1031
Shifter Pods
Shimano SLX
Handlebar
Race Face Chester 740mm, 20mm rise
Stem
Race Face Chester 50mm
Grips
SDG Hansolo Lock-On
Brakes
Shimano XT
Wheelset
Race Face Turbine
Tires
Onza Ibex FRC120 RC² 55a, 27.5 x 2.4 front, 27.5 x 2.25 rear
Seat
SDG Duster
Seatpost
RockShox Reverb 30.9mm
---
| | |
| --- | --- |
| | I was sure there would be some of that tell-tale slack head angle flopping around going on, but there wasn't really... Honestly, this bike has really made me question why we've ever built hardtails with steeper head angles. |
Climbing / Handling
It doesn't matter if you've got the most efficient full suspension bike in the universe, nothing can match the feeling of instant power transfer that you get from a hardtail. Yes, technical climbs are more of a challenge, but to be honest I found that to be a blessing in disguise. Having to concentrate more on technique meant that my mind didn't have chance to fill itself with the usual climb related grumblings. You might think that a hardtail equipped with a 140mm travel fork that sits at a slack 64° (static) would be a recipe for disaster on steep climbs, but I was pleasantly surprised by the bike's ability. I was sure there would be some of that tell-tale slack head angle flopping around going on, but there wasn't really. When the climbing got steep and technical enough to induce any kind of vagueness up front I was already looking to get out of the saddle, at which point my weight naturally moved forward, which in turn compressed the forks and steepened the head angle. Honestly, this bike has really made me question why we've ever built hardtails with steeper head angles.
If there was one thing though that did hinder progress when things got really challenging it was the gearing. The 1x10 setup with an 11-36 cassette is always going to be a little limited in that respect, but if you can't live with it there's two options relatively easy options. Firstly you could fit a front mech and some more rings up front, or even easier than that you could go for the OneUp Components upgrade that Stanton Bikes offer. For an extra £120 you get an XT cassette fitted with the 42t expander sprocket, and you also get a RAD cage fitted to the rear mech.
Sizing wise at 5'9" I found the 16.5" frame spot on, better in fact than the same size Slackline. The reason being that Stanton have increased the length of the top tube slightly. For some reason, and don't ask me why, I prefer full suspension bikes on the larger side, whereas I like my hardtails to be a little more petite, so it could be that if you're the same height as me you might prefer the 18". Different folk, different tastes and all that. I would say though that if you're one of those really tall folk then unfortunately you might be out of luck even with the 18".
| | |
| --- | --- |
| | Against a stopwatch you may well be a little slower than on something with travel out back, but if anything the sensation of speed is higher, you just feel on the edge, and that's where the grin factor comes in. |
Descending
Conventional wisdom might say that when the ground starts to drop away, so too does the appeal of a hardtail, but conventional wisdom has clearly never ridden the Switchback. This bike truly shines when you point it downwards, so much so that it had me grinning from ear to ear. Yes I would have liked a little more width up front than the 740mm bars offered me, but apart from that I loved every second of it.
The low and slack nature of this frame is undoubtedly at the core of what makes this bike so good at descending, but at the same time the performance that the BOS Deville fork brings to the table cannot be ignored. The marriage of the two is quite simply superb. If you've ever fitted a 140mm fork to a hardtail with a steeper head angle then you no doubt know the trouble it can get you into. Dive through that travel and you suddenly find yourself in charge of a live wire. This bike on the other hand just encourages you to charge thanks to that winning combination of a slack head angle and a fork that offers unbeatable levels of support.
Line choice obviously becomes a little more critical when aboard a hardtail, but it's amazing what you can pile though on this thing. Even when there's no other option apart from tackling a rock garden head on you can just let the rear end do its own thing whilst the fork keeps you on the right track. Against a stopwatch you may well be a little slower than on something with travel out back, but if anything the sensation of speed is higher, you just feel on the edge, and that's where the grin factor comes in. There's no doubt in my mind though that you can ride this thing considerably faster downhill than you can on a 'regular' hardtail. Even with the bars that were a little narrow for my liking I always felt in control of what was going on up front. The Stanton Switchback is a ripper, there's no question about it.
Component Check
• BOS Deville AM 140mm fork:
What a fork! The Deville offers an incredible blend of sensitivity and composure that you simply won't find elsewhere. The sensitivity provides grip like you wouldn't believe, whilst the seemingly unflappable damping helps to ensure that the fork only ever uses what travel is needed. This lack of any diving is especially welcome when you've got a relatively long travel fork fitted to the front of a hardtail.

• Shimano XT brakes:
These have become my benchmark brakes, and for good reason. They offer faultless performance in terms of power and control, and crucially I've yet to find an alternative that can touch them in the reliability stakes.

• Shimano SLX drivetrain:
I think Shimano are doing themselves a disservice with this SLX kit. I mean it works so well that it makes you seriously question if it's worth spending more on their higher-end offerings.

• Race Face Turbine wheelset:
With no suspension at the rear to soften the blow, any hardtail needs a sturdy set of wheels if they're going to survive, yet at the same time if you fit some that are too stiff it'll be the rider that ends up taking a beating. These Turbine wheels struck a good balance.
• Onza Ibex tire:
Onza isn't the first name that springs to mind when you think of tires, and to be honest I thought I might have to swap these for testing, but their performance was a welcome surprise. It was only when faced with serious mud that they became unstuck, the rest of the time they provided great levels of predictable grip, without feeling sluggish.

• Race Face Ride Crank:
I've long been a fan of Race Face cranks, but unfortunately I just couldn't get on with these ones. The reason being that the area around the crank bolt on the drive-side sticks out too much. I'm not a 'heels in' rider by any means, I never normally scuff cranks, but my ankle bone took an absolute beating with these.
Pinkbike's Take:
If you think there's no place in your arsenal for a hardtail then you need to ride this one. It doesn't really matter what kind of rider you are, I'm sure it'd put a smile on your face, and isn't that what mountain biking is about? There's been so much talk over the years about 'do it all' full suspension bikes, but I think if any bike can genuinely be described as such then it's this one. I'd be more than happy to spend a day shuttling DH runs on it, likewise going for a mammoth XC ride, or even just having a bit of fun down at the local dirt jumps. It might not be the weapon of choice for serious racing, but in the right hands it's still an incredibly capable bike, and it's always fun. It also has to be said that there's something deeply satisfying about leaving a full suss rider eating your dust while you pull away on a hardtail. Childish maybe, but I think there's still a kid in all of us mountain bikers.

So yeah, I like this bike a lot, and that's before I even think about the fact that you can pick up one of these frames for far less than a decent suspension one, or the fact that this frame will go on for years without the need for any servicing. Likewise, a bike like this can teach you skills that you'd possibly never learn on a full susser, and those skills will just make you ride even faster when you do have some travel in the rear. Would I be tempted to buy a different hardtail? Well if I had the money I'd be sorely tempted to buy the Ti version. - Ed Haythornthwaite
---

About the Reviewer
Stats: Age 37 • Height 5'9" • Inseam 32" • Weight 170lb • Industry affiliations / sponsors: NoneBike shop mechanic, World Cup mechanic, DH racer, frame builder, bike journalist…bikes have been a major part of Ed Haythornthwaite's life ever since he was brought up in the wilderness that is Dartmoor. In those days suspension of any form was a rarity, and riser bars? What the hell were they? Over the years he has witnessed all the trends, tried his hand at pretty much anything involving a bike and dirt, and now is never happier than on a natural, root and rock laden track…aboard a perfectly set up bike.
Must Read This Week