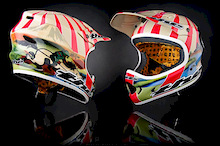 THE full face DH-405 helmet
Toby Henderson Enterprises (THE) offers their comfortable DH-405 full-face helmet (aka The One) in a variety of styling paintjobs for 2009.

Toby Henderson has been making bike protective gear for several years and the quality has always been a cut above. For 2009, THE offers the DH-405 full face helmet in sizes XS-XL and in both composite and carbon fiber shells. Each material offers 4 individual color schemes, for a total of 8 available paint jobs.