If you've never had a go at bleeding your Shimano brakes, now is the time. Today's Tech Tuesday is here to guide you through the steps from start to finish and there is no reason to be intimidated - it's easier than you think! Inside you'll find some helpful pointers and a great video showing you the process.

Get your tools and mineral oil and learn something new today!


How do you know when to bleed your brakes?
As a very general rule, one should replace the fluid in their brakes at least once per year, even if you don't notice any degradation in performance. If you ride more than average, or spend a lot of your saddle time in a bike park banging out laps on the char lift, you may want to do a bleed more often. A quick check of the fluid by leveling the lever so it's parallel to the ground and removing the reservoir cap will allow you to see if the mineral oil in the system is cloudy or dark with contamination. Keep in mind that some mineral oil is darker than others, but if it looks hazy or you spot any floating bits, it is time to perform a bleed. Likewise, a spongy feel at the lever, excessive lever pull, or brakes that pump up (meaning the bite point changes when they get hot during use) all mean that it is time to do this job.
Some pointers before you begin...
• As always, a clean work area can make this job go smoother. Take a minute to clean up your bench and put away the tools that you won't be using.
• Always remove your pads and put them somewhere that they won't get fluid on them when you make a mistake and get drenched. It will happen at some point. Likewise, put your wheels in a safe spot as well... Not leaning up on the repair stand under your bike!
• Remember that you may have to overfill your Shimano system while bleeding which could make a bit of a mess. While mineral oil isn't going to cause damage like DOT fluid can, you may still want to put an old towel on the floor, under your bike.
• While some Shimano brakes incorporate a small phillips screw that you can use to adjust the bite point of the brake, its range is very limited and has little effect. If you're looking for less lever pull than what the screw allows, now is the time to make that adjustment. With the bleed nipple on the caliper closed, gently pull the lever to pump the pistons out ever so slightly. Remember that having the pistons protrude only an extra millimeter can have a huge effect on the lever pull. You can test the results by reinstalling your pads, after being sure to clean any mineral oil that may have been present on the caliper, and giving the lever a squeeze once you've place a rotor between them. If you've gone too far you may get some pad rub on the rotor. Reset the pistons using a plastic tire lever and try again.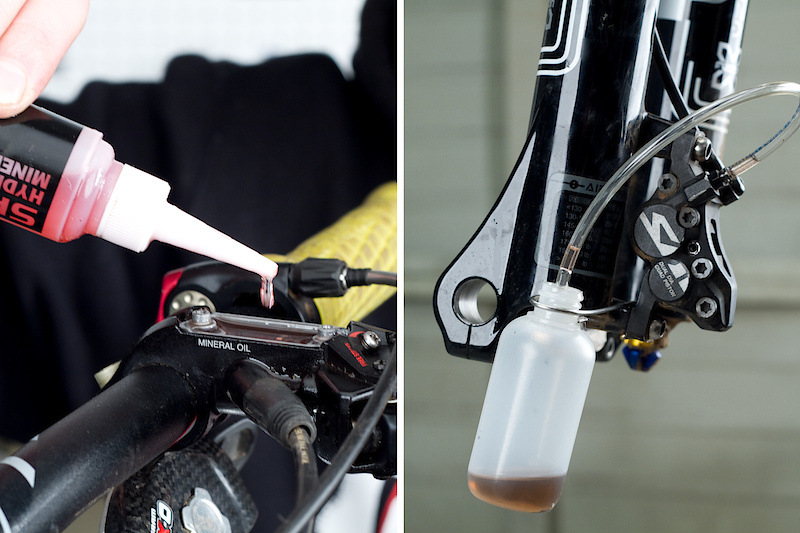 When bleeding your Shimano brakes you'll be working the fluid from the reservoir at the lever down the line and out of the bleed nipple at the caliper. It is important to not let air be introduced to the system by letting the oil level in the reservoir get too low during this process. To prevent this, drip the new mineral oil in from the bottle as you prime the system. Old oil will be expelled from the caliper and drain into the bottle. Once you can visually see the new oil is being pushed out of the caliper you will know that a full bleed has been performed. Finish it up with the last few steps to fully rid the brake of any air that may be trapped.
What fluid should you use in your Shimano brakes?
Most importantly, never use anything other than mineral oil in your Shimano stoppers, and I highly recommend using Shimano branded oil. Many other brake systems use DOT brake fluid, the same as your car uses, but the two fluids have very different properties and are not interchangeable. The rubber seals in your Shimano brakes will be quickly eaten away by the much more corrosive DOT fluid, rendering your brakes useless in no time. A quick stroll through your local pharmacy or auto store will show you that there are a number of different mineral oils available, but the majority of those will not work for this job. Many of those oils will be far too thick to work well, or have perfumes and other chemicals that will damage your brake system. Anything mineral oil from a pharmacy will not only be too thick, but is intended to be used as a laxative. Use that stuff when you need to pooh, not stop your bike. Likewise, a quick search of the forums and you'll see people exclaiming how they've used fork oil or automatic transmission fluid... there is a good chance that both of those options are too thick and will make your brakes feel sluggish, not to mention possibly having additional chemicals in them that could damage the seals in your brakes. What should you use? Despite it costing quite a bit more than some alternatives that may or may not work, I always recommend using Shimano branded mineral oil. I'm sure many readers will pipe up with options that they've used in the comment section below, but by using Shimano mineral oil you'll know that you won't have any problems. Yeah, it costs quite a bit, suck it up and buy the right stuff though and you'll know that you won't have any issues.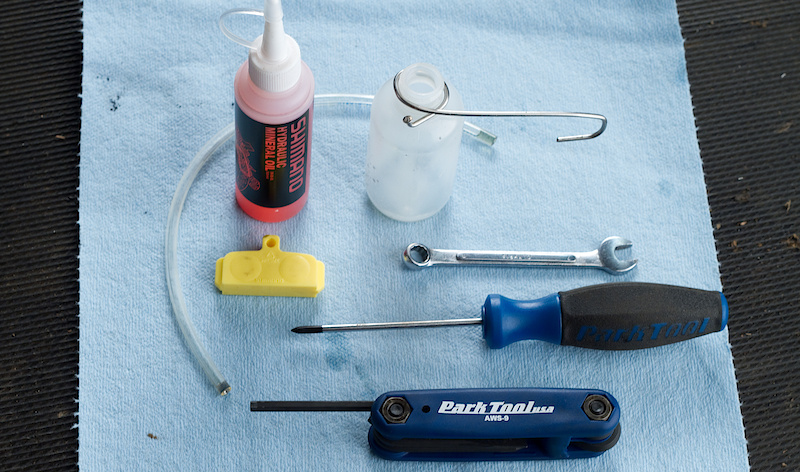 To do this job you'll need a set of hex wrenches, a small phillips screwdriver, a 7 mm wrench, a clean rag, some isopropyl alcohol, the yellow Shimano bleed block, some tubing and a bottle or small plastic bag, and of course some Shimano mineral oil.
What's needed:
3 mm hex key
,
small phillips screwdriver
, a 7 mm wrench, clean rag, isopropyl alcohol, the yellow Shimano bleed block, some tubing and a bottle or small plastic bag, and of course some Shimano mineral oil.
Want to learn how to bleed your Shimano brakes? Watch the video!
Looking for a bit of help? Check out the
technical documents
on
Shimano's website
for more information.
I've seen people bleed their Shimano brakes a few different ways with successful results, but the routine above is how I prefer to get the job done. Do you do something different? Have a trick or tip that you'd like to share? Put it down below!
---
Past Tech Tuesdays
:
Technical Tuesday #1 - How to change a tube.
Technical Tuesday #2 - How to set up your SRAM rear derailleur
Technical Tuesday #3 - How to remove and install pedals
Technical Tuesday #4 - How To Bleed Your Avid Elixir Brakes
Technical Tuesday #5 - How To Check And Adjust Your Headset
Technical Tuesday #6 - How To Fix A Broken Chain
Technical Tuesday #7 - Tubeless Conversion
Technical Tuesday #8 - Chain Wear
Technical Tuesday #9 - SRAM Shift Cable Replacement
Technical Tuesday #10 - Removing And Installing a Headset
Technical Tuesday #11 - Chain Lube Explained
Technical Tuesday #12 - RockShox Totem and Lyric Mission Control Damper Mod
Technical Tuesday #13 - Shimano XT Crank and Bottom Bracket Installation
Technical Tuesday #14 - Straightening Your Derailleur Hanger
Technical Tuesday #15 - Setting Up Your Front Derailleur
Technical Tuesday #16 - Setting Up Your Cockpit
Technical Tuesday #17 - Suspension Basics
Technical Tuesday #18 - Adjusting The Fox DHX 5.0
Technical Tuesday # 19 - Adjusting The RockShox BoXXer World Cup
Technical Tuesday #20 - Servicing Your Fox Float Shock
Tech Tuesday #21 - Wheel Truing Basics
Tech Tuesday #22 - Shimano Brake Pad Replacement
Visit
Parktool.com
to see their entire lineup of tools and lubes.