Today's
Tech Tuesday
shows you how to install Shimano's XT Hollowtech cranks and outboard bearing bottom bracket.
Inside you can watch a great video guiding you through the process.
Read on...
Although installing a new crank and bottom bracket can look overwhelming, it's actually an easier job than you may expect. While the video below shows you how to install
Shimano's
new XT cranks, the process shares many of the same steps with other models and brands. There are actually only a few pieces to the system and it's pretty hard to get it wrong, but it's worth noting that other makes may require different assembly steps and different torque numbers. Before starting it is important to be sure that your bottom bracket threads are in excellent shape, if they're not you'll likely struggle to turn the cups in and there is a good chance that you will damage the threads on either the frame or the cups. Likewise, if your bottom bracket shell is not faced smoothly and evenly, your bearings may wear out prematurely. A lot of frames come faced from the factory, but if you are not sure it is worth taking your bike to your local shop for them to have a closer look. If you are hesitant to do this job on your own be sure to have your shop do it instead.
Tools needed:
5 mm allen key
,
flathead screwdriver
,
bottom bracket tool
, and
grease
.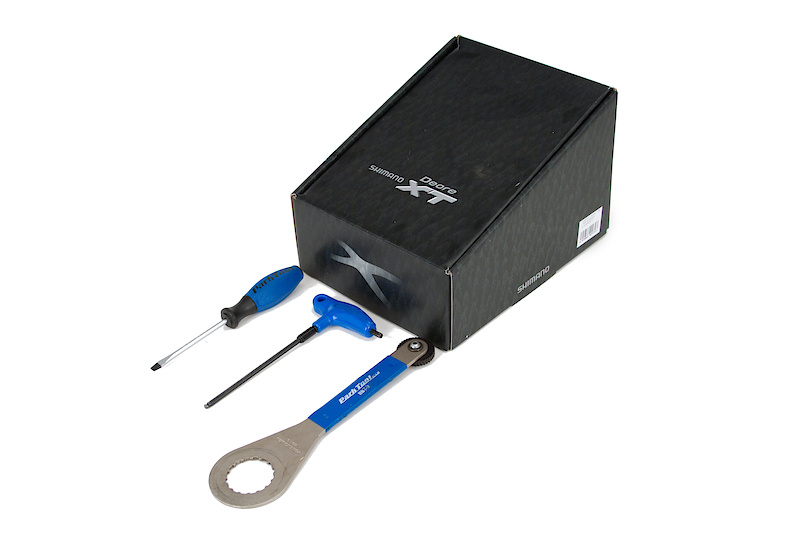 Watch the video to learn how to install Shimano's crank and bottom bracket:
A note on torque...
It is recommended to use a torque wrench on the majority of repairs, especially jobs like this, but the reality is that most home mechanics do not own one. If you are not using a torque wrench, use common sense when tightening anything. Shimano gives torque measurements for the bottom bracket cups, crank preload cap, and the left crankarm's pinch bolts that you can find in the video below. But don't fret if you lack a torque wrench, there is a simple method to estimate torque. Bicycles usually use in/lb (inch/pounds) when measuring torque, but I find it easier to convert this to ft/lb (foot/pounds) as it is simpler to estimate. The conversion is 12 in/lb = 1 ft/lb. This means that there is one pound of force at the end of a foot long bar. Now that we know this it becomes easier to estimate torque values. For example, Shimano recommends tightening this crankset's bottom bracket cups to 300 - 435 in/lb.. Do the math and you'll discover that this equals 25 - 36 ft/lb, meaning 25 - 36 pounds of force at the end of a foot long bar. Now that you know this, you can do the conversion for the rest of the torque values given in the video below. Happy math!
Shimano also has a
great technical page
with further instructions on any and all parts that they make.
---
Past Tech Tuesdays
:
Technical Tuesday #1 - How to change a tube.
Technical Tuesday #2 - How to set up your SRAM rear derailleur
Technical Tuesday #3 - How to remove and install pedals
Technical Tuesday #4 - How To Bleed Your Avid Elixir Brakes
Technical Tuesday #5 - How To Check And Adjust Your Headset
Technical Tuesday #6 - How To Fix A Broken Chain
Technical Tuesday #7 - Tubeless Conversion
Technical Tuesday #8 - Chain Wear
Technical Tuesday #9 - SRAM Shift Cable Replacement
Technical Tuesday #10 - Removing And Installing a Headset
Technical Tuesday #11 - Chain Lube Explained
Technical Tuesday #12 - RockShox Totem and Lyric Mission Control Damper Mod
Have you found this tutorial helpful? Share any of your hints or tips below!
Visit
Parktool.com
to see their entire lineup of tools and lubes.