CLASSIC BIKE:
1988
Yeti FRO
This Yeti is my personal daily driver and it brings a smile to my face every time I throw a leg over it.

- Nick Martin, Founder, The Pro's Closet
John Parker

founded Yeti somewhere back in 1985, when he knew a lot about fabrication, but very little about making bikes. All that changed when he hired the Herting brothers, Chris and Eric and later, Frank "The Welder" Wadleton. Chris and Eric were already making bikes out of their garage, Frank was a whiz with metal and Parker was the promoter extraordinaire. The TIG welded chromoly FRO was perhaps the most iconic Yeti, with its Desert Turquoise paint, top-tube-mounted cables and curved infinity rear triangle design - it was the dream bike for almost every racer wannabe in the sport's formative years. Today's classic bike is a Yeti FRO prototype made by Chris Herting for his personal ride - circa 1988/1989 - and while it is outfitted in period parts that are a close representation of its original pedigree, A few bits are not original because this beautiful machine is also a daily driver. FRO means "for racing only" and this one is now owned by Nick Martin, the founder of "The Pro's Closet" - a second-hand cycling retailer that buys, sells and consigns quality bicycles and components on its E-Bay store of the same name. The Pro's Closet is presently building a museum, where outstanding examples of the vintage road and mountain bikes the staff has acquired and restored will be on permanent display.

Construction details:
(clockwise)
Chris Herting's initials TIG welded into the bottom bracket shell, and a look at the reinforced bridge between the bottom bracket and the chain stays. Yeti was ahead of its time with a straight-blade unicrown fork. The winner of the head badge with the most personality award and a look at the top tube cable routing that made the FRO famous. Long, 135mm stems were commonplace in the '80s, as were threaded headsets. Curved tubes at rear dropout were the Yeti trademark. Yeti made its own hardware to convert Shimano's bottom-pull front changer to a top-pull system.
About the Bike
The story goes that
Chris Herting
, who stands quite tall and produces a lot of power on a good day, built the bike a bit tougher, with extra gusseting at the bridge which joined the seat stays to the bottom bracket shell - a weak point where early Yeti frames would often crack. The frame would be an extra large model today, which was a size that was never offered in Yeti's John Parker years. Herting signed his work by TIG-welding his initials onto the bottom bracket shell. The seat and head angles appear to be slacker than stock as well, If I remember, Yeti FROs had a 72-degree seat and a 71-degree head tube angle, but Herting's appears to have a seat tube around 70 degrees and a head tube angle close to 69 - numbers that would have given Herting a leg up on the downhills - then and now.
Beyond Yeti's famous racing turquoise color and the Abominable Snowman head badge, the FRO was etched into the imaginations of early mountain bikers by its curvacious, "one-piece" seat and chainstay design and its ovalized top tube. The icing on the FRO's cake was the parallel top tube cable routing that gave the chassis a race-car edge and kept the rest of the bike looking clean and uncluttered. Ironically, the Yeti name, its logo and the three most sexy aspects of the FRO's design were "repackaged" from different sources: a mattress factory, a mountaineering company and some top name BMX bikes. Random pieces, reassembled by a visionary wild man and a talented team of builders into a legendary bike - and the heritage brand that still rocks today. It also helped that Yeti's were some of the best handling mountain bikes of their time.
---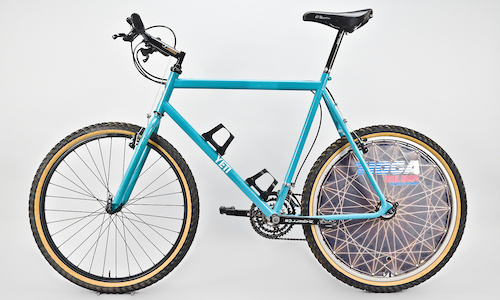 Chris Herting's Yeti FRO Build
Fork:
Yeti chromoly straight-blade unicrown, one-inch steerer
Stem:
Currently Tioga T Bone chromoly 135mm
(original was a Yeti FTW Cook Bros stem)
Handlebar:
True Temper, chromoly
Grips:
Tomac ODI Mushroom
Seatpost:
Shimano Deore XT, chromoly shaft
Brakes:
Shimano Deore XT cantilever
Brake Levers:
Shimano SLR BL-M733
Shifters:
Shimano Deore XT SIS 7s thumb
Front Derailleur:
Shimano Deore XT
Rear Derailleur:
Shimano Deore XT
Cassette:
Shimano Deore XT, 7-speed 13 x 30
Chain:
Shimano HG93
Crankset:
184mm Bullseye TIG-welded chromoly, integrated tubular axle, 24-36-46
Pedals:
Shimano Deore XT PD-M737
(Shimano's first SPD model for MTBs)
Quick releases:
Ringle Holey Cams
Cages:
Ringle aluminum
Headset:
Chris King BMX, one-inch
Rear wheel:
Tioga Disk Drive / XTR HUB / Mavic 261 Rim
Front wheel:
Shimano Deore XT / Araya RM-20 Rim
Tires:
Tioga Farmer John's Cousin, 2.25"
Saddle:
Selle Italia perforated Turbo