My cousin and my father, walking out into the bay at Comox, a day earlier.
It's starting to rain. I laugh, perhaps louder than a man standing alone by the roadside should. This is beginning to feel like a movie, the British Columbian skies opening over the lone hitchhiker. One car has already passed without stopping, and another three speed by without pause. This next pickup truck looks promising, but he turns before reaching me.
It's no surprise, really. I've just returned my rental bike to the three-walled shack of a bike store back in the small, cluttered marketplace of Hornby Island, and the hours just spent on the bright green Kona Precept 120 are painted on me in shades of mud, dust and blood. Rather than rinsing my filthy hide, the rain has only embellished the effect.
The rain can't purge the post-ride endorphins from my system, though. After hours on the bike, I welcome the clouds' refreshing tantrum. Besides, the laid-back air of this little island has corrupted my hurried Torontonian sensibilities.
The ride to the top of the island had taken me 300 metres above the town at sea level. Steep and unyielding, the climb dragged my out-of-shape body through a tapestry of browns and greens. The trees were at once familiar and foreign, creating a high canopy above the earthy, rocky trail.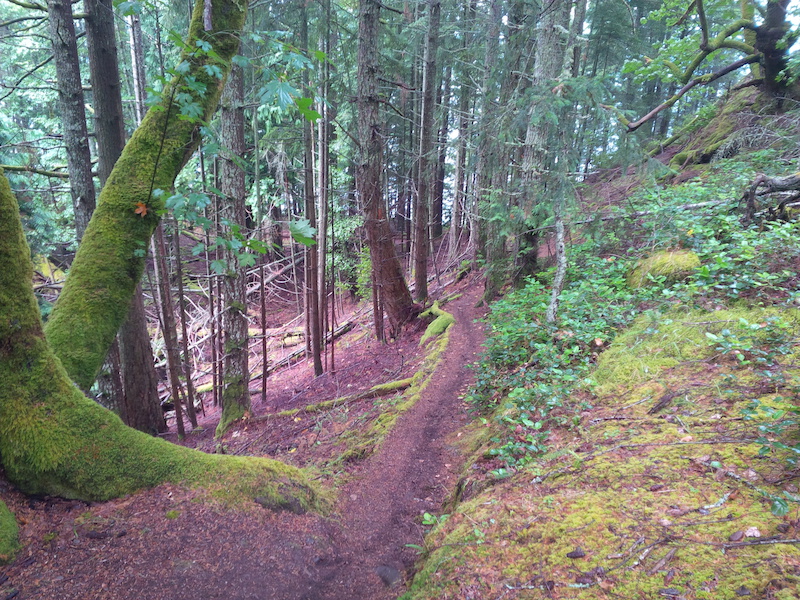 The last kick up to the top of Hornby.
The view at the top had been worthy of a greater camera than my BlackBerry provides, so I marveled at the sprawling, quiet coast for a moment before plunging into the black chute of the descent to sea level.
The trails down tasked my grip as the rental bike squirmed and clattered under hard cornering and unprofessional landings. As battle-tested mountain bikers know, however, with adrenaline comes a sense of calm focus. In my single-mindedness, the trail seemed to move beneath stationary wheels–the trees dodging around the plucky, over-tasked bike. When the ribbon of loamy earth spat my body out onto the hard dirt of the trail-head parking lot, my brain spent another half hour navigating the descent.
"
I tried those trails you suggested," I told the teenager working at the bike shop, "I liked Devil's Kitchen. Yer Mom was also a tonne of fun, kinda North Shore, but I tried to avoid the really big jumps–didn't want to wreck your rental
."
"
Ah, don't sweat it
," replied the slight, blond young man, "
You coulda thrashed it
."
I smile. "
Next time
."
I look down the road through the rain, which has become torrential. Despite the darkened sky, I keep my sunglasses on to shield from the sharp drops that assault my face. An old beige van resolves through the blur of precipitation, and I realize even before it begins to slow that this will be my ride.
Indeed, the 1970s GMC Safari trundles to a stop, and the 70-something-year-old driver asks me my destination.
"
I'm just heading to the ferry, if it's not out of your way
," I say, taking off my sunglasses and smiling.
He invites me in, and I apologize for getting his van wet. In typical Hornby fashion, he is entirely unperturbed. Then again, the assortment of rolling papers littering the ground between the seats may suggest an alternate reason.
I don't ask his name, and he doesn't ask mine. It doesn't seem pressing. The plastic trappings of city life suddenly seem transparently tacky.
Though the thought of a stranger in an old van offering me a ride would have seemed like the cliche prologue to my inevitable kidnapping, I am at ease. The driver is an old hippy who moved to Hornby in the 1970s, and between his gray ponytail and his unflappable content mood, he is the picture of the sort of person who originally populated this island.
"
I saw this shirt, and I really wish I'd bought it, back in '74 when I first moved here
," he says. "
It said Planet Hornby. It's really true, ya know. You have to take two ferries to get here from Vancouver Island, so we're really on our own planet out here. If I want to go grocery shopping, I drive to the ferry, and maybe I wait half an hour, maybe I'm in line for two hours. Then I gotta take another ferry from Denman [Island], and then I've got to do it all over again on the way back
."
"
I could leave at 10 a.m. and get back at 6 p.m., you just can't be in a hurry. You can't have plans–it really changes the pace of your life. You just gotta relax
."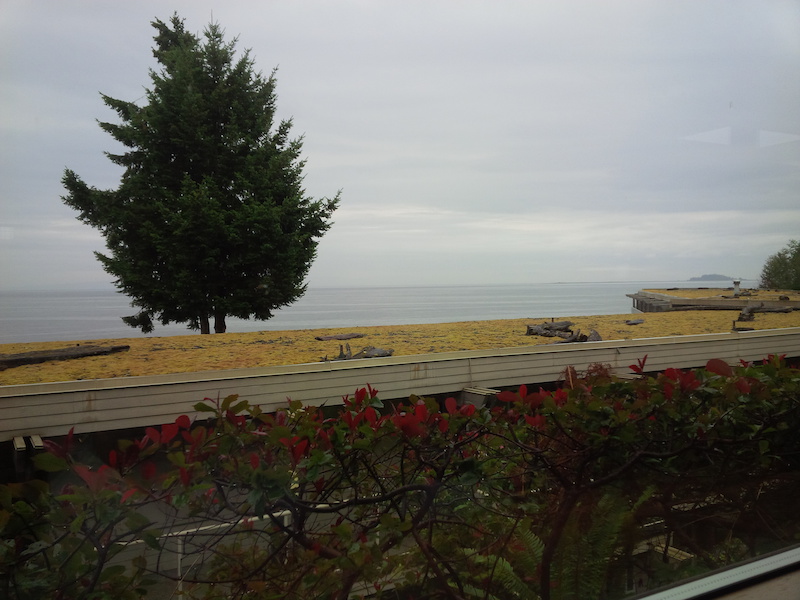 The view from the hotel in Courtenay, across the bay from Comox
Any Torontonian guilt I felt at imposing on a stranger to drive five minutes out of his way (he lived on one of the last streets before the ferry) dissipated as he explained life on Hornby. Time is irrelevant here. A day isn't wasted if you were alive to experience it.
Meandering through this island, it's hard to remember why you ever felt rushed to get anywhere. Usually one of the fastest drivers on the road, I felt no need to expedite my journey through the small forest lanes that cut across Hornby.
The forests have a presence that demands a moment's observation. This isn't a place that you photograph–although there are certainly spots that warrant a quick picture. This is a part of the world that quiets your mind as you slow down to take it all in.
I hop out at the line for the ferry, apologizing once more for bringing so much water into his car, and thanking him for the ride. He smiles, telling me to take care. Pulling a u-turn, he drives off down the dusty road. I feel content knowing that he's going to carry on his slow, meandering existence. I'm glad that he remains here, unsullied by the stresses that cause a more metropolitan mind to careen through life at race-pace. Someone should get to.
---
MENTIONS:
@shyoobox
---